September 25, 2020

December 2007 | Vol. VI - No. 12


Competing With Computers
How Specialty Shops Shield Themselves From Virtual Realities
"There's a desire to be hip … but we set ourselves up to be the authority by choosing the best toys for children." — Linda Hays, Hopscotch Toys

Given the craze over computers and obsession for being online, thanks in part to Ganz's Webkinz, it may seem that children have lost interest in good, old-fashioned toys.

"Kids move seamlessly from screens … to real life play, so the new trend of toys that exist in the real and virtual world is just an evolution of how kids today play," a spokesperson for Mattel told

TD

monthly Magazine. The company's Barbie Girls site launched this year and features games and safe chat for doll fans.

But are kids really less interested in traditional play? Not according to 11 specialty toy-store owners who spoke with

TD

monthly.

GAMES A GO?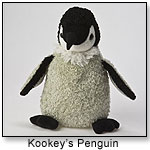 Although Third Planet in Torrance, Calif., has seen a "decreased interest in the games that we sell," according to Owner Rob North, not all retailers have.

"We're dealing with a segment of the population that doesn't buy those [computer] games," noted Linda Hays, owner of Hopscotch Toys in McMinnville, Ore.

Many retailers, in fact, benefit from the popularity of Internet-related toys.

"We sell Webkinz, which basically sends the kids online. But that also brings them into the store to buy," said Jacqui Ricca, manager of Tree Top Kids in Bethesda, Md.

Nevertheless, some retailers have mixed feelings.

"Webkinz and Bella Sera are hot," Geoff Pendexter, owner of Whirlygigs Toy Shop in Brentwood, N.H., told

TD

monthly, "but I'd rather see kids playing with traditional toys."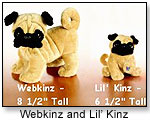 Hays has wavered on Webkinz because she feels that "getting kids off the computers" is important. "There's a desire to be hip," she added. "… but we set ourselves up to be the authority by choosing the best toys for children."

COMPUTER = COMMUNITY

Although many doubt its educational and developmental benefits, computer play offers excitement, action and community in online worlds such as Barbie Girls, Shining Stars by Russ Berrie, Ty's Ty Girlz and MyePets by MGA.

"MyePets.com is constantly adding new games, rooms, e-cards and activities to the virtual world so that each visit and each new MyePet purchased brings a new adventure," MGA Entertainment CEO Isaac Larian told

TD

monthly.

PLUGGED IN, BUT NOT WIRED

Text messaging and online games may be fun, but specialty retailers draw kids to their stores by offering "more entertaining items than found on the Web," according to Steven Levy, owner of Toy City in Surry, N.H.

Pendexter's store offers "hands-on" toys, he told

TD

monthly. "I think the parents like to get the kids out of the house."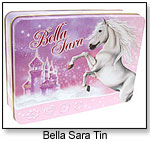 Parents can get them out for "kidtivities" at Tree Top Kids or by participating in game day at a local library with Third Planet.

But simpler strategies work, too. At Calico Cat Toys & Games in Simpsonville, S.C., toys are displayed for play, and there's a Christmas wish list to lure family and friends into the store.

Shawntá Ray, owner of Once Upon a Toy in Edwardsville, Ill., gets parents involved: "We have lots of brain teasers, strategy games. If you can get a child or adult to do it once, they're hooked."

"Board games are a great way of getting the family together away from TV and building memories," North summed up.

See some products below that give kids a chance to build memories — both real and virtual:
Webkinz - Hippo by GANZ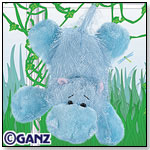 To help meet the demand for Webkinz sweeping the continent, Ganz has come out with a new line of Lil'Kinz. Like their larger counterparts, Lil'Kinz characters come with their own codes that are revealed after purchase. Kids adopt the little guys as their own and take them into an online world of fun and KinzKash. Kids can now make Lil'Kinz Hippo their best buddy, play some games at the arcade and stop by the "W" shop to pick up a bowl of crunch "shoots n' roots."
— "We sold over 2,000," Gwen Boden said of how Webkinz fared in 2007. Boden is the manager of Doodlehopper in Springfield, Va.
— "Webkinz: We sell daily, hourly," Robin Ellerman, owner of Trains-n-Toys in North Canton, Ohio, told TDmonthly.
— Over 21 percent of retailers told TDmonthly that Webkinz was their all-around best-selling item of 2007. 11/12/2007 (MSRP: $12.00; Age: 3 and Up)



Barbie Girls MP3 Player by MATTEL INC.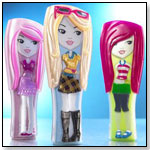 This doll-shaped music player can hold as many as 120 MP3 or 240 WMA-file songs and links up to the Barbie Girls website, a virtual world in which the player acts as a real character. The site gives girls the opportunity to tailor their characters' styles, shop for clothing, decorate their online room and adopt a pet. For safety purposes, the website features information filters and only allows a 2,000-word limited vocabulary. 4/30/2007 (MSRP: $59.99; Age: 6 and Up)



Ty Girlz – Lucky Lindsay by TY INC.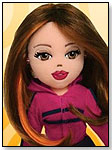 Ty Girlz have a new, more wholesome look that should appeal to worried moms everywhere. Though they're still eye-shadowed, their general expression says more "girl next door" than "girl on the corner." They still come with an access code for good, clean online fun.
— "We carry Ty Girlz, but they don't do well," sighed Joyce Hoover, owner of Doll and Gift Gallery in Rogers, Ariz., in January 2008. She hoped the new line of clothes she'd received recently would improve sales.
— Tricia Cooper, buyer at Le Jouet in Metairie, La., was looking forward to the dolls' revamped non-vamp look: "They're more wholesome-looking girls and I think they'll do much better," she said. Ty has also just released new poseable Girlz.
— Ty Girlz are one of the three most popular dolls at Playville in Covington, La., according to Owner Stephanie Dupuy. 11/13/2007 (MSRP: $12.00; Age: 6 and Up)



Shining Stars - Snowy Owl by RUSS BERRIE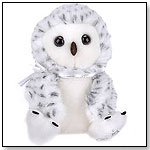 The White Snowy Owl is a cute and precious addition to Russ Berrie's Shining Stars lineup of collectible plush dolls. When kids purchase a Shining Stars friend, they can log onto the Shining Stars website and use the secret code inside the plush's hangtag to register and name a star with the International Star Registry. Children can print a star certificate that gives the exact location of the star. The site also offers fun games and activities.
― When the Webkinz crunch hit and retailers were left Cheeky-Dog-less for Easter, savvy store-owners picked up the slack by turning their little Webkinz fanatics into Shining Stars lovers. Steady sales since have earned Shining Stars a TDmonthly Top Seller 2007 award.
— Three Sisters sold 400 Shining Stars dolls between April and July of 2007. The toys also did well during Easter 2007 for The Treasured Child in La Grange, Ky. Other retailers have reported more lukewarm sales.
— "Unlike some other Web-play plush, only Shining Stars comes with a secret code that opens up a world of Web adventure, allows collectors to get their very own star in the constellation of their choice, and helps the Starlight Starbright Children's Foundation through the donation of 'glow points,'" said Stephanie Araujo, marketing coordinator for Russ Berrie. (

Watch Video) 8/20/2007 (MSRP: $18.95)



Kookeys - T Rex by 10VOX ENTERTAINMENT INC.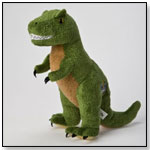 This fierce cuddler has an online counterpart that lets kids access a virtual world full of games, contests and rewards.
— During TDmonthly's Homeschool Roundtable review of Kookeys, 8-year-old Joe Ledford expressed excitement for the online entertainment the plush animals afford. "Can I play the arcade games?" he asked his mom. "They are really fun!" (

Watch Video) 10/3/2007 (MSRP: $14.99)



Rescue Pets™ Just Born by MGA ENTERTAINMENT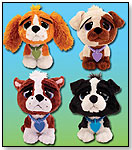 These newborn puppies are up for adoption, ready for kids to take them home. Children can put the plush pets in their hand and watch them as they wake up and begin to shake. Each comes with an adoption certificate, a feeding bottle and a collar with a tag. The pets can open their eyes, whimper and make lifelike sounds (eating and burping). There are four available styles: Boxer, Mutt, Border Collie and Spaniel. 8/29/2007 (Age: 3 and Up)



Bratz Be-Bratz.com by MGA ENTERTAINMENT



With Be-Bratz.com, YOU get to create and become a new Bratz™ character online! Create your personality, design your hair, make-up and clothes and decorate your room! Chat with other Bratz online! For the first time you can truly Be-Bratz in the Bratz world! Bonus real-working mouse and mouse pad included, plus a pet that matches your online e-pet! 10/4/2007 (MSRP: $29.99; Age: 6 and Up)



Bella Sara Ancient Lights by HIDDEN CITY ENTERTAINMENT



The strong, beautiful horses of Bella Sara™ Ancient Lights have traveled through history to bring their wisdom to you. New horses, including Nike, Venus, Juno and Athena, join Bella, Jewel and Fiona to encourage imagination and positive traits such as courage and kindness. Rich myths from Greece and Rome, told and retold for centuries, bring life to these legendary new additions to your stable. 10/10/2007 (Age: 5 to 12)



U.B. Funkeys™ Starter Kit by RADICA GAMES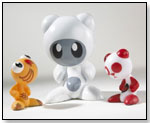 This interactive game combines vinyl collectible toys with computer games to create a virtual world that kids control. There are over 40 different characters, each with his or her own look, personality, zones and games. Players can earn points and win prizes to customize and decorate their "crib" within the game. The set comes with a hub (to connect the character to the computer, two U.B. Funkeys character figures and PC software. The characters are also available individually for $4.99. 10/11/2007 (MSRP: $19.99)



---
---


Copyright © 2020 TDmonthly®, a division of TOYDIRECTORY.com®, Inc.