January 19, 2022

---
ethiKids, inc.
Detoxing Culture
"It was thrilling to hear from parents that they were easily having important conversations." — Susan Adam

How did two former Human Resources executives, who for many years enjoyed the accoutrements of working in multi-billion dollar corporations, find themselves in a booth at Toy Fair? Talk about a change in landscape! Read why they think they should be part of TDmonthly Magazine's TOY FRENZY! documentary:

Laurane Magliari (ethiKids' founder) and I often sat around the table talking about how different — and toxic — our culture had become for our kids. Instead of encouraging character, all systems point to entitlement, lack of accountability and pressure to grow up too quickly. When Laurane retired, we set out to address the problem in earnest.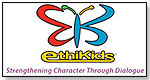 FINDING FOCUS

In August 2005 we brought together great people to find how to affect real change. We had educators, social services workers, community leaders, representatives from various faiths and economic backgrounds, non-profit leaders, parents and grandparents. We came out of the meeting knowing that creating dialogue between adults and kids about the pressures kids face every day was at the core of addressing the problem.

The product needed to include values, teach skills, encourage easy conversation and be fun. In February 2007 the concepts were in place and we hit the road to talk with kids directly. For three months, focus groups were conducted and we gained a new appreciation for the complexity of the situations kids face and realized the choices are rarely black and white — Should I lie or not? — but more often about competing values: loyalty vs. honesty; loyalty to family vs. loyalty to friends; and so on.

TESTING IT OUT

Handmade batches of story cards were made and product tests were conducted — collecting data on ease of use, kids' engagement level, length of conversations, etc. It was thrilling to hear from parents that they were easily having important conversations in this relaxed, open environment.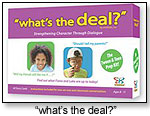 We learned early on that posing the questions as "What would you do?" almost immediately shut the conversation down for the kids, but asking, "What should Fiona or Luke do?" kept it fun and safe.

At the same time we took our "what's the deal?" concept to prospective companies — still a little unsure if we were looking for distributors, or publishers, or even partners. The process was almost always the same, "Great concept. How much will it cost? When could we have it? Discount?" So we naively said, "September, $15.95, and huh?"

PRODUCTION = HELL

Designing cards, instructions and boxes in the context of a new brand was hard, detailed and often frustrating work. Prices were flying back and forth, ranging from $1 to $9 (our cost) for the box alone.

On October 30, 2007, the "what's the deal?" game was assembled by our printer and we were officially in business.

TANGLED IN THE WEB

Launching a website in 90 days became almost a 24/7 effort. Our website not only had to have the look and feel we wanted, but the content had to be rich, appealing to an array of audiences, interesting, engaging and fun … whew!

TOY FAIR INSPIRES GROWTH

So "what's the deal?" is developed, networking has paid off and the sales pipeline is starting to fill. A couple of pilots are starting this month. Maybe a little breather is in order? Not so fast! Laurane heard about Toy Fair and its theme: "Inspiring Growth." ethiKids has to be there.

We're proud of "what's the deal?" and think it is the product that audiences around the world need to hear about, particularly since the 2008 Toy Fair theme is Inspiring Growth in our youth. Character development may be hard work, but it can also be fun.

ethiKids is excited to be participating. Let the games begin!
"what's the deal?" Game by ethiKids, inc.



In "what's the deal?" – a tween and teen prep kit - Fiona and Luke find themselves in lots of sticky situations. Follow these exploits with children and watch Fiona and Luke grow as they think through the best solutions, and begin to apply them in their own lives. (

Watch Video) 1/4/2008 (MSRP: $15.95; Age: 8 to 11)



---
---


Copyright © 2022 TDmonthly®, a division of TOYDIRECTORY.com®, Inc.