August 6, 2020

ASTRA's Top-20 Toy Fair Picks
Specialty Retailers "Share the Fair"
Retail members of the American Specialty Toy Retailing Association know well that there's a lot to see at Toy Fair! On Monday, Sept. 18, at ASTRA's Share-the-Fair event, 120 of them gathered around tables to discuss their top-show finds with other storeowners, ASTRA Executive Director Kathleen McHugh told

TD

monthly Magazine. Here are some of the products that were mentioned most often:
Sprig Adventure Series by SPRIG TOYS, INC.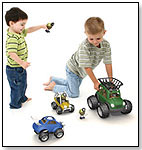 Sprig Toys is a new, environmentally responsible toy company created by award-winning industry veterans (former Mattel and Radica designers). Its line of kid-powered, totally green adventure vehicles for preschoolers is made from Sprigwood™, a child-safe bio-composite material derived from 100-percent recycled wood and reclaimed plastic. The Sprig Adventure Series harnesses the natural energy of push- and pump-action play to power lights and other electronics — all without batteries. Adventure Guide characters wearing LED-lit hats plug into durable, attractively designed vehicles and engage preschoolers with audio that guides them through exciting adventures as they play. Launch date: Fall 2008.
— "The sets were attractive, nicely packaged in recycled/biodegradable material, and had a rugged, tactile quality," said TDmonthly reporter Marie Raven, also a buyer for Over the Rainbow in Anchorage, Alaska, at Toy Fair 2008. "It's a small line but felt to me like an appropriate number of items for a nice in-store presentation while appealing not only to the eco-sense of our customers, but also providing active and stimulating educational play."
— "I was really impressed by all the angles that it covered," said Jennifer Klein, who in early 2008 ordered all three Sprig Toys vehicles for her store, Earth Child, in Sebastopol, Calif. Five of 24 retailers told TDmonthly this was one of their favorite lines at Toy Fair. (

Watch Video) 1/17/2008



Sand-Goh!™ by SANDGOH LLC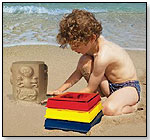 The revolutionary, patent-pending sand toy has children put their imagination, creativity and problem-solving skills to use in constructing up to 64 different sandcastles. The 12-block building system of interchangeable "mold blocks" creates 8"-high columns of sand by adding wet sand to the interior compartments of the blocks and then removing them to reveal sand sculptures. The toy combines elements of art, a three-dimensional puzzle and construction. Launch date: July 2008. (

Watch Video) 10/19/2007 (MSRP: $29.99; Age: 3 and Up)



Puzzibits™ Flexible 3D Puzzle Art™ - Ocean Depths by MANHATTAN TOY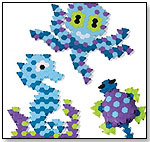 The 150 flexible, interlocking pieces included in this set can be used to create three 3D designs — a turtle, a seahorse and an octopus. (

Watch Video) 1/30/2008 (Age: 6 and Up)



Capture The Gag™ by RUBBING HANDS



In this game, two to eight children split into two teams, put on their colored wristbands, and unfurl their flags. Each team hides a Gag — a multifaceted creature that is magnetic and can also stick, grab and hook in hiding places — for the other team to find. The company's Get-Out-Of-Their-Way Play "products allow kids to reinvent their play places and use their imagination," Rubbing Hands Founder Chris Friden told TDmonthly. "There is no technology required and they are based on simple play that kids instinctively do on their own: hiding, finding, following and inventing, to name a few. These are fantastic gifts and party activities." This product is a 2008 iParenting Media Award winner. (

Watch Video) 2/2/2007 (MSRP: $29.95; Age: 4 and Up)



Tea Set by GREEN TOYS INC.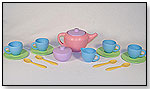 This environmentally friendly tea set includes a tea pot with lid, a sugar bowl with lid, creamer, four cups, four saucers and four teaspoons. The set is constructed of bio-plastic made from renewable, sustainable resources in order to help decrease fossil-fuel use and greenhouse gas emissions. Starch-based bio-plastic is ultimately biodegradable. "We do our best to make environmentally friendly business decisions, given today's available technologies from product development to packaging," according to Laurie Hyman, a partner at Green Toys. Green Toys also produces all of its products in the U.S. which cuts down on transportation costs and CO2 emissions. "Green Toys products are ideal for parents looking to make environmentally conscious decisions when it comes to shopping for their children," stated Hyman. Launch date: September 2007.
— "One of my new favorite toys is the Green Toys tea set and cooking set," said Michelle Smith of Piccolo Mondo Toys in Portland, Ore., at the end of 2008.

Past Videos: ASTRA 2009 (

Watch Video) 8/7/2007 (MSRP: $34.99; Age: 3 and Up)



Mini Solar Kit – Valiant Viking Ship by OWI INC.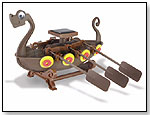 The ship comes ready with 33 parts, ready for assembly. A docking station is included and no batteries or tools are required. The set motivates students to learn about solar energy, challenges students to be technically precise with miniature parts and teaches students to follow precise visual diagrams. 1/2/2008 (MSRP: $17.95; Age: 10 and Up)



Ball of Whacks - Multi-Colored Edition by CREATIVE WHACK COMPANY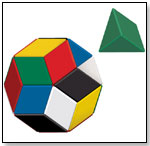 The new Ball of Whacks features six brilliantly contrasting colors, creating 30 magnetic pyramids that can be arranged into a multitude of shapes and mosaics. Additionally, the pieces can be configured according to the included color-design challenges for even more brain-teasing fun. Launch date: February 2008.
— "Unlike most brain-teasers or puzzles, there are no wrong ways to play with the Ball of Whacks," Creative Whack Company Communications Director Lynn Araujo told TDmonthly. "Every time you pick it up, you'll be inspired to find new ways to play with it."
— The Ball of Whacks is a best seller at Kazoodles in Vancouver, Wash., Co-owner Mary Sisson told TDmonthly in early 2008.

Past Videos:
ASTRA 2008 (

Watch Video) 12/28/2007 (MSRP: $35.00; Age: 8 and Up)



HEXBUG Micro Robotic Creature by INNOVATION FIRST LABS, INC.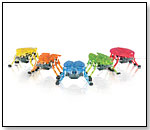 The micro-robotic HEXBUG is a tiny, obedient insect that features bump-sensor feelers that help it avoid objects in its path. It responds to clapping or other loud noise by backing up or changing direction. The HEXBUG is small enough to fit in the hand and comes in five different body types and colors including pink, blue, green, yellow and orange. Awards: TDmonthly Innovations 2008.
— According to more than 60 reviews on Amazon.com and Radioshack.com, this fun, durable toy has been rated 4 out of 5 stars due to its entertaining and educational features. It is portable for any occasion and appropriate for any age. Consumers should be careful though, as they have been known to be flimsy and easily breakable, like real bugs! (09.12.08)
— "Everyone wants one, from adults to kids," Charles Bonner, owner of Heights Toy Center in Little Rock, Ark., told TDmonthly of this best seller in April 2009. "I sell 200 to 250 a month." Three of 44 retailers tagged Hexbugs as an overall best seller in late fall 2009.
— During a September 2010 survey, two of 44 retailers listed Hexbugs as their top-seller for tweens.


(

Watch Video) 2/12/2008 (MSRP: $9.99; Age: 8 and Up)



ColorKu by MAD CAVE BIRD GAMES LLC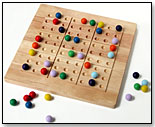 ColorKu is a high-quality wooden board game based on the popular Sudoku puzzles. It uses 81 wooden marbles in nine distinctive colors placed on a 9" x 9" wooden grid to solve puzzles. The board is solid wood and 13½" x 13½". The game comes with 104 puzzle cards, but it can be used to solve any Sudoku puzzle.
— "We had people ask for a new colorized Sudoku called ColorKu," Mike Castor, owner of Pentwater Toy Box in Pentwater, Mich., reported to TDmonthly. "We were able to find the manufacturer in the next county, got a hold of him in Grand Rapids and got a shipment in 48 hours. We sold a bunch."
— "We believe ColorKu is the best Sudoku product on the market. Players can solve puzzles individually or in groups, and it can be made competitive by setting up the same game on two or more boards," said Mark Asperheim, president of Mad Cave Bird Games. "It's also a beautiful piece that looks great on a coffee table!"
— Three of 63 retailers who spoke with TDmonthly named ColorKu as one of their top selling games. (

Watch Video) 3/27/2006 (MSRP: $29.99; Age: 8 and Up)



GrassHoppers Insect Activity Capers by TOP SHELF HOLDINGS LLC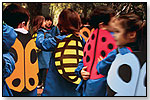 This set of five colorful insect capes will create quite a "buzz" on a nature walk or family outing. Great for indoor and outdoor play, as party favors, or as costumes for an educational play, these fun capes inspire the imagination. The packaging features a wealth of fun facts about each insect species. They are made from soft and safe EVA foam and are also available in a school assortment of 20 capes (item #551), perfect for team activities and chaperoned field trips. Launch date: July 1, 2008. 2/13/2008 (MSRP: $14.95; Age: 3 and Up)



Bambooga® - The Human Puzzle Game by UNCLE SKUNKLE TOYS, INC.



In this human-puzzle game, players use color wristbands to bind their hands and feet to one another, leading to a sticky mess of people. The goal of the game is to crawl, walk, scoot or jump one's way towards the finish line, all the while maintaining the connections determined by a shake of the Bambooga Shaker. Bambooga is safe and eco-friendly, adhering to "green-" manufacturing practices with second-generation, sustainable bamboo construction. "Bambooga is the result of a social-entrepreneurship project sponsored by Kids Ark Foundation of Thailand,...an organization that hopes to find a solution to the AIDS epidemic in Thailand," Uncle Skunkle Toys Inc. Marketing and Communications Director Maya Cardoso told TDmonthly. A portion of "the proceeds from the manufacturing of Bambooga [is] recycled back to Kids Ark and [goes] towards projects to raise education and standards of living." Launch date: April 2008.
Awards: Bambooga is a winner of "Dr. Toy's 100 Best Picks Children's Products for 2009" and also won Creative Child Magazine's "Toy of the Year Award" for 2008. Bambooga has also been recognized with a favorable review by The Old Schoolhouse, a magazine for homeschooling families. (

Watch Video) 11/30/2007 (MSRP: $34.99; Age: 8 and Up)



Layers of Learning™ Jumbo Knob Large Puzzle – Zoo Animals by MINDGEAR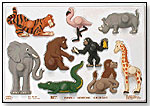 Suitable for ages 18 months and up, this nine-piece vinyl puzzle features flexible, non-toxic pieces that have easy-to-grasp knobs. The puzzles are durable and washable with highly textured pieces. The playboard measures 16.75" x 11.75". 2/21/2008 (Age: 1 and Up)



Quadrago by MINDTWISTER USA



This two-player, wooden-strategy game features 16 upright poles and 64 beads in two different shades, challenging opponents to be the first to get four beads in a row, diagonally, horizontally or vertically. Players have the option of turning the moveable, middle section of the board containing four poles at every turn, thereby adding to the strategy component and changing the playing field.
Awards: 2009 Creative Child Game of the Year; 2009 Gifted Children Award (

Watch Video) 2/21/2008



Set Cubed by SET ENTERPRISES INC.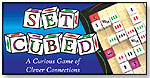 This "curious game of clever connections" challenges two to four players to compare and identify SETs on the dice with those on the board, scoring as many points as possible by making SETs up, down and across the game board. Playing time is 30 to 45 minutes. Launch date: April 2008. (

Watch Video) 2/21/2008 (Age: 8 and Up)



miYim Simply Organic Charlotte by GREENPOINT BRANDS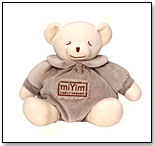 All cozy in her colorful jumper, Charlotte has her eyes closed and is ready for bedtime. Her soft hands and feet provide extra comfort, along with that fluffy tummy, to make her a perfect friend for bedtime. The concept of organic refers to the creation of something that originates in nature, a pure product from the environment. Organic products eliminate unnatural herbicides and pesticides, use biodegradable and natural fertilizers, follow crop-rotation standards and soil-management procedures, undergo specific harvesting procedures and have regulated storage procedures. (

Watch Video) 7/5/2006 (MSRP: $31.95; Age: 0 to 3)



Manga Drawing Kit by FABER-CASTELL



Part of the Creative Studio line, this set includes three PITT artist pens made with India Ink (black superfine, black brush and grey brush) and a 28-page instruction book with helpful hints on doing manga drawings — with lessons on everything from basic shapes to light and shadow. It showcases a variety of head shapes, and the kit also includes the following: a poseable figurine on a stand to help guide artists in their drawings, a graphite pencil, an eraser, a sharpener, a stencil, a ruler and a 20-page sketch pad. Specialty retail members of ASTRA were impressed with this kit at Toy Fair 2008. Launch date: May 2008. 3/11/2008 (MSRP: $29.95)



Dish Ran Away With the Spoon by LIBERTY PUZZLES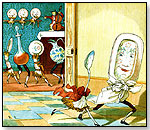 This 73-piece children's puzzle features larger pieces than in the company's traditional line, and measures 9.75" x 11.4". 2/25/2008 (MSRP: $39.00; Age: 5 to 11)



My Mysterious UFO by WILLIAM MARK CORP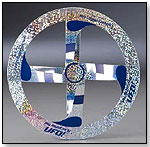 Retail members of ASTRA voiced interest in this product at Toy Fair 2008. The William Mark Corporation is known for its line of flying toys. 2/25/2008 (MSRP: $9.99)



---
---


Copyright © 2020 TDmonthly®, a division of TOYDIRECTORY.com®, Inc.