September 28, 2020

April 2008 | Vol. VII - No. 4


The Dolls of Pomona
New Dolls Reflect Nature and Culture
Dolls of various ethnicities and diverse fashions hit the floor at the WTHRA Western States Toy & Hobby Show in Pomona, Calif., in March. From cuddly to couture, girls' favorite plaything showed up for all ages. Here are some of the latest offerings from manufacturers that were represented at the show:
Fruittsie Tuttsie by FRUITTSIE TUTTSIE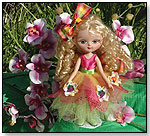 Fruittsie Tuttsie was born from a sweet, blossom-scented spell placed on a flower bed by the magic wand of a fruit fairy named Fruittasia. Fruttsie Tuttsie dolls have colorful dresses accented with fruits and are designed to encourage children to stay healthy and beautiful by eating fruits — a message expressed on each doll's package. "Fruittsie Tuttsie dolls are the first in the market that delight kids because of their beautiful, dreamy eyes with a wonderful fairy tale story that they can follow from chapter to chapter," Myra Miranda, vice president of sales for 7Ms Corp., told TDmonthly. Launch date: August 15, 2008. 3/20/2008 (MSRP: $29.97; Age: 2 to 12)



Adorable Girl Doll - The Girly Girl by ADORABLE ORIGINALS INC.



Each doll in this collection of six hip and huggable soft-bodied dolls is, just like every girl, distinctive in their own way. Whether it's their fashion flair or trademark hair, these dolls, no matter how different they are from one another, are beautiful inside and out. There's Girly Girl, Sporty Girl, Creative Girl, Free Spirit Girl, Social Girl and Performer Girl. Each name carries a special meaning. Plus, their identity tags invite girls to log on to the Adorable Girl Doll website for even more interactive fun. Launch date: Spring 2007. (

Watch Video) 3/20/2008 (MSRP: $39.95; Age: 3 to 9)



Friends Forever Girl - Reina by FRIENDS FOREVER GIRLS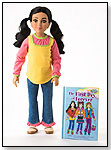 This doll and book set is all about Reina. Reina means "Queen" in Spanish. Reina wants to be a veterinarian when she grows up because of her love for animals. She works really hard in school so she can get good grades to become an animal doctor. She became friends with Marlee and Natalie when she and her family moved to the new neighborhood and became neighbors. Reina received a 10 Best Educational Products for 2008 Award from Dr. Toy. (

Watch Video) 1/8/2008 (MSRP: $89.00)



Calin Naima by COROLLE DOLLS


Suitable for ages 18 months and up, this soft doll with a beanbag body is 12" tall and can be posed like a real baby. She has sleeping eyes and can wear all clothing from the Mon Premier collection.
— Corolle has "constantly improved the line," said Gail Grabish, owner of a Pocketful of Toys in O'Fallon, Mo., about the company's lineup, including Naima, at Toy Fair 2008. "They have really pretty sculpts this year, and then really cute clothes.… The ethnic faces are great." 3/20/2008 (Age: 1 and Up)



Sweet Cuddles Doll by THE CHILDREN'S FACTORY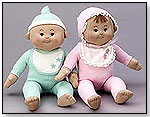 Available in four skin tones, these 14" dolls have embroidered faces and are machine washable and dryable. (

Watch Video) 3/20/2008 (MSRP: $21.95)



Kookle Nesting Dolls by KOOKLE GIFT COMPANY



Kookle Nesting Dolls are a set of fun and meaningful paint-it-yourself dolls from Russia. This kit allows children to create a momentous object of their own creativity. Children can develop coordination and artistic expression while creating a lasting piece of art to commemorate their childhood. Adults can create a distinctive sentimental gift for their loved ones with their own theme, meaning, and personality. Kookle Nesting Dolls kit includes a set of primary acrylic colors, two paint brushes, a handy color-mixed chart, and a set of five stackable dolls (tallest is 6"). Launch date: September 14, 2007. 11/27/2007 (MSRP: $27.99; Age: 6 and Up)



Language Littles Minis - Ricky by LANGUAGE LITTLES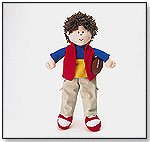 This soft, 12" doll speaks English as well as a second language. Kids can press his tummy to hear four phrases. 3/20/2008 (MSRP: $12.00)



Sticky Pixies™ - Chy Genevieve by STICKY PIXIES



Girls can peel and stick this 7" paper doll onto walls, into scrapbooks or anywhere else for decoration. She wears a removable dress that attaches with Velcro. 3/20/2008 (MSRP: $15.99)



Kayla Rae by ONLY HEARTS CLUB GROUP LLC


Kayla Rae is one of the newest members of the Only Hearts Club. She comes with a kitten and is determined to be a good friend and listen to her heart in order to do the right thing.
— "I sell more Only Hearts than anything else," Donna Anderson of Murphys Village Toy Store in Murphys, Calif., told TDmonthly about this top-selling doll line in summer 2008.
— "Only Hearts are our only dolls," said Susan Castor, owner of Pentwater Toy Box in Pentwater, Mich.
— The Only Hearts Club brand includes six girl dolls as well as L'il Kids, So Small Pets, posable ponies and various accessories. 3/20/2008



The Chronicles of Narnia: The Lion, the Witch and the Wardrobe – Coronation by TONNER DOLL COMPANY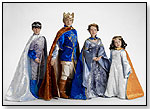 Part of the Tonner Character Figures collection, each Pevensie-sibling replica stands between 13" and 19" tall. Each is dressed in intricately detailed coronation clothes, ranging from molded crown, hand-embroidered details and luxurious fabrics. Each doll is made of hard plastic and vinyl and features hand-painted facial details and 14 points of articulation. 3/12/2008



Multicultural 16" Rag Dolls - Sofia, Lily and Isabelle by KATJAN INC.



These multicultural dolls wear "Best Pals" bracelets and clothes that are removable for added play value. Each doll is limited edition and numbered on its sewn-in label. Sofia features black hair, dark brown skin and black eyes, and is all dressed up in her red polka-dot party dress. Lily has black hair, pale skin and black eyes, and comes dressed in a mint green vintage-patterned dress. Isabelle has dark brown hair, brown skin and dark brown eyes, and is ready for her first day of school in a plaid dress. Launch date: September 2007. (

Watch Video) 6/15/2007



Bratz Super Babyz™ - Yasmin by MGA ENTERTAINMENT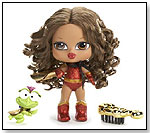 Each Bratz Super Babyz doll comes with a Super Pet, wears superhero fashions and has hair that can be styled. There are four varieties. 3/20/2008



Japan Barbie® Doll by MATTEL INC.



The Japanese doll wears a white kimono decorated with orange, green and gold floral print. She wears a silvery hair ornament and carries a purse that matches her kimono. Launch date: March 2008. 3/17/2008



Riders by PARADISE HORSES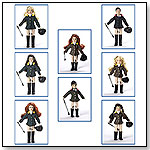 Meet our riders - women and men, girls and boys - all ready to gallop through the fields with your horse. Each comes dressed in removable formal riding attire with his or her own riding crop perfect for showing or schooling. Just like the corresponding horses, every rider is posable so he or she can ride atop each horse and pony. 4/27/2007 (Age: All Ages)



Penelope Peapod – Tea for Two by PENELOPE PEAPOD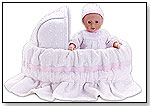 This pretty little bassinet transforms into a straw purse with a cloth drawstring top, perfect for toting around baby. 3/20/2008 (MSRP: $40.00)



Baby Annabell New V4 by ZAPF CREATION (U.S.) INC.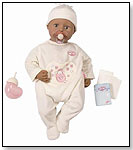 When the "doll mummy" talks to Baby Annabell, she turns her head to the left or the right depending on where the voice is coming from. She babbles, gurgles and sucks on her dummy. When she drinks from the water-filled bottle she makes sucking sounds. Once she has finished drinking, she burps and falls asleep. If she is awakened by noise, she cries - and real tears roll down her cheeks - but singing soon hushes her. The new Baby Annabell's increased capacity to interact with her "doll mummy" will help girl's fluency, confidence and growing sense of responsibility. 11/12/2007 (MSRP: $70.47; Age: 3 and Up)



Dolls by Pauline Celina Ballerina by VERDES TOYS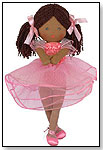 Ready to dance and twirl, Celina is one of three 14" ballerinas dressed in a beautifully detailed tutu with rows of lovely tulle and pretty pink shoes. "Celina, a traditional cloth doll, captures the sweetness and innocence of children in her expression. … [She] is a delightful cuddly soft doll for children. Pauline's heartfelt creations have remained popular for over 30 years," Kent Lai of Verdes Toys told TDmonthly. Launch date: August 2006. 3/22/2007 (MSRP: $16.00; Age: 3 and Up)



Culture Club Kids by NORTH AMERICAN BEAR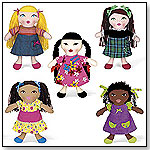 This collection of five, 9" soft tricot dolls features charming names, yarn hair, fashionable outfits and embroidered facial features that present a distinctive international flair. They "reflect a fresh multicultural style for today's little girl. An array of popularly priced dolls in just the right size for easy merchandising helps retailers capture more sales in a growing, diverse specialty toy market," PR Manager Lorene C. Shiraiwa of North American Bear Co. told TDmonthly. Launch date: January 2008. 3/20/2008 (MSRP: $12.00; Age: 3 and Up)



---
---


Copyright © 2020 TDmonthly®, a division of TOYDIRECTORY.com®, Inc.