July 4, 2020

April 2008 | Vol. VII - No. 4


Toys That Got Us Hot
2008 Offerings Ramp-Up Excitement in Toy Stores
The 2008 orders are in and more than half of 45 storeowners surveyed by TDmonthly Magazine are revved up about the new toys coming their way. A quarter said "nothing knocked my socks off" or it was too soon to tell. The rest were looking forward to entire new lines from favorites such as Melissa & Doug, International Playthings, Playmobil, Folkmanis and Plan. Here are the 2008 products they think will be hot:
Spiderwick Chronicles - Interactive Seeing Stone by iTOYS INC.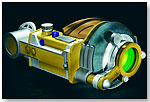 The electronic game, based on the movie "The Spiderwick Chronicles," looks somewhat like a monocle and allows players to see, hear, search and capture creatures from the movie. The Seeing Stone features overlays of digital Spiderwick creatures that can be seen through the device's proprietary electronic effects. The unit makes use of Collimator Sight & Mirror Reflection FX technology for realistic movie effects in a hand-held game. Launch date: February 2008.
— Sales depend "on what movie is coming out.… Their Spiderwick Chronicles will sell well," predicted Gary Timmerding of Johnny's Toys in Covington, Ky., in early 2008. (

Watch Video) 12/19/2007 (MSRP: $29.99)



Indoor Gardening Kit by GREEN TOYS INC.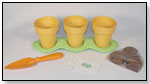 Young green thumbs can watch nature at work by growing an indoor garden in just days with this environmentally friendly Indoor Gardening Kit made of recycled plastic milk jugs. The planting kit comes with a peapod-shaped planter, three planting pots, a trowel, three packages of organic seeds (Teddy Bear Sunflower, Basil and Zinnia) and soil disks. It is made from environmentally friendly materials, helping to reduce fossil fuel use and CO2 emissions in the name of Good Green Fun™. Launch date: September 2007.
— Angel Stahl, owner of Angel's Toy Barn in Greensburg, Pa., thinks these eco-friendly toys will do well for her in 2008. (

Watch Video) 8/21/2007 (MSRP: $34.99; Age: 5 and Up)



OgoSport Copter Darts Game by OGOSPORT, LLC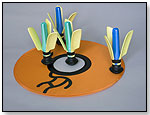 A twist on the traditional lawn darts game, CopterDarts utilizes a weighted plastic tip and foam wings to simulate the play value of lawn darts, without the use of metal tips. When thrown in the air, the CopterDarts hover back down in an agitated state of virtual slow motion, and upon landing, right themselves into a standing position. CopterDarts is a winner of Creative Child Magazine's 2008 Creative Toy Award. 2/26/2008 (MSRP: $33.00; Age: 3 and Up)



Xeko Mission: China by MATTER GROUP LLC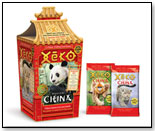 The animal trading card game stimulates kids' interest in math, science and nature. Players use cards to match wits against opponents, casting actual animal species as the heroes and basing game play on fragile ecosystem relationships. The starter-set game includes 130 cards, an oversized game mat, a rule book and play guides, all packaged in a heavy-duty storage box decorated with imagery reflective of ancient Chinese culture. This product received a 2008 iParenting Media Award. Launch date: July 2008. 12/11/2007 (MSRP: $24.99; Age: 8 to 12)



Mega Marbles Iguana by FABRICAS SELECTAS USA (FS-USA)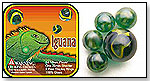 The iguana-themed marbles are packed in a net, attached to a colorful header card. Many other animals are available, including Bengal Tiger, Flamingo, Clown Fish, King Penguin, Raven and Zebra.
— "They're different than your regular bag of marbles," said Gwen Bowden, manager of Doodlehopper 4 Kids in Springfield, Va. 3/27/2008 (Age: 5 and Up)



Puzzleball® - Junior World Map by RAVENSBURGER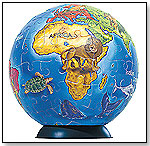 The kid-friendly, 3D-puzzle globe is composed of curved pieces that fit together perfectly to form a solid, smooth ball without any need for glue. The 96-piece puzzle measures 5" in diameter when assembled.
— Ravensburger's puzzle balls are selling well for David Hesel, owner of The Toy Shop in Concord., Mass. "We just got a 5' one, which we just put into our window," he said in March 2008, adding that the store has sold 100 puzzle balls since January.
— Nancy Bloomberg, owner of La Toys Etcetera in Cedarhurst, N.Y., was impressed with Ravensburger puzzles at Toy Fair 2008 and recently bought "individual pieces in a new buying program," she told TDmonthly. "Our area is heavily populated with orthodox Jews so it's important to have non-electronic toys; a focus on games, building and puzzles is generally very strong."
— Three of 32 retailers said in October 2008 they anticipate the Puzzleball to be one of the best-selling toys for the holidays. "Puzzles are a great niche for us," said Michele and Ken Gietz of Where'd You Get That!? in Williamstown, Mass., when discussing their best sellers in fall 2008. Ravensburger is among the various brands of puzzles their store stocks for both children and adults. (

Watch Video) 3/27/2008 (MSRP: $14.99; Age: 6 and Up)



Scrap 'N Stuff Bag by ALEX BRANDS



The scrapbook-and-bag-in-one comes with precut cards, pockets, fabric, ribbons, sticky felt, buttons, white glue, stencil sheet, stickers and simple instructions. 3/27/2008 (Age: 6 and Up)



Okiedog - Fropper by INTERNATIONAL PLAYTHINGS LLC



The ride-on is intended for toddlers over the age of 18 months. The ride-on features a unique spring system that links the two-level seat, a curved seat for security and caster wheels that make changing direction easy. The ride-on can fold into a fraction of its original size, making it convenient for parents to carry and store. Launch date: December 2007.
— "Fropper by International Playthings…we sold every one as soon as they came in and we have them on back order," Kathy Byrd, owner of Fantasy Island Toys in Fairhope, Ala., told TDmonthly.
— "Fropper is new and doing well," Josh Darby, manager of Toy Up in Little Rock, Ark., told TDmonthly in early 2008.
— Two of 45 retailers who spoke with TDmonthly in early 2008 singled out the Fropper as their stores' most popular ride-on. The Fropper continued to be a favorite into spring 2010, cited by two of 37 retailers during a TDmonthly survey on best-selling ride-ons, with sales of two to 10 per month.

Past videos: WTHRA 2009 (

Watch Video) 3/24/2008 (MSRP: $70.00; Age: 1 and Up)



Solar System 48pc Floor Puzzle by MELISSA & DOUG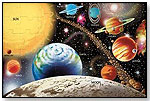 The 48-jumbo-piece puzzle depicts the planets and the moon in the solar system. The puzzle is educational and also teaches kids matching and motor skills. Each puzzle piece is made of extra-thick cardboard for extra durability. The puzzle measures 24" x 36" when assembled.
— "Melissa & Doug's solar system puzzle – we sell at least one a day," Steve Ricks, owner of My Story House Toys in Roswell, Ga., told TDmonthly.
— "Floor puzzles by Melissa & Doug – [we sell] at least one a day," Bob Colbert, owner of The Toy Box in Searcy, Ark., told TDmonthly.
— Over 11 percent of retailers who spoke with TDmonthly in early 2008 shared that large floor puzzles by Melissa & Doug are their stores' best-sellers when it comes to puzzles. (

Watch Video) 3/24/2008 (MSRP: $11.99; Age: 3 and Up)



Brachiosaurus in Rocky Territory by PLAYMOBIL INC.

Capture a video of the enormous Brachiosaurus with the adventure-seeking explorers. The set includes a Brachiosaurus with movable parts, two figures, a frog, camera, sword, cave, trees and other accessories. Launch date: January 2008.
— "The kids are pretty excited about the Playmobil dinosaurs. That's one, particularly, that took off for us," Yamil Castillo, owner of The Red Balloon Toy Store in Salt Lake City, Utah, told TDmonthly in April 2008. "[I sell] maybe 36 per location, [and] I've got three locations."
— Playmobil has a "great following in our store," Bob Breneman, owner of G. Willikers in Portsmouth, N.H., told TDmonthly in April 2008, when asked to name his store's best-selling playset. "Kids spend their own money on it when they're older. … [We sell] somewhere between 50 and 75 units across the line" per month.
— Seven of 50 retailers who spoke with TDmonthly in April 2008 named Playmobil playsets as their best-selling playsets. 12/18/2007 (Age: 4 and Up)



Big Jack™ Bat & Ball by MARKY SPARKY TOYS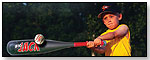 The lightweight bat features patented air pressurization, which strengthens the bat while sending the ball long distances. An equally innovative ball is also included. 3/27/2008 (MSRP: $19.95)



Pull-Along Zebra by PLANTOYS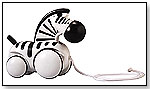 When pulling the zebra, the head will nod up and down and the back rolls as the hind legs spring up and down. For children 19 months and up. 3/28/2008 (Age: 1 and Up)



---
---


Copyright © 2020 TDmonthly®, a division of TOYDIRECTORY.com®, Inc.