October 22, 2021

---
Keeping Up With Green
Eco-Friendly Themes Invade the Toy Box
"Green" hit the trade show floor in high fashion at Toy Fair 2008, in everything from packaging to product name and message to materials. Although there is a wealth of earth-friendly product now out on the market or debuting this year, the items below represent some of the latest innovation and various ways in which an eco-friendly emphasis can be applied.

The high cost of some environmentally friendly products may deter customers who would otherwise prefer such toys, especially during a troubled economy. But with so many debuts, 2008 may well be the testing ground that determines their success or failure in the coming years. Here are some of the eco-friendly products that saw ample media coverage from Toy Fair or were a big hit with specialty retailers:
Sprig Adventure Series by SPRIG TOYS, INC.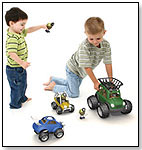 Sprig Toys is a new, environmentally responsible toy company created by award-winning industry veterans (former Mattel and Radica designers). Its line of kid-powered, totally green adventure vehicles for preschoolers is made from Sprigwood™, a child-safe bio-composite material derived from 100-percent recycled wood and reclaimed plastic. The Sprig Adventure Series harnesses the natural energy of push- and pump-action play to power lights and other electronics — all without batteries. Adventure Guide characters wearing LED-lit hats plug into durable, attractively designed vehicles and engage preschoolers with audio that guides them through exciting adventures as they play. Launch date: Fall 2008.
— "The sets were attractive, nicely packaged in recycled/biodegradable material, and had a rugged, tactile quality," said TDmonthly reporter Marie Raven, also a buyer for Over the Rainbow in Anchorage, Alaska, at Toy Fair 2008. "It's a small line but felt to me like an appropriate number of items for a nice in-store presentation while appealing not only to the eco-sense of our customers, but also providing active and stimulating educational play."
— "I was really impressed by all the angles that it covered," said Jennifer Klein, who in early 2008 ordered all three Sprig Toys vehicles for her store, Earth Child, in Sebastopol, Calif. Five of 24 retailers told TDmonthly this was one of their favorite lines at Toy Fair. (

Watch Video) 1/17/2008



Sand Play Set by GREEN TOYS INC.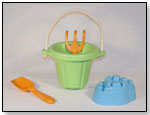 Kids will dig building castles and hunting for buried treasure with this environmentally friendly Sand Play Set made of natural bio-plastic. This classic four-piece collection of tools includes a bucket, a sand castle mold, a shovel and a rake. It is made from recycled plastic milk jugs. Launch date: September 2007.
— Kristin Pollard of Mud Puddle Toys in Marblehead, Mass., has had a "good response so far to the sandcastle set that has come in," and has more sets on order, she said in early 2008. Products by Green Toys were a Toy Fair favorite for five of 24 retailers surveyed by TDmonthly. (

Watch Video) 8/21/2007 (MSRP: $19.99; Age: 3 and Up)



H2Go by CORGI USA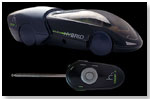 Developed by Hydrogen Fuel Cell Technologies, this car runs on hydrogen power supplied from a charger unit that stores the water (fuel). It comes with a handset for controls and offers five to seven minutes of playtime per two-minute (full) charge. Whereas similar models, such as the H-Racer, were more for education and demonstration purposes, this model is designed for play, according to Mark Bawtree of Horizon Fuel Cell Technologies. Launch date: September 2007. 2/19/2008 (MSRP: $99.00)



Mini Solar Kit – Peppy Orangutan by OWI INC.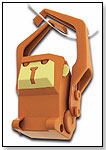 The orangutan's animal-like animation – traversing over ropes, hand-over-hand like a real monkey – is enabled using only solar energy. Only 15 parts need to be assembled. The unit will motivate students to learn about micro-robotics and solar energy. It will also teach students to follow precise visual diagrams. (

Watch Video) 1/2/2008 (MSRP: $15.95)



Waverly, the Water Drop Idbid Kit by IDBIDS LLC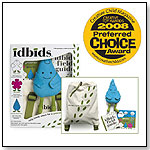 A little dreamy, very sweet and loves a good laugh. He even makes fun of himself – often saying he may be all wet, but he is certainly no drip. Of course, as an Idbid, he also has a serious side. Waverly is particularly – and deeply – concerned about protecting the Earth's water resources and keeping them clean.

AREA OF EXPERTISE: Oceans, seas, rivers and lakes
INTERESTING FACT: A fan of 60s music who is known to turn up the volume a little too high

Waverly is a huggable, soft, plush toy handcrafted in Egypt with 100% Egyptian cotton. No two are alike - just like children!.

Launch date: February 2008. (

Watch Video) 11/19/2007 (MSRP: $39.99; Age: 3 and Up)



Ecotronic™ Eco Rocket by Russimco Limited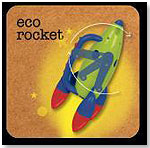 This toy rocket lights up for flight and makes realistic rocket sounds, but doesn't require batteries. It simply needs to be wound. The product comes in biodegradable Gekopak™ packaging made completely from recycled paper.
— Caitlin from Toys on the Brain was immediately stricken by the refreshing package the Eco Rocket came in. Both environmentally friendly and attractive, the package allowed for quick removal of the rocket to move on to play. Her kids heartily approved of the rocket, with one even exclaiming, "I love the toy you got me!"
— Amanda Robinson of Natural Mommie was thrilled by the fact that the rocket's noises were not too loud or annoying. The rocket's large handle was perfect for her son to hold. (

Watch Video) 2/18/2008 (MSRP: $20.00)



---
---


Copyright © 2021 TDmonthly®, a division of TOYDIRECTORY.com®, Inc.