---
Green Takes Over
Earth-Friendly Themes and Materials Color Show Floor
The grass is greener at Toy Fair 2008, perhaps more than it's ever been. That's no surprise, though, considering eco-minded efforts for everything from clothing and food to cars and furniture.

How is "green" shading toys at this year's show?

IT'S IN THE PACK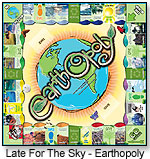 Some game makers are emphasizing eco not only by theme but also in the packaging. Those pairing recycled materials with soy-based inks include USAOPOLY's Monopoly Planet Earth, paintable houses by Imagination Box Co. and Alex Toys' Zoominoes and other preschool games, which include a water-based varnish.

Also employing soy-based inks, Earthopoly by Late for the Sky is environmentally friendly from its name down to the box's shrink wrap, which is made from corn and completely biodegradable.



High IntenCity Corp. is charming showgoers with its Go Green Gift Set of five charms featuring environmentally friendly messages such as "Plant a Tree" and "Reduce-Reuse-Recycle," all packaged in a 100-percent recycled cardboard box.

Ecotronic toys by Russimco come in brown, egg carton-like packs made completely of recycled materials, furthering supporting the green theme evident in the products' battery-free emphasis.

BATTERY SUBSTITUTES

The Dynacar and other toys by Zen Design Group utilize the same concept, replacing traditional battery power with child-propelled energy created by turning a crank.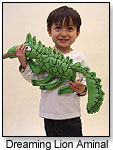 Sprig Toys unveiled a line of battery-free vehicles that, once pushed or pumped by a child, play original audio adventures. They come with little Adventure Guide figurines that sit in the driver's seat, their occupation-distinctive hats lighting up when the toy is powered.

DOLLS AND PLUSH GO GREEN

Made in India, Dreaming Lion's six Aminals plush, which are based on drawings by children, feature 100-percent organic and fair-trade unbleached, unprocessed cotton.

Director Chris Greenwood of E-Innovative Ideas said the initial inspiration for his 11", soft-bodied EcoDolls was about encouraging girls toward a better self image. But about a year ago, there was "new news from Europe that kids were losing sleep over issues in the environment," he told

TD

monthly, so he designed the line with an eco focus.

The dolls come with storybooks in which characters participate in projects that help the environment, such as using water to generate electricity for businesses or wearing solar patches on one's backpack in order to power an mp3 player.

Fashion Angels' new Eco Angels line includes "Be an Environmentalist" and other kits, as well as stationery featuring maple wood harvested from a farm in Minnesota.

Perhaps because applications for a brand name were submitted around the same time, there's a second Eco Angels line — this one for babies — from Tomy. The plastic for these six products, including a grip toy and crib mobile, is derived from sugar cane, corn and other natural materials.

AN ECO-FRIENDLY HISTORY

Although being "green" is recognized as a hot, new trend this year — evident in products such as GreenTalk Conversation Cards by U.S. Games Systems — some companies historically have been mindful of the environment.

Owner Maria Carillao of Yo-Bonic told

TD

monthly her company is "an existing eco-friendly company that's never really been recognized for that."

Then there's Maple Landmark Woodcraft and Holztiger, which employ maple wood and non-toxic, water-based paint or natural finishes. Furthermore, games by Uncle Skunkle Toys use materials such as bamboo, rubberwood and second-generation cloth.

See these and other "green" toys below:







.

AD
---






.

AD
---






.

AD
---






Part of the company's TableTalk series, this colorful 52-card deck is full of ideas for greener living. Each illustrated card presents a fascinating fact about the environment and a thought-provoking question about the choices we make every day. GreenTalk provides a fun way to get conversations rolling at home, in schools or while traveling. "From the delightful graphics to the engaging questions, GreenTalk was designed with kids in mind and makes it fun for young people to start thinking and talking about the active roles they can play in protecting our Earth," Lynn Araujo of U.S. Games Systems told TDmonthly. Launch date: April 2008.

.

AD
---






.

AD
---






Made of 100-percent maple, products in the Schoolhouse Naturals' line have either no finish or an earth-based finish, such as beeswax or whey. The smooth, wooden Push Pulls come in bunny, bus and elephant varieties and have holes in the front for a string so that a child can still utilize the toy when he or she starts walking.

.

AD
---






Players build the tower, roll the dice to determine the destructive device and then knock down the tower with the Catapult, the Pendulum or the Ramp. The entire set is made from beautiful, sustainable rubber-tree wood. This game received a 2007-2008 Informal Education Products Award. Launch date: June 2008.

.

AD
---






The set builds environmental awareness with statement charms such as Love Earth, Green is Good, Plant A Tree and Reduce-Reuse-Recycle. Each set comes with five eco-themed interchangeable charms and a charm bracelet. The packaging is made of 100 percent recycled cardboard, features an eco-art design and comes with a 100 organic cotton insert. Launch date: Spring 2008.

.

AD
---






Based on children's drawings, these scribbly characters are made with organic cotton farmed through eco-friendly processes. The line consists of Momey, Eflong, Dady, Dinasor, Liun and Duggy. Launch date: February 2008.

.

AD
---






.

AD
---






.

AD
---






.

AD
---
THIS BANNER IS AN AD:
---
---