April 12, 2021

October 2008 | Vol. VII - No. 10

---
Regional Reports: What's Selling … and Where
Find Out What's Going on in Stores Near You
Only interested in what's going on in your market? Take a peek by region to see what to stock and when to think twice: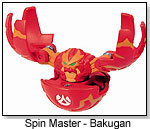 New England Trends by Chris Lundy

Quick, easy-to-learn games like Bananagrams and Bakugan from Spin Master are still strong. Pokémon seems to be making a resurgence.

Collectibles are on the downslope. The few stores that are selling higher-priced merchandise don't seem to be selling a lot. However, those who are carrying Munny by Kid Robot or Webkinz are at least moving product, though the latter has slowed since last year.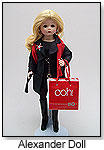 Mid-Atlantic Trends by Brenda Ruggiero

Ganz's Webkinz are on the decline, and retailers are mentioning that they haven't been the same as Ty's Beanie Babies, after all; they haven't lasted as long.

Even grandmothers are slowing down on the Madame Alexander dolls, retailers report. Demand for other collectibles, including porcelain dolls, is also way down.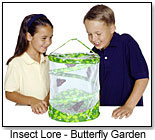 Southeastern Trends by Sharri Hefner

As was true in the rest of the country, the Southeast's science bugs preferred Insect Lore's Butterfly Gardens and Grow-A-Frog's frog growing kits.

Even though sales are fading, Webkinz are still the most popular collectible outside the doll market. In doll stores, Madame Alexander stands strong. Overall, many say collectibles are fading, as customers have tightened their spending.

For card games, relative newcomers such as Phase 10, Ruckus and Blink are performing alongside vintage Uno and Old Maid. For overall toys and games, Playmobil, PlasmaCar and the games Monopoly, Mexican Train and LCR move well during summer months.



Midwestern Trends by Terri Hughes-Lazzell

Most specialty toy-store owners have found that collectible items seem to be the thing that falls off the radar during an economic downturn. Whether it's dolls, Thomas train pieces or die-cast, people are not buying these items at as high a rate as they were earlier, when gas prices weren't as high and people weren't as concerned about their income. But while collectibles may be down, games are still a good seller; a new one entering the ring and selling well for some stores is Quick Count Football from Spelman Media.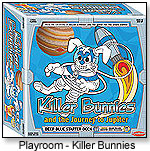 Southwestern Trends by Claudia Newcorn

Though Webkinz was mentioned by two out of six retailers as the most popular collectible, three said it has slowed down significantly. One retailer feels the era of collectibles has passed, particularly given prices. Another says they prefer to carry "useful" collectibles — something people can actually play with.

Set Enterprises' Set and Five Crowns, Gamewright's Slamwich and Playroom Entertainment's Killer Bunnies received one mention each as being a popular card game. No one toy or game received more than one mention as being a best seller.


Western Trends by Claudia Newcorn

No one collectible stood out, nor had the five merchants interviewed seen any trends. Two stores have gotten out of collectibles, one mentioning because they want toys to be playable. Anything related to bugs is popular among Science & Nature products, and the most-mentioned card game was Five Crowns.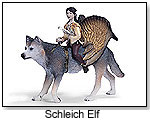 West Coast Trends by Marie Raven

Collectibles were hit and miss, with some retailers saying they didn't sell items in this category, others defining items such as Webkinz and Papo or Schleich figurines as toys kids collect, and only very few claiming that traditional or classic collectibles were a good market for their audience. Set Enterprises topped the card game category by a landslide, with Set and Quiddler being the most frequently mentioned. These were followed by Gamewright. Overall best sellers were somewhat divided, with nods to ride-on toys, games (Blokus by Educational Insights, in particular), Webkinz and Playmobil.

See all of the products mentioned below:
Bakugan Battle Brawlers - Starter Pack by SPIN MASTER TOYS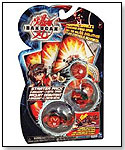 Bakugan is a strategic card game played with magnetic, spring-loaded marbles that transform into robots. The game spawned an animated series on Cartoon Network, Bakugan Battle Brawlers, which debuted on February 24, 2008, according to Wikipedia. Launch date: February 2008.
— Barbara Vininsky, owner of Blossom & Harry in Montreal, Canada, said in early 2008 that this is her hottest item by far: "It's out of control; I've never seen anything like it." Boys 6 to 9 are snatching it up as fast as she can order, even though her store specializes in clothing and she rarely has hot toys for boys.
— Two of 63 retailers named Bakugan when asked about their overall best-selling toy in September 2008. Tim Hayes, owner of Learning Express in Sudbury, Mass., told TDmonthly in November 2008 that his store sells 500 to 600 units of Bakugan monthly. "We've been very fortunate in having shipments," he said.
— David Marks, owner of Learning Express of Westport in Westport, Conn., lauded Bakugan for its wide range of appeal. "I've been in this business for 13 years and I've never seen a product appeal to kids as young as 5 and as old as 13," he told TDmonthly. (

Watch Video) 4/3/2008 (MSRP: $14.95; Age: 6 and Up)



BANANAGRAMS® by BANANAGRAMS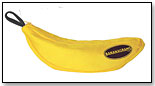 The fast-moving word game consists of 144 ivory-like letter tiles in a zippered banana pouch. Players place the tiles face down on the table and randomly select 21 tiles. They turn their letters right-side up simultaneously and proceed to form as many intersecting and interconnecting words as possible, rearranging their own letters as many times as desired throughout the game. Awards: TDmonthly Top Seller 2007; 2009 TOTY Game of the YEAR, 2006 Oppenheim Toy Portfolio Gold Seal; 2007 iParenting; 2007 Parents' Choice Recommended; 2007 Dr. Toy Best Products. (Read Review)
— This product has been making the TDmonthly Best-sellers lists since 2007.
— As of 05/13/2011 this product had 4.8 out of 5 stars from 456 reviews on Amazon.com.
— Eight of 66 retailers vouched for its best-selling status in May 2008; seven of 63 did in Sept. 2008. Shani Watmough of Planet Toys in Rockland, Maine, said her store sells 60 per month. Fifteen of 38 named it a top-selling game in Feb. 2010.
— As of April 5, 2010, Bananagrams had spent 570 days in the top-100 best-selling toys and games on Amazon.com.
— According to owner Brett Sommer of Figpickels Toy Emporium in Coeur d'Alene, Idaho, "It was the 2009 game of the year. The brilliant packaging definitely helps this product." (

Watch Video) 6/19/2006 (MSRP: $14.99; Age: 7 and Up)



Pokémon Diamond & Pearl Secret Wonders Starter Set by POKEMON USA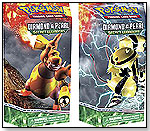 A complete foundation to building a customized deck of tradable Pokémon cards, this starter set is a great way to get into the action of the expandable trading card game. Through the character-based cards, children play as competing Pokémon trainers, using the different creatures and abilities in their decks to try and best their opponent as their Pokémon battle. Further cards can be purchased or acquired through trading, giving the game a substantially more social aspect than simply playing with a friend or two. Children must think ahead, deciding what will give them the best chance as their build their decks and use strategy in the game-play itself.
— David Marks, owner of Learning Express of Westport in Westport, Conn., said Pokemon is still his top seller. "There's been a resurgence after a couple of years," he told TDmonthly.
— "Pokemon's been kind of ridiculous. We can't keep Pokemon in stock," Michelle Deutschmann, owner of Kaleidoscope Toys in Falmouth, Mass., told TDmonthly in August 2008.
— Four of 64 retailers named Pokémon when asked about best-selling card games in summer 2008. The Toy Chest in Cary, N.C., sells between 30 to 50 card packs per month, Owner Sharon Heath said. 9/29/2008 (MSRP: $27.99)



Webkinz Black Poodle by GANZ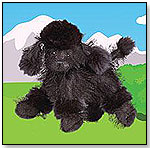 This fashionable poodle is one in a line of plush pets featuring interactive computer play. Using a special code specific to the pet, kids can log onto the Webkinz website, meet the pet's online counterpart, and build special rooms with points gained from answering trivia questions. Online, this pet's special item is the Poofy Poodle Chair, and its special food is Licorice Canepés.
— Terry Myers, owner of Kaledioscope Toys in Round Rock, Texas, told TDmonthly in July 2008 that her store sells about 350 Webkinz per month.
— "[We sell] about 100 per month," said Donna, owner of The Perfect Present in Suwanee, Ga., who also named Webkinz as a best-selling gift item for girls.
— Eleven percent of 66 retailers polled in summer 2008 cited Webkinz as their top-selling girl gift. 8/28/2008 (Age: 6 and Up)



Beanie Babies - Boomer the Dog by TY INC.



A member of the current line of collectible Beanie Babies from Ty, Boomer is a caramel-colored plush pup with darker ears and a spot around one eye. He has a soft, bean-filled body, shiny plastic eyes and nose, and wears a ribbon collar around his neck.
— "Beanie Babies are still sold," Chuck Susmilch, owner of JT Puffins in Madison, Wis., told TDmonthly.
— Six percent of 64 retailers said in August 2008 that Beanie Babies continue to be a mainstay of their sales in collectibles. 9/29/2008 (Age: 3 and Up)



Grow A Frog™ by BEST OF BEST



Watch the incredible metamorphous from tadpole to adult frog. Grow A Frog™ includes aquarium, growth food, pet handbook and certificate. Just mail in the certificate and a live tadpole will be sent directly to you! Ages 6 and up.
— "I often have to point the kits out, as [kids] are transfixed by the aquarium," Richard Stoecklein, owner of The Toy Factory in Jacksonville, Fla., said in summer 2008 of the live Grow-A-Frog display he has kept on his counter for many years.
— Five percent of 64 retailers said in August 2008 that Grow-A-Frog is a top-selling science and nature item. 9/25/2007 (MSRP: $19.99; Age: 6 and Up)



Live Butterfly Bungalow by INSECT LORE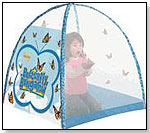 This giant live butterfly habitat allows children to grow butterflies from the caterpillar stage, hold them and then set them free. The airy bungalow offers up-close observation time, and the sturdy enclosure can be used again and again in a classroom or playroom. The habitat comes with a coupon for 10 caterpillars and food, plus a fun-filled fact guide.
— "The butterfly hut from Insect Lore ... where a child can get inside," said Diana Gisolfi, co-owner with her two sisters of Three Sisters in Springfield, Mass., when asked by TDmonthly about best-selling science and nature toys.
— Three of 32 retailers said Insect Lore butterfly sets are hot-selling items in science and nature.
— One retailer told TDmonthly in summer 2007 that she sells about six butterfly kits from Insect Lore each month. 4/18/2007 (MSRP: $39.99; Age: 4 and Up)



Phase 10® Twist by FUNDEX GAMES



Phase 10 Twist is a wickedly wild board game of risk, reward and terrific twists. Based on one of the world's best-selling card games – Phase 10, players complete rummy phases to move around the board. Players landing on the unique TWIST space mush make choices which if successful, can offer big rewards or failure. Three discard piles increase strategy and speed of play. To win a player must complete one of 10 brand new phases! It's twisted from start to finish. Includes game board, discard and draw card tray, two decks of Phase 10 cards, 1 deck of Twist Phase 10 cards, Twist Phase 10 card holder, 6 player pieces and instructions. 11/19/2007 (Age: 8 and Up)



Blink by OUT OF THE BOX PUBLISHING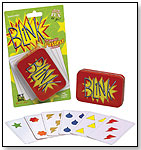 Blink is a lightning-fast game where two players race to be the first to play all of their cards. Using sharp eyes and fast hands, players quickly try to match the shape, count or color on the cards. The first player out of cards wins. Fast and portable, Blink is instant fun for everyone.
— "Any age can play it," said Linda Doucette, manager of Learning Express in North Hampton, N.H., of why Blink is a favorite in her store. When asked about her top-selling card games, Melissa McCollum, owner of Learning Express of Hoover in Hoover, Ala., told TDmonthly, "That would have to be Blink. I'd say [we sell] about 10 per month."
— Two of 32 retailers who spoke to TDmonthly in summer 2007 cited Blink as a top-selling card game in their specialty stores. Three of 64 retailers named it as a best-selling card game in August 2008.
— In early September 2009, Andrew Wage, owner of Building Blocks Toy Store in Chicago, said his store sells about 10 to 20 units per month of this game. 4/22/2005 (MSRP: $5.99; Age: 7 and Up)



Deluxe UNO by MATTEL INC.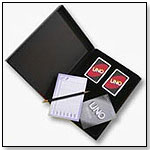 This deluxe version makes for a more sophisticated evening of UNO. It also makes for the perfect gift. Designed for two to ten players, and taking less than thirty minutes to play, one of America's most recognized family games comes in elegant tin packaging for style and sturdiness. It also comes with score pad and pencil so that there's a winner to be declared at the end of each fun game.
— "UNO by Mattel" was the best-selling card game in the store of Michelle, manager at Whippersnappers in St. Simon's Island.
— Two of 29 retailers who spoke with TDmonthly in the summer of 2007 said that UNO was a customer-favorite card game in their stores.
— "UNO is the number one card game in America and now fans of the classic game can experience an entirely new version with UNO Deluxe. The new version features a wipe off scoring system, a removable draw and discard tray, and a premium box that folds out for easy scorekeeping," said Michele Sturdivant, Director of PR, Mattel Brands. 8/9/2007 (MSRP: $9.99; Age: 7 and Up)



Old Maid by eeBoo corp.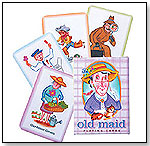 A simple card game, Old Maid is played by two to eight players who try to make pairs out of randomly dealt cards. Pairing up is the only way to eliminate cards from a hand, but each round every player has to take a card that he or she has not seen from another player's hand and hope it makes a pair! The game is over when only the 'Old Maid' card is left ― the one card in the deck that has no match ― and the person holding it loses. This set from eeBoo features whimsical illustrations for children. Launch date: 2002.
— "It's a classic game with adorable illustrations!" Kim Emigh, VP of e-commerce at Growing Tree Toys in State College, Pa., told TDmonthly.
— Five of 64 retailers named Old Maid when asked about best-selling card games in August 2008. This version from eeBoo is one of many on the market.
— Nathan McKelvey, manager of Toy Castle, LLC in Jonesboro, Ar., told TDmonthly in a September 2011 survey that Old Maid is one of his top-three bestselling card games. 9/29/2008 (MSRP: $8.99; Age: 5 and Up)



Small Excavator by PLAYMOBIL INC.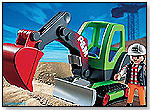 The arm of this colorful excavator is moveable, and the cabin rotates for added play value.
— Six of 66 retailers named Playmobil as an overall best seller in July 2008.
— "[It's] probably a good 40 percent of my sales each month," Linda Hanzelko of Timmy's Toy Chest in Lake Mary, Fla., told TDmonthly.
— According to Randy Austin, owner of The Gifted Child in Lenox, Mass., Playmobil items were best sellers at her store during summer 2008. 8/29/2008 (MSRP: $17.99)



PlasmaCar® by PLASMART INC.



The Original PlasmaCar continues to intrigue and fascinate. Powered by kid power; no batteries, gears, or pedals needed. Just sit, put your feet up, and turn the steering wheel to propel yourself forward. The patented safety seat design places riders in a safe, comfortable position and minimizes tipping. Moves up to 6 mph on any smooth, flat surface. Supports up to 220 lbs. Visit www.plasmacar.com to see all the wonderful colors available.
— In a March 2015 survey, two out of 10 retailers told TDmonthly that Plasmacar is a best-selling outdoor toy.
— As of 05/13/2011 this product had 4.5 out of 5 stars from 122 reviews on Amazon.com. Cons: Does not work well on surfaces that aren't completely smooth.
— This top-seller in specialty stores earned a TDmonthly Top Toy 2007 award for its distinctive aerodynamic design and ease-of-use. TDmonthly believes it has the potential to become a classic due to its fresh, contemporary appeal and application in a child's formative years.
Awards: 2012 Parents Choice Awards Recommended, 2009 Green Parents List Check Mark, 2009 DisneyFamily.com Top Action Figures and Toys for Toddlers, 2009+2008+2005 The National Parenting Centre Seal of Approval, 2008 iParenting Media Toy Award, 2008 Fat Brain Toy Award Active Play, 2006 TIA Outdoor Toy of the Year - Specialty Toy of the Year, 2006 Oppenheim Toy Portfolio Platinum Award, 2005 Oppenheim Toy Portfolio Gold Seal Award, 2005 Dr. Toy Best Vacation Products, 2005 Creative Child Seal of Excellence, 2001 International Patent Fair, Hong Kong Gold Medal 6/28/2005 (MSRP: $69.99; Age: 3 and Up)



Mexican Train by PUREMCO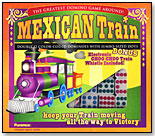 Mexican Train is domino game for all seasons and groups. With brightly colored dominoes with jumbo dots, and a clear plastic train turntable centerpiece, 91 double 12 dominoes, 8 train markers, a dual-sound electronic centerpiece with a train and rooster sounder for the games of Mexican Train and Chickenfoot, all in a black, leatherette case, it´s a one-stop fun time.
— "It's a good interactive game ... kind of like a conversational game for all ages," Michelle Hubbell, owner of The Toy Store in Highlands, N.C., told TDmonthly.
— Two of 63 retailers named Mexican Train when discussing their overall best-selling toy or game in September 2008. 8/23/2005 (MSRP: $22.95; Age: 6 and Up)



LCR® Left Center Right™ Dice Game Blue Tin by GEORGE & COMPANY LLC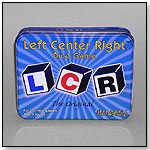 This addictive, fast-paced dice game is now available in a blue tin box. This edition includes three specially marked LCR® cubes. The game itself retains its original simplicity where the roll of the dice determines which players to the left, right or center get the chips; the winner being the player with the chips at the end. Simple, fun and even educational for growing minds. L-C-R also comes with 24 playing chips and game instructions. The game is designed for three or more players. 4/15/2008 (MSRP: $8.98; Age: 5 and Up)



Thomas & Friends Wooden Railway Pirates Cove Set by LEARNING CURVE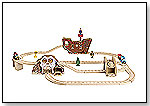 This adventure-packed set features a fun Pirate Shipwreck, Skull Mountain and Treasure Tunnel. Launch date: May 2008.
— Two of 66 retailers told TDmonthly in July 2008 that Thomas products are a top-selling gift item for boys.
— Thomas items are best sellers at Melody's Choices in Fayetteville, Ark., as reported by Owner Steve Melody in spring 2009. 5/21/2008 (MSRP: $149.99; Age: 3 and Up)



Quick Count Football by FLYING PIG GAMES, INC.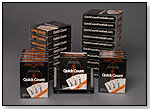 Quick Count is a fast-paced, family football card game played by two to four people. A typical game lasts approximately 30 minutes and is played in quarters like real football. Games can be easily stopped after a few minutes and resumed later. Players can complete passes, run the ball, kick field goals and stop their opponents' big play — all with a 54-card deck that fits in a pocket, purse, briefcase or backpack. "Quick Count is the first game where people can enjoy America's most popular sport (football) in 30 minutes or less, and because of its size and portability, the game can be taken or played anywhere with ease," CEO Jeff Spelman of Spelman Media told TDmonthly. 4/11/2008 (MSRP: $7.99; Age: 7 and Up)



FIVE CROWNS® by SET ENTERPRISES INC.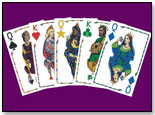 FIVE CROWNS® – The Game Isn't Over 'til the Kings Go Wild! ® FIVE CROWNS is a five-suited rummy-style game that is a quick favorite for both avid and casual card players. It starts with 3 cards and 3s are wild, the next hand has 4 cards and 4s are wild and so on 'til the Kings Go Wild! Make the right combinations, be the first to go out, then watch the others scramble as they get one last chance to cut their losses. Players 1-7. Age 8+
— This take-off on Rummy, only with five suits instead of four, sells well for Andy Detling, owner of Whoops! & Co. in Minocqua, Wis. "I noticed more of a return to family games this year," said Cheri Sims, store manager of White Rabbit Toys in Ann Arbor, Mich., who said this game was one such game that families were stocking up on.
— In summer 2007, three of 32 retailers cited Five Crowns as the most popular card game. In August 2008, almost 25 percent of retailers named Set Enterprises as their top-selling card game company; 8 percent listed Five Crowns as a best-selling card game. In late summer 2009, three of 38 retailers cited it as their top-selling card game. In Feb. 2010, four of 38 retailers called it a best-selling game, selling between 3 and 25 units monthly. In an August 2010 TDmonthly survey, three of 43 retailers named Five Crowns a card game best seller.
— As of 10.25.10, this product had 5 out of 5 stars from 15 reviews on Walmart.com and was listed as the #3 bestseller in Games & Puzzles. PROS: easy to learn, fun for the whole family. (

Watch Video) 1/20/2006 (MSRP: $12.99; Age: 8 and Up)



Quiddler by SET ENTERPRISES INC.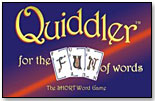 A fast word game played with cards, Quiddler is designed for 1 to 8 players. Each game consists of eight hands. The first hand is played with three cards, and a card is added during each hand until the players begin the final hand with 10 cards each. The object of the game is to combine an entire hand into words of two or more letters, drawing and discarding on each turn. The first player to have an entire hand of words goes out. Quiddler is a deck of 181 cards.
— "People love the rummy concept, where you need to go out, and this is an unusual variation with a little bit of Scrabble thrown in," explained Roberta Edwards, owner of Wishes Toys & Gifts in La Quinta, Calif. Clifford Jackson, assistant manager of The Wizard's Chest in Denver, Colo., said his customers appreciate "not only the ability to spell, but [that] it also focuses on smaller words (three to five letters), so you play faster and also focus."
— In summer 2007, two of 32 retailers cited Quiddler as a best-selling card game in their stores. Of 64 retailers surveyed in August 2008, nine named Quiddler as their top-selling card game. One year later, four of 38 retailers cited it as a best-selling card game. In August 2010, 12 percent of 43 retailers named Quiddler a top seller in the card game category, with one citing sales of 96 monthly.
AWARDS: 2010 TDmonthly Top Seller


11/2/2005 (MSRP: $12.00; Age: 8 and Up)




SET® – The Family Game of Visual Perception® by SET ENTERPRISES INC.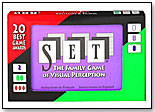 SET is a board game where any table becomes the board. It is a highly addictive, original game of visual perception. The goal is to be the first to see a SET from the 12 cards laid face up on the table. A SET is three cards that are either all the same or all different in each individual feature. With no turns and no luck, SET is challenging, fast and fun!
Players 1 to 20 (or as many as can fit around a table)
Ages 6 to 99
— "It's a really great game, one that we sell day in and day out," Sally Lesser, owner of Henry Bear's Park in Massachusetts, told TDmonthly in spring 2007.
— Two of 63 retailers mentioned Set when asked about their overall best-selling toy or game in September 2008. Ten of 64 retailers named Set as a best-selling card game in August 2008, and more than 25 percent of 38 retailers said the same in late summer 2009. In Feb. 2010, five of 38 retailers cited it as a top-selling game.
— "[Set is] popular mainly because all ages can play it at the same time," pointed out Greg Bonner, owner of Heights Toy Center in Little Rock, Ark., in summer 2008.
— In a late summer 2010 TDmonthly survey, 23 percent of 43 retailers surveyed named SET a best-selling card game.
AWARDS: 2010 TDmonthly Top Seller; 2007 TDmonthly Classic
(

Watch Video) 9/13/2005 (MSRP: $12.00; Age: 6 to 99)



Slamwich by GAMEWRIGHT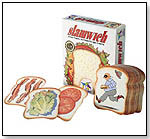 Kids flip and stack this clever loaf of cards to build slamwiches and double deckers. Tomato, lettuce, tomato ... slap! The player who gets there first will win the pile. But he'll have to catch the thief and stop the muncher from stealing a stack of cards. When he's out of cards, he's out of the game. The first player to collect all the cards wins. Slamwich teaches reading readiness skills, such as visual discrimination and sequencing. While kids are flipping and stacking cards, they're actually learning how to recognize a series, make combinations, and anticipate what might happen. "Slamwich includes bread-shaped, die-cut cards. It's a fast-playing card game. It's also Gamewright's first card game," said Jason Schneider, product development and marketing manager for Gamewright.
— Rosie Morris, manager of Whiz Kid Toys in San Luis Obispo, Calif., told TDmonthly to watch out for Gamewright, naming Slamwich as one of their hottest 2006 sales items.
— "We have a lot of card games from Gamewright. One of the better ones is Slamwich," Shirley Reilly, owner of Let's Play in Hillsboro, Ore., told TDmonthly. In an August 2008 survey of 64 retailers, storeowners reported average sales of about a dozen per month. Six named Slamwich as a best-selling card game.
— In August 2010, five of 43 retailers surveyed cited Slamwich as a best-selling card game. 11/27/2006 (Age: 6 and Up)



Killer Bunnies Violet Booster by PLAYROOM ENTERTAINMENT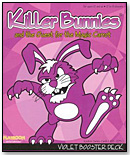 Killer Bunnies is a fast-paced, action-filled card game, in which players must try to keep as many Bunnies alive as possible, while eliminating opponents' Bunnies. The problem: Opponents are armed with weapons and will stop at nothing to keep players from winning the game, which can get dreadfully vengeful, horribly nasty, hilariously messy and just plain fun. Killer Bunnies are back again and sporting new Specialty Bunnies, which make taking double turns a snap. The Violet Booster Deck adds another 55 cards to an existing set, plus a clear 20-sided die. (

Watch Video) 3/27/2006 (MSRP: $12.00)



World of Elves – Eyela by SCHLEICH NORTH AMERICA, INC.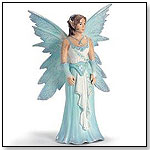 Eyela, the sublime one, is the last in the dynasty of the kings of the elves. She alone can save the land of the elves from doom. Launch date: May 2007.
— "Schleich historical and mythical figures do very well for us," Tye Steinbach of Thinker Toys in Portland, Ore., told TDmonthly in May 2008.
— Over one-fifth of 55 retailers surveyed by TDmonthly in May 2008 named mythical action figures as a top seller.
— More than 23 percent of retailers named action figures by Schleich as best-sellers in their stores. (

Watch Video) 6/13/2007 (MSRP: $4.99; Age: 3 and Up)



Papo Knight Bull Black & Gold by HOTALING IMPORTS



Outfitted with a shield, a helmet with horns, and weaponry, this knight is ready for battle. It is one of many styles in the varied Papo collection.
— "Papo figures always seem to be the best-selling thing in our store; we sell hundreds. I order from Papo once a year, so I order in my inventory for the entire year … a $17,000 order," Linda Angel, owner of Kidoodles in Norman, Okla., told TDmonthly in summer 2008. "I have birthday wagons … kids fill them with what they want people to buy for them, and they always include Papo figures."
— Jessie Wood of Northshire Bookstore in Manchester Center, Vt., said in July 2008 that her store sells roughly six Papo figurines per month from each of about 30 SKUs in the line. They're best sellers at The Gifted Child in Lenox, Mass., Owner Randy Austin told TDmonthly in summer 2008.
— Four of 66 retailers named Papo as a best-selling gift for boys in summer 2008. 8/28/2008



Blokus Trigon by EDUCATIONAL INSIGHTS INC.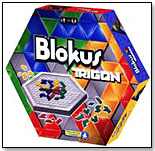 The next in the series of the international best-seller Blokus. Designed for two to four players, it was launched in 2006. THIS PRODUCT IS NO LONGER DISTRIBUTED BY EDUCATIONAL INSIGHTS. 12/4/08. (

Watch Video) 3/10/2006 (MSRP: $29.99; Age: 5 and Up)



---
---


Copyright © 2021 TDmonthly®, a division of TOYDIRECTORY.com®, Inc.