May 8, 2021

November 2008 | Vol. VII - No. 11

---
Positive Toys for a Promising Future - Free Report!
Holiday Shoppers Get Detailed Safety Info on 200+ Products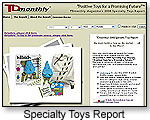 The Consumer Version of the 2008 TDmonthly Specialty Toys Report: Positive Toys for a Promising Future is now available for free to moms, dads, grandparents and anyone else looking for detailed information on the newest and most exciting toys on the market, including eco-friendly and American-made.

Just click on the Report to view profile pages for more than 200 new and classic toys. You'll find out what kind of tests each product undergoes, and how often. You'll also be able to read about what kids and experts had to say about many of these toys and games, and find out which won awards.

Look below for brief summaries of just a few of these new products, then go straight to the Report for more detailed info and lots more toys. You can also watch a video showcasing 20 of the award winners:

(Retailers: Post TDmonthly Toy Videos on Your Website! - See website terms of use here. Manufacturers: Get my toy on

TD

monthly

's Toy Videos!)


Blunders™ - Make Learning Manners Fun by SUCCESSFUL KIDS INC.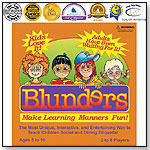 The adorable characters of Becky, Bobby, Brenda and Billy Blunder revolutionize the way manners are taught. The game includes a game board, a story book and 300 fun and interactive charade, multiple-choice, scenario and true/false questions covering social and dining etiquette. "Blunders™ is the only board game on the market today that makes learning manners interactive and fun!" Successful Kids Inc. President Aimee Symington told TDmonthly. This game has received the following awards: Dr. Toy, National Parenting Center Seal of Approval, iParenting Media, Creative Child Preferred Choice, Mr. Dad Seal of Approval, eChoice, and The Toy Man Award of Excellence and Seal of Approval. Launch date: February 17, 2008.
— "I've loved the Blunders Game from the moment I was introduced to it. Now you can reinforce manners at one of the places where manners are key. Manner Mats takes the blunders concept and turns it into a set of 38 table mats. The mats include tones of games including word searches, challenges, multiple choice, what is wrong with the picture, complete the sentence and many more. Another innovative way to teach manners without having to point your finger," Jennifer Shuman, owner of 1SmartNoodle, told TDmonthly at Toy Fair 2010.

Past videos: Toy Fair 2009 (

Watch Video) 11/27/2007 (MSRP: $24.95; Age: 5 to 10)



Dolls Scramble Squares® 9-Piece Puzzle by b. dazzle, inc.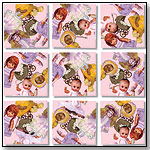 "Playing with dolls" takes on a whole new meaning and challenge with this pretty, but tough, Dolls Scramble Squares® puzzle. At under $10.00 retail, Scramble Squares® puzzles make inexpensive, but highly entertaining and valued gifts for anyone, ages 4 to 104, for Halloween, Christmas, Hanukkah, Easter, Father's Day, Mother's Day, birthdays, get well, graduation and travel. (

Watch Video) 7/9/2007 (MSRP: $8.95; Age: 4 and Up)



Schoolhouse Naturals Push Pulls by MAPLE LANDMARK WOODCRAFT CO.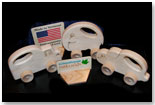 Made of 100-percent maple, products in the Schoolhouse Naturals' line have either no finish or an earth-based finish, such as beeswax or whey. The smooth, wooden Push Pulls come in bunny, bus and elephant varieties and have holes in the front for a string so that a child can still utilize the toy when he or she starts walking. (

Watch Video) 2/18/2008 (MSRP: $19.00)



Friends Forever Girl - Marlee by FRIENDS FOREVER GIRLS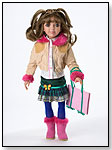 Introducing Marlee, who along with Natalie, Reina, Nika, Kristine and Kyleen, form a community of six friends with loveable, distinctive personalities that young girls quickly identify with. Each doll comes with special accessories and The First Day of Forever hardcover book. In this exciting story, longtime friends Marlee and Natalie meet their new neighbor, Reina. Together the three girls face a challenging adventure that leads to the creation of the Friends Forever Girls®. The story also reveals the secret of how the Butterfly Promises came to be. The Friends Forever Girls® dolls and books are fun to play with and provide adults with a tool to talk with young girls about positive choices and the importance of friendships. Available now: Marlee, Natalie, Reina and Nika. (

Watch Video) 5/12/2008 (MSRP: $89.00)



My Invisible Diary by MAZEOLOGY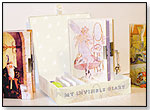 With this special diary, kids write with invisible ink markers and then shine the UV mini-light on the page to read what they've written. Each set comes with a locking 240-page diary with two keys, a mini UV-light and two invisible ink pens in a 6.5" x 7" x 1.5" magnetic-closure keepsake box. Varieties include Fairy, Castle, Princess Pea and Merlin. "A perfect gift, the My Invisible Diary sets combine the secret elements of invisible ink with a personal diary and a special keepsake box decorated with beautiful artwork," Elizabeth Carpenter of Mazeology told TDmonthly. Launch date: September 1, 2007. (

Watch Video) 7/6/2007 (MSRP: $19.99; Age: 5 and Up)



Guess What I Am!™ by TECHNO SOURCE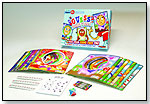 This tabletop game has players place their face through the space of the mystery card and transform into one of 30 silly characters. The player then rolls the die and asks other players questions such as "Do I play sports?" or "Do I have fur?" to narrow down the list of possible characters. The first player to guess correctly wins. Guess What I Am!™ features four games in one and is simple enough for kids to play alone or with their friends. Launch date: Fall 2008. (

Watch Video) 1/18/2008 (MSRP: $17.99; Age: 3 and Up)



Boogaloos - Peeko by BLABLA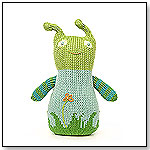 Boogaloos are adorable, rounded creatures that are soft, cuddly and funny. Handknit by a Peruvian artist, they are 100-percent cotton stuffed with polyfill and are designed to provide a simple and vibrant play experience. Launch date: 2008.
(

Watch Video) 8/5/2008 (MSRP: $38.00; Age: All Ages)



DEBO™ Superheroes by KAMIBASHI

Maru-bo, the Hero of Gettin' Around, is one of five heroes in the DEBO™ Superheroes team. Production of each superhero is limited to just 50. The figure stands 3" tall and comes with a matching keychain. (

Watch Video) 4/21/2008 (MSRP: $10.00; Age: 8 and Up)



UglyDoll Puglee by PRETTY UGLY LLC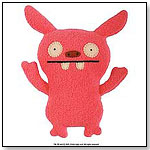 Puglee is super smart. She figured out that a great way to avoid getting a job was to get the worst possible grades ever! Only an F- would do. But here's the problem... Puglee LOVES to read, write and count. So she gets all A's no matter how hard she tries to fail! Puglee is also smart enough to know that life isn't about getting a grade. It's about the special bond she now has with you. Launch date: 2008.
— Uglydolls are a strong seller at The Gifted Child in Lenox, Mass., Owner Randy Austin told TDmonthly in summer 2008. (

Watch Video) 6/12/2008 (MSRP: $20.00; Age: 0 and Up)



Adorable Girl Doll - The Girly Girl by ADORABLE ORIGINALS INC.



Each doll in this collection of six hip and huggable soft-bodied dolls is, just like every girl, distinctive in their own way. Whether it's their fashion flair or trademark hair, these dolls, no matter how different they are from one another, are beautiful inside and out. There's Girly Girl, Sporty Girl, Creative Girl, Free Spirit Girl, Social Girl and Performer Girl. Each name carries a special meaning. Plus, their identity tags invite girls to log on to the Adorable Girl Doll website for even more interactive fun. Launch date: Spring 2007. (

Watch Video) 3/20/2008 (MSRP: $39.95; Age: 3 to 9)



beeboo Big Bubble Mix by EXTREME BUBBLES INC.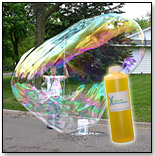 There is nothing to compare to this bubble mix: It's in the Guinness Book of World Records (world's largest bubble). The beeboo Big Bubble Mix makes blowing big bubbles easy and fun, and is as simple as mixing one gallon of water with one bottle (17fl. oz.) of concentrate. Coupled with the beeboo Big Bubble Wand (each wand is constructed using two 30" wooden handles and a section of super-absorbent cotton cloth), the whole kit creates huge, colorful, long-lasting bubbles. This product received a 2007 Oppenheim Gold Award. (

Watch Video) 3/30/2006 (MSRP: $9.99; Age: 6 and Up)



Big Eye Dummies - Disco by BIG EYE DUMMIES



Standing at approximately 13", Disco comes with two sets of interchangeable eyes and two mouths. Disco loves music and plays drums in a band called "The La De Dum Dums." She's a groovy, lovable, rebellious Dummy who once played drums for four hours straight — while she was waiting in line at the post office. Disco likes to do things her way. "Big Eye Dummies are unique because they are filled with fluffy stuffing instead of rocks," Creator Dave Lipson told TDmonthly. "You can run over a Big Eye Dummy on your tricycle and it will still be dumb, and that makes it special." Launch date: June 1, 2008. (

Watch Video) 3/24/2008 (MSRP: $24.00; Age: 3 and Up)



EcoRanch by ENLIGHTENED PLAY



The game is one of strategy, based on inner and social awareness. It celebrates Earth Day every day and invites everyone to think about their choices and actions and the larger community around them. By answering questions and engaging in discussion, players learn how their choices affect the earth and its inhabitants. "[This is] the only game on the market where a player wins by using a 'pay-it-forward' strategy," Elightened Play! Owner Eileen Thournir told TDmonthly. Launch date: February 17, 2008. (

Watch Video) 10/25/2007 (MSRP: $34.95; Age: 12 and Up)



Discombobulation™ by CONTINUUM GAMES INC.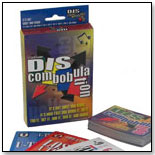 In this fun, fast-paced game, a quick mind, fast reflexes and a good memory will help you stay on top. The goal is to be the first to play all of your cards before someone can discombobulate you with one of 10 distinctive Discombobulation™ challenges. Discombobulation challenges put you head-to-head against other players to compose rhymes, sing popular songs, make lists, mimic others, remember nicknames and much more. Mess up, you draw more cards. (

Watch Video) 3/21/2007 (MSRP: $9.99; Age: 8 and Up)



Manga Drawing Kit by FABER-CASTELL



Part of the Creative Studio line, this set includes three PITT artist pens made with India Ink (black superfine, black brush and grey brush) and a 28-page instruction book with helpful hints on doing manga drawings — with lessons on everything from basic shapes to light and shadow. It showcases a variety of head shapes, and the kit also includes the following: a poseable figurine on a stand to help guide artists in their drawings, a graphite pencil, an eraser, a sharpener, a stencil, a ruler and a 20-page sketch pad. Specialty retail members of ASTRA were impressed with this kit at Toy Fair 2008. Launch date: May 2008. 3/11/2008 (MSRP: $29.95)



Bella Sara™ Native Lights by HIDDEN CITY ENTERTAINMENT

Land, sea, and sky - we are all a part of our great, beautiful world. The breathtaking horses of Bella Sara™ Native Lights have arrived, reminding us of our connection to nature and to those who live in harmony with it. Along with the special animal friends who teach them the wisdom of land, sea, and sky, these magical new horses will delight and inspire you - much like the beauty of nature itself. New with Native Lights, each card and corresponding virtual horse also feature an animal companion - a guide and friend linked to the spirit of nature and to the horse - that will join the horse in their online stables and users' cottages. Bella Sara Native Lights includes 72 new cards: 45 regular horse cards (each with a distinctive animal companion), 10 rare energy cards that can be activated for decorating users online-cottages (new Native American digital items include a dreamcatcher, a headdress, moccasins and other artifacts) and 17 extra-rare "shiny" horse cards. Each Bella Sara foil flow-wrapped card pack (MSRP $2.99) contains seven random horse and/or energy cards that can be collected and traded or used to play Bella Sara card games. Launch Date: March 2008. 2/15/2008 (MSRP: $2.99)



Head1Liners Board Game by KVALE GOOD NATURED GAMES LLC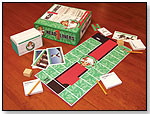 In each round of Head1Liners, players privately write a news headline to a shared, mysterious "front-page" photo card. Straightforward journalistic attempts or satirical, funny headlines alike are equally encouraged. Headlines are read in random, anonymous order by the round's editor, and every player votes for a favorite headline (not their own). Writers move one space for each vote received. Later rounds include intentionally surprising theme assignments that often result in hilarious headlines. According to Owner Tony Kvale, Good Natured Games is the only eco-friendly board game publisher manufacturing mainstream game concepts locally within the United States. The company's website offers a free sample round of play. Launch date: November 2006. 8/16/2007 (MSRP: $38.99; Age: 12 and Up)



The T-Shirt Game by BUFFALO GAMES INC.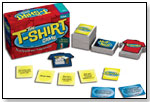 This fashionable party game allows players to create their own T-shirts by matching ridiculous slogans to outrageous images. Points are awarded using "Hot or Not" cards, which also entertain with clever references to popular culture. The game is intended for three to six players. Each game set includes 70 T-Shirt Cards, 209 Slogan Cards, 77 Hot or Not Cards and instructions. This product is an iParenting Media Greatest Product of 2007 Award winner. Launch date: January 1, 2007. Read Review 12/11/2007 (MSRP: $19.95; Age: 14 and Up)



Stack the Trix Mix by HABA USA/HABERMAASS CORP.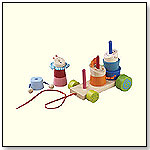 Made in Germany, this imaginative beechwood pull toy and stacking toy is sure to be an heirloom toy in any child's home. It is designed to stimulate the child's creative skills, large motor skills and spatial thinking. The different sizes and colors can be assembled on the three upright sticks in numerous ways — with no "right or wrong," so it increases the child's confidence in his or her creativeness. Kids can pull the item around the room to "show off" to friends and family. Launch date: July 2008.
— "For babies, I really like HABA," said Jennifer Andress, owner of Megan's Toybox in Bellevue, Wash. "They make really high-quality [products]. My best sellers are the clutching toys."
— "HABA is getting more popular as a line because of the safety issues; people are becoming a lot more aware of that kind of thing," Tara Friese, assistant manager of Tree Top Toys in Redmond, Wash., told TDmonthly in July 2008.
— Six of 66 retailers mentioned HABA as a top-selling brand for baby gifts in summer 2008. 8/5/2008 (MSRP: $45.00; Age: 2 and Up)



Jazzy Toes: Original Variety for Boys by JAZZIES LLC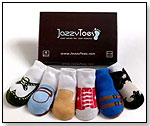 Each pair of socks comes with an elasticized ankle and a non-skid grip that help babies learn to walk without slipping. Each six-sock set comes in a ready-to-mail gift box. Socks sized for babies newborn to 1 year are $25 per set, while socks sized for 1- to 2-year-olds are $27 per set. A variety pack for girls is also available. (

Watch Video) 3/17/2008 (MSRP: $27.00; Age: 0 to 2)



Race N' Bake by JADEN TOY CO.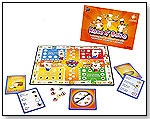 The English and French game teaches kids about baking in a fun and exciting race with an emphasis on language skills, early math concepts, matching, social skills and multi-cultural awareness. This item is a 2008 iParenting Media Award winner. "It's unique, fun and exciting," Jaden Toy Co. President Karen Aspros told TDmonthly. "We call it 'learning and fun baked into one!'" Launch date: October 2007. (

Watch Video) 5/21/2008 (MSRP: $24.99; Age: 3 and Up)



Manifest Your Magnificence for Kids by MAGNIFICENT CREATIONS LIMITEE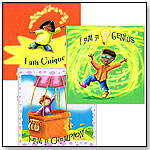 Each set contains 64 full-color cards, with gloss lamination to ensure quality and durability .
All cards are packed in a beautiful full-color hi-gloss gift box and shrink-wrapped for protection during shipping. All CD's are packed with beautiful full-color insert and shrink-wrapped for protection during shipping. 7/1/2008 (MSRP: $25.95)



The Family Dinner Box of Questions by THE BOX GIRLS

THIS PRODUCT IS NOW DISTRIBUTED BY MELISSA & DOUG
A great family game! Family Dinners are great moments waiting to happen. Dinnertime is a chance to connect over a meal, enjoy laughter and a great story. Pick a card and let the fun begin. The Family Dinner Box of Questions are designed to help families get the most out of this simple but age-old tradition. A portion of the proceeds from sale of this product is donated to The National Center on Addiction and Substance Abuse at Columbia University CASA.

52 round questions cards in an attractive 5" x 3.5" satin ribbon-wrapped container. Some questions include:

What is your favorite time of the day?
What qualities do you look for in a friend?
Which teacher or coach had the most impact on you? 6/10/2008



Zoo Collection - Bobo the Baboon by ZOOBIES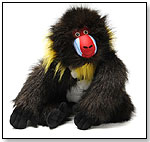 The baboon acts as a plush toy, but can be opened to form a pillow and blanket set. The Zoo Collection also includes seven other varieties: Poallu the Polar Bear, Taj the Tiger, Pin the Panda, Tama the Tortoise, Orazio the Orangutan, Gogo the Gorilla and Khimba the Koala (with baby Kai). Zoobie Pets have won various awards, including a 2008 iParenting Media Award, the Toy Man's "Best of Show" Award and the "Squeal of Approval" from Babies & Moms Radio. Launch date: 2008. (

Watch Video) 3/3/2008 (Age: All Ages)



Sweet Pea Powerwing by RAZOR



The Powerwing offers dual-inclined casters that allow turning, drifting and acceleration without ever having to push. Moving one's body side to side provides the momentum. The three wheels give the Powerwing stability. Launch date: Spring 2009. 7/1/2008 (MSRP: $129.99; Age: 5 and Up)



Night Yackle by TTALF "TOYS" CORPORATION



Night Yackle is the newest addition to the USA made Yackle Ball product line. The glow in the dark stars take night time play to the X-treme! Night Yackle can be played both day and night and comes with rules to games that are played alone, with 2 to 3 kids, a small group or in teams. Two glow in the dark silicon wristbands are included as an added bonus! (

Watch Video) 1/9/2009 (MSRP: $29.95; Age: 5 and Up)



Animal Soup by BRIARPATCH INC.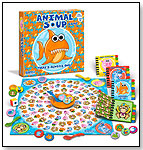 In this game, kids create one-of-a-kind critters with the turn of a page. The flip books have color-coded index tabs and are divided into top and bottom pages. Roll the die and flip the tabs accordingly, creating up to 100 different animal combinations. An added feature of this board game is that all players play at once. Each game comes with a game board, four flip books, four soup spoons, a soup bowl, 15 animal tokens, a color-coded die and complete game rules. Launch date: Spring 2008. 12/7/2007 (MSRP: $19.99; Age: 5 and Up)



---
---


Copyright © 2021 TDmonthly®, a division of TOYDIRECTORY.com®, Inc.