December 11, 2023

December 2008 | Vol. VII - No. 12

---
Mark-My-Time: Timing Kids' Studies Made Easy
Digital Bookmark Aims for Every Kid's Backpack
"When you want something to become a staple, people have to trust that it's the same product." — Joe Farinella, Mark-My-Time

Joe Farinella wants every kid's back-to-school checklist to read: backpack, pencils, notebooks and a digital timer bookmark. Mark-My-Time LLC has focused its four years in the business on establishing its three neon-colored digital bookmarks as a must-have back-to-school item, he told TDmonthly Magazine. But now the firm has decided to add more color.

TIMING IS EVERYTHING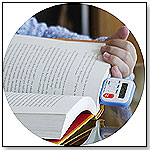 A Brights Case Pack featuring bookmarks in Fire Engine Red, School Bus Yellow and Hot Fuchsia will be introduced at Toy Fair 2009 in New York in February. Meanwhile, the Chandler Heights, Ariz.-based firm's tried-and-true Neon Case Pack, which features blue, purple and green bookmarks to help students with nightly reading requirements, has been selling like gangbusters.

"When you want something to become a staple, people have to trust that it's the same product," Joe told TDmonthly. "We've played this relatively conservative with the colors."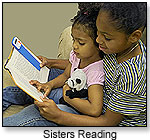 Mark-My-Time is also making a slight modification to the countdown. Currently, when the timer reaches a minute, the readout remains at one minute and then goes to zero when the time is up. The next generation bookmark will silently count down the seconds after it gets to one minute — a feature that "will mainly be used by teachers who are doing timed reading testing or math fact testing," Joe said.

RISING SALES

Sales are up 25 percent from last year, with more than 250,000 bookmarks sold as of mid-November, mostly by word-of-mouth. Joe said his bare-bones staff rarely has time to make a sales call.

"Ninety-five percent of our business has been word-of-mouth calling us," he said. "We just had a school district purchase 16,000 bookmarks for their Reading First Program … they called us, we had no idea they were out there looking."

Joe and the other two principals of Mark-My-Time, Maureen Farinella and Traci Kahlus, recently added two new employees: Vincent Saccio, who oversees the warehouse full time, and Charlotte Wright, their part-time accountant. Now the company is actively looking for a European distributor.

WHAT RETAILERS HAVE TO SAY

"It kind of blew us away," Shannon Fritz, co-owner of the Cypress, Texas, Learning Express told TDmonthly in a Nov. 19 interview. "We've sold a hundred this month already."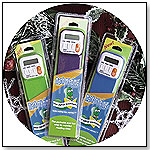 Mark-My-Time bookmarks are currently sold at nearly 140 Learning Express specialty toy stores across the country. Joe anticipates his company's product will be picked up by the rest of the stores in the franchise soon. Shannon's store began selling the bookmarks in September.

"Elementary school children have to read a certain amount of time each night, and the parents like it because they're not having to use the egg timer or microwave or oven timer, and they don't have to hear the kids constantly saying 'Mom, how much longer?' The kids can set the time while they're reading, and they can get their 15 or 20 minutes in and manage it themselves," Shannon said.

"It has great upsale," she added. "A book with a bookmark is a great gift."


Karine Mentzer, owner of Omaha, Neb.-based No Girls Allowed, a specialty toy store that bills itself as "a place for boys to shop," but carries some products for girls, just started selling the digital bookmark.

"I have three left, so I've probably sold 33 in a week," Karine told TDmonthly, adding that she had just placed another order.

She said the Mark-My-Time bookmark is priced right at less than $9 and makes a great stocking stuffer. She also said the bookmark makes it more fun for kids to read because it's "kind of like an electronic in a way; there's a timer that's digital."

GROWING KIDS' ALLEGIANCE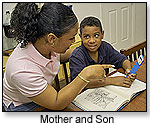 Joe has noticed a slight drop-off in interest in the bookmark at around 7th or 8th grade — at least right now. However, he expects that to change as the product becomes more established as a basic back-to-school item.

"As kids grow up with [the Mark-My-Time bookmark], they may find it natural just to make sure they're getting at least a certain amount of reading every day, and so they'll use it as they get older."

MARKS OF SUCCESS

In addition to having a useful, practical product for both parents and children, Joe credits his firm's success with three company principles:

● The products have less than a 0.5-percent defective rate in their four and a half years in business.
● Customer service: If a customer has a problem with the product, they can contact Mark-My-Time directly and the staff will get a working product in their hands.
● Ninety-nine percent of the company's shipments are made on the next business day.

See Mark-My-Time products below:
mark-my-time™ Digital Bookmark by MARK-MY-TIME LLC

This award-winning digital bookmark allows children to monitor and record their reading times. It features a countdown timer with an alarm, a cumulative timer for multi-session reading, a clock, a replaceable battery and a durable polyethylene body. It may also be used for music practice sessions, math fact practice, cooking and more. It comes in neon green, neon blue and neon purple.
— "The bookmark is compatible with small, paperback books, yet [the] screen is large enough to read clearly and [the] buttons are easy to operate," reported Teresa Wilson, a mother of four who reviewed this product for a TDmonthly Roundtable. (

Watch Video) 7/9/2007 (MSRP: $8.95; Age: 6 and Up)



mark-my-time™ Digital Metronomes by MARK-MY-TIME LLC



This all-in-one bookmark can fit neatly into a child's stocking and includes a metronome, A440 tuner and practice timer. The metronome allows one to guide a music student with the countdown timer, setting it for 15, 20, 30 minutes or more with the touch of a button. When the practice session is over, an alarm will sound. The cumulative timer can be used to accumulate total practice time over multiple practice sessions. All of these features can be used simultaneously. This product has received awards from the National Association of Music Merchants, iParenting and Children's Technology Review. (

Watch Video) 7/9/2007 (MSRP: $19.95; Age: 5 and Up)



---
---


Copyright © 2023 TDmonthly®, a division of TOYDIRECTORY.com®, Inc.