August 8, 2020

January 2009 | Vol. VIII - No. 1


Multipurpose Goes to the Multiplex
Toys That Show You They Can Do More Than One Thing
Blankets that turn into balls or dragons. Toy carts that are mobile libraries. Necklaces that make wishes come true: These TDmonthly Toy Videos demonstrate that 2009 will be bringing plenty of innovative products into retailers' and kids lives. Just see for yourself.

You can link directly to the each video from your own selling site, so your customers can see the toys before they buy, too. We have more than 1,500 product videos ... and since they're hosted on ToyDirectory, your site won't be slowed. Broadcast TDmonthly Toy Videos From Your Website! (See website terms of use here.)

Manufacturers: Find out how a TDmonthly Video attracts buyers.


Think-ets by THINK-A-LOT TOYS



The educational and fun-filled game uses adorable miniature objects from around the world that inspire imagination and test memory. All packaged in a little drawstring bag, it's an at-home game, a travel game, a party game, a storytelling game and a camping game that's perfect for children and families. Think-ets has received the following awards: 2008 iParenting Media Award (Classic and Hot), 2008 The Toy Man Product Guide (Award of Excellence & Editor's Choice), AblePlay, and 2007 Creative Child Seal of Excellence. Launch date: September 2007.
— Teresa Derry, owner of Annie's Toy Chest in Cocoa, Fla., told TDmonthly in March 2009 that her stores sells about 12 Think-ets per week, keeping them located near the register. "I can't keep it in the store," she said.
— "Think-ets are good ones for traveling," seconded Lisa McMartin, co-owner of Wonderment Inc. in Minneapolis, Minn.

Past videos: Product Demonstration (

Watch Video) 9/27/2007 (MSRP: $9.99; Age: 8 and Up)



Sock Monkey by SCHYLLING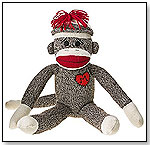 Sock monkeys made their debut over 100 years ago when mothers began to sew them for their children. This new, 22" version is a character from the movie "Mr. Magorium's Wonder Emporium."
— "Sock monkeys are making a comeback," reported Melodie Ingwersen, owner of Creative Kids Toy Shop in Columbia, S.C., in March 2008. "Those by Schylling have gotten a nice response." (

Watch Video) 4/7/2008 (Age: All Ages)



LaQ Free Style Pallet by LaQ USA, Inc.



The kit allows anyone to create a variety of spheres. The unique shape and clever angles of the block pieces opens an infinite possibility for hours of creative fun for children and adults. Children will love the fun snapping noise when piecing the parts together. Various LaQ kits with moving parts are also available. Launch date: May 1, 2008. (

Watch Video) 5/19/2008 (MSRP: $70.00; Age: 5 and Up)



Smarts Pyramid® - Golf by USE YOUR HEAD UNLIMITED INC.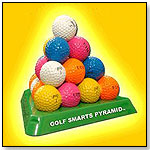 The 20-ball 3D puzzle set is great for golf fans of all ages. The object of the game is to build a pyramid without letting any of the multi-colored balls — which are connected in pair — to ever sit next to a ball of the same color. (

Watch Video) 2/25/2008 (MSRP: $14.99; Age: 8 and Up)



Snugaboo by CRUSHTOWN LLC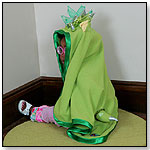 Each Snugaboo polyester fleece blanket is 30" x 30" and is trimmed in triple-stitched soft satin edging that will help it last through many adventures. The blankets even have two convenient silky satin pockets for little hands to snuggle in or to use to fly around. Six designs are available: Zeek, Daisy, Frankie, Boots, Noodles and Princess Aladreena. "Each Snugaboo hooded blanket matches a specific Snugaboo cartoon character and comes bundled with a package of temporary tattoo Freckle Rewards to promote good behavior in children," Sheila Oberaigner, CEO and Boo Master Select of Crushtown, told TDmonthly. Launch date: September 7, 2008. (

Watch Video) 10/27/2008 (MSRP: $32.00; Age: 2 to 8)



New York City Subway Wooden Railway 42 Street Shuttle Loop and Terminal Set by FAY GRAPHIC DESIGN LTD.



Munipals' first train and track set is a great starter set for any subway fan. The set comprises two 42 Street Shuttle cars and 19 track pieces, enough to build ovals, loops, and straight shuttle runs over 6' long. Being the only IRT shuttle in the system, the real 42 Street Shuttle carries nearly a quarter million people every week. It runs on tracks only 20' beneath the street, with each of the three shuttle trains making an average of 360 runs each day. (

Watch Video) 10/16/2008 (MSRP: $34.95; Age: 3 and Up)



ABC Fun Pads - City Theme by ABC FUN PADS INC.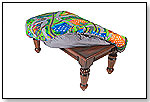 This padded, reversible coffee table cover is designed to "protect kids from tables and tables from kids," offering childproofing value for a safer home as well as protecting furniture from nicks and scratches. The themed side of the cover encourages creative play as well as recognition of colors and shapes, and with roadways and railroads, is ideal for pairing with wheeled toys and figurines. The reverse side is gray, and the cover is machine washable. Kids can draw on the reverse side with Crayola Washable Markers, then throw the pad into the wash for a clean slate. Two sizes are available: 20" x 48" and 40" x 68". (

Watch Video) 11/12/2008 (MSRP: $49.95; Age: All Ages)



Wishes 2 Wear by FASHION ANGELS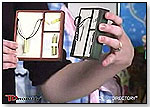 Wishing on stars is a thing of the past with the Wishes 2 Wear line from Fashion Angels Enterprises. Girls can write their wish on paper and slide it inside the pendant to wear close to the heart. The pendants have the sides — one with glam Austrian crystals and two with inspirational sayings such as "Peace - Live in Peace." The necklaces come with a chain and leather cord, with six different messages in antique brass or antique silver finish. (

Watch Video) 10/27/2008 (MSRP: $20.00; Age: 8 and Up)



Make a Pie! A Simple Game of Fractions by eeBoo corp.


The simple spinner game gives kids a fun way to learn about fractions and equivalents. The game "includes, [a] tablecloth with tins and enough pie pieces to keep players very busy calculating and strategizing," Roisin Ross of eeBoo Corp. told TDmonthly. Launch date: January 1, 2008. (

Watch Video) 12/19/2007 (MSRP: $17.00; Age: 6 and Up)



Book Buggee - School Bus by P'KOLINO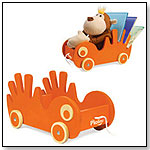 The P'kolino Book Buggee is a fantastically fun way to make books a part of everyday play. This fun-loving friend helps introduce and develop a playful bond with books through the self-directed acts of selecting, loading and pulling books. This incorporation of books into play nurtures a child's love for books. (

Watch Video) 11/20/2008 (MSRP: $38.50; Age: 3 and Up)



DEBO™ Superheroes by KAMIBASHI

Maru-bo, the Hero of Gettin' Around, is one of five heroes in the DEBO™ Superheroes team. Production of each superhero is limited to just 50. The figure stands 3" tall and comes with a matching keychain. (

Watch Video) 4/21/2008 (MSRP: $10.00; Age: 8 and Up)



Blocks Set by TREE BY KERRI LEE LLC



Recommended for ages 6 months and up, these 2" hardwood blocks in a pastel palette are handpainted and handprinted with non-toxic finishes, featuring images of old-fashioned toys, letters and numbers. Six blocks come in a clear drawstring pouch. A bright set is also available. "It is handmade in our small studio in New York," Owner and Designer Kerri Lee-Sensiba told TDmonthly. (

Watch Video) 4/28/2008 (MSRP: $24.00; Age: 1 and Up)



Blankie-Ball by WAGAMAMA BABY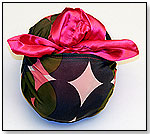 The patent-pending blankie-ball features an attached self-encompassing pocket to keep the blanket clean and portable for moms and babies on the go. The luxuriously soft blanket tucks inside the pouch and converts into a stylish and soft pillowy ball. There are six fun and contemporary styles to choose from, each with a different colored blanket inside. This product is extremely unique because of the pouch attached to the blanket. "No other blanket tucks into a ball for easy portability and cleanliness," Samantha Namboothiri, director of sales and marketing at Wagamama Baby, told TDmonthly. Launch date: September 7, 2008. (

Watch Video) 11/13/2008 (MSRP: $46.00; Age: 0 to 5)



---
---


Copyright © 2020 TDmonthly®, a division of TOYDIRECTORY.com®, Inc.