March 3, 2021

April 2009 | Vol. VIII - No. 4


Look at Exciting Crafts and Construction Videos
New Kits Will Keep Kids Busy in New Year
Kids who like to work with their hands can challenge themselves with these crafts and construction toys from Toy Fair 2009.

Retailers: Did you know you can broadcast TDmonthly Toy Videos from your website? (See website terms of use.) Manufacturers: Find out how a TDmonthly Video attracts buyers.

Videography by Alison Marek and Amanda Wilder. Edited by Alison Marek.

Shailie™ by STYLE PAIGE LLC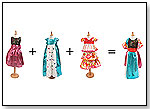 Shailie goes beyond "dress-ups," allowing girls to design, create, and wear their own fashions. It includes a life-sized designer dress form and stand (girls' size medium). Shailie dresses come in pieces, and sleeves, skirts, tops and accessories come in various styles, colors and lengths. Using Velcro®, all pieces mix and match to create endless looks. The design easily comes off to wear and model with friends. "Shailie promotes interactive play among a variety of ages, and the possibilities for creativity and fashion fun are endless," President Kari Kawa of Style Paige LLC told TDmonthly. Launch date: February 15, 2009. (

Watch Video) 11/18/2008 (MSRP: $250; Age: 4 and Up)



Jewel Pack - 44 Reusable JAMLiBs by JAMLiBs

Includes a large variety of jewels so you can add some "bling" to all of your fuse bead projects. Pack includes flowers, hearts, stars, larger circles and three different colors of our popular smaller circles. Then hang your completed Perler® and fuse bead project on the refrigerator with one of the super magnets. JAMLiBs allow a child to customize their fused or Perler® bead projects, opening the door to another level of creativity and fun. They come in jewels of all shapes, sizes, and colors, googly eyes, colorful dots and word tabs. Each pack also includes magnets, enabling each kid to display their finished work on your refrigerator. JAMLiBs are reusable. (

Watch Video) 2/6/2009 (MSRP: $5.99)



SandSac™ Beach Pail and Shovel by MESKO Associates LLC



The SandSac™ is and eco-friendly, foldable travel beach pail. Made from 100% cotton canvas with a bamboo shovel, it is an alternative to the traditional plastic shovel and pail. The SandSac™ is also customizable using fabric markers, paints, or applied accessories. Machine washable and can be folded and stored away until its next use. Comes in three sizes and is sold individually or as a set of two. Also included are four fabric markers. (

Watch Video) 2/9/2009 (MSRP: $11.95)



Special 80 Building Blocks by BIM BOM TRADING INC.

For children 3 and up, Special Cross building blocks have more available shapes in comparison to Baby Cross allowing for more design possibilites. Special Cross 80 includes 12 blue squares, 12 red squares, 12 yellow squares, 12 green squares, 16 red circles, and 16 blue round pegs. (

Watch Video) 11/5/2008 (MSRP: $19.99; Age: 3 to 12)



BRIK-A-BLOK™ by BRIK-A-BLOK TOYS INC.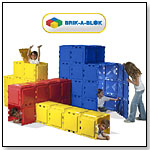 The BRIK-A-BLOK™ toy system provides an easy means for any child to recreate the world that surrounds them, at their scale. Easy to assemble panels come together to give kids the power to build their own world. Creative freedom coupled with our toy system liberates kids to custom build the perfect fort, playhouse, or any other structure they care to imagine. (Product Image depicts two BRIK-A-BLOK-46 sets) (

Watch Video) 11/12/2008 (MSRP: $179.97; Age: 6 and Up)



Crayola® Make a Plate® Kit by MAKIT PRODUCTS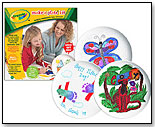 Create your own drawings and illustrations with this Crayola® Make-A-Plate® Kit. The kit comes with Crayola markers, paper templates, order form, instructions, mailing envelope, and rush label. Make-A-Plate® has been a family fun memory maker since 1969. Preserve a memory by capturing the imagination of the artist in a usable product that is dishwasher safe and break resistant.
THIS PRODUCT IS NO LONGER AVAILABLE (

Watch Video) 1/21/2009



Children's Leather Craft Kits by TANDY LEATHER FACTORY INC.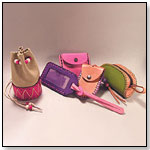 Tandy Leather Factory offers a full range of children's leather craft kits designed for all ages. The kits can teach kids pride and accomplishment by letting them create their own leather items. Kits include basic leathercrafting such as stamping and painting kits. (

Watch Video) 10/27/2008



Sandy Feet by SPOTS AND LADYBUGS LLC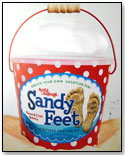 This parent and child activity kit includes materials to create a foot cast in the sand at the beach. It includes enough plaster mix to make molds of two feet and comes in a bright beach pail. Launch date: February 2009. (

Watch Video) 2/16/2009 (MSRP: $14.95)



LaQ Art and Hobby Construction Kit: Basic HAMACRON by LaQ USA, Inc.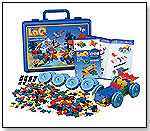 This colorful construction kit comes in a plastic carrying case that snaps closed and has a handle on the top. It includes more than 650 pieces, including wheels and connectors to build moveable models. Projects include a water mill house, a merry-go-round, a car, a helicopter and a sports car. The pieces make a click sound when connected or pulled apart. (

Watch Video) 11/11/2008 (MSRP: $60.00; Age: 5 and Up)



IlluStory — Write and illustrate your own book! by Creations by You, Inc.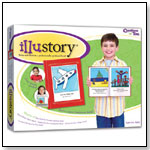 This kit includes markers and special book pages for creating an original story that is mailed to the publisher in the postpaid envelope provided. Each book features up to 12 pages with 20 typeset words and includes a title page, a dedication page and a special "About-the-Author" page. The author´s name, book title and illustration are laminated onto the cover. Additional reproductions and rush service are optional. The IlluStory kit now offers an Internet production option that includes online drawing tools and allows for more words per page, a choice of font styles and colors and faster delivery times at no extra cost.
— As of 1.06.2011 this product had 5 out of 5 stars from 23 reviews on Target.com and was listed as a top 30 bestselling toy. Pros: Allows for complete creativity; you get a hardbound copy of your creation. Cons: Your book gets sent back more slowly if you choose the manual, as opposed to online, version.
— Art kits are the best sellers for girls from 9 to 12 at Brenda Marshall's Calico-Cat in Simpsonville, S.C.
— "Illustory is one of the better items for girls in that age range," agreed Steve Dunning, owner of Learning Express in Greenville, S.C.
— Arts and crafts are always hot with tween girls, concurred Rob Slye, owner of Toys Ahoy in Barrington, R.I. (

Watch Video) 7/18/2005 (MSRP: $19.99; Age: 7 and Up)



PlateWorks — Design your own plate! by Creations by You, Inc.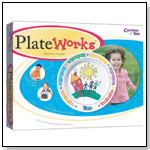 Plate Works includes everything necessary to make plastic plates, bowls or mugs that are break resistant and dishwasher safe. Special drawing pages and washable markers are included in the kit. Also, users can send in a favorite photo in the postage paid envelope provided. Creations by You can even typeset the user's name, date or special message around the rim for no extra charge, or they can have the child's artwork cover the entire plate. Extra plates, bowls and mugs are available. (

Watch Video) 7/18/2005 (MSRP: $14.95; Age: 3 and Up)



My Calendar — Make your own calendar! by Creations by You, Inc.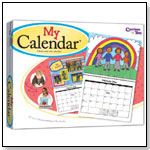 Put your drawings or photos onto a 12 month, laser reproduced, 11" by 17" wall calendar to enjoy all year long. Use the art pages and markers included in the kit to make drawings or scrapbook layouts for each month of the year, or simply find favorite photos that will be sized to fit. (

Watch Video) 12/23/2005 (MSRP: $19.95; Age: 4 and Up)



My Masterpiece — Turn your drawing into a work of art! by Creations by You, Inc.


The newest award-winning product from CREATIONS BY YOU was introduced as a prototype at Toyfair '05 and ended up being one of the hottest products in their line for Holiday 2005. Kids create their own drawings with the materials inside the kit and mail them to Creations By You in the postage paid envelope included. The company then sends back the artwork enlarged to 11x17, framed in a wooden frame, complete with an identification tag listing the artists name, masterpiece title and the month/year it was created. The drawing can also be made into a full-size museume poster,18" x 24", printed on high-quality paper. (

Watch Video) 12/15/2005 (MSRP: $21.95; Age: 2 and Up)



Kids Shimmer Paint in 6-Pack Carry Case by CRAFTY DAB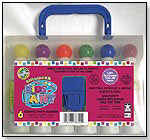 This pack of paint markers is fruit scented and includes six vibrant colors. The Crafty Dab paint and glue line is based upon the specially designed bingo dabber bottles with spring-valve applicators. The bottles are "little hand" friendly and the applicators won't leak or drip. When the applicator tip is applied to paper the vibrant, colorful inks flow. The products are non-toxic, washable and won't stain clothes. A one-ounce bottle of Crafty Dab paint is equal to 4 to 7 ounces of tempera jar paint. Launch date: January 2006. (

Watch Video) 11/2/2006 (MSRP: $15.00)



CALAFANT Treehouse by CREATIVE TOYSHOP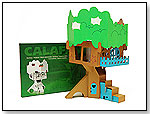 With a treehouse kit made from high-quality, extra durable cardboard, all pieces come precut and easy to assemble. The child can decorate this treehouse with paint, crafting materials and get very creative. After decorating and building it, the kids can play with it and incorporate it in their every day play. Ideal size for play with 3" dolls or animal figurines. The material is 100% recyclable. Approximate size is 15" x 16" x 22". Launch date: June 1, 2008. (

Watch Video) 12/12/2008 (MSRP: $24.99; Age: 3 to 12)



Shains - Recycled Bracelet with 60 Elements by SHAINSWARE



Shains Bracelets are part of the Shains line of fashion accessories and an easy way to begin stylizing one's own fashion. Comes with the full alphabet and seven icons. Available in a variety of colors. Shains are cool, recycled fashion accessories that empower people of all ages to make their own statements — and change them anytime. "Shains are unique in using recycled materials and in their cool colors and new product selections, including unique ponytail holders and backpack keyclips," Owner Ewa Martinoff of Shainsware told TDmonthly. Launch date: 2008. (

Watch Video) 12/12/2008 (MSRP: $12.00; Age: 5 and Up)



Überstix Monorail Starter Set by UBERSTIX



This 500-piece starter kit includes enough components for the construction of 12 lineal elevated feet of monorail track. It also comes with a powered engine and a car to ride the rail and weather 30-degree grades. (

Watch Video) 3/2/2009 (MSRP: $140.00; Age: 7 and Up)



Incrediwalls by INCREDILINE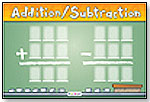 Incrediline's murals and mats are designed to take any kind of permanent or impermanent marker and wipe clean easily without water or cleansers — even months after Junior first scrawled his Hancock. (

Watch Video) 4/7/2009



Lap Desk Slate by THE PIGGY STORY INC.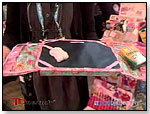 This little lapdesk is topped by a slate that comes with an attached eraser and a pack of Crayola chalk. Kids can also use the elastic holders to secure a piece of paper and use the desk as a writing surface. Launch date: Spring 2009. (

Watch Video) 4/14/2009



Build-a-Bear Activity Kits by COLORBOK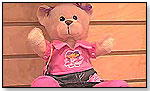 These craft kits let kids build their own bears at home. Kits include materials to make the bear, plus clothing. Large kits come with a diorama and cardboard furniture. This product is licensed from the original Build-a-Bear. Launch date: February 2009. (

Watch Video) 4/14/2009 (MSRP: $14.99)



---
---


Copyright © 2021 TDmonthly®, a division of TOYDIRECTORY.com®, Inc.