September 19, 2020

April 2009 | Vol. VIII - No. 4


Regional Reports: What's Selling … And Where
Find Out What's Going on in Stores Near You
New England Trends
by
Chris Lundy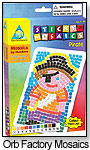 Best sellers in the New England region are a who's who of well-known toys, with Thomas the Tank Engine, Playmobil and Sticky Mosaics from the Orb Factory among the names given.

The Small Miracles line of dress-up outfits was mentioned a few times by storeowners as being a good seller.

Popular outdoor and sports toys are anything but your traditional ball or bat; instead, Kettler trikes, body boards and Stomp Rockets from D & L Co. PlasmaCars from PlaSmart are the only way to go for little ones with a need for speed. They were even reported as a store-wide best seller in one store.

Wild Creations EcoAquariums received mention as the most exciting new product, from a retailer who saw them at Toy Fair.


Mid-Atlantic Trends by Brenda Ruggiero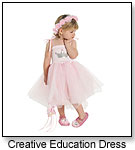 Not many specialty toy stores carry a lot of costumes. However, most do have dress-up items, such as fairy princess and ballerina products for girls and pirate-type merchandise for boys. For those who do have costumes, Melissa & Doug and Creative Education of Canada have been successful.

Since sales are generally down, some retailers had a hard time naming their best sellers right. However, games like Bananagrams and Rush Hour are still doing well.

Not many of the retailers I talked with stock a lot of ride-on toys, either, but most do have PlasmaCars and list them as good sellers.


Midwestern Trends by Terri Hughes-Lazzell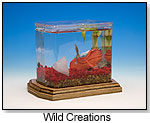 A few toy stores in the Midwest mentioned they are bringing in frogs from Wild Creations after seeing them at Toy Fair.

PlasmaCars continue to top the list of best-selling ride-on toys, although a few specialty toy-store operators expressed more interest in balance bikes.

Outdoor toys run the gamut, and with the Midwest still cold and, in some places, under snow, there wasn't much interest in this area as of late February. Traditional outdoor toys, from jump ropes to Stomp Rockets, topped the list for stores who are selling outdoor toys.


Western Trends by Claudia Newcorn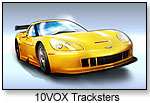 Flitter Fairies by William Mark Corp., Tracksters by 10VOX, and Sprig Toys were mentioned among new products retailers liked at Toy Fair, though several of the 10 surveyed did not go to the show.

Kites (4 mentions), playground balls (3) and Stomp Rockets (2) received the most mentions as best-selling outdoor/sports toys. PlasmaCars and Rodys by Toymarketing International each received two mentions as best-selling ride-ons.


Southwest Trends by J. D. Meisner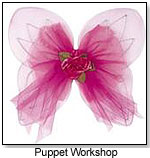 Princesses still reign in costume sales at most toy stores. The favorite supplier of dress-up is Puppet Workshop. Storeowners contend that accessories are equally as important as the costumes themselves. In that range, the Let's Pretend line of wands, wings and other accessories are strong sellers.

Uglydolls from Pretty Ugly, Bananagrams, the EzyRoller and Snap Caps from M3 Girl Designs all received one or more mentions as overall best sellers.

The PlasmaCar is rolling out toy-store doors faster than owners can reorder. Some owners continue to be amazed at how popular the ride-on is, considering its $70 price point.


West Coast Trends by Marie Raven

Stomp Rockets continue to be an extremely good seller for almost everyone, followed closely by Marky Sparky's Blast Pads (no kid doesn't love making things fly up in the air).

PlasmaCar takes best selling ride-on, although some retailers noted their sales of it were beginning to slow down in the last year. The Skuut balance bike and Rody bouncing toy are also popular for kids a little bit younger.

Here are some of the products retailers are talking about:
Thomas & Friends Wooden Railway Pirates Cove Set by LEARNING CURVE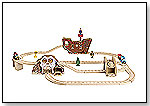 This adventure-packed set features a fun Pirate Shipwreck, Skull Mountain and Treasure Tunnel. Launch date: May 2008.
— Two of 66 retailers told TDmonthly in July 2008 that Thomas products are a top-selling gift item for boys.
— Thomas items are best sellers at Melody's Choices in Fayetteville, Ark., as reported by Owner Steve Melody in spring 2009. 5/21/2008 (MSRP: $149.99; Age: 3 and Up)



Wedding Pavilion with Jewel Case by PLAYMOBIL INC.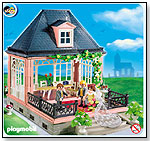 Celebrate the newlyweds' marriage at the Wedding Pavilion. Includes two figures, bride with veil and bouquet, table and chairs, champagne glasses, pink Wedding Pavilion, and many other accessories. Also comes with a pink jewel case to hold rings. Dimensions 11.4 x 22 x 15.7 inches (L x W x H). Recommended for ages four and up. Choking Hazard. Small parts. Not for ages under 3 years. 1/6/2009 (Age: 4 to 12)



Ultra Stomp Rocket by D & L COMPANY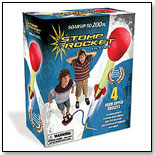 Stomp on the launch pad and a blast of air propels the Ultra Stomp Rocket over 200' in the air. The kit contains four rockets with the OG-1 Nosecone. "We are the original creator. Stomp Rockets started the "stompin' revolution," Cynthia Peeks of D&L Co. told TDmonthly, stressing that Stomp Rockets are known for their name, quality and safety.
Awards: TDmonthly Top Seller 2008; iParenting Media, iParenting Hot; Dr. Toy Best Children´s Vacation Toy.
— Retailers surveyed by TDmonthly have been naming Ultra Stomp Rocket as a best-seller since 2006.
— Four of 45 retailers who spoke to TDmonthly in summer 2007 said the Stomp Rocket's success makes it a choice gift, reporting unit sales figures from four to dozens a month. Nine percent of 66 retailers named the Stomp Rocket as a best-selling gift for boys in July 2008. "We sell about 75 a month," Marilyn Walker, owner of Play Fair Toys in Boulder, Colo., told TDmonthly in early 2009. Thirteen percent of 47 retailers told TDmonthly in June 2009 that Stomp Rockets are a best seller for boys. "It's probably been the dang Stomp Rocket for about 15 years now. They just fly out," Tye Steinbach, owner of Thinker Toys in Portland, Ore., said when asked about his most popular outdoor toy. Nine of 37 retailers named Stomp Rockets as a best-selling outdoor item in spring 2010.
— Despite multiple complaints about its durability, the Ultra Stomp Rocket received an average of 4.5 stars among 217 Amazon.com customers for being fun for all ages and pleasantly surprising when it comes to the distance the rockets can be launched. The toy is best used in open areas. Rockets are easy to lose and break, but refills are easy and cheap to find! (12.17.2012)
12/17/2012 (MSRP: $15.00; Age: 8 and Up)



PlasmaCar® by PLASMART INC.



The Original PlasmaCar continues to intrigue and fascinate. Powered by kid power; no batteries, gears, or pedals needed. Just sit, put your feet up, and turn the steering wheel to propel yourself forward. The patented safety seat design places riders in a safe, comfortable position and minimizes tipping. Moves up to 6 mph on any smooth, flat surface. Supports up to 220 lbs. Visit www.plasmacar.com to see all the wonderful colors available.
— In a March 2015 survey, two out of 10 retailers told TDmonthly that Plasmacar is a best-selling outdoor toy.
— As of 05/13/2011 this product had 4.5 out of 5 stars from 122 reviews on Amazon.com. Cons: Does not work well on surfaces that aren't completely smooth.
— This top-seller in specialty stores earned a TDmonthly Top Toy 2007 award for its distinctive aerodynamic design and ease-of-use. TDmonthly believes it has the potential to become a classic due to its fresh, contemporary appeal and application in a child's formative years.
Awards: 2012 Parents Choice Awards Recommended, 2009 Green Parents List Check Mark, 2009 DisneyFamily.com Top Action Figures and Toys for Toddlers, 2009+2008+2005 The National Parenting Centre Seal of Approval, 2008 iParenting Media Toy Award, 2008 Fat Brain Toy Award Active Play, 2006 TIA Outdoor Toy of the Year - Specialty Toy of the Year, 2006 Oppenheim Toy Portfolio Platinum Award, 2005 Oppenheim Toy Portfolio Gold Seal Award, 2005 Dr. Toy Best Vacation Products, 2005 Creative Child Seal of Excellence, 2001 International Patent Fair, Hong Kong Gold Medal 6/28/2005 (MSRP: $69.99; Age: 3 and Up)



BANANAGRAMS® by BANANAGRAMS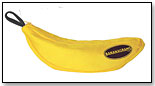 The fast-moving word game consists of 144 ivory-like letter tiles in a zippered banana pouch. Players place the tiles face down on the table and randomly select 21 tiles. They turn their letters right-side up simultaneously and proceed to form as many intersecting and interconnecting words as possible, rearranging their own letters as many times as desired throughout the game. Awards: TDmonthly Top Seller 2007; 2009 TOTY Game of the YEAR, 2006 Oppenheim Toy Portfolio Gold Seal; 2007 iParenting; 2007 Parents' Choice Recommended; 2007 Dr. Toy Best Products. (Read Review)
— This product has been making the TDmonthly Best-sellers lists since 2007.
— As of 05/13/2011 this product had 4.8 out of 5 stars from 456 reviews on Amazon.com.
— Eight of 66 retailers vouched for its best-selling status in May 2008; seven of 63 did in Sept. 2008. Shani Watmough of Planet Toys in Rockland, Maine, said her store sells 60 per month. Fifteen of 38 named it a top-selling game in Feb. 2010.
— As of April 5, 2010, Bananagrams had spent 570 days in the top-100 best-selling toys and games on Amazon.com.
— According to owner Brett Sommer of Figpickels Toy Emporium in Coeur d'Alene, Idaho, "It was the 2009 game of the year. The brilliant packaging definitely helps this product." (

Watch Video) 6/19/2006 (MSRP: $14.99; Age: 7 and Up)



Classic Water Garden Starter Kit Eco-Aquarium by WILD CREATIONS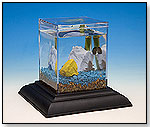 This balanced ecosystem offers a low-maintenance way for children or adults to enjoy an aquarium environment. It comes complete with water, a snail, two little frogs, food and care pack. The water in the aquarium only has to be changed every five or six months.
— ''We sold about 660 during the year," Marc Holcomb, owner of Toys & Co. in Greensboro, S.C., said in autumn 2010. Dave Campbell of Amazing Toys in Great Falls, Mont., sells approximately 12 per month.
— "I brought in 20, and in two weeks it sold out. I brought in 20 more and it sold out," Gage Brownell, manager of Belmont Toys in Belmont, Mass., told TDmonthly in March 2009 about the EcoAquariums he discovered at Toy Fair the month before. Molly McMullin of Twirl in Taos, N.M., reported sales of about 70 a month in March 2009.
— "Everyone was excited about them," Jeanne McCullough, owner of Children's Store Inc., said following ASTRA Marketplace in June 2009.
— In late summer/early fall 2009, three of 38 retailers named EcoAquariums as a best-selling science and nature product, noting sales of 18 to 60 a month. "We were hesitant to bring them in. We didn't want to be a pet store. But it's a neat idea. It's low maintenance. It's something the parents and kids can agree on," Gary Green of Toy Box of Asheville in Asheville, N.C., told TDmonthly.
Awards: 2010 Tillywig Top Fun; Parent's Choice Award 2010
Past Videos: Toy Fair 2009 (

Watch Video) 2/16/2009 (MSRP: $30.00)



Construction Worker Costume by MELISSA & DOUG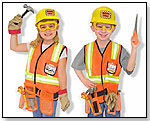 This construction worker kit comes with a realistic vest in high-visibility neon orange trimmed with reflective tape, a bright yellow hard hat, work gloves, goggles, a tool belt, a toy hammer and saw, a measuring tape, and a name tag for personalizing. The vest is machine washable, and the measuring tape really works.
— "The Melissa & Doug Construction Worker set sells very well," said John MacDougall, owner of Golden Apple Learning Store in Pleasanton, Calif., in early 2009.
— In a December 2011 survey about best selling Halloween items, seven out of 12 retailers named Creative Education as their best selling brand of costumes.
— "Since the introduction of costumes by Melissa & Doug, they have been selling well," said Joe Berardoni, owner of Pun's Toy Shop in Bryn Mawr, Pa. 3/10/2009 (MSRP: $39.99)



Forest Fairy Dress by CREATIVE EDUCATION OF CANADA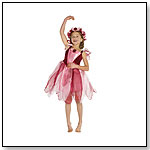 Made in Canada, the Forest Fairy Dress combines the float and shimmer of organza in the multi-layered petal skirt with the rich textures of crushed panne and satin in the fitted top of the dress. Matching organza petals form poofy cap sleeves at the shoulders, and organza flowers adorn the neckline.
— "They last, and the lining underneath is very soft. We've had them for four or five years, and we go through a lot," said Mike DiAndrea, manager of Hardware Center in Paoli, Pa., of Creative Education of Canada, in early 2009.
— "I sell 20 to 30 a month of complete girl's outfits," said Fred Rosenberg, owner of On the Park in Kingwood, Texas.
— "We sell a lot of fairy or princess-oriented dress up," Kim Emigh, VP of e-commerce at Growing Tree Toys in State College Pa., told TDmonthly about her sales in dress up. 3/10/2009 (MSRP: $49.25)



Rush Hour by THINKFUN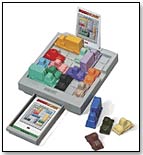 Voted one of Parent's Choice Foundation's "Best 25 Toys in 25 Years," Rush Hour puts players to the test, demanding thought and vision. As if the commute home isn't enough, in these 40 beginner-to-expert challenges, players must navigate a red car through a traffic jam and gridlock to successfully leave the game board. Challenge cards fit neatly into a pull-out tray beneath the game tray. Watch video
― "Logic games are selling very well, particularly (those from) ThinkFun," Amy Akin, manager of Giggles for Kids in Suwanee, Ga., told TDmonthly in early 2009.
― "We do really well with ThinkFun games — problem solving, like Rush Hour," added William Bingham, owner of Firefly Toy Shop in Milford, Pa. When asked about best-selling item for tween boys in October 2009, Fred Meyer, owner of Meyer's Toy World in Battle Creek, Mich., told TDmonthly, "Rush Hour is great. We sell hundreds." It was named a best-selling game by five of 38 retailers in Feb. 2010. During a summer 2010 survey of 40 retailers, two said Rush Hour from ThinkFun is their top-selling puzzle, citing sales of up to 60 pieces per month.
AWARDS: 2010 TDmonthly Top Seller 9/29/2005 (MSRP: $15.99; Age: 8 and Up)



Flitter Fairies by WILLIAM MARK CORP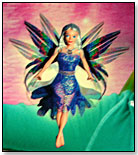 These small, sparkling fairies can be guided around via a magic wand and seem to magically flutter and float in the air. There are three characters: Daria, Eva and Alexa. A demo DVD is also available. Launch date: February 2009. (

Watch Video) 2/17/2009 (MSRP: $19.99)



Tracksters by 10VOX ENTERTAINMENT INC.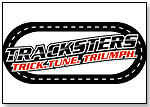 The high quality, die cast cars come with a code that allows users to log onto the corresponding, interactive website. Once logged on, users get a garage and can fix up their cars and race them in the world of street racing, track racing and the dragstrip. Launch date: February 2008. (

Watch Video) 4/18/2008



Sprig Adventure Series by SPRIG TOYS, INC.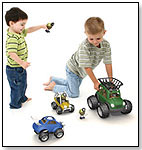 Sprig Toys is a new, environmentally responsible toy company created by award-winning industry veterans (former Mattel and Radica designers). Its line of kid-powered, totally green adventure vehicles for preschoolers is made from Sprigwood™, a child-safe bio-composite material derived from 100-percent recycled wood and reclaimed plastic. The Sprig Adventure Series harnesses the natural energy of push- and pump-action play to power lights and other electronics — all without batteries. Adventure Guide characters wearing LED-lit hats plug into durable, attractively designed vehicles and engage preschoolers with audio that guides them through exciting adventures as they play. Launch date: Fall 2008.
— "The sets were attractive, nicely packaged in recycled/biodegradable material, and had a rugged, tactile quality," said TDmonthly reporter Marie Raven, also a buyer for Over the Rainbow in Anchorage, Alaska, at Toy Fair 2008. "It's a small line but felt to me like an appropriate number of items for a nice in-store presentation while appealing not only to the eco-sense of our customers, but also providing active and stimulating educational play."
— "I was really impressed by all the angles that it covered," said Jennifer Klein, who in early 2008 ordered all three Sprig Toys vehicles for her store, Earth Child, in Sebastopol, Calif. Five of 24 retailers told TDmonthly this was one of their favorite lines at Toy Fair. (

Watch Video) 1/17/2008



Glitter Princess Costume by PUPPET WORKSHOP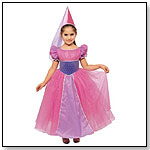 In shimmering pinks and purples, this full-length princess gown features a multi-layered skirt in sheer material with a panel of shiny satin in the front, a frilly, gathered bodice, puffy sleeves and a pink princess hat with a long chiffon veil. Little girls can act out their favorite fairy tales or invent their own fantasy stories while looking the part.
— "Probably my upper-end dress-up clothes from Puppet Workshop. I sell 10 to 15 of these a month," Charles Bonner, owner of Heights Toy Center in Little Rock, Ark., told TDmonthly of his best-selling dress-up items in early 2009.
— "Princess related dress-up from Puppet Workshop," said Mary Ann Benson of best-selling costumes at her Austin, Texas, store, Kinda Krazy Kids and Company. 3/10/2009 (MSRP: $70.00)



Uglydoll Trunko by PRETTY UGLY LLC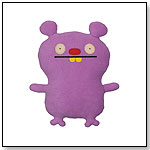 This 14" plush friend is known for overreacting and isn't known to look before he leaps. Launch date: February 10, 2009. (

Watch Video) 1/12/2009 (MSRP: $20.00)



Calico Critters - Flora and Berry Get Ready for Bed by INTERNATIONAL PLAYTHINGS LLC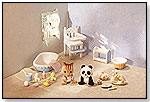 This sleepover kit comes with friends Flora (baby panda) and Berry (baby squirrel), a bathtub and accessories, a high chair and utensils for snack time, and more. 1/12/2009 (MSRP: $17.99; Age: 3 and Up)



Blast Pad® Advanced Missile Launch System by MARKY SPARKY TOYS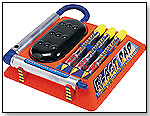 This launch system features a flex tube that stretches to nearly 3' and won't restrict airflow. It only blasts vertically (9 degrees either way), using Metalix™ missiles (three included). The parts store in the base, and the product is also available in Electric Extra Terrestrial Green and Exploding Sun Yellow.
— Two of 66 retailers told TDmonthly in July 2008 that this product is one of their overall best sellers. Five of the 66 named it as a best-selling gift item for boys. Three of 39 retailers listed Blast Pads as their best-selling item for tween boys during an October 2009 survey. "I've been accused of giving them away with how fast I go through them," Jude Larene, owner of Izilla Toys in Seattle, Wash., said in March 2009.
— "Blast Pads from Marky Sparky were our biggest sellers last year," Joe Berardoni, owner of Pun's Toy Shop in Bryn Mawr, Pa., told TDmonthly in spring 2009. Of 47 retailers, two told TDmonthly in June 2009 that Blast Pads top their sales of boys' items, reporting figures of seven to 15 sold per month. "We sell that all year. Every time we get them in we sell out," reported Kim Haynes of Lollipop Toy Store in Dawsonville, Ga., in March 2010.
—''We sell at least one per week, sometimes more,'' said manager Gwen Bowden of Doodlehopper 4 Kids in 1Q 2011.
AWARDS: 2010 TDmonthly Top Seller (

Watch Video) 8/28/2008



The Skuut Wooden Balance Bike by SKUUT LLC


The Skuut wooden balance bike gives preschoolers the big-kid riding experience, as well as a leg up on the competition. Its design helps youngsters forgo the awkward "training wheel" period. The Skuut has no pedals, so children kick off the ground as if running, thus pushing or "skuut-ing" themselves and the bike forward. Developing strength and balance as they go, kids can walk, coast or "skuut" along before transitioning to a two-wheeler. Launch date: November 10, 2006.
— "People like it because it's a little different. It's not a bike or a trike; it's not an infant ride-on. It covers that in-between stage and has a nice age range," said Owner Tye Steinbach of Thinker Things in Portland, Ore., during a March 2009 survey.
— "We're starting to see more interest in coaster bikes," Phil Wrzesinski, owner of Toy House and Baby Too in Jackson, Miss., told TDmonthly in spring 2009. Skuut offers "fun for pre-bike riders," according to Patricia Fieldler, owner of Green Frog Toys in Portland, Ore. This bike was on her top-nine best-seller list in spring 2009.
— Two of 37 retailers named Skuut as a best-selling ride-on in March 2010. Skuut "is a huge seller," noted Elaine Hackney of Boing! JP Toy Shop in Jamaica Plain, Mass. Past Videos: Toy Fair 2008 (

Watch Video) 11/10/2006 (MSRP: $99.99; Age: 2 to 5)



---
---


Copyright © 2020 TDmonthly®, a division of TOYDIRECTORY.com®, Inc.