September 26, 2020

May 2009 | Vol. VIII - No. 5


Top-10 Most-Wanted Infant & Toddler Toys
Oballs and Taggies Reign Supreme in Baby Gifts
With additional reporting by Terri Hughes-Lazzell, Chris Lundy, J. D. Meisner, Claudia Newcorn, Marie Raven and Brenda Ruggiero

Infants and toddlers, or at least the consumers who buy for them, especially love Rhino Toys' Oball and Taggies blankets, a TDmonthly Magazine survey of 64 specialty retailers revealed. Plush from HABA, Cloud b, Manhattan Toy and Douglas are also selling well for babies, as are general toys from Wow Toys and International Playthings and the ever-popular Rody from Toymarketing International. See the full line-up below:
Oball by RHINO TOYS INC.



This rubbery, tri-colored ball is a staple for any child learning cognitive and social skills and developing fine- and gross-motor skills. Ideal for children with a special need, the ball is durable and has a skeletal structure that allows for easy catching. "Kids and teachers agree that Oballs are the easiest balls to catch and hold. The cool design already has won five awards for excellence and innovation, including an Oppenheim Toy Portfolio Gold Award and a Dr. Toy Best Vacation Products Award," said Suzanne Silverglate, owner of Rhino Toys.
— "Everybody buys it," Dalene Lockhart, owner of Toy Town in Casper, Wyo., told TDmonthly in 2007. "Right now it is head and shoulders above others [in the infant/toddler category]. It's probably been that way for two years." Retailers reported average monthly sales of five to 25 a month.
— In summer 2008, four of 66 specialty retailers named the Oball as one of their top-selling gifts for babies. "We sell more of them because our store does gift wrapping and it makes a good topper," said Jill Jernigan, owner of J. Christopher Toys in Jonesboro, Ark.
― Ask retailers about top-selling balls and the Oball is an answer that's sure to come up, winning the graspable toy a TDmonthly Top Seller 2007 award. Six of 64 retailers named the Oball as a best-selling baby toy in March 2009, and two of 39 said the same a year later. "[It] is definitely the best-selling gift for babies," stated John Naisbitt, owner of Thinker Things in Del Mar, Calif., in June 2009. (

Watch Video) 9/1/2004 (MSRP: $7.00; Age: 1 and Up)



Little Taggies Naturals by TAGGIES INC.



Warm earth tones in simple patterns distinguish the organic versions of Taggies blankets. The blankets themselves, made entirely of organic cotton and colored with safe, natural dyes, the blankets are edged in 100% silk ribbon tags of two different textures. Inspired by the observation that babies and toddlers love to rub clothing tags and satin blanket bindings, the natural fibers used in these take-along sized blankets offer young children a variety of inviting and comforting tactile sensations. Launch date: 2009.
— "Anything Taggies" sells well for babies, Patti Tepper-Rasmussen, owner of Learning Tree Toys, Games & Books in Oklahoma City, Okla., told TDmonthly in spring 2009. "I sell a dozen or so a month."
— Six of 64 specialty retailers named Taggies as a best-selling infant and toddler brand in March 2009. Several specifically mentioned the Taggies blankets. 2/17/2009 (Age: 0 and Up)



Clutching Figure Bunny Hugo by HABA USA/HABERMAASS CORP.



This soft bunny rattle contains a soft bell that sounds when shaken. The machine-washable, air-dry rattle was designed in Germany. Launch date: June 2009.
— Elizabeth Ryan, owner of Tales & Toys in Venice, Calif., sells "a lot of Haba rattles," she told TDmonthly in spring 2009.
— Four of 64 retailers named Haba when discussing best-selling infant and toddler products in March 2009. (

Watch Video) 3/31/2009 (MSRP: $10.00; Age: 0 to 3)



Rody Horse - Yellow by TMI TOYMARKETING INTERNATIONAL INC.



Designed to help young children learn balance and coordination, the inflatable Rody Horse is made of strong, latex-free vinyl. Its ride-on qualities and softness make it suitable for therapy, too.
— "The Rody is good for little guys — definitely No. 1 there," Linda Hamm, owner of Early Work Toy Station in Petaluma, Calif., told TDmonthly in spring 2009 of the top-selling ride-on toys in her store.
— "People love them for the age range," added Lauren Obenour, manager of Green Frog Toys in Portland, Ore., noting that Rody's high weight limit contributes to its status as a customer favorite. It's been a best seller for a year at Pufferbellies in Staunton, Va., Co-owner Susan Blanton in fall 2009.
— Of 60 retailers surveyed in March 2009, seven named the Rody Horse as a best-selling ride-on. Three of 64 retailers named Rody as a top-selling infant and toddler toy in March 2009.

Where to buy:
NORTH WEST

3/27/2009 (Age: 3 and Up)



Twilight Turtle by CLOUD B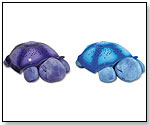 Each Twilight Turtle and Friends character from the collection projects constellation nightlights that create a magical sleep-time environment. Each "shell" illuminates the night with three soothing color options to help ease fear of the dark. The Twilight Collection includes Twilight Turtle and Twilight Ladybug, each available in three colors and a Twilight Sea Turtle that also has five illuminated windows projecting images of sea life.
— Retailers surveyed by TDmonthly have been naming the Twilight Turtle as a best-seller since 2006.
— Six of 66 retailers mentioned one of the Twilight Turtles as a top-selling item for baby gifts in July 2008. Four of 47 retailers named Twilight Turtle as a top-selling baby gift in June 2009. Three of 64 retailers cited it as a top-selling infant and toddler toy in March 2009, and eight of 39 said the same in March 2010.
— In a 2012 survey, Erika Evers, owner of Dancing Bear Toys in Hendersonville, N.C., told TDmonthly that their best selling infant & toddler product is the "Twilight Turtle from Cloud B, and it's spin-offs, like the ladybug." They sell about 20 units each month.
— Want this? As of 05/06/2011, this product was available for purchase at Toys & Co.
AWARDS: 2010 TDmonthly Top Seller (

Watch Video) 3/30/2006 (MSRP: $34.00; Age: 2 and Up)



Harvey Harvester by WOW TOYS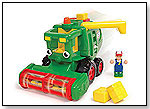 Suitable for children ages 1 1/2 to 5 years, this colorful, friction-powered harvester has a rotating thresher and an automatic baler that drops bales (three included in set) as the vehicle moves. It also features a swivel grain arm and comes with a farmer figurine.
— "Wow Toys have been the favorite," Bill Rayment, owner of Toy Crossing in Harbor Beach, Mich., told TDmonthly about infant and toddler toys in March 2009.
— Three of 64 retailers named Wow Toys as a top-selling infant and toddler line in spring 2009. (

Watch Video) 1/29/2009 (Age: 2 to 5)



Yookidoo Swap 'N' Go Snail by INTERNATIONAL PLAYTHINGS LLC



Suitable for ages 6 months and up, this snail is outfitted with a shell that spins as it rolls. It comes with a five-piece stacker shell and one with colorful beads that move all around.
— "They're very easy to communicate with [and] their billing is straightforward," Pat Cooley of Cooleykatz Toys in Livermore, Calif., said of this preferred vendor. Seventeen percent of 52 retailers named International Playthings as a favorite supplier in fall 2008.
— Two of 64 retailers named this product as a best-selling infant and toddler toy in March 2009.
— "It grows with the child and lasts," pointed out Theresa Oppenheimer, owner of Toy World in Wayzata, Minn. Janet Hoo of Hoomade Toys in Phoenix, Ariz., told TDmonthly in spring 2009 her store sells about 40 of this item each month. 12/10/2008 (MSRP: $36.99; Age: 1 and Up)



Duck Lil' Snuggler by DOUGLAS CUDDLE TOYS



This cuddly infant toy features a peaceful duck face and decorative yellow ribbon ties. It measures 13" square and is machine washable.
— "I sell 20 to 30 a month," Fred Rosenberg, owner of On the Park in Kingwood, Texas, told TDmonthly about the Lil' Snugglers in spring 2009.
— Two of 64 retailers named this product as a best-selling infant and toddler toy in March 2009. Two of 40 retailers cited Lil' Snugglers as a top seller for babies in June 2010. 4/9/2009 (MSRP: $12.70; Age: 0 and Up)



Snuggle Pods Peanut by MANHATTAN TOY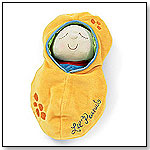 Recommended for ages 6 months and up, this 11" snuggly plush character comes nestled in a peanut shell. Snuggle Pods Pea is also available.
— Gage Brownell, manager of Belmont Toys in Belmont, Mass., told TDmonthly in March 2009 his store sells about six Snuggle Pods a week.
— Two of 64 retailers named this product as a top-selling infant and toddler toy in spring 2009. 6/18/2008 (MSRP: $15.00; Age: 1 and Up)



Winkel by MANHATTAN TOY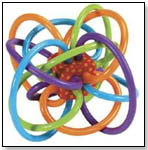 Stunning colors give this perennial favorite a lively look. Babies will be engaged and amused by the responsive rattle, and caregivers can safely refrigerate this pliable plastic toy to produce a soothing teether. "We have so much of the Manhattan baby...we sell a lot," Owner Amy Barrett of Lasso the Moon Wonderful Toys in Helena, Mont., told TDmonthly in early 2007. "People buy them for baby gifts...baby shower gifts. They like them because the colors are so bright."
— "Winkels from Manhattan Toy — [we sell] about 30 per month," Burdette told TDmonthly in March 2008. Five percent of the 40 retailers who spoke with TDmonthly in spring 2008 singled out this item as their stores' best-selling infant and toddler toy.
— "I sell 18 or so a month," Mary Ellen Cerney, owner of Dear Friends & Children in Duncan, Okla., said in March 2009. In June 2009, four of 47 retailers listed Manhattan Toy as their best-selling baby line. In March 2010, two of 39 specialty retailers cited Winkel as a best-selling baby toy.
— In June 2010, five percent of 40 specialty retailers named Manhattan Toy's Winkel as a top-selling baby product.
— As of 05/21/2012 this product had 4.5 out of 5 stars from 299 reviews on Amazon.com. (

Watch Video) 12/7/2006 (MSRP: $12.00; Age: 0 and Up)



---
---


Copyright © 2020 TDmonthly®, a division of TOYDIRECTORY.com®, Inc.