September 18, 2020

October 2009 | Vol. VIII - No. 10


Top-10 Most-Wanted Science & Nature Toys
Robots, Frogs and Butterflies Bring Science to Life
With additional reporting by Terri Hughes-Lazzell, Chris Lundy, Claudia Newcorn, Marie Raven and Brenda Ruggiero

It's becoming easier and easier for toy stores to bring "life" to science lessons, with butterfly homes, frog-filled aquariums, multiple ant farms and all sorts of robotic creatures. TDmonthly Magazine's recent survey of 38 specialty retailers proved that the products that move are also some of the quickest to move off store shelves and into customers' homes. See the top-10 best-selling science and nature toys below:
Butterfly Garden by INSECT LORE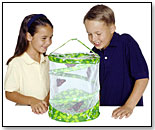 This net habitat (almost like a Chinese lantern) encloses caterpillars, food and the setting for a caterpillar's eventual metamorphosis. It requires mail-sent larvae. "The Butterfly Garden not only shows actual insect metamorphosis, but it does so in just three weeks' time. Many other animal habitats can take up to six months for any changes to occur. This makes it a perfect item for kids who have short attention spans and is an ideal science project for any classroom," John White, marketing director of Insect Lore, told TDmonthly.
— Fred Rosenberg of On the Park in Kingwood, Texas, named this as his No. 1 seller in May 2008, with sales of 50 to 60 units monthly. "I just can't keep them in stock right now," he told TDmonthly. "We have a display on our counter with the real butterflies so people can see it go through the process," said Kim Emigh, VP of e-commerce at Growing Tree Toys in State College, Pa.
— 25% of 64 retailers surveyed in August 2008 named this as their top-selling nature toy, reporting average sales of 12 per month. Five of 38 retailers named Insect Lore's butterfly habitats as best-selling science and nature products in late summer 2009. In an August 2010 survey, 21 percent of 43 specialty retailers said Insect Lore is a top-selling science and nature brand. Five retailers specifically cited Butterfly Garden as a best seller.
— As of 5/21/2012, the Butterfly Garden had spent more than 1,600 days in the top-100 best-selling toys and games at Amazon.com and has 4.4 out of 5 stars from 461 reviews.
AWARDS: 2010 TDmonthly Top Seller (

Watch Video) 7/18/2005 (MSRP: $19.99)



4M Tin Can Robot by TOYSMITH



Kids can recycle a soda can into a silly, walking, wobbling robot. The kit includes all the parts needed, right down to the googly eyes, except for the two AAA batteries that are required. Launch date: 2008.
— "The Tin Can Robot is a huge hit. It's from their Green Science series, which has been doing great," Jennifer Schneeweis, owner of Izilla Toys in Seattle, told TDmonthly in late August 2009. Two of 40 retailers mentioned the brand when discussing best-selling educational items in fall 2009.
― "Right now we have the Tin Can Robot for 8- to 10-year-olds and that's doing well," said Marlene, manager of Kits & Kaboodle in Carmel, Ind., when asked about her best-selling item for tween boys. Seven of 39 retailers surveyed in October 2009 said science kits are their top sellers for tween boys.
― "It's a good price point and an excellent product. It sells all the time," Priscilla Moore, owner of Mr. Fub's Party, Toys and More in Yellow Springs, Ohio, said of the Tin Can Robot and other 4M science kits in spring 2010.
— In August 2010, seven of 43 retailers told TDmonthly that Toysmith is a best-selling science and nature brand. Two retailers named Tin Can Robot as a top product.
AWARDS: 2010 TDmonthly Top Seller 5/19/2009 (MSRP: $15.00; Age: 8 and Up)



SC-300 Snap Circuits by ELENCO



Snap Circuits make learning electronics easy and fun. Kids follow the colorful pictures in the manual to build exciting projects, such as FM radios, burglar alarms, doorbells and more. Parts are mounted on plastic modules and snap together with ease. "Children can play with this kit for hours and hours and still have not completed all the projects the snap circuit kits have to offer," Walter Larsen, national sales manager for Elenco, told TDmonthly.
— One retailer said in summer 2007 his store sells 25 Elenco units monthly. Five percent of 64 retailers said in August 2008 that Snap Circuits are a best-selling science product, reporting average sales of six units per month. Four of 38 retailers echoed the same a year later. "They've gone back to this game six or seven times," between January and July 2006, said TDmonthly's homeschooling mom Susan Ledford.
— Any time TDmonthly asks specialty storeowners about top-selling science toys, Elenco's Snap Circuits heads the list. This simple electronics kit appeals to both girls and boys. By making science fun and easy, Snap Circuits earned a TDmonthly Classic Toy 2007 award.
— As of 12/17/2012 this product had 4.8 out of 5 stars from 575 reviews on Amazon.com. Cons: One user said that her grandchildren were "not all that interested" in the Snap Circuits, and told her that they would prefer LEGOs on their birthday. (

Watch Video) 10/27/2005 (MSRP: $59.95; Age: 8 and Up)



Classic Water Garden Starter Kit Eco-Aquarium by WILD CREATIONS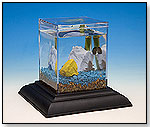 This balanced ecosystem offers a low-maintenance way for children or adults to enjoy an aquarium environment. It comes complete with water, a snail, two little frogs, food and care pack. The water in the aquarium only has to be changed every five or six months.
— ''We sold about 660 during the year," Marc Holcomb, owner of Toys & Co. in Greensboro, S.C., said in autumn 2010. Dave Campbell of Amazing Toys in Great Falls, Mont., sells approximately 12 per month.
— "I brought in 20, and in two weeks it sold out. I brought in 20 more and it sold out," Gage Brownell, manager of Belmont Toys in Belmont, Mass., told TDmonthly in March 2009 about the EcoAquariums he discovered at Toy Fair the month before. Molly McMullin of Twirl in Taos, N.M., reported sales of about 70 a month in March 2009.
— "Everyone was excited about them," Jeanne McCullough, owner of Children's Store Inc., said following ASTRA Marketplace in June 2009.
— In late summer/early fall 2009, three of 38 retailers named EcoAquariums as a best-selling science and nature product, noting sales of 18 to 60 a month. "We were hesitant to bring them in. We didn't want to be a pet store. But it's a neat idea. It's low maintenance. It's something the parents and kids can agree on," Gary Green of Toy Box of Asheville in Asheville, N.C., told TDmonthly.
Awards: 2010 Tillywig Top Fun; Parent's Choice Award 2010
Past Videos: Toy Fair 2009 (

Watch Video) 2/16/2009 (MSRP: $30.00)



Mind Blowing Science by SCIENTIFIC EXPLORER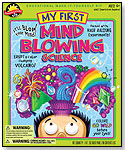 When you get right down to it, what´s more fun than science? If it´s the kind of scientific activities included in Mind Blowing Science, the answer is "not much." It´s tough to beat the color-changing erupting volcanoes, the never-wet sand, and all the other experiments waiting to be conducted in this set. The package includes red cabbage powder, baking soda, cooking oil, corn starch, goldenrod paper, cotton swabs, test tubes and caps, plastic cups, pipettes, magnifier, measuring scoops and a guide. Parental supervision is required.
— As of 1.06.2011 this product had 4.5 out of 5 stars from 51 reviews on Amazon.com and was No. 15 on the top 100 bestselling toys and games. Pros: Colorful experiments intrigue young children. Cons: Adult supervision required at all times; too simple for older children.
— "We sell a lot of that one. It's very colorful and it's very popular. We sell about six per month," Gwen Bowden, manager of Doodlehopper for Kids in Springfield, Va., said in late August 2009.
— Two of 38 retailers told TDmonthly in early fall 2009 that Mind Blowing Science is a best-selling science product at their stores. Disgusting Science was also named as a top seller. 9/23/2005 (MSRP: $20.00; Age: 4 to 8)



Ant Farm® Live Ant Habitat by UNCLE MILTON INDUSTRIES INC.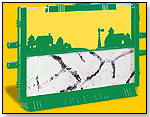 This 9" x 6" living space for ants includes four ports that attach to other ant habitats in the line, an ordering form to send off for receipt of live ants in the mail, and an illustrated "Ant Watcher's Manual." The break-resistant, escape-proof habitat is situation on a tip-proof stand.
— Two of 38 retailers named Uncle Milton's Ant Farms as one of their best-selling science toys in August 2009, citing sales of three to five per month. 9/8/2009 (MSRP: $9.99; Age: 6 and Up)



My First Science Kit by SCIENTIFIC EXPLORER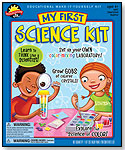 This science introduction kit for younger kids includes a color-mixing laboratory where kids can turn their favorite colors into soft crystals, capture a rainbow in a test tube and become color-mixing detectives.
— "Scientific Explorer kits, especially My First Science Kit" are a top-selling science item at Tom's Toys Inc. in Great Barrington, Mass., Owner Tom Levin told TDmonthly in August 2008.
— Seventeen percent of 65 retailers said Scientific Explorer was their top-selling science kit supplier.
— In late summer 2009, five of 38 retailers told TDmonthly that Scientific Explorer, or a specific kit in the line, accounts for their best-selling science and nature products, though one retailer showed concern about the brand's expansion. Our best-selling line is Scientific Explorer, but that remains to be seen now that they are all in the Barnes & Noble bookstores," Diana Nelson, owner of Kazoo & Co. in Denver, told TDmonthly. 5/12/2005 (MSRP: $19.99; Age: 4 to 7)



The Drinking Bird by BRI-GUY PRODUCTS



This classic novelty toy, the thermodynamic Drinking Bird, is available either with red or blue liquid. Once the bird begins drinking, he doesn't ever stop.
— Moon Rabbit Toys in Santa Fe, N.M., sells about 20 per month of the Happy Drinking Bird, Owner Shana Hack told TDmonthly in August 2009. 9/8/2009 (MSRP: $9.99)



The Magic School Bus Series – Going Green by THE YOUNG SCIENTISTS CLUB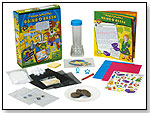 In this kit built around eco-friendly activities, kids get to shrink plastic, make a compost tube, make paper, decompose food, learn about reducing, reusing and recycling, and more.
— Jeanette Lauture, owner of Aunt Jean's Toys & Treats in Montclair, N.J., told TDmonthly in August 2009 that her store sold 36 of the Magic School Bus series kits in one month. 9/8/2009 (MSRP: $19.99; Age: 5 and Up)



---
---


Copyright © 2020 TDmonthly®, a division of TOYDIRECTORY.com®, Inc.