September 19, 2020

October 2009 | Vol. VIII - No. 10


Top-10 Most-Wanted Card Games
Sales Begin to Climb for "Magic"
With additional reporting by Terri Hughes-Lazzell, Chris Lundy, Claudia Newcorn, Marie Raven and Brenda Ruggiero

Set Enterprises still holds the best hand when it comes to card game sales in specialty toy stores. Nearly half of 38 retailers surveyed by TDmonthly Magazine named Set, Quiddler or Five Crowns when asked about their top sellers. Gamewright isn't playing around with its longtime-favorite Slamwich, and Wizards of the Coast's Magic: The Gathering is stirring up its own fan following in a pretty significant way. Read more about the most popular card games in specialty:
SET® – The Family Game of Visual Perception® by SET ENTERPRISES INC.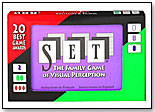 SET is a board game where any table becomes the board. It is a highly addictive, original game of visual perception. The goal is to be the first to see a SET from the 12 cards laid face up on the table. A SET is three cards that are either all the same or all different in each individual feature. With no turns and no luck, SET is challenging, fast and fun!
Players 1 to 20 (or as many as can fit around a table)
Ages 6 to 99
— "It's a really great game, one that we sell day in and day out," Sally Lesser, owner of Henry Bear's Park in Massachusetts, told TDmonthly in spring 2007.
— Two of 63 retailers mentioned Set when asked about their overall best-selling toy or game in September 2008. Ten of 64 retailers named Set as a best-selling card game in August 2008, and more than 25 percent of 38 retailers said the same in late summer 2009. In Feb. 2010, five of 38 retailers cited it as a top-selling game.
— "[Set is] popular mainly because all ages can play it at the same time," pointed out Greg Bonner, owner of Heights Toy Center in Little Rock, Ark., in summer 2008.
— In a late summer 2010 TDmonthly survey, 23 percent of 43 retailers surveyed named SET a best-selling card game.
AWARDS: 2010 TDmonthly Top Seller; 2007 TDmonthly Classic
(

Watch Video) 9/13/2005 (MSRP: $12.00; Age: 6 to 99)



Slamwich by GAMEWRIGHT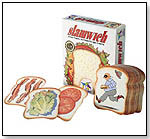 Kids flip and stack this clever loaf of cards to build slamwiches and double deckers. Tomato, lettuce, tomato ... slap! The player who gets there first will win the pile. But he'll have to catch the thief and stop the muncher from stealing a stack of cards. When he's out of cards, he's out of the game. The first player to collect all the cards wins. Slamwich teaches reading readiness skills, such as visual discrimination and sequencing. While kids are flipping and stacking cards, they're actually learning how to recognize a series, make combinations, and anticipate what might happen. "Slamwich includes bread-shaped, die-cut cards. It's a fast-playing card game. It's also Gamewright's first card game," said Jason Schneider, product development and marketing manager for Gamewright.
— Rosie Morris, manager of Whiz Kid Toys in San Luis Obispo, Calif., told TDmonthly to watch out for Gamewright, naming Slamwich as one of their hottest 2006 sales items.
— "We have a lot of card games from Gamewright. One of the better ones is Slamwich," Shirley Reilly, owner of Let's Play in Hillsboro, Ore., told TDmonthly. In an August 2008 survey of 64 retailers, storeowners reported average sales of about a dozen per month. Six named Slamwich as a best-selling card game.
— In August 2010, five of 43 retailers surveyed cited Slamwich as a best-selling card game. 11/27/2006 (Age: 6 and Up)



Quiddler by SET ENTERPRISES INC.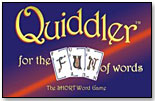 A fast word game played with cards, Quiddler is designed for 1 to 8 players. Each game consists of eight hands. The first hand is played with three cards, and a card is added during each hand until the players begin the final hand with 10 cards each. The object of the game is to combine an entire hand into words of two or more letters, drawing and discarding on each turn. The first player to have an entire hand of words goes out. Quiddler is a deck of 181 cards.
— "People love the rummy concept, where you need to go out, and this is an unusual variation with a little bit of Scrabble thrown in," explained Roberta Edwards, owner of Wishes Toys & Gifts in La Quinta, Calif. Clifford Jackson, assistant manager of The Wizard's Chest in Denver, Colo., said his customers appreciate "not only the ability to spell, but [that] it also focuses on smaller words (three to five letters), so you play faster and also focus."
— In summer 2007, two of 32 retailers cited Quiddler as a best-selling card game in their stores. Of 64 retailers surveyed in August 2008, nine named Quiddler as their top-selling card game. One year later, four of 38 retailers cited it as a best-selling card game. In August 2010, 12 percent of 43 retailers named Quiddler a top seller in the card game category, with one citing sales of 96 monthly.
AWARDS: 2010 TDmonthly Top Seller


11/2/2005 (MSRP: $12.00; Age: 8 and Up)




Magic: The Gathering Card Game – Conflux Booster Pack by WIZARDS OF THE COAST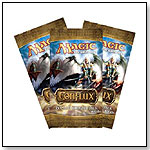 The five shards of Alara meet conflict in Conflux, where Bant Knights battle Naya Behemoths and displaced vampires add to the havoc. Conflux features 145 expansion cards and is available in intro and fat packs as well as boosters.
— In late summer 2009, three of 38 retailers named Magic as their best-selling card game. Fifteen of the top 25 card games at Toy City in Keene, N.H., are Magic units, Owner Steve Levy told TDmonthly in August 2009, at which time his store had sold 850 Conflux boosters for the year.
— Mike Lane, manager of Hobbytown in Cumming, Ga., told TDmonthly in late summer 2009 that his store attracts up to 25 kids for Friday night Magic tournaments. He cited sales of about 50 packs of month of Magic: The Gathering cards. 9/8/2009 (Age: 13 and Up)



FIVE CROWNS® by SET ENTERPRISES INC.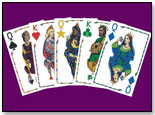 FIVE CROWNS® – The Game Isn't Over 'til the Kings Go Wild! ® FIVE CROWNS is a five-suited rummy-style game that is a quick favorite for both avid and casual card players. It starts with 3 cards and 3s are wild, the next hand has 4 cards and 4s are wild and so on 'til the Kings Go Wild! Make the right combinations, be the first to go out, then watch the others scramble as they get one last chance to cut their losses. Players 1-7. Age 8+
— This take-off on Rummy, only with five suits instead of four, sells well for Andy Detling, owner of Whoops! & Co. in Minocqua, Wis. "I noticed more of a return to family games this year," said Cheri Sims, store manager of White Rabbit Toys in Ann Arbor, Mich., who said this game was one such game that families were stocking up on.
— In summer 2007, three of 32 retailers cited Five Crowns as the most popular card game. In August 2008, almost 25 percent of retailers named Set Enterprises as their top-selling card game company; 8 percent listed Five Crowns as a best-selling card game. In late summer 2009, three of 38 retailers cited it as their top-selling card game. In Feb. 2010, four of 38 retailers called it a best-selling game, selling between 3 and 25 units monthly. In an August 2010 TDmonthly survey, three of 43 retailers named Five Crowns a card game best seller.
— As of 10.25.10, this product had 5 out of 5 stars from 15 reviews on Walmart.com and was listed as the #3 bestseller in Games & Puzzles. PROS: easy to learn, fun for the whole family. (

Watch Video) 1/20/2006 (MSRP: $12.99; Age: 8 and Up)



Rat-a-Tat Cat by GAMEWRIGHT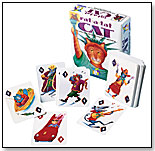 Players get rid of the high cards (rats) and go for the low cards (cats) in this poker-style game with cat- and rat-decorated cards. As children play Rat-a-Tat Cat, they develop a sense of timing and an understanding of basic, but essential, mathematical concepts. They also begin to develop an intuitive sense of probability. It's won an Oppenheim Toy Portfolio Platinum Award, Dr. Toy's Best Vacation Products, Mensa Select and a Canadian Toy Testing Council "Children's Choice" Award.
— Mark Truax, store manager at Try & Buy Toy Stores in Katonah, N.Y., said this game is "up there in the top" of its best-selling card games.
— "Gamewright is a strong seller for us," Colleen Nelson, owner of Goodie Gumdrops in Burien Wash., told TDmonthly in summer 2008.
— Five percent of 64 retailers named Rat-a-Tat Cat as one of their top-selling card games in August 2008, and three of 38 echoed the same in late summer 2009. "It's been our best seller for seven years," Jennifer Schneeweis, owner of Izilla Toys in Seattle, told TDmonthly in August 2009, citing sales of 24 units monthly. 11/28/2005 (MSRP: $9.99; Age: 6 and Up)



Pokémon Trading Card Game – Platinum Supreme Victors by POKEMON USA



This collection of trading cards takes players right to battle, with dragon-type Pokémon, including Rayquaza and Charizard, along with new characters and Pokémon SP. The collection, which includes special, photographed clay designs of characters as well as some Shiny cards with unique numbering, features more than 150 cards in various packs.
— Aunt Jean's Toys & Treats in Montclair, N.J., sells about three dozen Pokemon card packs per month, Owner Jeanette Lauture told TDmonthly in August 2009. 9/8/2009



Scrabble Slam Card Game by HASBRO INC.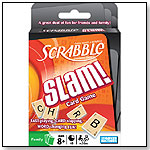 In this fast-paced word game, two to four players race to alter the present four-letter word and be the first to get rid of their cards for the win.
— Scrabble Slam is the best-selling card game at The Toy Store in Highlands, N.C., where it sells 36 units per month, Owner Michelle Bears told TDmonthly in August 2009. "One person has it, and it spreads," she said. 9/8/2009 (MSRP: $6.99; Age: 8 and Up)



Frog Juice by GAMEWRIGHT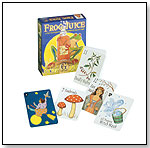 In this game for two to four players, participants aim to gain cards by matching or adding cards from their hand to equal the number on another card, then adding up the ingredients and measuring the powers indicated to earn the most points. Playing time is about 20 minutes.
— Shana Hack, owner of Moon Rabbit Toys in Santa Fe, N.M., told TDmonthly in early September 2009 that her store sells about 25 Frog Juice games per month.
— Ten of 38 retailers named something by Gamewright when asked about best-selling card games. 9/8/2009 (MSRP: $10.99; Age: 8 and Up)



Blink by OUT OF THE BOX PUBLISHING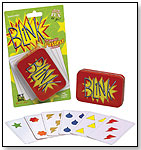 Blink is a lightning-fast game where two players race to be the first to play all of their cards. Using sharp eyes and fast hands, players quickly try to match the shape, count or color on the cards. The first player out of cards wins. Fast and portable, Blink is instant fun for everyone.
— "Any age can play it," said Linda Doucette, manager of Learning Express in North Hampton, N.H., of why Blink is a favorite in her store. When asked about her top-selling card games, Melissa McCollum, owner of Learning Express of Hoover in Hoover, Ala., told TDmonthly, "That would have to be Blink. I'd say [we sell] about 10 per month."
— Two of 32 retailers who spoke to TDmonthly in summer 2007 cited Blink as a top-selling card game in their specialty stores. Three of 64 retailers named it as a best-selling card game in August 2008.
— In early September 2009, Andrew Wage, owner of Building Blocks Toy Store in Chicago, said his store sells about 10 to 20 units per month of this game. 4/22/2005 (MSRP: $5.99; Age: 7 and Up)



---
---


Copyright © 2020 TDmonthly®, a division of TOYDIRECTORY.com®, Inc.