August 2, 2021

November 2009 | Vol. VIII - No. 11

---
Top-10 Most-Wanted Toys for Tween Boys
Science and Construction Capture Boys' Attention
With additional reporting by Terri Hughes-Lazzell, Claudia Newcorn, Chris Lundy and Brenda Ruggiero

Notoriously difficult to select products for, boys in their pre and early teens may not be so fixated on electronics and video games after all — or at least not so much that they don't warrant the interest of a specialty toy store. An October 2009 TDmonthly Magazine survey of 39 retailers around the country found that construction toys like Lego and brain-stimulating science kits such as Toysmith's Tin Can Robot still hook the older boy. Here are the top-10 best-selling items for tween boys.
Star Wars™ Echo Base™ by LEGO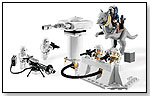 Modeled after the rebel-controlled, icy planet Hoth from the Star Wars movie series, the Echo Base set from Lego features a rebel fortification with two gunner figurines, a missile-firing defense turret, two Imperial snow troopers, and a Hans Solo character figurine complete with Tauntaun. Children can reenact their favorite scene from the movies or invent new adventures by combining this with other Lego Star Wars sets.
― "Lego star wars is still very popular," said Scott Loveless, owner of Toys That Teach in Bothell, Wash., when asked about his best-selling items for tween boys in fall 2009.
― Nine out of 39 retailers that participated in an October 2009 survey said Legos are their top-selling item for boys in the tween age category. 10/27/2009 (MSRP: $24.99; Age: 7 and Up)



Khet: The Laser Game by INNOVENTION TOYS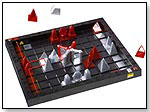 Khet combines lasers with cstrategy in an award-winning game that takes minutes to learn but yields infinite possibilities. Players move Egyptian-themed, mirrored pieces around the playing field, ending each turn by firing a laser that bounces around with the goal of knocking out an opponent's pharaoh. The silver player wins the game by deflecting his laser around the field and hitting the red player's pharaoh. With the addition of fog or smoke, the laser beam becomes visible for more high-tech excitement. Khet (formerly known as Deflexion) caused a stir in 2006 at Toy Fair and Pomona. "The game truly spans the generation gap, with enough technology to interest the 'video-gamers' of the younger crowd while maintaining enough classic strategy ... to interest their grandparents and everyone in between," Luke Hooper of Innovention Toys told TDmonthly. It received a 2006 MENSA Select Award and was a 2007 T.O.T.Y. Game-of-the-Year Nominee. Launch date: 2006. Read Review
— "Khet ... is great seller for us. It's new and did well — even at $50," summed up Danny Givens, owner of Little Dickens in Lynchburg, Va.
— "I put my money on Khet," Co-owner Michele Gietz of Where'd You Get That? in Williamstown, Mass., said in October 2008 about anticipated holiday best sellers. "We only bring in 15 at a time, but the price doesn't scare anybody off — just have to hit the right people."
― Taka Andrews, owner of Miller's Toy Store in Mamaroneck, N.Y., said Khet is a top seller for tween boys, despite the allure of video games. Seven of 39 retailers told TDmonthly in October 2009 that board games are their go-to items for tween-aged boys.
(

Watch Video) 5/27/2005 (MSRP: $44.95; Age: 9 and Up)



4M Tin Can Robot by TOYSMITH



Kids can recycle a soda can into a silly, walking, wobbling robot. The kit includes all the parts needed, right down to the googly eyes, except for the two AAA batteries that are required. Launch date: 2008.
— "The Tin Can Robot is a huge hit. It's from their Green Science series, which has been doing great," Jennifer Schneeweis, owner of Izilla Toys in Seattle, told TDmonthly in late August 2009. Two of 40 retailers mentioned the brand when discussing best-selling educational items in fall 2009.
― "Right now we have the Tin Can Robot for 8- to 10-year-olds and that's doing well," said Marlene, manager of Kits & Kaboodle in Carmel, Ind., when asked about her best-selling item for tween boys. Seven of 39 retailers surveyed in October 2009 said science kits are their top sellers for tween boys.
― "It's a good price point and an excellent product. It sells all the time," Priscilla Moore, owner of Mr. Fub's Party, Toys and More in Yellow Springs, Ohio, said of the Tin Can Robot and other 4M science kits in spring 2010.
— In August 2010, seven of 43 retailers told TDmonthly that Toysmith is a best-selling science and nature brand. Two retailers named Tin Can Robot as a top product.
AWARDS: 2010 TDmonthly Top Seller 5/19/2009 (MSRP: $15.00; Age: 8 and Up)



Blast Pad® Advanced Missile Launch System by MARKY SPARKY TOYS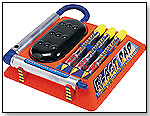 This launch system features a flex tube that stretches to nearly 3' and won't restrict airflow. It only blasts vertically (9 degrees either way), using Metalix™ missiles (three included). The parts store in the base, and the product is also available in Electric Extra Terrestrial Green and Exploding Sun Yellow.
— Two of 66 retailers told TDmonthly in July 2008 that this product is one of their overall best sellers. Five of the 66 named it as a best-selling gift item for boys. Three of 39 retailers listed Blast Pads as their best-selling item for tween boys during an October 2009 survey. "I've been accused of giving them away with how fast I go through them," Jude Larene, owner of Izilla Toys in Seattle, Wash., said in March 2009.
— "Blast Pads from Marky Sparky were our biggest sellers last year," Joe Berardoni, owner of Pun's Toy Shop in Bryn Mawr, Pa., told TDmonthly in spring 2009. Of 47 retailers, two told TDmonthly in June 2009 that Blast Pads top their sales of boys' items, reporting figures of seven to 15 sold per month. "We sell that all year. Every time we get them in we sell out," reported Kim Haynes of Lollipop Toy Store in Dawsonville, Ga., in March 2010.
—''We sell at least one per week, sometimes more,'' said manager Gwen Bowden of Doodlehopper 4 Kids in 1Q 2011.
AWARDS: 2010 TDmonthly Top Seller (

Watch Video) 8/28/2008



Classic Water Garden Starter Kit Eco-Aquarium by WILD CREATIONS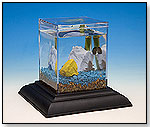 This balanced ecosystem offers a low-maintenance way for children or adults to enjoy an aquarium environment. It comes complete with water, a snail, two little frogs, food and care pack. The water in the aquarium only has to be changed every five or six months.
— ''We sold about 660 during the year," Marc Holcomb, owner of Toys & Co. in Greensboro, S.C., said in autumn 2010. Dave Campbell of Amazing Toys in Great Falls, Mont., sells approximately 12 per month.
— "I brought in 20, and in two weeks it sold out. I brought in 20 more and it sold out," Gage Brownell, manager of Belmont Toys in Belmont, Mass., told TDmonthly in March 2009 about the EcoAquariums he discovered at Toy Fair the month before. Molly McMullin of Twirl in Taos, N.M., reported sales of about 70 a month in March 2009.
— "Everyone was excited about them," Jeanne McCullough, owner of Children's Store Inc., said following ASTRA Marketplace in June 2009.
— In late summer/early fall 2009, three of 38 retailers named EcoAquariums as a best-selling science and nature product, noting sales of 18 to 60 a month. "We were hesitant to bring them in. We didn't want to be a pet store. But it's a neat idea. It's low maintenance. It's something the parents and kids can agree on," Gary Green of Toy Box of Asheville in Asheville, N.C., told TDmonthly.
Awards: 2010 Tillywig Top Fun; Parent's Choice Award 2010
Past Videos: Toy Fair 2009 (

Watch Video) 2/16/2009 (MSRP: $30.00)



Rush Hour by THINKFUN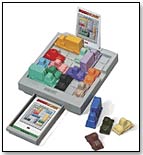 Voted one of Parent's Choice Foundation's "Best 25 Toys in 25 Years," Rush Hour puts players to the test, demanding thought and vision. As if the commute home isn't enough, in these 40 beginner-to-expert challenges, players must navigate a red car through a traffic jam and gridlock to successfully leave the game board. Challenge cards fit neatly into a pull-out tray beneath the game tray. Watch video
― "Logic games are selling very well, particularly (those from) ThinkFun," Amy Akin, manager of Giggles for Kids in Suwanee, Ga., told TDmonthly in early 2009.
― "We do really well with ThinkFun games — problem solving, like Rush Hour," added William Bingham, owner of Firefly Toy Shop in Milford, Pa. When asked about best-selling item for tween boys in October 2009, Fred Meyer, owner of Meyer's Toy World in Battle Creek, Mich., told TDmonthly, "Rush Hour is great. We sell hundreds." It was named a best-selling game by five of 38 retailers in Feb. 2010. During a summer 2010 survey of 40 retailers, two said Rush Hour from ThinkFun is their top-selling puzzle, citing sales of up to 60 pieces per month.
AWARDS: 2010 TDmonthly Top Seller 9/29/2005 (MSRP: $15.99; Age: 8 and Up)



Elite Fleet Vertigo Helicopter - Sea Hawk by KID GALAXY INC.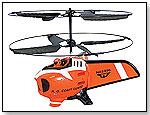 Touted as the "world's easiest to fly indoor helicopter," the Vertigo is equipped with a V-Wing for stability and a dual-rotor remote control/charger that delivers gaming-style action. A Sky Shark model is also available. Launch date: February 2009.
― "I tell customers it takes a brain. It's not your typical helicopter and they have to figure it out. Kids love a challenge," said Kate Tanner, owner of Kidstop in Scottsdale, Ariz., of what makes the Vertigo Helicopter her best seller for tween boys.
― Two of 39 retailers told TDmonthly in October 2009 that their best-selling item for tween boys is a remote-control helicopter.
Per a March 15, 2010, letter from Feldman Law Group, P.C., of New York, N.Y., Interactive Toys claims this product infringes on U.S. Patent 7,204,453. 3/4/2009 (MSRP: $40.00; Age: 8 and Up)



Airzooka by CAN YOU IMAGINE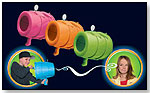 Airzooka is a hand-held device that blows a harmless "ball of air" towards any object or person. Laugh with amusement as, seemingly from nowhere, you are able to mess up someone's hair, ruffle their shirt or just plain blow them away! It's available in four blacklight-responsive colors: Blue, Green, Orange and Magenta.
― Out of 39 retailers who participated in an October 2009 survey of specialty retailers, two said the AirZooka is their best-selling item for tween boys. (

Watch Video) 10/28/2009 (MSRP: $16.99; Age: All Ages)



Rubik's 4x4 by WINNING MOVES GAMES



An updated and more complex version of the classic 3x3 Rubik's Cube, this brainteaser has twists and turns to baffle even experienced puzzlers. Winning Moves Games warns that due to the complex mechanics required to allow movement of the four row Rubik's Cube, care should be taken during play to align the rows fully before attempting to twist.
― Two of 39 retailers told TDmonthly in October 2009 that Rubik's Cubes are their top seller for tween boys. 10/27/2009 (MSRP: $20.99)



Ubersailboat by UBERSTIX



Using the pieces included in this kit, plus recycled water bottles provided by the user, kids can build a working sailboat that not only floats, but realistically uses the wind to sail. The design can be modified into several different kinds of boats. Plus, Uberstix are designed to be compatible with many other popular construction systems, allowing for virtually endless possibilities. This kit comes with with a three- to four-hour lab lesson planning sheet that teaches the basics of sailing and the function of keel and rudder.
― "Uberstix. We love that," said Terri Bracken, owner of Earth Explorer Toys in Zionsville, Ind., when asked about her top-selling item for tween boys in October 2009.
― "Uberstix is up and coming," said Tom Levin, owner of Tom's Toys in Great Barrington, Mass., about his best sellers for tween-aged boys.
― Two out of 39 retailers said Uberstix are a best selling item for tween boys in fall 2009. 10/27/2009 (Age: 8 and Up)



---
---


Copyright © 2021 TDmonthly®, a division of TOYDIRECTORY.com®, Inc.