April 15, 2021

December 2009 | Vol. VIII - No. 12

---
Ride-ons, Sporting Goods & Outdoor Fun
Go back to main article: "Award-Winning Toys for a Hassle-Free Holiday"
Wheely Bug by PRINCE LIONHEART INC.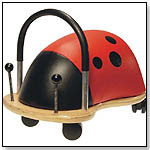 Multi-award winning and multi-directional Wheely Bugs, distributed in the United States by Prince Lionheart, go backward, forward, sideways and 'round and 'round. These ride-on bugs have a magical mind of their own. Their bodies have a padded layer of sponge, which is covered with a tough polyurethane skin that can easily be wiped clean. Handmade and crafted from the highest quality materials, Wheely Bug features multi-directional casters and unlimited mobility on all level surfaces. "The fact that the Wheely Bug is multi-directional, encourages gross motor skills and at the same time is heaps of fun," explains its appeal, said Sarah Eastman, sales and marketing associate at Prince Lionheart. "In addition," she continued, "this is a great product for the specialty market because it is handmade and beautifully crafted. Now moms can let their kids play with bugs, worry-free."
― Wheely Bug was a Toy Fair favorite spotted by Terry Myers, owner of Kaleidoscope Toys in Round Rock, Texas. It was voted Toy of the Year in BabyTalk's Dec. 2006/Jan. 2007 issue and received the 2007 Silver Award for Best Baby & Infant Product in The Netherlands.
— This handmade Australian toy earns gold stars for everything — wooden base, sturdy construction, simple design, adorable themes, easy-to-clean seat, multi-directional motion and two size options — all adding up to its receipt of a TDmonthly Top Toy 2007 award.
— Two of 60 retailers in a March 2009 survey listed Prince Lionheart Wheely Bugs as a best-selling ride-in in their stores. The Wheely Bug was a best seller at Golden Apple Learning Store in Pleasanton, Calif., in summer 2009. (

Watch Video) 11/27/2006 (MSRP: $69.99; Age: 2 to 5)



Super Sports OgoDisks Set by OGOSPORT, LLC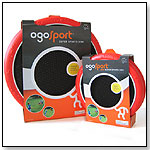 This 18" sports disk features a foam ring with a high-strength elastic membrane, and can catch and throw balls up to 150'. It is a safe, high-quality sports activity device that adapts to volleyball, tennis, baseball and other sports, and can be a blast at the beach or pool. A 12" size is also available. Suggested retail price for the two sizes ranges from $15 to $40. "The Super Sports Disk products are fantastic as confidence-building, motor-skill activities for young children, but are also great for more advanced users," Kevin Williams of OgoSport told TDmonthly. This product received a Spring 2007 Parents' Choice Award. Launch date: May 20, 2007.
— Quality materials and a super bouncing effect earned the classy OgoSport a TDmonthly Innovations 2007 award. Its broad appeal and correlation to other sports make the disk applicable to a variety of fun and healthy activities, and its bright color and sleek packaging grab attention.
— "OgoSport is a good line for us," Eric Masoncup, owner of Gepetto's Toy Box in Oak Park, Ill., told TDmonthly about his best-selling gift for boys in summer 2009.
— Joe Beradoni, owner of Pun's Toys in Bryn Mawr, Pa., told TDmonthly in a Summer 2011 survey about best-selling toys that "during the summer, we sell 5-7 a week."

Past videos: WTHRA 2007 (

Watch Video) 2/21/2007 (MSRP: $44.00; Age: 3 and Up)



Ultra Stomp Rocket by D & L COMPANY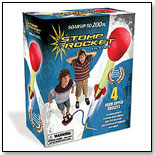 Stomp on the launch pad and a blast of air propels the Ultra Stomp Rocket over 200' in the air. The kit contains four rockets with the OG-1 Nosecone. "We are the original creator. Stomp Rockets started the "stompin' revolution," Cynthia Peeks of D&L Co. told TDmonthly, stressing that Stomp Rockets are known for their name, quality and safety.
Awards: TDmonthly Top Seller 2008; iParenting Media, iParenting Hot; Dr. Toy Best Children´s Vacation Toy.
— Retailers surveyed by TDmonthly have been naming Ultra Stomp Rocket as a best-seller since 2006.
— Four of 45 retailers who spoke to TDmonthly in summer 2007 said the Stomp Rocket's success makes it a choice gift, reporting unit sales figures from four to dozens a month. Nine percent of 66 retailers named the Stomp Rocket as a best-selling gift for boys in July 2008. "We sell about 75 a month," Marilyn Walker, owner of Play Fair Toys in Boulder, Colo., told TDmonthly in early 2009. Thirteen percent of 47 retailers told TDmonthly in June 2009 that Stomp Rockets are a best seller for boys. "It's probably been the dang Stomp Rocket for about 15 years now. They just fly out," Tye Steinbach, owner of Thinker Toys in Portland, Ore., said when asked about his most popular outdoor toy. Nine of 37 retailers named Stomp Rockets as a best-selling outdoor item in spring 2010.
— Despite multiple complaints about its durability, the Ultra Stomp Rocket received an average of 4.5 stars among 217 Amazon.com customers for being fun for all ages and pleasantly surprising when it comes to the distance the rockets can be launched. The toy is best used in open areas. Rockets are easy to lose and break, but refills are easy and cheap to find! (12.17.2012)
12/17/2012 (MSRP: $15.00; Age: 8 and Up)



EzyRoller by EZYROLLER LLC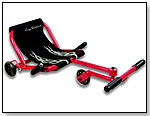 This self-propelling, three-wheeled ride-on toy cruises smoothly and silently along the ground, similar to the movement of a snake. The rider simply sits in the seat, feet-first, and propels with an easy back-and-forth leg movement, demonstrating a special combination of physics properties that fascinates most first-time observers. There are no chains, no motor and no batteries. The product comes packaged with extendable axis rods (S, M, L), so it can grow with the child. "Awe-inspiring physics" and "the strong, long-lasting steel tube frame and overall quality construction" really set this product apart, according to EzyRoller President Denis Allais. Launch date: May 2007.
— Anyone can sit back and get a workout with this sleek and sporty, three-wheeled ride-on toy that moves fluidly with back-and-forth leg motion. Its long, low-set and adjustable design differentiates it from other ride-ons, as do the properties of physics that bring it to life. Such stats have garnered the Ezyroller a TDmonthly Innovations 2007 award.
— Jeanette Lauture of Aunt Jean's Toys & Treats in Montclair, N.J., told TDmonthly in summer 2008 that the Ezyroller is a hot seller in her store. "This New Zealand outdoor ride-on toy is very innovative and has longevity for kids 3 to 14 years of age," she said. "I've been selling it since October of '07."

Where to buy:
SOUTH (

Watch Video) 3/16/2007 (MSRP: $99.95; Age: 3 and Up)



Yo Baby Kick Flipper by GarageCo Toys, Inc.



This is a plastic, blow-molded skateboard deck only, NO WHEELS OR TRUCKS. Kids learn, practice, and get skills from balance and action sports moves indoors or out. The Yo Baby Kick Flipper is a great INDOOR sports toy. Whether it's too hot outside or the snow is coming down, children stay active and practice the fastest growing sport in the world indoors or outdoors. Parents love the product because children can learn boarding skills safely. The DVD that comes with it is mesmerizing for children and they watch it over and over hoping to master the same moves with their Yo Baby Kick Flipper.
Awards: 2007 TDmonthly Innovations Award; 2009 product of the year; 2008 preferred choice; ASTRA pick of the year; 2008 Seal of Excellence; Action Product Award ASR 2009
— "We're doing well with Yo Babys, [and] ordering a case a month," said Connie Hoeft, owner of C R Toys in Kearney, N.E., when asked about her best-selling sports toys in spring 2009.

Past Videos: Toy Fair 2009 (

Watch Video) 4/2/2009 (MSRP: $14.95; Age: 3 to 10)



Shred Sled by THE SHRED SLED

This 4-wheel, dual-deck carve board makes it smoother and easier to start carving up the streets. Its fun and much easier to control than older 2-wheel generation boards. The 4-80mm polyurethane wheels and ABEC-5 Bearings are smoother and stronger and rarely need to be replaced. Due to the inline wheels, the Shred Sled offers the feel of snowboarding while skateboarding. Editor's Note: Effective September 2010, the recommended retail price for the Shred Sled is reduced from $119.99 to $59.99. According to a press release, "The affordably priced Shred Sled will offer all of its original features that have proven to be a major success, including 4 x 80mm polyurethane wheels and ABEC-5 bearings." 1/13/2009 (MSRP: $59.99)



PlasmaCar® by PLASMART INC.



The Original PlasmaCar continues to intrigue and fascinate. Powered by kid power; no batteries, gears, or pedals needed. Just sit, put your feet up, and turn the steering wheel to propel yourself forward. The patented safety seat design places riders in a safe, comfortable position and minimizes tipping. Moves up to 6 mph on any smooth, flat surface. Supports up to 220 lbs. Visit www.plasmacar.com to see all the wonderful colors available.
— In a March 2015 survey, two out of 10 retailers told TDmonthly that Plasmacar is a best-selling outdoor toy.
— As of 05/13/2011 this product had 4.5 out of 5 stars from 122 reviews on Amazon.com. Cons: Does not work well on surfaces that aren't completely smooth.
— This top-seller in specialty stores earned a TDmonthly Top Toy 2007 award for its distinctive aerodynamic design and ease-of-use. TDmonthly believes it has the potential to become a classic due to its fresh, contemporary appeal and application in a child's formative years.
Awards: 2012 Parents Choice Awards Recommended, 2009 Green Parents List Check Mark, 2009 DisneyFamily.com Top Action Figures and Toys for Toddlers, 2009+2008+2005 The National Parenting Centre Seal of Approval, 2008 iParenting Media Toy Award, 2008 Fat Brain Toy Award Active Play, 2006 TIA Outdoor Toy of the Year - Specialty Toy of the Year, 2006 Oppenheim Toy Portfolio Platinum Award, 2005 Oppenheim Toy Portfolio Gold Seal Award, 2005 Dr. Toy Best Vacation Products, 2005 Creative Child Seal of Excellence, 2001 International Patent Fair, Hong Kong Gold Medal 6/28/2005 (MSRP: $69.99; Age: 3 and Up)



Yackle Ball by TTALF "TOYS" CORPORATION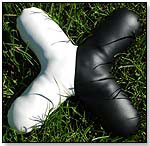 This X-shaped ball flies farther than a football but it's soft so it won't hurt the kid catching it. The Yackle Ball comes with many fun and stimulating games to encourage outdoor play. It is available in 10 colors. CEO Patricia Littwin of Ttalf Corporation chose to manufacturer the original Yackle in the United States, and automation within a 10,000 sq. ft. North Carolinian facility allows production at only 10 cents more per ball than was quoted in China, she said. "We like the Yackle Balls by Ttalf," Owner Linda Angel of Kidoodles Toys in Norman, Okla., told TDmonthly upon her return from Toy Fair 2007. Awards: TDmonthly Innovations 2007. Launch date: June 1, 2006.
Where to Buy: Rocking Horse Toy Store; LB Toys; Escapade Direct (

Watch Video) 1/11/2007 (Age: 5 and Up)



---
---


Copyright © 2021 TDmonthly®, a division of TOYDIRECTORY.com®, Inc.