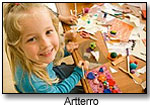 If you're finding holiday shopping to be a stressful task this year, don't worry ... you're not alone! At TDmonthly Magazine, we realize that with the limitations of the recession, what you buy for your children this year is more important than ever. To help you find toys that are designed to last and support children's educational and developmental needs, we've assembled a collection of more than 140 award-winning toys.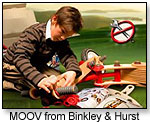 Does the guide below feature Cepia's sell-out Zhu Zhu Pets or Nintendo's latest Wii game? No. But it does have durable wooden toys, eco-friendly options, playthings made in the USA, and exciting new games. The items were evaluated by families and/or TDmonthly staff with regard to play value, safety, innovation, social or charitable awareness, and success or potential within the specialty market — a sector that inherently values education and focuses intensely on positive toys for children.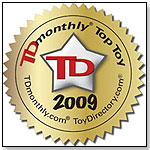 You'll see everything from an Artterro Creativity Kit that encourages free-from design with authentic materials, to a sturdy MOOV set from a German company that allows children to build their own bike, to a captivating R/C Inchworm from Innovation First. TDmonthly's award winners from the past three years invite exploration, imagination and both individual and group play — making them perfect for families! Plus, the guide gives recommendations for infants to teens, so nobody's left out.

If you're concerned a child might not like the gift you select, just reference our Classics and Best Sellers to see toys that have already won the hearts of kids and parents! Browse the award winners by category below:



NOTE: The stores represented via the "Where to Buy" links provided for products covered in this article and elsewhere on this website are not affiliated with nor endorsed by TOYDIRECTORY.com and TDmonthly Magazine. TOYDIRECTORY.com is providing the links for shoppers' convenience and does not guarantee linkage to the exact product shown nor availability of any item from any online store.