September 22, 2020

December 2009 | Vol. VIII - No. 12


Wooden & Construction Toys
Go back to main article: "Award-Winning Toys for a Hassle-Free Holiday"
Automoblox S9 Mini Sedan by AUTOMOBLOX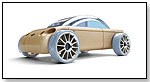 With a future-retro design, and connectable, interchangeable parts, this sleek toy vehicle can fit in the palm of a hand. Automoblox Minis received a TDmonthly Top Toy Award 2007.
— Automoblox has been a best-selling line, according to retailers surveyed by TDmonthly, since 2007.
— "That little three-piece Automoblox set sold extremely well. I've sold about 40 of them in two months," Janet Gregory, owner of Over the Rainbow in Anchorage, Alaska, told TDmonthly leading up to Christmas 2009. Two of 44 specialty retailers named Automoblox as an overall best seller in late 2009.
— In a February 2012 survey about wooden toys, two out of 14 retailers said that Automoblox were their bestseller in the category. Pam Byrd, manager and buyer at The Little Cottage Toy Shop in Franklin, Tenn., told TDmonthly that "Automoblox is still strong."
Where to Buy: Blue Turtle Toys; Camelot Kids; The Satin Button (

Watch Video) 10/29/2009 (MSRP: $10.00; Age: 3 and Up)



MOOV Starter Kit by BERG USA, LLC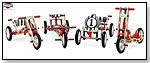 MOOV is a full-size construction toy designed so that children can construct MOOV by themselves without the use of any tools or help from their parents. The wooden parts, rings, shafts and frames are multifunctional. The spare parts in the wood are specially designed so it's easy to remove the rings from the shafts. MOOV has received the following awards: TDmonthly Top Toy 2009; Toy of the Year, 2008, The Netherlands; Honorable mention, Reddot Design Award, 2008 (International Design Award); Toy of the Year, 2008, Germany; and Right Start Award, Toy Awards, 2008, United Kingdom. Launch date: June 2009.
Where to Buy: Escapade Direct (

Watch Video) 7/17/2009 (MSRP: $249; Age: 5 to 12)



Twig by FAT BRAIN TOY CO.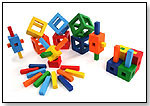 When precision wooden shapes and vibrant color meet, expect nothing less than masterwork. Twig features natural wood, carved with care and colored with brilliance. Light plays its way through the windows of Twig - illuminating lines, contours, space and arrangement, opening the mind and imagination to new exercises in visual spatial development. Each Twig set consists of 72 wooden pieces; all are compatible with one another. The interactivity between components means limitless combinations in open-ended play. Launch date: February 2009. (

Watch Video) 8/5/2008 (MSRP: $59.95; Age: 3 and Up)



Puzzibits™ Flexible 3D Puzzle Art™ - Ocean Depths by MANHATTAN TOY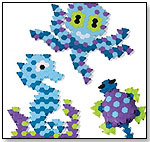 The 150 flexible, interlocking pieces included in this set can be used to create three 3D designs — a turtle, a seahorse and an octopus. (

Watch Video) 1/30/2008 (Age: 6 and Up)



Magneatos by GUIDECRAFT INC.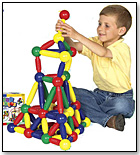 Magneatos is a jumbo-sized magnetic construction set similar in concept to popular sets made for older kids, but designed for small hands with huge imaginations. The distinctive extra-large size and bright colors of Magneatos make them ideal for little builders. Available in 36-, 72- and 144-piece sets, Magneatos construction sets can be combined with one another. The suggested retail prices for the sets are $30, $50 and $100, respectively. Baby builders can reach for the sky with this popular toy. Its steady sales have earned it a TDmonthly Top Seller 2007 award.
— TDmonthly posted a video of Guidecraft Inc.'s Magneatos in November 2007, in which a demonstrator commented on the "not so sturdy" nature of the product, potentially portraying the design or strength of the magnets as a weakness. TDmonthly did mention positive traits of the toy, but upon further review and observance of children playing the set, discovered even more: Magneatos encourage children to work together, communicate (as they find certain colors of pieces, for example), and compete, since the larger sets, especially, contain enough pieces for children to work on their own projects. Also, the power of the magnets forces children to put more thought into the foundation of their structures, reinforcing principles of balance. Per these findings, the video was removed.
Where to Buy: Rocking Horse Toy Store; Really Great Toys; Berkira 9/7/2005 (MSRP: $30.00; Age: 3 and Up)



UberBots 621 by UBERSTIX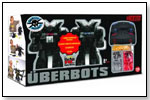 "Kids" can create radio-controlled, rumbling robots and pit up to six of them against each other at a time, thanks to six interchangeable RC frequencies. Working with sturdy, yet flexible interlocking Uberstix components, builders utilize physics, engineering and creative skills to design robots that can trounce their opponents. In the heat of battle, UberBots employ jabs and hooks and even speak preprogrammed Japanese phrases designed to conquer all foes. Knocking down an opponent three times is a win. Then the fighters retire to redesign their Bots and devise another unbeatable strategy for victory. The 621 kit includes two UberBots, 250 Uberstix pieces, two remote controls, two flags, 14 rechargeable Ni-Cad batteries, two chargers and building instructions.
— These Japanese-speaking robotic construction toys received a TDmonthly Top Toy 2007 award for many reasons: the scientific knowledge they invite in construction and redesign, their RC capability to fight multiple robots at one time, the creativity and inventiveness required when reprogramming the UberBots, and the signature, interlocking Überstix parts that make up their distinctive structure. Finally, Überstix are made from recycled plastic and can be combined with other building toys, setting their kits on a higher plane than other construction toys. (

Watch Video) 3/28/2007 (MSRP: $149.99; Age: 8 and Up)



LaQ Imaginal Flower by LaQ USA, Inc.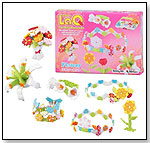 Girls can make their own bracelets, hair ornaments and flower bouquets with fun snapping blocks in pretty pastel colors. The 260-piece Hobby Kit Flower comes with an instruction guide to make 12 interchangeable models from seven types of blocks. "LaQ is an innovative construction toy block with a patent for the cleverly angled block pieces which allow a child to create flat, two-dimensional, three-dimensional, and spherical objects from just seven types of blocks! The infinite possibilities of creating geometrical shapes through play is highly educational and enjoyable for children and adults," Mo Saeki, manager, overseas division, Yoshiritsu Co., told TDmonthly. Launch date: December 2009. 6/29/2009 (MSRP: $20.00; Age: 5 and Up)



Tatutina Birthday Medal by TATUTINA INC.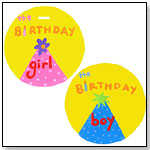 These fun wooden medals celebrate children's everyday achievements. Each medal comes with matching ribbon with Velcro at the top. The backside has a space for the child's name and date. Launch date: January 2009. (

Watch Video) 7/17/2009 (MSRP: $5.00; Age: 3 to Adult)



UberStix™ Scavenger Recycling Series by UBERSTIX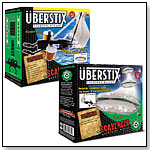 These new construction/craft kits from Überstix take the company's commitment to recycling one step further. To complete the working ÜBERSTIX PirateShip™ or ÜBERFO™, one must collect a list of recyclable components from an included Scavenger List. Building the PirateShip, for example, requires ice cream sticks, a plastic water bottle, cups, a rubber band, a plastic bag for the sail, and tape. The ÜBERFO is easy to build and fun to fly.
— "The Scavenger Kits reward children in two ways," Uberstix Founder Dane Scarborough told TDmonthly. "First, they get to build a working model they can actually play with. Second, they can build bigger objects because they add to them with materials they find." 12/17/2007 (MSRP: $16.99; Age: 7 and Up)



---
---


Copyright © 2020 TDmonthly®, a division of TOYDIRECTORY.com®, Inc.