September 25, 2020

December 2009 | Vol. VIII - No. 12


Top-10 Most-Wanted School Supplies & Educational Toys
Puzzles and Science Kits Play With the Mind
With additional reporting by Terri Hughes-Lazzell, Chris Lundy, Claudia Newcorn, Marie Raven and Brenda Ruggiero

A recent TDmonthly Magazine survey of 40 specialty retailers revealed that few carry traditional school supplies. Instead, they focus on all-around educational items, including puzzles, strategy games and science kits. Melissa & Doug and Thames & Kosmos were mentioned most often as staff discussed their customers' preferred outlets for learning. See the best-selling lineup below.

No manufacturer paid to be included in this article. All products listed were designated by editorial staff without regard to the company's relationship with TOYDIRECTORY.com/TDmonthly Magazine.
United States of America Sound Puzzle by MELISSA & DOUG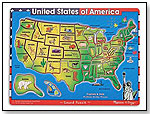 This picture-filled wooden puzzle of the United States includes 40 pieces created to help develop map skills. When each puzzle piece is placed in the correct location, the puzzle speaks the names of the states and capitals. It measures 0.8" x 15.8" x 11.9". It requires three AAA batteries (not included).
— Ten percent of 40 retailers named Melissa & Doug as a best-selling brand when it comes to educational products. LB Toys in Media, Pa., sells about 30 per month of the U.S. wooden map puzzle, Owner Jamie Burdette told TDmonthly in fall 2009.
— Michael O'Dell of Toys from the Attic in Rehoboth Beach, Del., told TDmonthly in a Summer 2011 survey that they don't sell many electronic or battery operated toys, but of those they do have, sound puzzles from Melissa & Doug sell best. 11/24/2009 (MSRP: $24.99; Age: 5 and Up)



Power House Green Essentials Edition by THAMES & KOSMOS

As a follow-up to the bestselling Power House kit comes Power House Green Essentials Edition, targeted towards a younger audience of ages 10 and up. This kit teaches children about the timely issues of alternative energy and sustainable living, by conducting 30 experiments and building ten energy-related models: the power house itself, a greenhouse, a solar cell array, a passive solar collector, a solar oven, an air conditioner, a refrigerator, a hydrometer, a lemon battery, and a wind power generator. They can even sow seeds in the greenhouse! The kit comes with a 64-page, full-color experiment manual and retails for $89.95. Available now.
— "Most anything from Thames & Kosmos, like the Power House, Wind Power [and] Creative Cosmetics," sells well for education, according to Patti Tepper Rasmussen, owner of Learning Tree Toys, Games & Books in Oklahoma City, Okla.
— Three of 40 retailers mentioned science kits by Thames & Kosmos when discussing best-selling educational items in fall 2009. (

Watch Video) 2/6/2009 (MSRP: $89.95; Age: 10 and Up)



Magnificent Manicure Kit by SCIENTIFIC EXPLORER



Designed to teach girls about cosmetic chemistry, this kit includes ingredients to make custom scents and indulge in a crystal mud treatment and a sea salt scrub. Girls can also buff and shine their nails for a finished look.
— Two of 40 retailers cited Scientific Explorer as a best-selling educational brand in fall 2009. The Curiosity Zone in Ashburn, Va., sells dozens of Scientific Explorer kits per month, Owner Mary Porter told TDmonthly. 11/24/2009 (Age: 8 and Up)



Snap-n-Learn Number Bugs by Learning Resources® by LEARNING RESOURCES INC.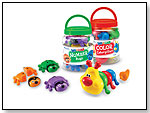 Number Bugs are designed to introduce children to numbers, counting 0 to 5, addition and color matching. The chunky, snap-together pieces are made for little hands to manage as they build adorable bug friends, develop fine motor skills, and engage in early learning at the same time. The 18-piece set makes six bugs and includes a convenient plastic storage jar. Launch date: February 15, 2009.
— "[We] do a lot with Learning Resources in math," Jacque Flagg, owner of Jacque's Inc. in Bryan, Texas, told TDmonthly in fall 2009 about best-selling educational supplies.
— Two of 40 retailers named Learning Resources as a top-selling brand for school supplies and educational products. 6/29/2009 (MSRP: $19.99; Age: 2 to 5)



4M Tin Can Robot by TOYSMITH



Kids can recycle a soda can into a silly, walking, wobbling robot. The kit includes all the parts needed, right down to the googly eyes, except for the two AAA batteries that are required. Launch date: 2008.
— "The Tin Can Robot is a huge hit. It's from their Green Science series, which has been doing great," Jennifer Schneeweis, owner of Izilla Toys in Seattle, told TDmonthly in late August 2009. Two of 40 retailers mentioned the brand when discussing best-selling educational items in fall 2009.
― "Right now we have the Tin Can Robot for 8- to 10-year-olds and that's doing well," said Marlene, manager of Kits & Kaboodle in Carmel, Ind., when asked about her best-selling item for tween boys. Seven of 39 retailers surveyed in October 2009 said science kits are their top sellers for tween boys.
― "It's a good price point and an excellent product. It sells all the time," Priscilla Moore, owner of Mr. Fub's Party, Toys and More in Yellow Springs, Ohio, said of the Tin Can Robot and other 4M science kits in spring 2010.
— In August 2010, seven of 43 retailers told TDmonthly that Toysmith is a best-selling science and nature brand. Two retailers named Tin Can Robot as a top product.
AWARDS: 2010 TDmonthly Top Seller 5/19/2009 (MSRP: $15.00; Age: 8 and Up)



What's Gnu? by THINKFUN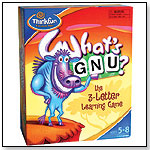 This game lets two to six young players choose between competing and cooperating. It encourages healthy competition as kids race to form three-letter words faster than their opponents. Whoever forms the most words wins. Parents (or older kids) can combine forces with little ones to help them learn how to spell new three-letter words. The game contains 72 letter tiles, 36 word cards, Gnu's stand and instructions. "What's Gnu? is designed as an essential learning tool to help younger kids develop important language and vocabulary skills. It's perfect for multiple players and the rapid-fire game play keeps kids coming back again and again," said Emily Peters, marketing communications manager for ThinkFun. Launch date: 2004.
— "ThinkFun: They have a lot of very popular games," said Gwen Bowden, manager of Doodlehopper 4 Kids in Springfield, Va.
— "ThinkFun games: What's Gnu?" is a best-selling game according to Jamie Burdette, owner of LB Toys in Media, Pa.
— In fall 2009, two of 40 specialty retailers named games by Thinkfun when polled about best-selling educational items. (

Watch Video) 5/25/2006 (MSRP: $15.00; Age: 5 to 8)



Tell Me a Story - Mystery in the Forest by eeBoo corp.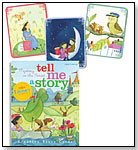 The 3-3/4" x 4-3/4" book comes with 36 different images and instructions for mutiple games. The set also comes with fancy, illustrated cards. Launch date: August 2008.
— These story cards were top sellers at Golden Apple Learning Store in Pleasanton, Calif., in summer 2009, Owner John MacDougall told TDmonthly.
— "They're like flash cards and graphics for making up stories. We're going through about a dozen a month," Lori Durie at the Learning Tree in Prairie Village, Kan., told TDmonthly of this top seller for learning in fall 2009.
— Two of 40 specialty retailers named products by eeBoo when polled about best-selling educational items in late 2009. 5/22/2008 (MSRP: $10.00; Age: 3 and Up)



Super Deluxe Basics First Grade Workbook by SCHOOL ZONE PUBLISHING CO



Centered on basic math skills and beginning reading, this workbook includes activities with color illustrations that allow kids to practice for reaching first-grade goals while strengthening their critical thinking.
— Seven of 40 specialty retailers referenced books or study guides of some sort when asked about best-selling educational toys and school supplies in fall 2009.
— Annie's Toy Chest in Cocoa, Fla., sells about 18 School Zone books per month. "Tourists grab them and use to keep the kids thinking on breaks," Owner Teresa Derry told TDmonthly in late 2009. 11/24/2009 (MSRP: $5.99; Age: 5 to 7)



The JUMBO Grip by THE PENCIL GRIP INC.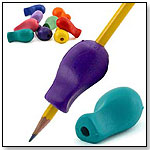 The JUMBO Grip features the same shape as The Pencil Grip to place fingers in the correct stance for gripping, for both right- and left-handed writers. It's about 40-percent bigger than The Pencil Grip, designed to offer comfort and support up to the second knuckle.
— Joan Machlis, owner of Wind Up Here in Olympia, Wash., told TDmonthly in fall 2009 that the store sells about 50 items per month by the Pencil Grip.
— ''We sell maybe 75 per month,'' Mike DiAndrea, manager of Hardware Centre, Inc., in Paoli, Pa., told TDmonthly. 11/24/2009 (MSRP: $2.99)



The Solar System by RAVENSBURGER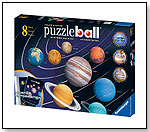 This 200-piece puzzle shows a vast space scene and provides the names of the planets. Once assembled, it measures 19 1/3" x 14 1/4".
— Main Street Toy Shop in Columbus, Ga., sells about 30 Ravensburger puzzles per month, Owner Gladys Griffin told TDmonthly in fall 2009 when discussing best-selling educational items.
— "Ravensburger jigsaw puzzles; a dozen per month" Linda Laramy, owner of Crackerjacks in Easton, Md., told TDmonthly. 11/24/2009 (MSRP: $11.99; Age: 8 and Up)



---
---


Copyright © 2020 TDmonthly®, a division of TOYDIRECTORY.com®, Inc.