March 22, 2023

December 2009 | Vol. VIII - No. 12

---
Rubber Band Wars Break Out in Specialty
Hot Trend Stretches Concept of Fair Play
[Learning Express] anticipates the silicone pets may become "a full-blown nationwide craze sometime in the next few months."
With additional reporting by Julie L. Jones
If you think dolls fight dirty, then you haven't been zapped by a silicone animal band.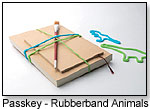 Animal Rubber Bands — designed by the Passkey Design team of Yumiko Ohashi and Masonar Haneda and distributed in the United States by Eastern Accent International — perform like regular rubber bands, but snap back to the outline of animal forms when taken out of service.

BANDS BOUNCE BACK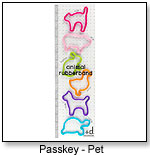 Back in 2005, the Eastern Accent product was so hot at the Purple Bear in Guilford, Conn., that then-manager Jeanne Orlando told TDmonthly Magazine they rivaled Ty's Beanie Babies at their peak. Kids were collecting them, trading them, and wearing them as bracelets, she
said.

Recently, the bands have lived up to that early promise in pockets across the country, as they've grabbed hold of collectors in Alabama, Tennessee and Mississippi. The fad is spreading across the country.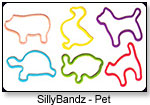 ANIMALS RUN WILD

But they're not the same bands. The SillyBandz by BCP Imports, LLC, that kids are YouTubing about are "not at all related to other bands," BCP President Robert Croak told TDmonthly.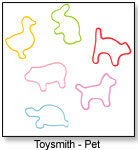 When informed that Passkey Design had launched its Animal Rubber Bands in 2002, Croak said, "I'm not familiar with who Passkey Design is."

He told TDmonthly he was aware that an animal rubber band product existed before his own launch approximately 1.5 years ago, but held that those prior bands were designed for office use, were smaller than his, and were "never made to be worn." His rubber band animals, in contrast, are large enough to be worn on the wrists of both children and the college-age men and women who've begun collecting them (as are many traditional rubber bands).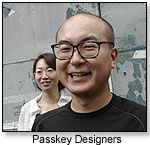 Although TDmonthly has not yet received comments from Ohashi and Haneda, Carol Shapanka, spokesperson for Eastern Accent, stated bluntly, "Ours are the original animal rubber bands." She pointed out that "the color and the shapes [of the newer products] are exactly the same" as the Eastern Accent bands (see comparative photos).

Shapanka noted that Haneda and Ohashi's Animal Rubber Bands were awarded "Best Design for 2003 at the Japanese National Competition." The Animal Rubber Bands were also named a "Best Bet" in a 2003 New York Magazine article. Several Internet reviews from before 2008 mention wearing Animal Rubber Bands on the wrist.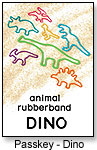 BCP is not the only company out to capture a share of the animal rubber band market. In January 2009, Toysmith launched its own line, Animal Bands, which also are nearly identical to the original Passkey design. According to Debra Ashley of Toysmith, company buyers discovered the bands at a Hong Kong toy show. A United Kingdom magician, Liam Montier, is using Animal Bands in his routine and even includes a package of them for those who buy his book explaining how to perform the tricks. Other silicone band companies include Bamabandz, BelieverBands, HandyBands and Divoga.

Top Trenz Inc. began distributing animal rubber bands a few years ago after discovering them on the open market, then dropped the silicone novelty about a year later because they weren't "the hottest rage" and the supplier stopped carrying them. It picked the bands back up from a different wholesaler in the last several weeks due to customer request, Vice President Jamie Glassberg told TDmonthly.
He questions suppliers to ensure the uniqueness of the 1 percent of Top Trenz-distributed products his company does not self-manufacture, he said. According to Glassberg, the manufacturer who sold Top Trenz the animal rubber bands told him, "You're fine; there's no worries on this product."

DEMAND PICKS UP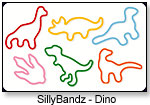 BCP, which released its animal rubber bands more than five years after Passkey's, is aware that their success might inspire even more similar products; the SillyBandz website includes the warning, "Don't be fooled by imitators." Based on reactions to toys that were inspired by the Webkinz craze, kids don't like copycats, but retailers seem nonchalant about which company originated the shaped silicone bands, as long as they can get their hands on them.

Though Learning Express stores started carrying the Eastern Accent product back in 2005, "We are currently buying from several different vendors, but Toysmith is by far the most prominent," said spokesperson Ariel Faulkner. "All that really matters is who can ship them out! Many of our stores are selling out within a few hours of receiving their orders."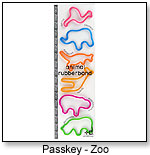 Based on current sales trends, Faulkner anticipates the silicone pets may become "a full-blown nationwide craze sometime in the next few months."
Glassberg, however, thinks the craze will be short lived.
"We will not even attempt to manufacture this and [will] just be a distributor," he said, "because anything that is this hot, the fire in months to come gets put out quickly due to oversaturation."
AGGRESSION MAY WIN

Will Ohashi, Haneda and Eastern Accent share in the rewards in the coming months, or longer? Or will the newcomers bind up the market?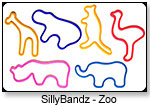 Marc Cooperman, an attorney with Banner & Witcoff, encourages small companies and independent inventors who believe their patents have been violated to try to negotiate informally with the other companies to resolve the issue. He also mentioned that firms specializing in intellectual property protection, including his, may be willing to reduce their rates to help individuals in such cases.

As far as companies who acquire or distribute a new product from another company, due diligence should alert them to any possible infringements.

What if the originating company has no, or inadequate, protection?

"Then their product is open to the public and fair game," concluded Cooperman.
David E. Fitzgibbons, a toy consultant and headhunter for Executive Search Group, recommends to most small companies and inventors that they not obtain patents or copyrights owing to the high expense of the legal work and the short shelf-life of toys. Instead, he encourages aggressive branding and quick responses.

"Being first to market gives the inventor some leverage in the hope that s/he can build a brand that makes the competitor's clone product a 'second class citizen,'" Fitzgibbons told TDmonthly. "S/he can further seek to stabilize their line by offering innovative line extensions and not sitting still while the competition attacks them. I would hope the manufacturer will enjoy some economies of scale and be able to price aggressively. It is my experience that being aggressive in every facet of the product life cycle is the best defense against all adversaries."

Below are the combatants in the latest battle on the specialty field:
Animal Rubber Bands by EASTERN ACCENT INTERNATIONAL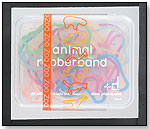 Animal Rubber Bands were designed by Haneda & Ohashi of Passkey Design in Tokyo in 2002. They were awarded Best Design for 2003 at the Japanese National Competition; the Toyota Prius had won the previous year. "Ours are the original animal rubber bands and come in three styles: pet, zoo and dino," said Carol Shapanka of Eastern Accent International. " They're made of silicone and produced and packaged in Japan. Japanese products are produced under strict standards. Factory conditions and the welfare of the workers is just as important as the products coming out of the factory." The boxed set comes with 24 pieces in a sturdy snap box. The cards have one of each of the pet, zoo or dino animals. Launch date for Animal Rubber Bands: 2002. Launch date for Dinos: 2007.
— TDmonthly Magazine first reported on Animal Rubber Bands by Eastern Accent on July 27, 2005; one store manager compared their popularity to that of Ty's Beanie Babies. They had also been featured in a 2002 New York Magazine "Best Bets" article. 11/25/2009 (MSRP: $10; Age: 3 and Up)



Animal Rubber Bands - Zoo by EASTERN ACCENT INTERNATIONAL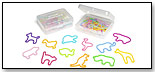 These brightly-colored silicone bands work like ordinary rubber bands when stretched, but revert to giraffes, rhinos, kangaroos, elephants, ostriches and hippos when relaxed. The work of Japanese designers Yumiko Ohashi and Masanori Haneda, whose mission is to endow longevity on disposable items, the bands are one of the hottest items for little girls at The Purple Bear in Guilford, Conn. Kids collect them and share them with friends. "It´s like the Beanie Babies," declared Jeanne Orlando, store manager. "They´re very, very popular. They´re a big hit with little kids," said Chris Kline, sales associate of the Museum of Modern Art´s Design Store in New York City. They also sell very well at the San Francisco Museum of Modern Art´s store. Most toy stores aren´t carrying them yet, but they´re not only popular with Tween girls at Learning Express stores, but are "picking up," said senior buyer Sandie Pardiso. Twenty-four animals come in each box. They´re also available as a Pets line and on a card with six animals. Editor's Note: Animal Rubber Bands became a hot fad across the country in 2009. TDmonthly first reported on their potential as a top-seller in 2005. Launch date: 2002. 7/27/2005 (MSRP: $4.00)



Silly Bandz - Pets by BCP IMPORTS LLC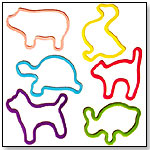 This 24-pack of colorful silicone bands features dogs, cats, ducks, turtles, rabbits and pigs that are die molded. They can be treated as traditional rubber bands and worn as bracelets but spring back into their original pet shape when not in use.
— TDmonthly first reported on the popularity of Animal Rubber Bands in 2005. That product was designed by Yumiko Ohashi and Masonar Haneda of Passkey Design and distributed in the U.S. by Eastern Accent International. Toysmith also has a very similar product that debuted at Toy Fair 2009.
— Marie Yakes, owner of the Papillon, Neb., Sweet & Sassy party and spa shop told TDmonthly in mid-November 2009 that she was eagerly awaiting her first shipment of rubber band animals, scheduled to arrive the next day. She said one of the other franchise owners was "doing $3,000 a weekend in those silly Silly Bandz. And she gets calls about them!" Yakes said the bands have been banned in Tennessee schools, so she's hoping to get some good press out of their Nebraska debut.
— Animal rubber band bracelets were listed as a top-10 best seller online by Owner David Davis of RoundTable Toys in Winterville, N.C., in January 2010. 11/12/2009 (MSRP: $4.95)



Animal Bands by TOYSMITH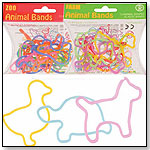 These colorful rubber bands function like traditional bands but feature fun animal shapes when not holding something together.
— "We got 270 packages on Thursday and were sold out by Saturday morning. High school, middle school and elementary school kids are all buying them," Katie Rook, owner of Be Beep A Toy Shop in Columbia, S.C., told TDmonthly in fall 2009.
— Editors Note: This item is very similar to the Animal Rubber Bands by Eastern Accent Int'l, first reported by TDmonthly in 2005. (

Watch Video) 10/6/2009 (MSRP: $2.50)



Animal Rubber Bands by TOPTRENZ.COM

These animal-shaped rubber bands come in 12 piece blister packs. Themes include sea animals, farm animals, dinosaurs, zoo animals, cars, and shapes. These rubber bands can be used for many different functions including a bracelet around the wrist. (

Watch Video) 12/4/2009



---
---


Copyright © 2023 TDmonthly®, a division of TOYDIRECTORY.com®, Inc.