Sources linked below were accurate at the time of the initial publishing. Some links may have since moved.

1. TDmonthly Magazine publishes the actual Official 28-page Jury Court Documents from Mattel's copyright case against MGA's Bratz dolls.

2. TDmonthly Magazine publishes the official document by Judge Kozinski — Decision to overrule Mattel's previous victory.
MGA Entertainment Scores Another Court Victory for Bratz. November 17, 2011 — MGA Entertainment, Inc. scored another court victory today when a federal district court granted its motion for summary judgment on photographer Bernard Belair's claims that the Bratz dolls infringed an advertisement he created for Steve Madden in Belair v. MGA Entertainment, Inc., Case No. 09-Civ-8870, in which he sought tens of millions of dollars from the Bratz sales.
Bratz Maker MGA Seeks $2 billion From Mattel in Antitrust Lawsuit. October 11, 2011 — Attorneys for toy-making giant Mattel, which lost its bid for the rights to the Bratz dolls, will return to a Santa Ana federal courtroom Tuesday...

Mattel Files to Appeal Judge's Award to MGA Entertainment in Bratz Case. September 6, 2011 — Mattel Inc. (MAT) said in a court filing that it will appeal a judge's award...

Mattel must pay MGA $310 million in Bratz case. August 5, 2011 — A federal judge ordered toy giant Mattel Inc. to pay bitter rival MGA Entertainment Inc. more than $309 million in damages, fees and other costs in the long-running dispute over the billion-dollar Bratz doll line and rejected Mattel's bid for a new trial.

Bratz Doll Maker Drops Malpractice Claim Against O'Melveny. August 30, 2011 — Bratz doll maker MGA has dropped a malpractice claim against O'Melveny & Myers...

Report: Mattel Should Pay Bratz Maker $108 Million in Lawyers' Fees. July 13, 2011 — MGA Entertainment Inc., maker of the Bratz dolls, should receive $108 million in attorneys' fees from Mattel Inc., in connection with the two companies' long-running litigation over rights to the doll franchise, according to a recommendation disclosed in court documents.

MGA Returns to Its Counsel: Skadden. June 15, 2011 — Faced with claims in federal court in New York by an artist claiming that his drawings are the basis for the wildly successful Bratz® dolls, MGA Entertainment is returning to its trial counsel, Skadden, Arps, Slate, Meagher & Flom LLP.
Orrick Moves to Withdraw from Bratz Doll Case Over Unpaid Fees. June 6, 2011 — Orrick, Herrington & Sutcliffe, which helped win an $88.5 million jury verdict for MGA Entertainment in a dispute over the rights to the highly profitable Bratz doll line, has asked for permission to fire its client in a related dispute on the ground that the company owes more than $1.2 million in attorney fees.

MGA Asks for $339 Total From Mattel. May 24, 2011 — MGA has asked US District Judge David Carter to award it $399 million total from Mattel for the Bratz Doll Suit. The company was already awarded $88.4 million in damages from the case, but they want that number tripled, and are also seeking attorney fees and general costs. A hearing today will cover arguments on MGA's monetary requests, as well as Mattel's motion to throw out the verdict of the case, according to Bloomberg.
Fight Over Bratz Doll Turns To Attorney Fees, Punitive Damages. May 19, 2011 — Bratz doll manufacturer MGA Entertainment Inc. is seeking attorney fees plus $177 million in punitive damages after obtaining an $88.5 million verdict against rival Mattel Inc.

Larian Not Intimidated by Competition. April 26, 2011 — Now that MGA has full control of the Bratz brand again, CEO Isaac Larian is ready to get back in the game. "There is a lot more competition now, but competition is good. Bratz has its own niche. We're going to put a lot of effort and resources to try to rebuild it and bring it back to glory," he told the Associated Press. Larian also went on the record today to praise MGA's lawyer, Jennifer Keller of Keller Rackauckas LLP. "She came to this case three weeks before trial, compared with Quinn Emanuel who has been on this case for about seven years - and she still won," he said in a press release. Mattel's attorneys have reserved the right to appeal and say they will file a motion for retrial within two weeks. Nonetheless, the latest ruling may help MGA re-establish Bratz in stores, where some retailers have been wary about stocking such an unstable brand.

Mattel Disputes Jury's Findings. April 25, 2011 — According to Businessweek, Michael T. Zeller, a lawyer for Mattel, claims that the company will ask the judge to disregard the jury's findings and rule in favor of the Mattel claims that were rejected. Zeller said, "There is clear and compelling evidence that overwhelmingly proves that Carter Bryant made these drawings and sketches while he was employed at Mattel."
Associated Press Calls Mattel "Big Bully" In Video. April 21, 2011 —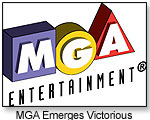 Jury Rejects Mattel's Accusations. April 21, 2011 — According to the Los Angeles Times, a jury has awarded Mattel zero damages in a copyright infringement case against MGA Entertainment. The jury also found that MGA did not steal any trade secrets. MGA CEO Isaac Larian and his family embraced as the judge read from the 28-page verdict. UPDATE: The jury said that Mattel has to pay $88.4 million for misappropriation of trade secrets to MGA, according to the Associated Press. MGA was forced to pay Mattel the comparatively small sum of $10,000 for interfering with designer Carter Bryant's contract with Mattel, according to Forbes. You can see the Jury's verdict form in its entirety here.

Verdict Reached in Bratz Trial, To Be Announced Today. April 21, 2011 — The jury in the Mattel vs. MGA case over who owns the rights to the Bratz Doll franchise has reached a verdict. It will be announced today, according to the Los Angeles Times.
Other Mattel Lawsuit Dismissed. April 18, 2011 — A lawsuit Mattel filed against MGA Entertainment has been dismissed. The lawsuit accused MGA of fraud, for transferring funds to avoid paying damages in the lawsuit over who owns the rights to the Bratz brand, according to the Associated Press.
Mattel and MGA Near End of Trial. April 11, 2011 — Closing arguments continue to wrap up today in the infringement case between MGA and Mattel, according to Businessweek. For more than six years the two companies have been tied up in court, arguing over who owns the rights to the Bratz dolls. This particular trial began in January, and is expected to be handed to the jury for deliberation within the next couple of days.
Bratz Copyright Trial Closing Arguments Begin. April 8, 2011 — While the country waits to hear whether there will be a government shutdown tonight, closing arguments have begun in the copyright trial of MGA Entertainment and Mattel. The trial has lasted three months. If there is a government shutdown, courthouses will remain open, and the outcome of the case will still be decided, according to the Beverly Hills Courier.
Mattel Can't Seek Damages Against MGA for Duty of Loyalty Claim. March 29, 2011 — Mattel Inc. is unable to seek damages from MGA over claims that MGA encouraged Mattel employees to breach their duty of loyalty, a federal judge ruled yesterday in Santa Ana, Calif. According to Bloomberg, the judge said "In California, there is no tort for 'breach of duty of loyalty' that is distinct from the recognized tort of 'breach of fiduciary duty.'" This lets several MGA employees off the hook, who weren't fiduciaries. The breach of duty loyalty claims against Carter Bryant are superceded by charges of trade-secret theft.
Mattel Chief Executive Takes the Stand. March 3, 2011 — Bob Eckert, Chief Executive at Mattel, testified in court on Tuesday in the Bratz doll copyright infringement trial. According to the Los Angeles Times, Eckert's testimony lasted all day. He was cross examined by MGA lawyer Jennifer Keller, who presented the jury with a 2004 internal company presentation that indicated "how panicked Mattel was as it watched its premiere Barbie line swiftly eclipsed by Bratz." The memo included inflammatory language such as "Barbie stands for good- All others stand for evil." During his testimony, Eckert said he did not write the memo and would not want to be associated with such language. He also said he though the word "Bratz" had negative connotations and that Barbie's sales problems were not wholly related to Bratz. MGA's lawyer also pointed out that while MGA's CEO, Isaac Larian, has been in court every day, Eckert has only appeared once or twice. However, on Wednesday Mattel said it would continue using a different company employee to represent Mattel during the trial.
MGA Files Antitrust Suit Against Mattel. February 4, 2011 — As MGA and Mattel fight it out in court over a copyright infringement lawsuit, MGA has filed an antitrust lawsuit against Mattel claiming they used unfair business practices and anticompetitve conduct, according to the Los Angeles Times. The lawsuit alleges that after Bratz dolls began hurting the sales of Barbie, Mattel resorted to extreme behavior such as infiltrating MGA's showrooms, threatening licensees who might work with MGA, rearranging retail displays of Barbie and Bratz dolls, and paying retailers not to buy Bratz dolls or any other MGA products. In a statement made late last night, Mattel lawyer Mike Zeller countered MGA's claims, saying "These same arguments have been repeatedly rejected as irresponsible by the Court. This is nothing more than an end run against these prior decisions."
Carter Bryant, Creator of Bratz, Takes the Stand. January 31, 2011 — On Thursday, Carter Bryant took to the stand for the first of several days of testimony, according to the Los Angeles Times. At the federal court in Santa Ana, Calif., Bryant answered many questions about his time working at Mattel with "I don't know" and "I don't remember." When asked about the inventions contract he had while working at Mattel, Bryant said "I don't think I had a real clear concept of this contract during my employment. I don't think it was ever explained to me fully.... I think I thought that the thoughts that I had on my own time were my thoughts and didn't necessarily belong to anyone else." The trial is expected to last three to four months.
Former Mattel Employee Admits Copying Docs. 1/12/2010 — Jorge Castilla, a former employee at Mattel, plead guilty on Tuesday to copying confidential company documents after he'd accepted a job at rival toy company, MGA. He was sentenced to either three years' probation, 30 days in county jail, or 120 hours of community service by the Los Angeles County Superior Court, according to the Los Angeles Times.

Mattel Claims Against MGA Limited. 1/06/2011 — As reported by the LA Times, a federal judge has ruled that Mattel can only seek infringement damages for the four original Bratz dolls and 2 subsequent versions. The retrial between the two companies is set to begin this month. The court also denied MGA's petition for writ of mandamus.

Judge orders MGA v Mattel retrial (www.toynews-online.biz). 11/4/10 — The ongoing Bratz vs. Barbie legal battle will continue in a new trial, after Judge David Carter invalidated the $100 million damages awarded to Mattel.
Toy Giant Mattel Dealt Blow Over Bratz Doll Franchise (Valley News). 10/22/10 — A three-judge panel of the U.S. 9th Circuit Court turned down Mattel's recent request for a larger hearing. The dispute concerns ownership of the lucrative Bratz line of dolls, between Mattel and MGA Entertainment Inc. For now it looks like ownership will remain with MGA.
As Bratz Case Heads for Retrial, RICO Claims Survive Motion to Dismiss (Law.com). 10/13/2010 — A ruling on Thursday by Judge David Carter, who's presiding over the MGA/Mattel disputes in the wake of a remand from the 9th U.S. Circuit Court of Appeals, has allowed MGA to proceed with its RICO claims against Mattel.
Court Denies Mattel's Motion to Dismiss MGA Spying Claims. October 6, 2010 — Mattel will answer MGA Entertainment's August claim that the toymaker spied on rivals, after a U.S. court denied a motion to dismiss the case. The case stands due to Mattel's related claim that MGA destroyes evidence, according to Reuters.
Slightly More Demure Bratz Dolls Reappear On Store Shelves (Los Angeles Times). September 18, 2010 — MGA is relaunching the once-hot brand, which was crippled during the toy maker's long legal battle with Mattel.
Mattel Files Suit Accusing MGA of Hiding Assets. September 3, 2010 — Mattel Inc. has filed a lawsuit alleging that MGA Entertainment transferred hundreds of millions of dollars to defraud creditors, according to the Associated Press. The suit, filed in Los Angeles Superior Court, claims that MGA transferred $430 million in assets to its chief executive Isaac Larian and other parties to prevent creditors, including Mattel, from collecting funds.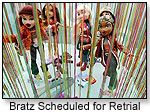 Retrial in Battle over Bratz dolls set for January (Associated Press). August 6, 2010 — A federal judge has set a date (Jan. 11, 2011) for Round 2 of the battle between toymaker rivals Mattel Inc. and MGA Entertainment as they duke it out over ownership of the pouty-lipped Bratz doll line.
Ninth Circuit Throws Out Lower Court Order in Bratz Case. July 22, 2010 — The U.S. ninth circuit court has overruled a lower court decision transferring the Bratz doll business to Mattel. According to attorney Doug Masters of Chicago firm Loeb & Loeb, "The court found that the lower court made a series of errors in finding that the inventor of the popular Bratz dolls had assigned all his rights to his employer Mattel because he had begun work on the dolls during his employment, and then further compounded the error by order that the whole business be turned over to Mattel as a remedy." The decision may make it difficult for Mattel to eliminate its competition in the doll category. See Chief Judge Kozinski's official decision.

Funtastic Follows Suit with Case Against MGA Entertainment. April 5, 2010 — Funtastic has filed a lawsuit against Bratz doll maker MGA Entertainment, attributing a portion of its $57 million loss in 2009 to MGA's failure to supply the popular dolls. Funtastic is seeking damages from MGA, who has allegedly breached a distribution contract with Funtastic for the Bratz fashion dolls after MGA was hit with U.S. copyright infringement legislation from Mattel and supply was subsequently suspended. Funtastic claims in a Herald Sun article it was told by MGA's Hong Kong subsidiary that the Bratz dolls did not infringe upon copyright; however, the company has not supplied the dolls since the end of 2009, nor has it returned an $8.8 million deposit for current and future shipments due to Funtastic. The $20 million lawsuit was filed with the Federal Court of Australia in Melbourne, where a hearing is scheduled for May 18.
Appeals Court Stays Bratz Order, Lets MGA Keep Selling. December 10, 2009 — The Ninth U.S. Circuit Court of Appeals on Wednesday suspended transfer of the Bratz doll line from MGA Entertainment to Mattel, as ordered by a district court, until it comes to a decision in the case. Under the stay, MGA will be allowed to continue its sales of Bratz. Reuters also reported that the court ordered the two mega-toymakers into mediation.
Judge Denies MGA's Request to Sell Bratz After Holidays. November 17, 2009 — Judge David Carter ruled Monday that, as previously determined in Mattel's court victory over MGA Entertainment with regard to the Bratz doll line, retailers must remove their Bratz inventory come January to make way for Mattel to prepare and launch its own Bratz lineup later in the year. Mattel was awarded $100 in damages last year after a jury found the designer of the Bratz dolls to have created the line while under Mattel's employ. The Los Angeles Business Journal reported that MGA is awaiting a hearing on its appeal; oral arguments are set for Dec. 9.
New York Artist Claims Bratz Copyright. October 23, 2009 — Carter Bryant, the former Mattel employee who designed the original Bratz dolls for MGA Entertainment said in testimony last year that his inspiration for the doll line was taken from a Steve Madden ad in Seventeen Magazine. Now, according to the Brooklyn Daily Eagle, artist Bernard Belair, whose doll-like figures were part of that shoe advertisement, has filed a lawsuit in Manhattan federal court against Mattel and MGA Entertainment, seeking copyright for the Bratz dolls.
Iranian and Jewish Groups Urge Bratz Mistrial. August 12, 2009 — Following request for a new trial filed by MGA Entertainment in early July with the 9th U.S. Circuit Court of Appeals, the Anti-Defamation League, the Public Affairs Alliance of Iranian Americans, the Iranian American Jewish Federation and the Iranian American Bar Association joined the toymaker's mistrial fight with an amicus brief supporting MGA's stance that anti-Iranian racist comments made by a juror who was later dismissed influenced the jury's deliberation in a trial last year that awarded Mattel $100 million in damages over the Bratz doll line, the National Law Journal reported. Issac Larian, CEO of MGA Entertainment, which launched Bratz in 2001, is Iranian-American.
MGA and Mattel Near Bratz Settlement. June 3, 2009 — U.S. District Judge Stephen Larson issued an order Tuesday that toymakers MGA Entertainment and Mattel made progress in talks Monday toward a potential settlement, and will each respond to a resolution proposal by June 10, canceling the originally scheduled hearing for that day. The Los Angeles Business Journal also reported that, per legal observers, a settlement might allow MGA to keep selling Bratz, while Mattel could profit from the property. Last fall, a jury awarded $100 million and rights to the Bratz dolls to Mattel after it was found that the designer of Bratz created the initial line while employed by Mattel.

MGA Bratz Hearing to Take Place May 18. May 11, 2009 — MGA Entertainment has announced U.S. District Judge Stephen Larson's decision for an expedited hearing, scheduled for Monday, May 18, on the toymaker's right to keep manufacturing and selling Bratz until the issue goes to a U.S. Court of Appeals. In the statement, MGA points out that Mattel's rights to only one sculpt and two-dimensional drawings of the Bratz dolls, bestowed upon Mattel last fall after an extended trial, give the company little use of the existing Bratz and prompt a need for redesign of the line. The company stated that "the vast majority of the Bratz brand ... still belong exclusively to MGA," further commenting "that creativity and innovative thinking are not Mattel's strong suit."

Mattel Retains $100M and Bratz Property, Judge Rules. April 27, 2009 — CEO Isaac Larian of MGA Entertainment is once again preparing for an appeal after a late Monday ruling by U.S. District Judge Stephen Larson that the Bratz doll is property of Mattel and that the $100 million awarded to Mattel in November will stand. The Associated Press reported that a federal receiver will temporarily be in charge of Bratz and MGA's assets, also determining who will produce the dolls. A May 18 hearing will review the possibility of making the receivership permanent.

MGA Creditor May Threaten Rights to Bratz, Mattel Fears. March 16, 2009 — Despite Mattel's victory in gaining the rights to MGA Entertainment's Bratz dolls last fall, Mattel is worried a new player on the scene could keep MGA CEO Isaac Larian in control of the Bratz and essentially erase Mattel's court winnings. According to the Los Angeles Business Journal, a new creditor for MGA, Omni 808 Investors LLC, has a connection to Larian's brother-in-law and has purchased a loan guaranteed by MGA assets — including the rights to Bratz. Omni could potentially lay claim to the collateral on the defaulted loan through foreclosure. Neil Kadisha, head of Omni 808, said Mattel's claims have "false and misleading representations."

Bratz Dolls to Live for Another Year. January 7, 2009 — U.S. District Judge Stephen Larson ruled Wednesday that Bratz dolls will continue to be sold throughout 2009, but sales could change over from MGA Entertainment to either a court-appointed receiver or Mattel, the Associated Press reported. At a hearing scheduled for Feb. 11, attorneys will tackle who may earn the right to market Bratz later in the year.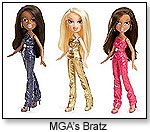 MGA Files Appeal Over Ban of Bratz Sales. December 22, 2008 — MGA Entertainment filed with the U.S. Court of Appeals Friday, requesting that it stay a court order that would ban the company's manufacture of Bratz and enforce the removal of the dolls from store shelves come February, Bloomberg reported. The company is seeking a stay by the end of the year, as an attorney for MGA said customers, manufacturers and creditors are awaiting an answer. A hearing of post-trial motions for both Mattel and MGA is scheduled for Feb. 11.

MGA Voices Appeal. December 11, 2008 — MGA Entertainment has requested that U.S. District Judge Stephen Larson delay enforcement of his Dec. 4 ruling that would prevent the company from making or selling Bratz dolls early next year. Attorney Thomas Nolan asked for a decision on an extension by the end of December. MGA plans to seek help from the federal appeals court if the judge does not grant its request, Reuters reported.

Judge Denies MGA Rights to Make or Sell Bratz. December 4, 2008 — In the lengthy legal battle between Mattel and Bratz dolls maker MGA Entertainment, U.S. District Judge Stephen Larson ruled Wednesday that MGA can no longer manufacture Bratz and is barred from selling them after the holiday season. The Associated Press also reported that the injunction applies to all 40 of the dolls in the Bratz line, including the original four that stemmed from drawings done by former Mattel employee Carter Bryant. CEO Isaac Larian of MGA announced plans for an immediate appeal of the judge's decision. Per a Mattel press release, "the Court's Orders will not take full effect until the Court rules on the parties' post-trial motions, which are currently scheduled to be heard in February."

The Barbie-Bratz Brawl Continues. November 10, 2008 — Mattel is stepping back into the courtroom in Riverside, Calif., today to request an injunction forcing MGA Entertainment to cease production of the Bratz dolls for good. In August, a jury awarded $100 million in damages to Mattel in the copyright infringement case that involved original drawings of the Bratz by Mattel-then-MGA employee Carter Bryant. MGA's argument that the infringement ruling applied only to first generation Bratz dolls will have to be revisited, according to Bloomberg. Reuters reported that U.S. District Judge Stephen Larson will announce his ruling within two weeks, but any court order will not be effective until after the New Year.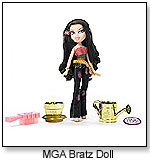 Mattel Moves to Stop Bratz Production. September 30, 2008 — Mattel filed an injunction request with U.S. District Judge Stephen Larson on Monday, asking that he order MGA Entertainment to stop producing and selling Bratz dolls. Arguments are scheduled for Nov. 10, according to the Associated Press.

Mass Retailers Cut Down on Bratz. September 22, 2008 – MGA Entertainment's Bratz dolls won't have quite as jolly a holiday season this year, as Target is cutting its shelf space for the brand in half and Wal-Mart has decreased orders as well. Sales of Bratz dolls are likely to decline 25 percent for the year, according to an article on BloggingStocks.

No More Bratz for Scholastic. September 18, 2008 – Scholastic's product line for distribution to schools this fall will not include Bratz books as it did last year, following the company's receipt of more than 5,000 anti-Bratz emails since February 2007. The Campaign for a Commercial-Free Childhood, based in Boston, and concerned parents and psychologists expressed dismay over the fashion dolls' suggestive clothing and appearance, and the promotion of such sexualization to children. Canwest News Service reported that MGA Entertainment was not available for comment.

MGA Says No to Revenue Sharing. September 12, 2008 – Despite a Wall Street Journal report indicating that MGA Entertainment would consider a revenue-sharing arrangement with Mattel on future sales of Bratz, MGA CEO Isaac Larian denies ever taking such a position, Reuters reported. He did say, however, that he wants to reach a settlement so the companies can resume competition "where it really matters: in the marketplace."

Cost of Bratz Case Surpasses $90 Million. September 10, 2008 – Mattel's copyright infringement case against MGA Entertainment over rights to the Bratz dolls is collectively costing both companies and their insurers nearly the $100 million the jury awarded Mattel in August. The Associated Press reported that Mattel's bills for the first half of 2008 are at roughly $30 million, while MGA's fees, building since the introduction of the lawsuit in 2004, have hit $63 million.

Judge Orders Firms to Discuss Bratz Rights. September 9, 2008 – U.S. District Judge Stephen Larson, presiding over the copyright infringement case Mattel levied against MGA Entertainment, has directed the the CEOs of the two companies, Bob Eckert and Isaac Larian, to meet in order to resolve the amount of damages MGA owes Mattel — a jury ruled up to $100 million — and to determine which company ultimately has rights to the Bratz franchise. MGA believes damages should be lowered and maintains that it can continue to sell the Bratz dolls, Reuters reported. A Nov. 10 hearing is scheduled.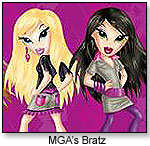 Questions Unanswered in Bratz Trial. August 28, 2008 – Although a panel of jurors awarded Mattel $100 million in damages Tuesday, the battle between the maker of Barbie and MGA Entertainment continues. Mattel is planning an injunction to keep MGA from producing more Bratz dolls, but such a move would require clarification from the judge, since the jury did not identify which dolls — first or second generation — it found to infringe upon Mattel's copyright. The Associated Press also reported that MGA Entertainment intends to file for a verdict as low as $20 million, arguing that some of the $90 million breach of contract damages are duplicative.

Mattel Awarded $100 Million in Bratz Case. August 27, 2008 – In the copyright infringement case over Bratz, a federal jury decided Tuesday that Mattel should receive a combined $100 million in damages — $90 million related to Bratz designer Carter Bryant's previous employment with Mattel, and $10 million on the basis of copyright infringement. The Associated Press reported that MGA Entertainment's CEO, Isaac Larian, plans to appeal the verdict, and a company lawyer will request that damages be capped at $40 million. U.S. District Judge Stephen Larson will determine a final payout to Mattel after judging whether any of the damages overlap. Reports Tuesday varied in terms of the amount of damages awarded. According to the AP article, Larian believes MGA will be able to continue production of the Bratz dolls.

Bratz Judge OKs Possible Split Decision from Jury. August 22, 2008 – During its first full day of deliberations in the damages phase of Mattel's case against MGA Entertainment, a nine-member jury asked the court Friday if they could possibly find the first generation of Bratz dolls, but not the second, in violation of copyright. U.S. District Judge Stephen Larson said they could, Reuters reported. Limiting copyright infringement to first-generation dolls would mean that Mattel might only be awarded $4 million in damages (based on appropriations the jury is contemplating) — a far cry from the potential $2 billion the company is hoping to collect from MGA and CEO Isaac Larian. The jury is slated to continue deliberations Tuesday.

Bratz Trial Goes to Jury. August 21, 2008 – Attorneys made their closing statements in the Mattel vs. MGA Entertainment trial over Bratz dolls in a six-hour session Wednesday, leaving the jury to begin deciding Thursday afternoon what damages and punitive damages, if any, should be awarded to Mattel. The Associated Press reported that in addition to the $1 billion Mattel is seeking from MGA Entertainment alone, the case could cost CEO Isaac Larian $800 million for his involvement in the breach of contract concerning Bratz designer Carter Bryant, who used to work for Mattel.

Court: "No" to Bratz Appeal. August 12, 2008 – The trial will go on, according to a Reuters report that the Ninth U.S. Circuit Court of Appeals rejected MGA Entertainment's plea for a mistrial ruling, after inappropriate ethnic remarks were made by a now-dismissed juror. The damages phase of the trial, in which Mattel is seeking more than $1 billion, is scheduled to wrap up on Friday.

MGA Makes Emergency Appeal. August 7, 2008 – Already suffering the loss of both employees and customers due to the ruling in the first phase of the Bratz trial against Mattel, MGA Entertainment filed an appeal Thursday requesting that U.S. District Judge Stephen Larson reverse his ruling that MGA not get a new trial after a juror — now dismissed from the case — made ethnic slurs against the company's CEO, Isaac Larian. Mattel is claiming damages of up to $1 billion in the case, Reuters reported.

One Juror Down, Mistrial Denied in Bratz Case. August 5, 2008 – MGA Entertainment won't get the mistrial it requested late last month after a juror in Mattel's case against MGA over the Bratz dolls made a racist remark about Iranians. U.S. District Judge Stephen G. Larson dismissed the individual who made the comment, noting that the nine other jurors had spoken about it and appeared unbiased. MGA Entertainment's CEO Isaac Larian, an Iranian Jew, said he was disappointed in the decision, the Associated Press reported.

Juror Booted from Bratz Trial. July 25, 2008 – A female juror in the Mattel vs. MGA Entertainment case over Bratz was dismissed from the trial Friday after a fellow juror brought up "inappropriate remarks" the woman made against MGA's CEO Isaac Larian regarding his Middle Eastern heritage, Reuters reported. MGA is consequently seeking a mistrial — a matter that U.S. District Judge Stephen Larson will address in a hearing on Aug. 4.

Mattel Could Claim $1.6B for Bratz. July 23, 2008 – Court documents reveal that an expert witness in the Mattel vs. MGA Entertainment case may testify that MGA and the designer of Bratz, Carter Bryant, owe Mattel a collective $1.6 billion in lost profits and additional damages, the Associated Press reported. MGA requested last week that such testimony be blocked.

Mattel Sales Up 11 Percent in Second Quarter. July 18, 2008 – One day after a jury ruled that MGA's monster hit Bratz dolls were created while their designer was still in the employ of Mattel, the toy giant announced an 11 percent increase in worldwide net sales in the second quarter of 2008. According to a press release, Mattel's domestic gross sales grew 3 percent and international gross sales increased 15 percent. Worldwide gross sales for core brands were: Barbie® down 6 percent; Hot Wheels® up 5 percent; Core Fisher-Price® up 10 percent and American Girl® brands up 10 percent. Gross margin improved 30 basis points of net sales, SG&A increased by 150 basis points of net sales and operating income was $30.6 million compared to operating income of $36.8 million in the second quarter of 2007. Earnings per share were $0.03 vs. $0.06 in 2007.

Mattel Beats Bratz. July 17, 2008 – Mattel delivered a knockout punch to MGA today when a 10-person jury unanimously decided that the majority of Bratz design drawings, prototypes and sculpts were created by doll designer Carter Bryant while he was employed by Mattel. The jury also determined that MGA and its CEO, Isaac Larian, "intentionally interfered with the contractual duties owed by Bryant to Mattel; aided and abetted Bryant's breach of his duty of loyalty; aided and abetted Bryant's breach of the fiduciary duties he owed to Mattel; and converted Mattel property for their own use." The next phase of the trial will determine if Bratz dolls infringe on the drawings and sculpts now owned by Mattel and will determine the amount of any possible damages. Mattel had reached a separate settlement in May with designer Carter Bryant, who is no longer a defendant in the case.

Closing Arguments Send Bratz Trial to Jury. July 11, 2008 – Legal representatives for Mattel and MGA Entertainment delved into five hours' worth of closing arguments Thursday in the case over ownership of the Bratz dolls, leaving it up to 10 jury members to decide the verdict. Earlier in the trial, Mattel's lawyers had questioned the truthfulness of testimony from Bratz designer Carter Bryant's mother, Jane Bryant, and life partner, Richard Irmen, both of whom said they saw his Bratz drawings in 1998, when he was not employed by Mattel; an attorney for MGA called such questioning "drama" on Thursday. According to the Los Angeles Times, there was also discussion over the notebook used to make the first sketches, as well as the program that was used to erase files on Bryant's computer two days before it was handed over as evidence in the trial.

MGA Anticipates up to $200 Million in Sales from New Bratz. June 23, 2008 – The "Bratz Girls Really Rock" line of dolls from MGA Entertainment is expected to pull in $150 million to $200 million in sales between its August launch and the end of '08, according to CEO Isaac Larian. Reuters reported that the rock-star Bratz will also show off through licensed shoes, a movie, and a video game from THQ Inc.

Bryant Shopped Bratz Idea While Under Mattel's Employ. June 13, 2008 – Carter Bryant, designer of MGA Entertainment's Bratz dolls, said Thursday in court testimony that he took the idea to other companies through an artists agency while he was working for Mattel, the Associated Press reported. When Bryant actually sketched the initial drawings of Bratz — he says it was between periods of employment with Mattel — is of crucial importance in the case of copyright infringement playing out in Riverside, Calif.

Creator of Bratz Deleted Computer Files. June 11, 2008 – In the copyright infringement case filed by Mattel against MGA Entertainment over the highly popular Bratz dolls, it has come to light that Carter Bryant, the designer of Bratz, erased some of his computer files using an Evidence Eliminator program only days before the computer became evidence in the trial. Reuters reported that there are disagreements over what he meant to erase — Bryant's defense says pop-up ads — but that the deleted files might have contained crucial drawings or email correspondence.

Mattel Settles Lawsuit Against Bratz Creator. May 19, 2008 – Mattel Inc. announced Monday its settlement of a suit against Carter Bryant, designer of the Bratz dolls. The company will still pursue, however, a case on copyright infringement against MGA Entertainment, according to Reuters.

Mattel Could Pocket Millions in Trial Over Bratz. May 13, 2008 – If a jury finds that Bratz designer Carter Bryant came up with the dolls and sketched them while employed by Mattel, it's estimated that MGA Entertainment will pay its rival $360 million in damages plus another $500 million for yearly sales and fees. The trial will begin May 27, Bloomberg reported.

Mattel Battles Bratz. April 28, 2008 – Under a judge's ruling Friday, Mattel Inc. is claiming copyright infringement against MGA Entertainment and the inventor of Bratz, Carter Bryant, who Mattel says designed the dolls while working at its company in 2000. A jury trial is set for the end of May, according to Bloomberg News.