May 13, 2021

January 2010 | Vol. IX - No. 1

---
TDmonthly Goes Inside… The Acorn Store, Santa Monica, Calif.
Eclecticism and Quality Lure Kids of All Ages
Even during the lead-paint scare in 2007, not one of her products was recalled.

The Acorn Store is the only retail shop on its block, but a sidewalk display of toys and trikes pulls in passersby who are strolling or cruising the Santa Monica area of Los Angeles. The window features a wooden tree house that owner Ellen West [watch video interview, below] was given for good luck when she first opened, seven years ago. It's worked its magic so well, she hasn't moved it since.


Get the Flash Player to see this video.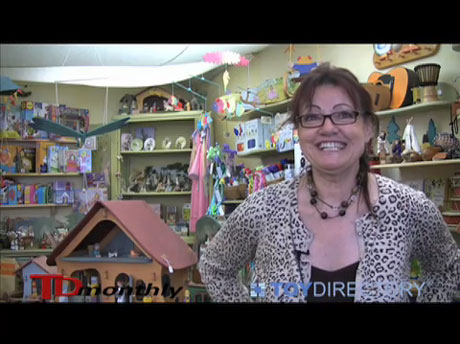 What does move are her products, which range from wooden toys to velvety dress-up clothes. She's divided her main room into seven or eight distinct areas to showcase products by category. As her success blossomed, she added a costume room filled with fantasy outfits for both boys and girls. She's currently converting another adjacent space to a Plan Toys showroom.

Ellen prides herself on choosing only top-quality products that encourage children to think creatively. Even during the lead-paint scare in 2007, not one of her products was recalled. Her focus and vision pay off; she's never had to hold a sale to keep products flowing out the door.

Following are some of Ellen's favorite toys. Please scroll down to watch all the videos, and click here to see Ellen's Plan Toys showroom:

Retailers: Did you know you can broadcast TDmonthly Toy Videos from your website? Manufacturers: Find out how a TDmonthly Video attracts buyers.

Clutching toy Perlina by HABA USA/HABERMAASS CORP.



Baby can clutch and chew the Perlina with either hand. Plus there's a bell for extra entertainment. (

Watch Video) 12/10/2009 (Age: 0 to 1)



Wunderwurfel by HABA USA/HABERMAASS CORP.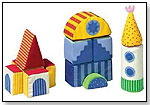 These soft blocks include a variety of textures, plus Velcro attachments, to keep babies stimulated as they build. (

Watch Video) 12/10/2009 (MSRP: $35.00; Age: 0 to 2)



First Blocks by HABA USA/HABERMAASS CORP.

First Blocks includes a little buggy with a driver and six different building blocks, each with its own surprise, acoustic or visual, for playing, building, assigning and discovering. Blocks measure 4 x 4 x 8 cm. (

Watch Video) 11/7/2005 (MSRP: $25.00; Age: 1 and Up)



Kathe Kruse Binkie Towel Doll by EUROPLAY CORP.



The soft, smiling doll is composed of funny, appealing colors and is perfect for cuddling with, day or night. It is made from fine cotton and terrycloth, making it long lasting and washable. Launch date: February 2008. (

Watch Video) 5/30/2008 (MSRP: $29.00; Age: 0 and Up)



Musical Pillow by KATHE KRUSE DOLLS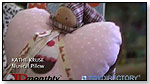 This heart-shaped plush pillow plays a soothing lullaby to help Baby sleep. (

Watch Video) 12/10/2009



Classic Bear by KATHE KRUSE DOLLS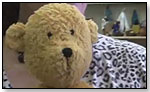 This classic stuffed toy will comfort kids of all ages. It's stuffed with wool for extra cuddliness. (

Watch Video) 12/10/2009 (Age: 0 and Up)



Christina's Stove by ELVES AND ANGELS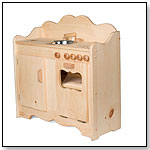 In an all-new design, it includes an area to the left of the sink bowl perfect for drying dishes, cutting wooden veggies and more. The cabinet compartment includes a true divided cupboard as well as the signature oven door. It's crafted with precise, slot-together construction so assembly takes just a few
minutes. (

Watch Video) 12/10/2009 (MSRP: $169.00)



Half Dozen Eggs by HABA USA/HABERMAASS CORP.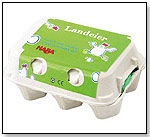 These child-sized wooden eggs come in an authentic-looking cardboard carton. (

Watch Video) 12/10/2009 (Age: 3 and Up)



Push Along Flyer by NOVA NATURAL TOYS & CRAFTS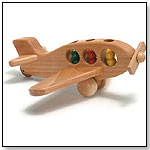 This solidly constructed wooden plane can serve as a push toy for small children, if the peg people are removed. Put them back in and older kids have a great pretend play vehicle to fly around the house. It's made of hardwood in Poland and measures 4¼" tall x 11" wide. (

Watch Video) 12/10/2009 (MSRP: $50.00; Age: 2 to 7)



Bamboo Dump Truck by HAPE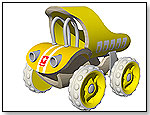 There will be no hazardous waste dumps with this mini dump trucks; it's made of sustainable bamboo. Launch date: Early 2009. (

Watch Video) 5/12/2009



Free Throw by AMERICAN TOY, LLC



Place the red ball on the flipper stick, press down and let it snap back up. The ball will fly towards the basket. Solid wood, 9.5 inches long by 3 inches wide. (

Watch Video) 12/10/2009 (MSRP: $25.00; Age: 8 and Up)



Pick Up Sticks by CHANNEL CRAFT & DISTRIBUTION INC.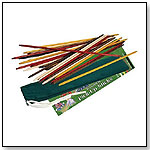 Pick up as many sticks as you can, without making the other sticks move. (

Watch Video) 12/10/2009 (MSRP: $10.00)



Let's go shopping! by HABA USA/HABERMAASS CORP.



In four game variations the children will recognize the groceries by touching, ordering or assigning them as quickly as possible, all helped by a good memory. A game collection for two to four children. Also, the wooden groceries are perfect for "free play" games. (

Watch Video) 12/10/2009 (Age: 3 to 8)



Planet Sensory by HABA USA/HABERMAASS CORP.



Sensor, the sensory explorer, guides the players to an exciting planet: carrying out various activities all about seeing, hearing, smelling, tasting, touching and moving, they get to know their senses better. Who, for example has ears like a lynx or a good nose? (

Watch Video) 12/10/2009 (MSRP: $35.00; Age: 4 and Up)



Children of the Forest by FLORIS BOOKS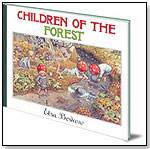 The children of the forest live deep in the roots of an old pine tree. They collect wild mushrooms and blueberries and shelter under toadstools when it rains. They play with the squirrels and frogs, and when autumn comes, they collect and prepare food to see them through the long winter, until the warm spring breeze starts to blow.. Written and illustrated by Elsa Beskow, whose picture books for children have been known and loved for over a century. (

Watch Video) 12/10/2009 (MSRP: $25.00; Age: 3 to 5)



Beeswax Crayons by STOCKMAR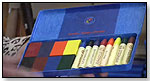 Even little folks can get their colors in with this set of beeswax crayons. In addition to classic round crayons, the set includes crayon blocks, which are easier for tiny tykes to manipulate and cover a greater amount of space with the least effort. (

Watch Video) 12/10/2009



Ferby Pencil by LYRA USA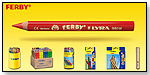 The Ferby giant coloured pencil with a wood-sealed end is 12 cm long. The strongly pigmented colour lead with a diameter of 6.25 mm is highly break resistant. The unique shape of the pencil is a round triangular that suits the writing hand . It reduces muscular strain and provides ease in writing and drawing. Particularly small hands, left-handed people and those with weak muscles gain comfort and ease from the comfort grip. A maximum of pigments, the wipe and water resistant lead and the high break resistance guarantee highest quality. (

Watch Video) 12/10/2009



Beeswax Modeling Compound by STOCKMAR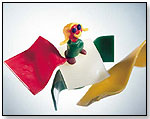 This set of modeling slabs is made of beeswax that never dries out. Children simply warm the colored slabs in their hands to soften it to the consistency they wish and form whatever their imaginations direct. (

Watch Video) 12/10/2009



Pentatonic Glockenspiel by AURIS MUSIKINSTRUMENT AB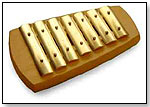 This seven-tone pentatonic glockenspiel has a lovely, crystal-clear sound. (

Watch Video) 12/10/2009 (Age: All Ages)



Spice Nut Shaker by JAMTOWN, LLC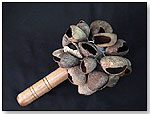 Big empty spice nut shells sound like falling water. The Spice Nut Shaker measures 11" and is made in Indonesia. (

Watch Video) 12/10/2009 (MSRP: $25.00)



Silk Rose Garden Canopy by SARAHS SILKS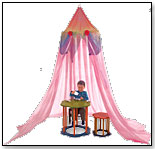 Hang the Silk Rose Garden Canopy over a child´s bed or over a table to create a fantasy play area. Yards and yards of soft billowy silk with a rainbow top. Other styles available. (

Watch Video) 5/26/2005 (MSRP: $129.95)



Fairy Board by MOONLIGHT AND ROSES



These old-fashioned illustrations of fairy folk can be hung from their ribbons to add a touch of magic to any girl's room. (

Watch Video) 12/10/2009



Faery Glen - Fernview by MUNRO GIFTS



Fernview is one of a series of finely sculpted fairies in the Faerie Glen series. Fairies also come in multiethnic skin tones. (

Watch Video) 12/10/2009 (Age: 8 and Up)



Spring Burst With Music and Figurine by ENCHANTMINTS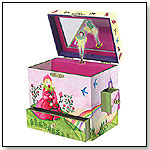 The tallest style is excellent for tiny treasures. Earrings, bracelets, charms and sachets are all safe and comfortable inside. There are four drawers, one in front and one on each side. The Spring Burst box measures 6" x 4" x 6". (

Watch Video) 12/10/2009 (Age: 6 to 12)



Traditional Cross Stitch Sampler by HARRISVILLE DESIGNS INC.



Make your own heirloom sampler using traditional patterns! The possibilities are endless.
Finished Size: 5" x 7"


Contents:


Wooden Frame for working and mounting (8" x 10")

Tapestry Needle (size 22)

Cross Stitch Fabric

Wool Yarns in 8 beautiful colors: Gold, Tundra, Aster, Teak, Charcoal, Topaz, Periwinkle, and Iris

Illustrated Instructions

Lots of Fun Ideas! (

Watch Video) 11/19/2007 (MSRP: $24.95; Age: 8 and Up)




Music Box Ballerina by A WISH COME TRUE



This lovely dress features velvet leotard and tulle skirt. It comes in aqua or pink. (

Watch Video) 12/10/2009



Indian Boy by BEASTLY BUDDIES



This chestnut suede-like (100% rayon) 2-piece outfit features authentic looking trim on bodices and a head piece. (

Watch Video) 12/10/2009 (MSRP: $67.00)



Chef by CREATIVE EDUCATION OF CANADA



This chef set lets kids feel like experts in any pretend kitchen. (

Watch Video) 12/10/2009 (MSRP: $33.00)



Pirate by BEASTLY BUDDIES



Bright red velvet-like flocked vest, black and white striped pants with drop crouch, swagger style yellow satin belt, black taffeta scarf, eye patch and white poly-cotton shirt make this pirate garb fun for boys or girls. (

Watch Video) 12/10/2009 (MSRP: $62.00)



---
---


Copyright © 2021 TDmonthly®, a division of TOYDIRECTORY.com®, Inc.