March 2, 2021

January 2010 | Vol. IX - No. 1


January Toy Videos Go Traveling
Watch Big, Bouncy Ride-ons and Smart Strollers
This month's toys have legs. Pull-along elephants, a world explorer kit and travel-friendly pacifiers let kids trot the globe ... or at least imagine that they are! Scroll down to see all the videos.

Retailers: Did you know you can broadcast TDmonthly Toy Videos from your website? Manufacturers: Find out how a TDmonthly Video attracts buyers.
Smart Trike "Recliner" by Smart Trike U.S.A. LLC



The unique 4-in-1 Smart Trike Recliner designed for babies from 6 months and up, provides the child with a safe and comfortable ride. The adjustable seat is equipped with a reclining position to allow baby to nap. The multi-position adjustable handle guarantees an easy solution for the parents to steer and, by releasing the clutch, the child takes control for fun, independent riding. The Smart Trike Recliner includes a washable, quality seat cover and is available in a range of colors together with a useful functional bag. It is available in green, pink and red. Smart Trike "Recliner" is the winner of the "Toy Innovation" Award in the Fun + Sport category and "Right Start Award" Overall Winner in the 0-3 category and "Gold award" in the Sit n Ride category.
— As of 05/13/2011 this product had 4 out of 5 stars from 20 reviews on Amazon.com. Cons: Doesn't easily stay in a straight line; sun shade doesn't align with the rest of the trike.

Past Videos:
Product Demonstration (

Watch Video) 7/30/2009 (MSRP: $200.00; Age: 1 to 2)



Rockin', Rollin' and Ridin' EP by BIG TRUCK MUSIC LLC

Rebecca Frezza & Big Truck's latest musical endeavor. A jam-packed, rockin', rollin' enhanced EP. Includes six new songs, two re-mixes, a guest appearance by Roscoe Orman, a.k.a. Gordon of Sesame Street, and an animated music video. Launch date: November 10, 2009. (

Watch Video) 12/10/2009 (MSRP: $8.99)



Fair Share Chore Cards by ROBIN DOWNES DESIGN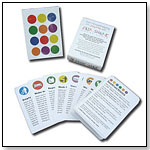 Fair Share Chore Cards eliminates dreaded arguments among who does what chores and takes the phrase "that's not fair" out of the housework equation by leaving chore assignments to the luck of the draw. The chore cards have helpful directions printed on each card on how to accomplish each chore safely and efficiently. The only Ace in the deck serves as a "get out of a chore free" card, giving one a lucky break from a chore. (

Watch Video) 12/7/2009 (MSRP: $14.95)



My Very Own House™ playhouse by PHARMTEC CORP.



My Very Own House™ is a single-piece, cardboard playhouse that is pre-assembled and can quickly expanded for play and folded up for storage when not in use. The playhouse features a bright white interior and exterior for coloring fun, as well as 2 doors, 4 windows, and 2 mail slots. Fully expanded, the playhouse measures 43.5" long, 28" wide, and 35" tall. (

Watch Video) 10/26/2009 (MSRP: $34.95; Age: 3 and Up)



Curtain Critters by CURTAIN CRITTERS INC.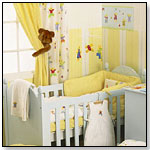 Curtain Critters are cute, plush curtain tiebacks that hold your curtains while decorating the home. Available in different animal designs such as bear, monkey, giraffe, elephant and others. All Critters conform to toy safety regulations, come with an elastic safety loop for easy attachment and child friendly velcro pads to keep the hands firmly in place. Arms are standard curtain tieback length to fit almost any curtain. Curtain Critters come in sets of 2 for $24.95. (

Watch Video) 10/26/2009 (MSRP: $24.95; Age: 0 and Up)



Mini Chimalong by WOODSTOCK CHIMES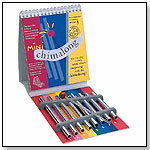 A smaller version of the Chimalong, the Mini Chimalong comes attached to an illustrated full-color spiral-bound songbook that can be propped up for both the player and the singers to read their parts simultaneously. It folds into a traveling toy. (

Watch Video) 12/14/2009 (Age: 3 and Up)



Kayla the Marsh Pixie by I LOVE MY PLANET TOYS



Kayla is a Marsh Pixie from the Florida Everglades. The Everglades are tropical marshland located in the southern portion of the U.S. state of Florida. It is a rare and beautiful place that is home to panther, manatee, bobcat, alligators and of course Pixies! The Planet Pixies were designed to encourage little girls to think about ways to save the planet. Each Pixie comes from a different endangered zone of the globe. The doll set includes tips for recycling and taking care of the environment, so the Pixies' homes can be saved. The Planet Pixies are made from organic cotton fabric and natural materials. Their boxes are made of 100% post-consumer recycled cardboard. Launch date: 2008. (

Watch Video) 7/23/2008 (MSRP: $24.99; Age: 3 and Up)



26! Card Game by YOVICH GAMES



26! gets its name from the 26 letters of the alphabet and consists of 54 playing cards. Each card shows a letter from A to Z, and a number 1 to 26. The object of 26! is to use six dealt cards and a seventh card from a drawing deck to create a 3-, 4-, or 5-letter word and then, with the remaining cards, form an arithmetic equation that equals 26, using any combination of addition, division, multiplication, or subtraction. Up to four players can play from one deck of cards. In addition to its entertainment value, 26! helps international students learn English, povides enrichment for students in science and math, and benefits remedial students studying spelling and arithmetic. Launch date: November 2009. (

Watch Video) 12/14/2009



What Z'it by THE ORIGINAL TOY COMPANY

A wooden multi color item that will keep young ones busy for hours. Strung together with elastic for creating multiple shapes and orientations.
— This engaging toy has been a best seller at The Parent-Teacher Store & Toys Too in Louisville, Ky., for about 18 months, Owner Kimberly Kopatz told TDmonthly in November 2009. (

Watch Video) 4/1/2009 (MSRP: $4.00; Age: 3 and Up)



SnoFling by SNOFLING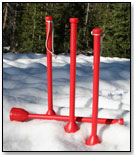 The Snofling was invented in the '70s, on the Johnny Carson Show, and sold over 5,500,000 units in three winter seasons. Used for making and throwing snowballs further and faster and with warm hands, it now has a tether so it can be hung from the wrist and used while snowboarding, skiing and snowmobiling. The Snofling also has a built-in horn for signaling and for sporting events. It comes in four bright colors and is more durable and longer lasting than ever. (

Watch Video) 9/5/2006 (MSRP: $5.00; Age: 2 and Up)



Chimalong® by WOODSTOCK CHIMES

Tuned to a C Major scale, the Chimalong is an 8-note metallophone that can be played by number, color or notes. The youngest children will use the included 15-song songbook to play by color; older children can play by number. As they progress, they'll learn to read the music and play by note. Additional songs are available on the Woodstock Chimes website. Packaged in a 4-color window box. Comes with 2-mallets, 15-song songbook and an extra #7 tube, which changes the B (for key of C) to B flat (for key of G), giving greater musical flexibility. Chimalong is "recommended for its educational value by many professional musicians, including John Sebastian, Marilyn Horne, André Watts, Peter Schickele and the late Jim Henson," Peggy Daniel, Web Development Director of Woodstock Chimes, told TDmonthly. The Chimalong has received the following awards: 2003 Parent's Choice Top 25 Toys in 25 Years; 1995 Oppenheim Toy Portfolio Classic Toy, Blue Chip Award; 1995 Oppenheim Toy Portfolio Best Toy Award, Platinum; 1995 Oppenheim Toy Portfolio Best Toy Award, Gold Seal; and 1987 Parent's Choice Gold Award. Launch date: 1986.
― Karen Park, owner of Zaks Gifts in Manchester-by-the-Sea, Mass., only recently began selling Chimalongs, she told TDmonthly in 4Q 2010; she sells about four per month.
— Patti Tepper-Rasmussen, owner of Learning Tree Toys, Games & Books, Inc. in Oklahoma City, Ok., told TDmonthly in a January 2015 survey that the Woodstock Chimalong is their store's best-selling musical toy. (

Watch Video) 10/28/2009 (MSRP: $40.00; Age: 3 and Up)



Colours Soft Octopus by MARY MEYER CORP.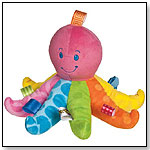 With its bright colors with embroidered eyes, this 10.5" sea creature can delight kids of all ages. A rainbow of tentacles are festooned withTaggie tags. (

Watch Video) 12/14/2009 (Age: 0 and Up)



Rody Max by TMI TOYMARKETING INTERNATIONAL INC.


Made in Italy, Gymnic's Rody Max is a favorite with children and adults. It is the same as our popular Rody Horse, but for kids and adults (ages 5 years and up). It is used to learn balancing and coordination while hopping on their Rody. Used in Therapy for special needs children due to its softness and ride-on qualities. Made of heavy duty, latex-free vinyl. Inflates according to size and weight of child. Is surface washable with soap and water. Rody Max is available in Orange, Red and Blue.

(

Watch Video) 7/11/2008 (MSRP: $125.00; Age: 5 and Up)



Charm It! Safety Pin Bracelet by HIGH INTENCITY CORP.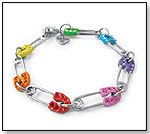 In silver-toned metal finished with brilliantly colored enamel and matching rhinestones, Charm It!'s Safety Pin Bracelet circles the color wheel with seven glitzy safety pins. A funky accent piece alone, the bracelet can be personalized with any selection of Charm It! charms to suit a girl's individual styles and interests.
― "By far, Charm It!s are the best," Terri Bracken, owner of Earth Explorer Toys in Zionsville, Ind., told TDmonthly when asked about her best-selling jewelry item in fall 2009.
― Three of 39 retailers said Charm It! is their best-selling jewelry or accessory item during an October 2009 survey. (

Watch Video) 10/27/2009 (MSRP: $16.00; Age: 3 and Up)



Pull Along Elephants by I LOVE MY PLANET TOYS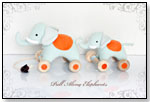 Made from organic cotton and sustainable rubber wood, Momma and Baby Elephant are connected via Velcro at the mama's tail and can be separated. "As with every piece in this line, the classic-meets-modern design makes it suitable for nursery decor as well as play!" Michael Daner, president of I Love My Planet Toys, told TDmonthly. Launch date: October 15, 2009. (

Watch Video) 11/16/2009 (MSRP: $35.00; Age: 3 to 8)



---
---


Copyright © 2021 TDmonthly®, a division of TOYDIRECTORY.com®, Inc.