May 14, 2021

January 2010 | Vol. IX - No. 1

---
The Acorn Store's PLAN Showroom
A Special Space Lets Kids Play
Behind The Acorn Store is another store, and another one, too ... three separate showrooms help give this little toy store a big presence in kids' imaginations. Click here to watch videos of the toys in the main showroom and costume shop. Scroll below to see some of the hottest sellers in the Acorn Store's newest addition ... a showroom devoted solely to PLAN Toys:

Retailers: Did you know you can broadcast TDmonthly Toy Videos from your website? Manufacturers: Find out how a TDmonthly Video attracts buyers.

Chalet Dollhouse With Furniture by PLANTOYS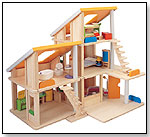 The Chalet Dollhouse With Furniture offers kids the full package in dollhouse play. It comes in two units that can be manipulated to form numerous dollhouse layouts. It also comes with furniture, so that nothing's missing when dolls come to visit. The Chalet Dollhouse includes three stories, slanting chalet roof and creative stairs, as well as an innovative floor plan. It is 32" x 24" x 14", is made from recycled rubber wood, is coated with a non-toxic finish, and all colors are made from vegetable dye.
— When asked about best-selling play houses and furniture, Teri Soelter, owner of Teri's Toybox in Edmonds, Wash., said "Plan Toys. People will buy the furniture by itself and the dollhouses later."
— Four of 62 retailers TDmonthly spoke with in spring 2007 said Plan Toys makes some of the most popular furniture and play houses in their stores. They sell about three Plan Toys dollhouses per month. Seven percent of 56 retailers surveyed in January 2009 said doll houses and accessories are among their top sellers.
— "These products are so beautiful," Teneen Dobbs, owner of Kits & Kaboodle in Carmel, Ind. told TDmonthly. "They display well. People just love wooden items." (

Watch Video) 2/19/2007 (MSRP: $250.00; Age: 3 and Up)



Barn by PLANTOYS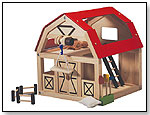 This two-story gambrel-roofed barn features a removable roof and open sides for easy access into the interior and hayloft access. It includes removable ladder, a grain sack, two stacks of hay, four adjustable fences and a tool set. The hay can be hoisted into the barn by a pulley and pallet at front gable. (

Watch Video) 12/10/2009 (MSRP: $95.00)



My 1st Wooden Doll House by PLANTOYS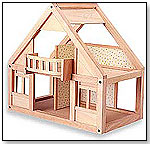 This 1:12 scale wooden dollhouse includes four rooms and a balcony, and comes with tools for assembly. It measures 24.8" L x 14.2" D x 23"H.
— "We cycle out what we carry year to year — right now we have a Plan dollhouse," Tina Schwindt of Fairhaven Toy Garden in Bellingham, Wash., said when asked in June 2008 about top-selling furniture and playhouses.
— "Plan Toys — not selling a lot right now, given the time of year; generally, I'll sell six rooms a month. … As we get into fall, [we] will expand [the line] a lot more; it's a line we love and their dollhouses are great," Jerome Crawford, owner of Crawdaddy's Toys in Lafayette, Calif., told TDmonthly.
— When asked about best-selling furniture and playhouse items, three of 62 retailers told TDmonthly that they carry dollhouses by Plan Toys. There was some concern, though, about slow sales at the time of the interviews, in early summer 2008.
— Heiko Peine, owner of Treehouse Toy Shop in Cumberland, Md., told TDmonthly in a Summer 2011 survey that they sell 1-2 each month.
— As of 06/29/2011 this product had 4.5 out of 5 stars from 22 reviews on Amazon.com. Pros: Simple yet high-quality; durable. Cons: Too deep and dark to play on the bottom floor. (

Watch Video) 7/10/2008 (MSRP: $119.99; Age: 3 and Up)



---
---


Copyright © 2021 TDmonthly®, a division of TOYDIRECTORY.com®, Inc.