September 22, 2020

February 2010 | Vol. IX - No. 2


More Toy Videos to Beat the Cold
On a Snowy Day, Watch These Toys Play
Snow and rain can keep kids inside during February, so take a look at some toys that will make home feel cozy and fun.

Retailers: Did you know you can broadcast TDmonthly Toy Videos from your website? Manufacturers: Find out how a TDmonthly Video attracts buyers.
Omni Tech Figures™ Ryan Sheckler Action Figure by ACTION SPORTS TOYS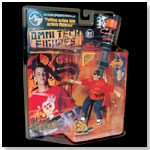 This Omni Tech figure representing professional skateboarder Ryan Sheckler features the Omni Tech Figures™ technology that enables the movement of the action figure and the skateboard both independently and together, allowing the toy to move with life-like movement and execute skateboard tricks. The key is in the high tech design of the OMNI HANDLE which gives you complete control of the figure and its board. It's simple to use, but difficult to master. (

Watch Video) 11/16/2009 (MSRP: $24.99; Age: 8 and Up)



Say-N-Play - Home Version by ADVANCE GAMES LLC



This interactive computer program features games and activities designed to help children practice articulation skills. It uses speech recognition technology that monitors children's speech into a headset; characters respond to their voice in various practice drills. It includes a Lesson Mode and Free Play Mode, and there are easy, medium and hard difficulty settings. The Home Version stores up to three player profiles, while the Professional Version accommodates up to 15. (

Watch Video) 1/29/2010 (MSRP: $129.00; Age: 4 to 9)



Shailie™ Starter by STYLE PAIGE LLC



It's the kit that gets you going (ages 6+) The Shailie™ Starter includes one life size pink and white polka dot dress form, a must for any aspiring fashion designer. The Starter also includes the Base top and skirt so you can easily attach and detach all of your Shailie™ dress pieces and accessories, a Starter dress - in 9 pieces, and a Shailie™ Closet for storage. (

Watch Video) 8/19/2009 (Age: 6 and Up)



Disney's Princess & Frog Magnetic Fun® Mini Tin by LEE PUBLICATIONS



Dress Tiana and Prince Naveen for a day of imagination and fun! Each tin consists of 2 characters printed on the tin, activity card to be used on the tin and 1 sheet of magnets. (

Watch Video) 1/12/2010 (MSRP: $6.99; Age: 3 and Up)



Hop! 55 (22") by TMI TOYMARKETING INTERNATIONAL INC.



This Hop Ball is the very best quality in hopping balls! Made from the super strong, yet soft latex-free vinyl material for long lasting use and durability. Great exercise product for indoors and smooth safe outoor surfaces. Promotes children's body coordination, balance, and lymph circulation. Special patented handgrip safety handle. Maximum sustainable weight up to 600 lbs based on the size of the ball. (

Watch Video) 1/25/2006 (MSRP: $28.00; Age: 6 and Up)



Buckyballs™ by Zoomdoggle by MAXFIELD & OBERTON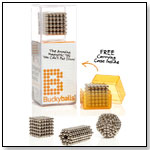 This set includes 216 powerful rare earth magnets that can be molded, shaped and snapped together in an endless variety of configurations. Each Buckyball has two poles — one repels, one attracts. Not intended for children. Watch video
— ''Pun's has sold about four dozen in the last month alone,'' Joe Berardoni, Sr., owner of Pun's Toy Shop in Bryn Mawr, Pa., shared with TDmonthly in the fall of 2010.
—Jeanette Lauture, owner of Aunt Jean's Toys & Treats in Montclair, N.J., sold nine of 24 units in two days after opening a box for display, she told TDmonthly. Two of 39 retailers named Buckyballs as a best-selling travel toy in March 2010.
— Dean Smith, Co-owner of JaZams in Princeton, N.J., told TDmonthly in a Summer 2011 survey that he sells "probably 50" sets of Buckyballs each month.
— May 27, 2010 RECALL of 175,000 sets (prior to March 2010) with 13+ labeling violating a federal standard that powerful magnets not be sold to children under 14. (

Watch Video) 11/25/2009 (MSRP: $29.95; Age: 14 and Up)



Max's Mud™ Natural Sculpting Dough by MAX'S MUD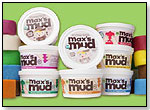 This fragrance-free natural sculpting dough is certified organic and certified gluten free. Packaged in recyclable and reusable containers, the naturally anti-microbial dough is made in the USA. It comes in brown, white, yellow, red, orange, purple, blue and green. (

Watch Video) 1/29/2010



Little Princess Activity Toy by MARY MEYER CORP.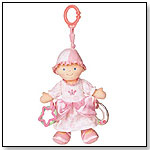 This Little Princess 9" activity toy features rattle, squeak and crinkle sounds. It can hang from a crib or stroller. Launch date: 2010. (

Watch Video) 1/14/2010 (Age: 0 and Up)



FIVE CROWNS® by SET ENTERPRISES INC.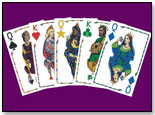 FIVE CROWNS® – The Game Isn't Over 'til the Kings Go Wild! ® FIVE CROWNS is a five-suited rummy-style game that is a quick favorite for both avid and casual card players. It starts with 3 cards and 3s are wild, the next hand has 4 cards and 4s are wild and so on 'til the Kings Go Wild! Make the right combinations, be the first to go out, then watch the others scramble as they get one last chance to cut their losses. Players 1-7. Age 8+
— This take-off on Rummy, only with five suits instead of four, sells well for Andy Detling, owner of Whoops! & Co. in Minocqua, Wis. "I noticed more of a return to family games this year," said Cheri Sims, store manager of White Rabbit Toys in Ann Arbor, Mich., who said this game was one such game that families were stocking up on.
— In summer 2007, three of 32 retailers cited Five Crowns as the most popular card game. In August 2008, almost 25 percent of retailers named Set Enterprises as their top-selling card game company; 8 percent listed Five Crowns as a best-selling card game. In late summer 2009, three of 38 retailers cited it as their top-selling card game. In Feb. 2010, four of 38 retailers called it a best-selling game, selling between 3 and 25 units monthly. In an August 2010 TDmonthly survey, three of 43 retailers named Five Crowns a card game best seller.
— As of 10.25.10, this product had 5 out of 5 stars from 15 reviews on Walmart.com and was listed as the #3 bestseller in Games & Puzzles. PROS: easy to learn, fun for the whole family. (

Watch Video) 1/20/2006 (MSRP: $12.99; Age: 8 and Up)



Shailie Fairy by STYLE PAIGE LLC



Using VELCRO brand closure, petals, flowers, jewels and skirt pieces simply attach to the base skirt and top. Girls can mix and match skirt tiers, layered petals, jewels and flowers to create and recreate their own good fairy. Fairy includes a total of 54 pieces. NO SEWING REQUIRED Awards: TDmonthly Innovations 2009 (

Watch Video) 12/28/2009 (MSRP: $75.00; Age: 6 and Up)



---
---


Copyright © 2020 TDmonthly®, a division of TOYDIRECTORY.com®, Inc.