May 18, 2021

---
Toy Fair 2010's Hottest Products: Day 3
Upcoming Lucrative Movies Means Potential Lucrative Toys
See TDmonthly Magazine's day-by-day coverage of Toy Fair 2010 and follow-up videos and reports in our March 2010 issue.
With upcoming kid and teen movies How to Train Your Dragon from Dreamworks, Pixar's Toy Story 3, and Disney's Tangled come a massive collection of licensed action figures, play sets, and toys in general. See below on what movie spawned products are coming out as well as products expected to be big hits in 2010:
Disney's Rapunzel Fairy-Tale Tower by MATTEL INC.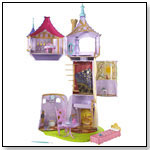 Rapunzel, Rapunzel, let down your long hair! Holiday season 2010 will bring the animated debut of Disney's latest princess, Rapunzel. MATTEL has a whole line tied to the lovely locked lass, and the crowning feature of the line is the Rapunzel Fairy-Tale Tower. The lilac tower features five rooms, magically painting color-change walls, secret compartments, and a 30-inch hair extension for Rapunzel. Launch date: Fall 2010. 2/16/2010 (MSRP: $99.99; Age: 3 and Up)



How to Train Your Dragon by SPIN MASTER TOYS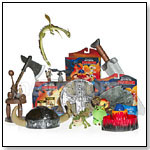 DreamWorks Animation's "How to Train Your Dragon" tells the story of an unlikely friendship between a Viking boy and a dragon. SPIN MASTER, DreamWorks, and Walmart have partnered to bring an exclusive line of action figures, playsets, and role play toys to Walmart stores. Highlights from the line include Hiccup's Dragon Battling Sword and Roaring Plush Dragons. Launch date: March 1, 2010. 2/16/2010



The Last Airbender Action Figures by SPIN MASTER TOYS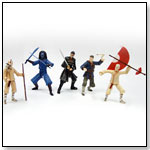 M. Night Shyamalan's "The Last Airbender" adapts the animated Nickelodeon original series "Avatar: The Last Airbender" to a live-action feature film. SPIN MASTER is producing a range of toys, from action figures to role play, to tie in with the martial arts adventure's July 2010 release. The action figure line offers 3 ¾ inch characters with accessories and several points of articulation. The first series includes Aang, last of the Air Nomads, and the villainous Fire Nation leader Prince Zuko. Launch date: June 1, 2010. 2/16/2010 (MSRP: $7.99)



Star Wars AT-AT by HASBRO INC.


In 2010 HASBRO celebrates the 30th anniversary of "Star Wars: Episode V The Empire Strikes Back" with toys recreating the vehicles, aliens, and action of the classic film. One of the most iconic vehicles from the movie is the elephantine All Terrain Armored Transport (AT-AT), the lumbering Imperial walker used in the battle on the ice planet of Hoth. Although HABSRO has produced the AT-AT before, this version is bigger and better than ever. At 28 inches long and nearly as tall, the AT-AT can hold the included AT-AT driver and speeder bike plus 19 more figures. LED lights, sounds, and other play features make this massive playset high-tech and high-fun. Launch date: August 1, 2010. 2/16/2010 (MSRP: $99.99; Age: 5 and Up)



Toy Story 3 Evil Dr. Porkchop Spaceship Playset by MATTEL INC.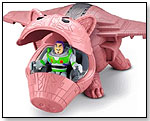 Taken directly from summer 2010's "Toy Story 3" is the Evil Dr. Porkchop Spaceship Playset. In his role as the Evil Dr. Porkchop, Andy's piggy bank Hamm plots intergalactic mayhem—and he has the perfect spaceship for it. The spaceship has lights, sounds, an escape pod, and ziplines. The set is completed by a two-inch Evil Dr. Porkchop figure available nowhere else. Launch date: August 2010. 2/16/2010 (MSRP: $89.99; Age: 5 and Up)



Chef Kids ChocoPot by BANDAI AMERICA INC.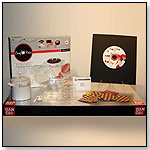 Top Chef, Food Network, and "Julie & Julia" have made cooking popular once again, and BANDAI's Chef Kids capitalizes on this current popularity. While most cooking programs are aimed at adults, the Chef Kids line includes instructional DVDs created for kids with interest in the kitchen. The ChocoPot lets kid chefs make chocolate treats using a battery powered pot and three molds. Everything is included—just add chocolate! (

Watch Video) 2/16/2010 (MSRP: $24.99)



Submarine Learning Boat by VTECH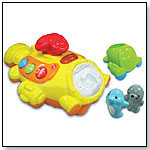 VTECH's Submarine Learning Boat offers a boat load of fun and learning inside and outside the bath. This bright yellow submarine holds an exploration craft and playful otter and dolphin figures. The Submarine Learning Boat plays several electronic games that teach numbers, colors, and animals via a squirt reward system. Launch date: 2010. 2/16/2010 (MSRP: $17.99; Age: 1 and Up)



Kung Zhu Ninja Warriors by CEPIA LLC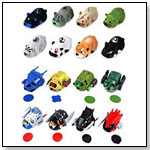 Hamsters in this new line wear battle armor and battle each other in an arena and in vehicles. They make different noises than the original Zhu Zhu hamsters. 2/16/2010 (MSRP: $9.99; Age: 6 and Up)



Kid-Tough Music Player by FISHER-PRICE INC.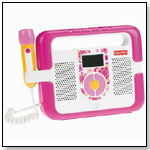 FISHER-PRICE's Kid-Tough Music Player is, as its name suggests, a mp3 player designed to be kid-friendly and kid-tough. Able to survive drops, the player features large buttons, simple controls, and easy-to-use software. Available in pink or blue, the Kid-Tough Music Player can hold more than four hours of music and works with most digital music file types. Launch date: July 2010. 2/16/2010 (MSRP: $49.99; Age: 3 and Up)



Star Wars Boba Fett Helmet by HASBRO INC.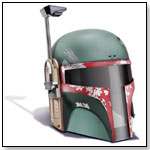 The enigmatic bounty hunter Boba Fett has been a fan and kid favorite since his big screen debut in "Star Wars: Episode V The Empire Strikes Back." Part of Fett's mystique is his signature helmet. With simulated paint weathering and side antenna, the Boba Fett Helmet lets kids become the greatest bounty hunter in the galaxy. Electronic lights and sounds add to the play experience. Launch date: August 1, 2010.
Awards: 2010 Oppenheim Toy Portfolio Best Toy Award, Gold Seal. 2/16/2010 (MSRP: $34.99; Age: 4 and Up)



Furry Frenzies Assortment by HASBRO INC.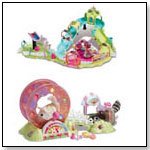 Furry Frenzies are HASBRO's response to the success of Zhu Zhu Pets. Part of the Furreal Friends line, Furry Frenzies unabashedly follow the basic Zhu Zhu formula of small furry creatures that make noises and explore on their own. Furry Frenzies are available in raccoon, bunny, puppy, kitten, hedgehog, and chipmunk varieties. Playsets and carrying cases are planned as well. Launch date: Fall 2010. 2/16/2010 (MSRP: $7.99; Age: 4 and Up)



Cars Toons Frightening McMean by MATTEL INC.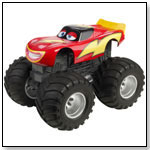 Cars Toons Frightening McMean by MATTEL mixes monster trucks, wrestling, and the Disney/Pixar film "Cars" into one fun package. In the Cars Toons shorts (currently shown on Disney Channel, Disney XD and Disney.com), the tow truck Mater tells tall tales that inevitably get his friend Lightning McQueen into some sort of jam. This toy features Lightning in his Frightening McMean monster truck wrestling persona. Frightening has push and play action, giant wheels, and authentic phrases. Launch date: August 2010. 2/16/2010 (MSRP: $19.99; Age: 3 and Up)



iXL Computer by FISHER-PRICE INC.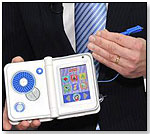 The device, which opens like a book, has a stylus and offers kids the chance to read along with an animated story, play an arcade-style game, play music, trace letters and upload and draw on photos, among other activities. Launch date: July 2010 2/16/2010 (MSRP: $79.99; Age: 3 to 6)



Rubik's Slide by TECHNO SOURCE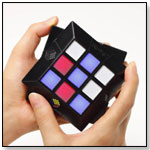 A brand-new challenge for all ages! The object of each puzzle is to rearrange the pattern of lights by shifting and twisting until they match the solution for that puzzle. With two ways to play and multiple challenging levels that train your brain, it's the game that's easy to learn and impossible to put down! 2/16/2010 (Age: 8 and Up)



---
---


Copyright © 2021 TDmonthly®, a division of TOYDIRECTORY.com®, Inc.