May 7, 2021

June 2010 | Vol. IX - No. 6

---
Take 2: Wooden and Construction Toys
Towers Totter and Vehicles Transform
Construction toys are building up and up with tower-friendly pieces from Hape International and Fat Brain Toy Co., and Holztiger's wooden semi trucks have trade-out parts to create a firetruck or other vehicle types. Think these toys can build a profit for your store? Watch the 2010 trade show videos below to see if they're a fit!

Totter Tower by Hape by HAPE


The intelligent design of this product uses bamboo rings to form very unique building blocks. The distinct angles of the bamboo rings combined with textile edges that act as "grips" create endless possibilities for building exciting shapes and structures. It includes 24 angular bamboo rings and an instruction guide. Hape International Marketing Manager Robin Lehnert told TDmonthly, "The eco-friendly activity helps children develop a sense of spatial awareness, geometry and hand-eye coordination." Launch date: July 2010. (

Watch Video) 4/14/2010 (MSRP: $39.95; Age: 3 to 8)



Dado Planks by FAT BRAIN TOY CO.



Dado Planks by Fat Brain Toy Co. are made of recycled plastic, feature notches which can connect and interlock with other peices for different configurations. Standard planks in various colors are also included. Dado Planks are interchangeable and can be used with all the other plank building systems. Set includes 106 pieces in five colors. Awards: Parent's Choice Award 2010. Launch date: 2010. (

Watch Video) 4/16/2010 (MSRP: $44.99; Age: 3 and Up)



Large Farm by CREATIVE TOYSHOP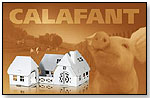 Designed after old-fashioned farms in Germany and Holland, this high quality cardboard farm from Calafant USA is a pretty large home for the farmer, his family and all his animals. Made from recycled material and is 100% biodegradable. 3/17/2010 (MSRP: $24.99)



Organeco Blocks by HAPE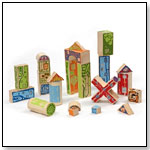 Bright and colourful building blocks made from lightweight bamboo. The blocks are printed with various abstract designs which encourage creativity and imaginative play. Particularly suited for child hands, they can be very easily built on top of each other.
— "Fresh off winning the Toy Innovation Award at the 2010 Nuremberg Toy Fair, Hape has introduced these really big colorful hollow, bamboo construction blocks. Painted with water based paint, the blocks are big and easy for little hands to manipulate," Joe Mitchell, owner of YoYo Joe's Toys & Fun, told TDmonthly at Toy Fair 2010. (

Watch Video) 2/15/2010



Reptangles: Turtles That Snap by FAT BRAIN TOY CO.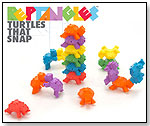 Each box set contains 24 Reptangles in green, yellow, orange, red, purple and blue that can be snapped and slid together in more than 100 ways. The turtles connect at various angles and come with an activity book with 40+ puzzles to encourage kids to think about geometric concepts and design as they build.
Awards: Parent's Choice Award 2010. Launch date: 2010. (

Watch Video) 4/15/2010 (Age: 6 and Up)



Blocks Rock! by BLOCKS ROCK! LLC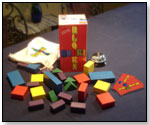 Blocks Rock is a fast-paced blocks game of recognition, action and excitement that can be played by two players or two teams. Launch date: March 2010.
— "Blocks Rock with cognitive reasoning and fine motor control. What makes this game unique is that it was designed by kids for kids and all sales proceeds go back to their school. Kudos to those that inspired these children. Geared to children 6 years and older and played by two individuals or two teams, players race to build a pattern on a matching card. The game is made challenging by a clever a 3D element. Add a timer for solo play and use multiple cards to increase the level of difficulty as proficiencies rise," Jennifer Shuman, of 1SmartNoodle, told TDmonthly at Toy Fair 2010. (

Watch Video) 2/11/2010 (MSRP: $24.99; Age: 6 and Up)



Qubits Construction Toy - Junior 96-Piece Kit by QUBITS TOY COMPANY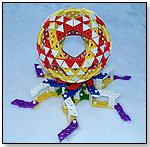 The 96-piece kit contains 36 Qubits, 30 connectors and 30 bridges. The educational set's easy-slide connectors slip into place, keeping the structures strong and steady. All designs touch on architecture, structure and basic concepts of geometry. Launch date: May 2008.
— "My husband came home to find [our four children] immersed in fabricating various projects and was so intrigued that he spent 30 minutes building with them," said Teresa Wilson, a reviewer among the five families that evaluated this product for a TDmonthly Roundtable. (

Watch Video) 4/4/2008 (MSRP: $29.99; Age: 7 and Up)



Twig by FAT BRAIN TOY CO.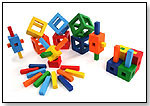 When precision wooden shapes and vibrant color meet, expect nothing less than masterwork. Twig features natural wood, carved with care and colored with brilliance. Light plays its way through the windows of Twig - illuminating lines, contours, space and arrangement, opening the mind and imagination to new exercises in visual spatial development. Each Twig set consists of 72 wooden pieces; all are compatible with one another. The interactivity between components means limitless combinations in open-ended play. Launch date: February 2009. (

Watch Video) 8/5/2008 (MSRP: $59.95; Age: 3 and Up)



CitiBlocs Hot Colors by CITIBLOCS LLC


This set of 200 precision-cut pine planks for building features red, yellow, orange, pink and natural color planks. Each plank measures 1" x 4.5" x 0.25", and the color comes from water-based stain that is naturally absorbed by the wood. Fifty- and 100-piece sets are also available. Launch date: February 2010.
Awards: The National Parenting Center's Spring 2010 Seal of Approval; 2010 Oppenheim Toy Portfolio Best Toy Award, Platinum; 2010- Dr. Toy Best Green Products, NAPPA 2010 Honors Award recipient, NAPPA 2010 Best Bang for Buck Award winner.
Watch Toy Fair 2010 Video (

Watch Video) 1/5/2010 (MSRP: $22.99; Age: 3 and Up)



Toy Story 3 Western Train by LEGO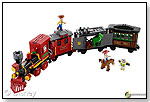 LEGO's construction play sets and figures feature classic and new characters from Disney-Pixar's Toy Story 3. The Toy Story 3 Western Train serves up many adventures as builders help Woody, Buzz and Jessie fight their way into the train and get everyone off safely. (

Watch Video) 3/17/2010 (MSRP: $79.99)



EZ-Fort by TOOBEEZ LLC


EZ-Fort is an open-ended building toy that just requires the addition of sheets. The easy to use, 54-piece building system can transform into a playhouse, a ship, or even an obstacle course. Also, it's designed as an educational toy for developing critical thinking skills and nurturing the creative thought process. Launch date: September 2009. (

Watch Video) 5/22/2009 (MSRP: $44.95; Age: 3 to 7)



Retailers: Did you know you can broadcast TDmonthly Toy Videos from your website? Manufacturers: Find out how a TDmonthly Video attracts buyers.
---
---


Copyright © 2021 TDmonthly®, a division of TOYDIRECTORY.com®, Inc.