---
Qubits Take Construction to a New Level, Panel Says
Pieces Based on Nature's Shapes Challenge Thought and Design
"It uses the creative side of the brain, yet still uses the mathematical side at the same time." — Mildred Tong

TDmonthly Magazine's Tweens & Teens Roundtable was attracted to the complexity and novelty of Qubits, the Construction Toy of the Future. The building set features distinctive shapes based on triangles and hexagons, which allows for interesting and creative construction.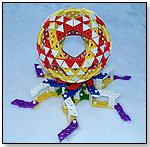 Qubits® the Construction Toy of the Future by QUBITS TOY COMPANY
Age: 7 and Up
Gender: Boys and Girls
Category: Construction
MSRP: $29.99

TDmonthly rating:



What It Is: Each set of Qubits has 36 Qubits, 36 connectors and 18 bridges. The soft, spongy pieces can be combined to make three-dimensional structures, using the included connectors to add strength and stability to creations.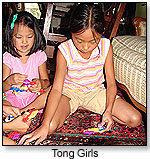 What the Moms Thought: The texture of the pieces and the colors captivated Christensen. Wilson also liked the texture: "When you stepped on one in the middle of the night you needn't worry about demonstrating the extent of your expletive vocabulary," she explained.

Richardson noted that since the pieces are color-coded, her daughter Jessica (6) was able to quickly learn how to use the different pieces.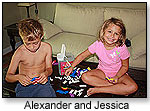 Richardson appreciated what makes Qubits different from other building sets. "My favorite quality … was that it took construction to a new level, with the connectors and bridges," she said.

"It uses the creative side of the brain, yet still uses the mathematical side at the same time," said Tong. Ledford called the website "very interesting and informative."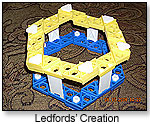 Ledford and Wilson appreciated the clear container that served as both packaging and storage. "I love that the lid is hinged so that you need not remove it (and therefore lose it) to retrieve items from [the] container, and that the handle is built in," Wilson raved.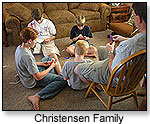 What the Kids Thought: "My teens (Kent, 13, and Mac, 15) liked the challenge of creating new shapes and structures with Qubits," reported Christensen. Alexander (8) and Jessica (6) "liked having a construction set that allowed them to work in a three-dimensional space — connecting-up circular shapes into a cylinder, for example," Richardson said, although they did not have enough pieces to finish their creations.

Alyssa (9) and Ethan (7) "enjoyed the toy, but it does require much patience," commented Tong. Although Josh (10) was initially frustrated with the complexity of building with Qubits, he finally succeeded and was very pleased: "YES!" he exclaimed. Kent (13) said, "I am the master of Qubits."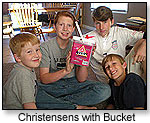 Although Jessica (6) and Alexander (8) struggled to disassemble their structures, Steven (8) found them "much easier to pull apart" than other building sets. Victoria (13) called the concept "unique," and Joe (9) agreed. "Triangles are neat shapes to build with," he added.

"My husband came home to find [our four children] immersed in fabricating various projects and was so intrigued that he spent 30 minutes building with them," Wilson said.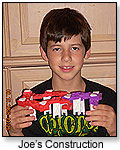 What the Kids Learned from this Toy: "Engineering," pointed out Tong, and Christensen's children learned persistence. Jessica (6) and Alexander (8) "learned about connecting up pieces for which it is not obvious how they link up — and learned more about linking pieces together to make a structure," their mom said. Ledford pointed out, "The website can spur interest in subjects such as geometry and patterns in nature." She thought the slide show very engaging.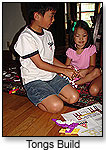 How to Improve It: Tong would like to see more pictures of "the possibilities of what you can make" included in the enclosed pamphlet to inspire children. Christensen pointed out inconsistent age recommendations on the package (ages 7 and up) and the pamphlet (ages 5 and up). And although the packaging states "Discover Nature[']s Secret," there is no "mention in the insert or anywhere else what nature's secret structure is, or how Qubits can help you discover it," she complained.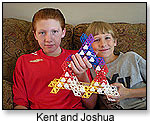 Christensen's sons would like to see many more pieces included in the set, but at $29.95 they found buying additional sets too costly. She noted that if the price were lower for the set as is, her rating would be much higher. [Editor's Note: Per the manufacturer, the product is available in two-packs on Costco's website, lowering the price per kit to $26.]

Richardson also found the number of pieces in this set too low to maintain her children's attention for long. "I may feel differently after we get another set to provide even more construction options," she explained.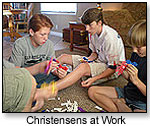 Ledford thought the website was not emphasized enough in the literature, and would like to see some of the information and the pictures from the website included in the pamphlet to draw attention to the website. Richardson agreed: "The use of such shapes in nature is an interesting story to tell!"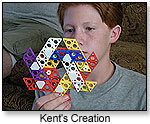 Would You Want Another Toy Like This? Although initially Tong did not see much repeated play with Qubits, in the ensuing weeks, she reported that Ethan (7) "has been playing with it a lot more recently and building some interesting items (boat, racer, sword, etc.)." Christensen's experience was similar: "The more they played with Qubits, the more they seemed to like them."

Roundtable participants are homeschool parent Sue Christensen with Mac (15), Kent (13), Joshua (10) and Ben (6); Susan Ledford, editor of the "Homeschool Resources Directory for SC," with Victoria (13), Joe (9) and Griffin (3); World Bank policy advisor Gail Richardson with Alexander (8) and Jessica (6); stay-at-home mother Mildred Tong with Alyssa (9), Ethan (7), Lexi (5) and Erik (18 months); and Teresa Wilson, editor of "HOMES Newsletter," with Timothy (15), Andrew (12), Elise (9) and Steven (8).

Writer's Bio:
Susan Ledford is the writer, editor and publisher of the "Homeschool Resources Directory for S.C." She has been evaluating toys and games for
TDmonthly
's Roundtable reviews since 2005. She also is a homeschool veteran of seven years.
Read more articles by this author
THIS BANNER IS AN AD:
---
---