April 21, 2021

July 2010 | Vol. IX - No. 7

---
Holiday Preview: Wooden Toys
Baby-Walkers Transform Into Wheelbarrows
Mishidesign extends the life of wooden toddler toys with transformable designs that grow with the child, and Whittle Toy Company represents the Windy City with a Metra Passenger Train. See also a matching game from Guidecraft and a multi-layer puzzle from American Puzzle Company in TDmonthly's Holiday Preview of Wooden Toys below. back to main article

For products that interest you, click "Add to my Inquiry Basket" to request a catalog or ask questions of the manufacturer.
Surf Up by MISHIDESIGN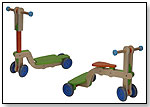 Surf Up is a unisex transformable wooden toy that follows kids from ages 18 months to 6 years. The toy can be adapted in shape and function to the requirements of children in different stages of their growth. At the first stage Surf Up is used as a ride-on, then it can be easily transformed into a scooter. 6/28/2010 (MSRP: $110.00; Age: 2 to 6)



Name Trains by MAPLE LANDMARK WOODCRAFT CO.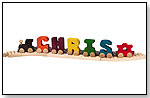 These 2"-high trains can be customized with a child's name and are compatible with Maple Landmark trains and other wooden track systems, including Thomas the Tank Engine and Brio wooden trains. Name Trains letter cars connect with simple and safe magnets and are made from New England rock maple.
— Tye Steinbach from Thinker Toys in Portland, Ore., told TDmonthly in a November 2014 survey that Name Trains from Maple Landmark are one of their store's best-selling toys. They sell a few dozen each month. (

Watch Video) 6/29/2010



Goodwood Deconstruction Blocks by AROUNDSQUARE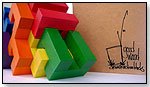 Goodwood is a system of innovative wooden blocks, designed to invite imaginative and creative play. The precisely crafted blocks allow for building in every dimension, creating structures that are architecturally interesting and visually pleasing. The system includes seven intercompatible sets, each intended to be fun and interesting on its own, and to combine in fascinating ways with the others. These colored blocks are made from forest-friendly wood and are CPSIA tested. "The abstract, innovative shapes of the Goodwood blocks, which fit together in surprising and interesting ways, cultivate truly open-ended explorative play," Around Square President Matthew Hiebert told TDmonthly.
Awards: Dr. Toy Best Vacation Children's Products Award 6/25/2010 (MSRP: $30.00; Age: 3 and Up)



Chicago's own Metra Passenger Train Set by WHITTLE TOY COMPANY



This wooden set features Chicago's own Metra Passenger Train. All Whittle Train toys are designed for use on Brio and Thomas track systems. 6/16/2010 (MSRP: $52.49; Age: 3 and Up)



"Dino and Friends" Multi-Layer Puzzle by George Luck by AMERICAN PUZZLE COMPANY



George Luck's classic wooden puzzle features various dinosaurs. 6/16/2010 (MSRP: $8.99; Age: 3 to 5)



Peppy Five by MAYA ORGANIC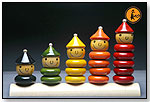 Peppy Five is a wooden educational toy designed with natural dyes and lac finish. This colorful five-stem stacker helps children learn counting and understand number concepts. In playing with this toy, children learn about increasing and decreasing quantities and color matching. 4/26/2010 (Age: 2 and Up)



WWF Games by REEVES INTL. INC.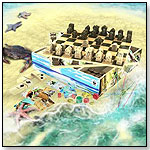 Reeves International introduces their one of-a-kind classic games 8-in-1 combo pack. The games challenge players in strategy and in conservation, or teach them about some of the species that inhabit our planet, from the polar bear to the river dolphin. The wood used in these games are certified by the Forest Stewardship Council and signifies compliance with the highest environmental standards. The combo package Includes: chess, checkers, backgammon, dominoes, ludo, pick-up sticks, salamanders, ladders, playing cards and playing instructions. Launch date: 2010. 4/21/2010



Stand-Up Easel by TAG TOYS INC.

Large, versatile and sturdy stand-up easel allows young artists to create masterpieces over and over! Painting area is 17" x 20" for chalkboard, write and wipe, and paper roll surfaces. Handy and spacious paint and brush shelf has a washable surface for easdy clean-ups. Spacious 18" x 18' storage tray conveniently holds a variety of art supplies. Paints, paintbrush, chalk and paper sheets not included. Ships partially assembled. 4/20/2010 (MSRP: $139.95)



Lift Up by MISHIDESIGN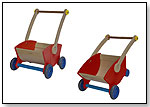 Lift Up is a unisex transformable wooden toy that follows kids from the moment they start to walk until the age of 6. The toy can be adapted in shape and function to the requirements of children in different stages of their growth. At the first stage Lift-Up is used as a baby-walker, then it can be easily transformed into a wheelbarrow. 6/28/2010 (MSRP: $90.00; Age: 1 to 6)



Combicar by NIC TOYS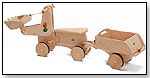 The nic CombiCar is a basic vehicle with four different set-ups. It's now also availabe with a trailer. The set-ups are very easily interchangeable. The system is suited for use inside and outside, but should be kept dry. Made of beech wood.
— "In our view, it's the best scooter toy that's ever been made," said Dean Ruggierio Smith, co-owner of JaZams in Princeton, NJ. 5/5/2010 (MSRP: $250.00; Age: 2 and Up)



Hardwood Chess Pieces by MAPLE LANDMARK WOODCRAFT CO.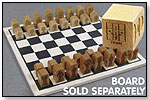 These hardwood maple and cherry chess pieces are made in Vermont. The pieces are blocks with a traditional characters engraved on two sides. All the pieces are 1" wide and 1" deep, varying in height depending on the strength of the character. The pawn stands at 1.25" tall and the Queen is 2.25" tall. Each set comes with a cloth pouch for piece storage when not in use. Barbara Rainville, marketing manager for Maple Landmark Woodcraft, told TDmonthly, "Each piece has a diagram to show how that character moves engraved on the bottom — for new players or those just a bit rusty." Launch date: March 13, 2010. (

Watch Video) 4/16/2010 (MSRP: $38.00; Age: 8 and Up)



Color Snake Clutching Toy by HABA USA/HABERMAASS CORP.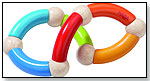 This German-made clutching toy by HABA manipulates easily in an infant's hands. The variations created with the easy movement of the different sections allows for easy beginning hand-eye coordination. It is made from beechwood and colored in a nontoxic, water-based stain. Launch date: March 2010. (

Watch Video) 4/14/2010 (MSRP: $15.29; Age: 0 to 2)



Coffee Maker by HAPE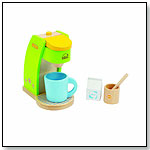 Children can prepare a cup of joe for themselves or a guest with this modern coffee maker and sugar and cream. They can insert the single-serve coffee filter in the basket and push the button to pretend the coffee is brewing. This product is constructed with a combination baltic birch plywood and maple. Robin Lehnert, Marketing Manager at Hape, told TDmonthly this product features a "modern realistic design in lifestyle colors." Launch date: Feb. 2010. (

Watch Video) 4/14/2010 (MSRP: $24.99; Age: 3 to 7)



VARIO by WALACHIA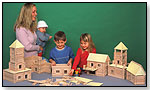 It is possible to build multiple variants of different buildings with the Dismantlable Vario Building Set from WALACHIA. The set contains beech parts of 15 mm in diameter, of various lengths, with which by means of locks at the ends, creative and unique constructions may be assembled and dismantled. Awards: 1995/Prague Toy Fair. Launch date: January 1992. 3/24/2010 (MSRP: $56; Age: 5 and Up)



Wooden Bowling Set - White by KITTY BABY LOVE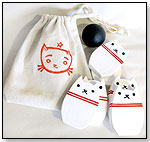 Created for family game night, this bowling set features six hand-cut and sanded maple wood kitty pins with carved facial features and coated in non-toxic paints. It includes a 2"-diameter bowling ball, a game play sheet, four score sheets, and a handmade cotton canvas bag for storage. "We love that they function to help develop hand-eye coordination for a younger child but will last for years as the child grows older," Sara, co-owner of Kitty Baby Love, told TDmonthly. Launch date: 3/22/2010 (MSRP: $40.00)



Magnetic Wooden Blocks - Starter Set by TEGU INC.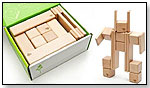 This starter set of 26 Tegu blocks includes cubes, long planks and short planks in a natural finish. The blocks are made of European Beech and contain small, embedded magnets that allow the blocks to stick together and be fashioned in a variety of ways not possible with traditional blocks.
Awards: 2010 Oppenheim Toy Portfolio Best Toy Award, Gold Seal.
— In a February 2015 survey, Terry Myers, owner of Kaleidoscope Toys in Round Rock, Texas, told TDmonthly that puzzles from Melissa & Doug are her store's best-selling wooden toys. 3/12/2010 (MSRP: $50.00; Age: 3 and Up)



Modern Family by brinca dada LLC

This family set is designed for the Emerson House by brinca dada. The Modern Family is sleek, minimalist, and striking; the dolls' beauty is only matched by their equisite functionality. Not only are they posable and fully articulated, the dolls' biceps and calves flex realistically. The Modern Family turns playtime into an art. 3/2/2010 (Age: 3 to 8)



---
---


Copyright © 2021 TDmonthly®, a division of TOYDIRECTORY.com®, Inc.