March 8, 2021

August 2010 | Vol. IX - No. 8


Watch Toy Videos of the Day (8/1/2010 - 8/6/2010)
Watch videos from Week 2 (8/9/10 - 8/13/10)
Watch videos from Week 3 (8/16/10 - 8/20/10)
Watch videos from Week 4 (8/23/10 - 8/30/10)

Week 1's Videos of the Day feature a variety of outdoor sports toys for two-player fun, including the Uberdart from A&J Suppliers, Zing Air Zartz from Zing, and the OgoSport Super Sports disc set. See those items and three other videos below.
Snap CapsŪ Hair Bows by m3 girl designs LLC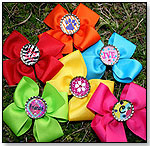 Snap Caps, the interchangeable, illustrated, magnetic bottle caps, also come on fashion accessories, such as huggers that can be used on hair, boots or ankles, plus hair clips. Snap Caps hair bows are available in red, orange, yellow, green, turquoise and hot pink.
— In a June 2010 survey, Linda Hanzelko of Timmy's Toy Chest in Lake Mary, Fla., told TDmonthly her store sells 30 to 40 sets of Snap Caps each month.
— Three of 40 retailers names Snap Caps a top seller for girls in early summer 2010.
— Christine Osborne, co-owner of Wonder Works in Charleston, S.C., told TDmonthly in October 2011 that they sell 300-500 Snap Caps each month between their three stores.
AWARDS: 2010 TDmonthly Top Seller (entire Snap Caps line) (

Watch Video) 7/29/2010 (MSRP: $9.00; Age: 6 and Up)



Uberdart by A&J SUPPLIERS



This giant flying foam toy can be thrown in 12 different ways and flies up to 200'. The Uberdart is soft and light, making it easy to catch and throw, and may be used for group games and family fun activities. It is ASTM safety tested for ages 6 and up. Launch date: March 2007.
— Two of 47 retailers named Uberdarts as their best seller for boys in June 2009.
— In March 2010, TDmonthly surveyed 37 specialty retailers about their top-selling outdoor toy. Sheryl Guidera, owner of Kaleidoscope the Parent Teacher Store in Capitola, Calif., said, "There is no question, it's the Uberdart. Absolutely the best."

Past videos: WTHRA 2008 (

Watch Video) 3/12/2008 (MSRP: $10.00; Age: 6 and Up)



ZING AIR ZARTZ by ZING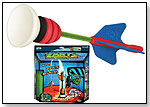 Ideal for both indoor and outdoor play, ZARTZ feature a safe, SOFTEK foam suction cup that sticks to windows, metal, walls, asphalt or nearly anything with a smooth surface. The self-releasing suction cup allows the ZARTZ to fall just a few seconds after adhering to a ceiling or other hard-to-reach place. ZARTZ are available in 7" and 9" forms, and come packaged in a durable carry case. There's also a Fun Pack that includes two hand-target catchers and a 9" ZART, which can be launched as far as 100'. Launch date: 2009.
— "The Zing Air Zartz are really good right now," Emily Bieritz, manager of My Favorite Toy Store in Downers Grove, Ill., told TDmonthly in June 2009 when asked about her best-selling gift for boys.
— "Zartz are definitely No. 1," said Steve Banducci, owner of Games Unlimited in Danville, Calif., when TDmonthly asked about his best-selling sports and outdoor items in March 2010. Banducci reported sales of at least one Zartz per day.
— Four of 37 retailers surveyed in spring 2010 listed Zing as their top-selling brand of outdoor products.

Past videos: WTHRA 2009 (

Watch Video) 2/27/2009 (Age: 6 and Up)



CHICKYBOOM, The Rocking Rolling Roost! by BLUE ORANGE GAMES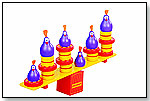 The chickens are hanging out on their colorful wooden perch. But if one of them decides to leave, the whole perch will teeter. The goal is to collect as many chickens, hay bales and wagon wheels before the rocking perch topples. The chickens, hay bales and wagon wheels have different weights, meaning different point values. The player with the highest score wins the game. Selecting a heavier piece receives more points but entails more risk of making the perch topple. If a player causes the perch to topple, five points will be deducted from his or her total. "Two trees are planted for every tree used in the creation of this game," Adeline Bertrix, sales manager at Blue Orange Games, told TDmonthly. Launch date: February 15, 2009.
— Chickyboom is a top seller at Golden Apple Learning Store in Pleasanton, Calif., Owner John MacDougall told TDmonthly in summer 2009.
— Three of 44 retailers named this game as an overall best seller in late fall 2009. (

Watch Video) 4/28/2009 (MSRP: $24.99; Age: 4 and Up)



bilibo by KID O PRODUCTS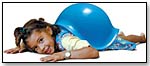 bilibo is a Swiss-designed plastic shell that rocks when children sit in it. Kids have fun stacking the product as well, since it nests snugly in other brightly colored bilibos. Young children enjoy the simple design that they use in many imaginative ways. Awards: 2010 TIA Awards Toy of the Year; 2006 UK Good Toy Awards Toy of the Year; 2003 Deutscher Lernspielpreis, Auswahlliste; 2002 Dr. Toy 10 Best Active Products; 2002 Spiel Guy Arbeitsausschuss Kinderspiel 2002; 2002 Design Distinction I.D. Design Review
— "bilibo: We had to keep ordering it," was the response about hot-selling Xmas toys that TDmonthly got from Jenny Goodlund, manager at JT Puffin's in Madison, Wis.
— Peg Scholtes, owner of Capitol Kids Ltd. in Madison, Wis., had great things to say about bilibo: "It's great for 2- to 5-year-olds. It's the modern version of the cardboard box."
— "We keep a DVD going up on the front counter that shows kids playing with [the bilibo]. Kids instinctively understand it, but adults don't," said Co-owner Mary Sisson of Kazoodles in Vancouver, Wash., of this best seller in her store. (

Watch Video) 5/10/2005 (MSRP: $30.00; Age: 2 to 7)



Super Sports OgoDisks Set by OGOSPORT, LLC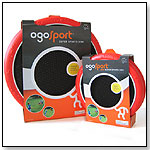 This 18" sports disk features a foam ring with a high-strength elastic membrane, and can catch and throw balls up to 150'. It is a safe, high-quality sports activity device that adapts to volleyball, tennis, baseball and other sports, and can be a blast at the beach or pool. A 12" size is also available. Suggested retail price for the two sizes ranges from $15 to $40. "The Super Sports Disk products are fantastic as confidence-building, motor-skill activities for young children, but are also great for more advanced users," Kevin Williams of OgoSport told TDmonthly. This product received a Spring 2007 Parents' Choice Award. Launch date: May 20, 2007.
— Quality materials and a super bouncing effect earned the classy OgoSport a TDmonthly Innovations 2007 award. Its broad appeal and correlation to other sports make the disk applicable to a variety of fun and healthy activities, and its bright color and sleek packaging grab attention.
— "OgoSport is a good line for us," Eric Masoncup, owner of Gepetto's Toy Box in Oak Park, Ill., told TDmonthly about his best-selling gift for boys in summer 2009.
— Joe Beradoni, owner of Pun's Toys in Bryn Mawr, Pa., told TDmonthly in a Summer 2011 survey about best-selling toys that "during the summer, we sell 5-7 a week."

Past videos: WTHRA 2007 (

Watch Video) 2/21/2007 (MSRP: $44.00; Age: 3 and Up)



---
---


Copyright © 2021 TDmonthly®, a division of TOYDIRECTORY.com®, Inc.