April 22, 2021

October 2010 | Vol. IX - No. 10

---
TDmonthly's Top-10 Most-Wanted Science & Nature Toys
Kids Explore With Electronics and Eco-Friendly Kits
With additional reporting by regional correspondents Marie Raven, Claudia Newcorn, Brenda Ruggiero, Chris Lundy, and Pete Fernbaugh

Science is becoming hipper and hipper thanks to electronic innovations and the "green" trend, according to TDmonthly Magazine's August 2010 survey of 43 specialty retailers. Animal habitats from Insect Lore and Wild Creations continue to maintain steady sales, and Elenco's Snap Circuits keep youngsters busy with easy-to-assemble gadgets. Meanwhile, kits from Toysmith and Thames & Kosmos are becoming top sellers by turning conservation and recycling into creative activities. See TDmonthly's Top-10 Science & Nature Toys below:
Butterfly Garden by INSECT LORE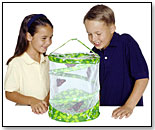 This net habitat (almost like a Chinese lantern) encloses caterpillars, food and the setting for a caterpillar's eventual metamorphosis. It requires mail-sent larvae. "The Butterfly Garden not only shows actual insect metamorphosis, but it does so in just three weeks' time. Many other animal habitats can take up to six months for any changes to occur. This makes it a perfect item for kids who have short attention spans and is an ideal science project for any classroom," John White, marketing director of Insect Lore, told TDmonthly.
— Fred Rosenberg of On the Park in Kingwood, Texas, named this as his No. 1 seller in May 2008, with sales of 50 to 60 units monthly. "I just can't keep them in stock right now," he told TDmonthly. "We have a display on our counter with the real butterflies so people can see it go through the process," said Kim Emigh, VP of e-commerce at Growing Tree Toys in State College, Pa.
— 25% of 64 retailers surveyed in August 2008 named this as their top-selling nature toy, reporting average sales of 12 per month. Five of 38 retailers named Insect Lore's butterfly habitats as best-selling science and nature products in late summer 2009. In an August 2010 survey, 21 percent of 43 specialty retailers said Insect Lore is a top-selling science and nature brand. Five retailers specifically cited Butterfly Garden as a best seller.
— As of 5/21/2012, the Butterfly Garden had spent more than 1,600 days in the top-100 best-selling toys and games at Amazon.com and has 4.4 out of 5 stars from 461 reviews.
AWARDS: 2010 TDmonthly Top Seller (

Watch Video) 7/18/2005 (MSRP: $19.99)



Snap Circuits Pro 500-in-1 (SC-500) by ELENCO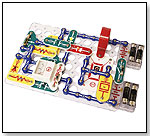 Snap Circuits allow children to create electronic projects including AM and FM radios, digital voice recorders, burglar alarms, doorbells and more. All pieces are mounted on plastic modules and snap together with ease. This Pro version contains over 75 parts and an illustrated manual for building over 500 experiments. The set uses four AA batteries.
— In late summer 2010, six of 43 retailers named Snap Circuits a science and nature best seller.
— In August 2010, Jim and Retha Davis, owners of Kid's Center in Tucson, Ariz., told TDmonthly their store sells "about 100 (Snap Circuits) a month."
— In a late Summer 2012 survey, four out of 12 retailers said that Elenco was one of their best selling Science & Nature toy brands. 9/9/2010 (MSRP: $94.95; Age: 8 and Up)



Eco Science Toys: Green Science by TOYSMITH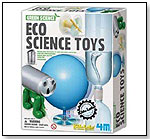 This kit is designed to teach children scientific principles while recycling common trash to create toys. Projects include a hover device and a cyclone tube. Parts and instructions are included.
— In an August 2010 survey, 12 percent of 43 retailers named Toysmith science kits a top seller in the science and nature category.
— "The Eco Science Toys from Toysmith have done pretty well … the whole line." Jeff Oslick of The Enchanted Toy Store in Fullerton, Calif., told TDmonthly in late summer 2010. 9/9/2010 (MSRP: $13.99; Age: 8 and Up)



Smithsonian Crystal Growing Kit by NSI INTERNATIONAL INC.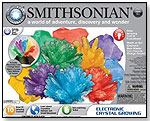 This kit lets children grow up to nine large crystals, including "golden citrine," "emerald green" and "aquamarine blue." It includes a bag of granite stones, LED display stands, goggles and detailed instructions.
— As of September 2010, this product had 3 out of 5 stars from 2 reviewers on Amazon.com. One reviewer described the kit as "amazing," but consumers complained the crystals took too long to grow.
— In summer 2010, four of 43 retailers told TDmonthly that rocks and crystals are best selling science and nature products. 9/9/2010 (MSRP: $24.99; Age: 10 and Up)



Classic Water Garden Starter Kit Eco-Aquarium by WILD CREATIONS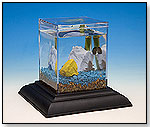 This balanced ecosystem offers a low-maintenance way for children or adults to enjoy an aquarium environment. It comes complete with water, a snail, two little frogs, food and care pack. The water in the aquarium only has to be changed every five or six months.
— ''We sold about 660 during the year," Marc Holcomb, owner of Toys & Co. in Greensboro, S.C., said in autumn 2010. Dave Campbell of Amazing Toys in Great Falls, Mont., sells approximately 12 per month.
— "I brought in 20, and in two weeks it sold out. I brought in 20 more and it sold out," Gage Brownell, manager of Belmont Toys in Belmont, Mass., told TDmonthly in March 2009 about the EcoAquariums he discovered at Toy Fair the month before. Molly McMullin of Twirl in Taos, N.M., reported sales of about 70 a month in March 2009.
— "Everyone was excited about them," Jeanne McCullough, owner of Children's Store Inc., said following ASTRA Marketplace in June 2009.
— In late summer/early fall 2009, three of 38 retailers named EcoAquariums as a best-selling science and nature product, noting sales of 18 to 60 a month. "We were hesitant to bring them in. We didn't want to be a pet store. But it's a neat idea. It's low maintenance. It's something the parents and kids can agree on," Gary Green of Toy Box of Asheville in Asheville, N.C., told TDmonthly.
Awards: 2010 Tillywig Top Fun; Parent's Choice Award 2010
Past Videos: Toy Fair 2009 (

Watch Video) 2/16/2009 (MSRP: $30.00)



Soda Pop Science by SCIENTIFIC EXPLORER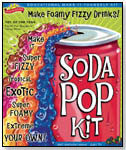 Soda Pop Science is a unique kit that lets kids invent their own secret soda formulas, create some fizz, experiment with flavors and colors, conduct taste tests and make wild, fizzy drinks for their friends. "Soda Pop is a very original kit and was the product of a collaboration with early learning experts at the University of California Berkeley GEMS program," Jean Bessette of Scientific Explorer told TDmonthly. "This kit has won several awards."
— In a summer 2010 survey, three of 43 specialty retailers named Scientific Explorer kits a top-selling product in the science and nature category. One retailer cited the Soda Pop Science Kit as a favorite.
— "Scientific Explorer is our number-one science line," Casey Sartain, buyer for Tutoring Toy in Salt Lake City, Utah, told TDmonthly in August 2010. 11/27/2006 (MSRP: $19.99; Age: 9 and Up)



4M Tin Can Robot by TOYSMITH



Kids can recycle a soda can into a silly, walking, wobbling robot. The kit includes all the parts needed, right down to the googly eyes, except for the two AAA batteries that are required. Launch date: 2008.
— "The Tin Can Robot is a huge hit. It's from their Green Science series, which has been doing great," Jennifer Schneeweis, owner of Izilla Toys in Seattle, told TDmonthly in late August 2009. Two of 40 retailers mentioned the brand when discussing best-selling educational items in fall 2009.
― "Right now we have the Tin Can Robot for 8- to 10-year-olds and that's doing well," said Marlene, manager of Kits & Kaboodle in Carmel, Ind., when asked about her best-selling item for tween boys. Seven of 39 retailers surveyed in October 2009 said science kits are their top sellers for tween boys.
― "It's a good price point and an excellent product. It sells all the time," Priscilla Moore, owner of Mr. Fub's Party, Toys and More in Yellow Springs, Ohio, said of the Tin Can Robot and other 4M science kits in spring 2010.
— In August 2010, seven of 43 retailers told TDmonthly that Toysmith is a best-selling science and nature brand. Two retailers named Tin Can Robot as a top product.
AWARDS: 2010 TDmonthly Top Seller 5/19/2009 (MSRP: $15.00; Age: 8 and Up)



Sustainable Earth Lab by THAMES & KOSMOS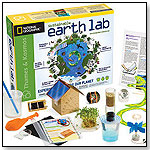 The Sustainable Earth Lab science kit gives children the tools and information to learn first-hand about the environmental problems burdening the planet and how we can overcome these challenges through sustainable practices. The full-color, 48-page manual explains over 40 different experiments and energy conservation activities. Awards: Dr. Toy Best Green Toy Award 2010
— In late summer 2010, five percent of 43 retailers named Thames & Kosmos a top selling science and nature brand.
— "Thames & Kosmos — we sold out of all their items," Carly Gerhardstein, manager of The Durango Kid in Durango, Colo., told TDmonthly in August 2010. 8/13/2010 (MSRP: $54.95; Age: 8 to 12)



Wild! Science Hyperlauncher Rocket Ball by INTERNATIONAL PLAYTHINGS LLC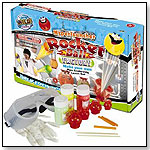 Children can make mass accelerating launch balls and discover the science of elastic collisions with this kit. Users can even mix and mold a supercharged planet collision accelerator that fires a small "moon" into orbit. The kit includes four graduated-size molds and instructions and materials for over six activities.
— In August 2010, Jessica Wood, buyer for Northshire Bookstore in Manchester, Vt., told TDmonthly her store sells "Approximately six (Hyperlaunchers) per month. I just got them back in, but I sold out right away." 9/9/2010 (MSRP: $16.99; Age: 8 and Up)



---
---


Copyright © 2021 TDmonthly®, a division of TOYDIRECTORY.com®, Inc.