June 24, 2021

January 2011 | Vol. X - No. 1

---
Watch Toy Videos of the Day (1/17/2011 - 1/21/2011)
Watch videos from Week 1 (1/3/11 - 1/7/11)
Watch videos from Week 2 (1/10/11 - 1/14/11)
Watch videos from Week 4 (1/24/11 - 1/28/11)

We want you to see the toys we see, so you can determine if they're right for your store! Check this space every weekday to see brief video clips of new and specialty products. In the spotlight today?
A plush butterfly that will hold up your curtains.
Curtain Critters Set of 2 Garden Fantasy Pink Butterfly Curtain Tieback Toys by CURTAIN CRITTERS INC.



Take this soft plush butterfly on strollers, backpacks, car seats, and even on luggage. At bedtime it's back on the crib, bedpost or curtain to watch over you. This Curtain Critters plush animal features a head approximately 5" in size, an elastic safety loop (in the back of head), and child friendly velcro pads (on hands). Machine washable. Available in 10 different designs. (

Watch Video) 8/10/2010 (MSRP: $24.99)



Maple Shape Sorter by TAG TOYS INC.


Giant, solid maple sorting cube with solid maple shapes to sort. 4 different sorting combinations from simple to complex. Large openings on each side for easy retrieval of shapes. Solid maple construction makes this sorting cube virtually indestructible. (

Watch Video) 9/14/2010 (MSRP: $39.95; Age: 3 to 6)



Pawparazzi™ Woofgang - Celebrity Chef Set by NOODLE HEAD INC.



Woofgang comes in a fully packed set that highlights his Celebrity Chef personality. The box set comes with pet Woofgang, purse, blanket, chef hat and scarf, frying pan, cleaver, trading card, and an 8.5" x 11" Pet Poster. The entire packaging also doubles as a playstage to further increase the play value and collectibility of these Little Pets Living Big Lives. (

Watch Video) 8/9/2010 (MSRP: $21.95; Age: 4 and Up)



Gotta Love Me™ 11" Everyday Critters by FIESTA

The "Gotta Love Me" plush characters from Fiesta include the Everyday Critters: Puddles the frog, Sunshine the bear, Rascal the puppy, and Whiskers the cat. This plush line also features Jungle animals including Leo the lion, Mimi the monkey, and Peanuts the elephant. Each has an embroidered heart and endearing "Gotta Love Me" message. (

Watch Video) 8/26/2010 (MSRP: $11.00; Age: 3 and Up)



Moose Popper by HOG WILD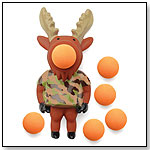 Moose Popper launches a soft foam ball up to 20 feet. When the moose is squeezed in the mid section, the sudden air pressure shoots out a soft foam ball. The harder he is squeezed, the faster and further the ball shoots out. The moose comes with six soft foam balls and a carry net. "There is no other soft foam ball shooter like this on the market. Moose Popper is an original in-house design," Joe Rooper, president of Hog Wild LLC, told TDmonthly. (

Watch Video) 8/16/2010 (MSRP: $9.99; Age: 4 and Up)



---
---


Copyright © 2021 TDmonthly®, a division of TOYDIRECTORY.com®, Inc.