---
Watch Toy Videos of the Day (1/10/2011 - 1/14/2011)
Watch videos from Week 1 (1/3/11 - 1/7/11)
Watch videos from Week 2 (1/17/11 - 1/21/11)
Watch videos from Week 4 (1/24/11 - 1/28/11)



We want you to see the toys we see, so you can determine if they're right for your store! Check this space every weekday to see brief video clips of new and specialty products. In the spotlight today?


Blocks of varying shapes for kids to arrange into different creations.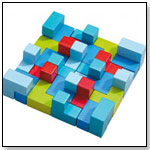 Corner to Corner is a set of beautifully colored tiles with varied building possibilities. The set includes several designs, such as a sailboat and a house, for children to recreate. Though the set includes a small number of blocks for its price, it is high quality and can be used to create complicated three-dimension cubes and pyramids. The tiles can be arranged in a flat pattern or upright, thus generating new results each time.
Awards: Parents' Choice Approved Award, Fall 2010 Games.
ToyDirectory Product ID#: 31019

(added 10/29/2010)

.

AD
---
The ZipBin Doll House Playpack from Neat-Oh! Toys is a toy box, a backpack and a dollhouse all in one. Decorated inside and out to stimulate imaginative play, the ZipBin Doll House Playpack is a cute play house for all sorts of dolls, and even includes one doll to start playtime. Best of all, when kids are done playing, they can store and carry their toys in the ZipBin Doll House Playpack. Measures 9"L x 3.5"W x 15"H. Serves as back pack and dollhouse combo to take-along for play on the go includes a small doll.
ToyDirectory Product ID#: 31056

(added 11/1/2010)

.

AD
---
Wholesale Price: (Log in to view)
Minimum Order: (Log in to view)
Minimum Reorder: (Log in to view)
Dropship Available?: (Log in to view)
Ships From: (Log in to view)
Terms: (Log in to view)
MSRP: $8.99
Age Range: 0 to 4
Target Age Range: 0 to 4
Specialty: Yes (as of 2010)
Made in: China
SKU or Item #: 100LIME, 102PINK
Launch Date: October 2010
Gender: Boys And Girls
Toy Bungee is designed to keep toys, cups, pacifiers and other objects from being thrown or dropped to the floor via its strap harness. The button design of the Toy Bungee has been carefully crafted to outsmart the most intelligent toddlers. Parents can enjoy peace of mind knowing that baby or toddler can throw or drop as much as they like, and the object won't hit the dirty floor.
ToyDirectory Product ID#: 30940

(added 10/21/2010)

.

AD
---
There are three sizes available: 1oz./40ml. 2oz./70ml. & 4oz./140ml. All three sizes of Baby Cubes™ can be mixed & matched to fit into trays. Sold in sets of four or eight Baby Cubes.™ Individual food storage cube containers with attached lids. Each size comes with a storage stacking freezer tray. Ideal for freezing homemade baby, puree…keeps baby food as fresh as the day it was made. Makes complete meals by mixing & matching different sizes. Reduces waste by only having to defrost what is needed. Ideal for freezing breast milk. Ideal for storing small individual toddler snacks. Trays stack one on top of each other in freezer saving valuable space. Airtight, freezer & dishwasher safe. Contains no Bisphonal-A (BPA), Phthalates or Lead. Complies with all USA (CPSC) safety standards.
ToyDirectory Product ID#: 31067

(added 11/1/2010)

.

AD
---
Age Range: 3 and up
Specialty: Yes (as of 2010)
SKU or Item #: P03759
Gender: Boys And Girls
Paul Frank's iconic monkey: the famously feisty character, Julius. Some think he's a bit of a renaissance man, but others think he's just a crazy monkey with big dreams and great taste. Fiesta's Paul Frank line includes 15" and 18" Julius, holiday Julius, knitted monkeys, bath mitts, and cool 6" and 12" character heads.
ToyDirectory Product ID#: 30238

(added 8/26/2010)

.

AD
---
THIS BANNER IS AN AD:
---
---