May 9, 2021

October 2011 | Vol. X - No. 10

---
Watch Toy Videos of the Day (10/17/2011 - 10/21/2011)
We want you to see the toys we see, so you can determine if they're right for your store! Check this space every weekday to see brief video clips of new and specialty products.

In the spotlight today? Customers will keep coming back when you sell products like the Crayon Bungee from NiNi Baby Products
Crayon Bungee by NiNi Baby Products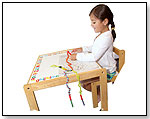 Crayon Bungee is a colorful, functional, portable, durable, non-toxic tether strap that is designed to keep crayons from rolling or dropping to the floor. Crayon Bungee brings a new fun factor to coloring, while keeping the crayons nearby. Just twist in the included crayons, and anchor the strap. (

Watch Video) 10/6/2011



GeoMag Kids Color - 44 pcs by REEVES INTL. INC.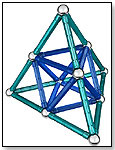 Includes 24 blue and turquoise magnetic rods & 20 chromed steel spheres. Magnetic rods combined with non-magnetic spheres transform into thousands of geometric forms.
Awards: Dr. Toy 100 Best Products For Kids (

Watch Video) 10/6/2011 (MSRP: $21.50)



Baby Beehavin' Stroller DVD Pouch™ by BABY BEEHAVIN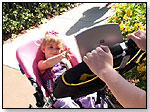 Baby Beehavin' Stroller DVD Pouch is a practical and effective way to both organize a stroller, and help keep a baby entertained and behavin'. As a way to play educational or their favorite DVDs while on the go, it will stimulate and entertain babies keeping them engaged and quiet. This stylish and functional design is compatible with virtually any portable DVD player. Also features: Mesh Bottle Holder, Cell Phone Holder, Protective DVD Player Cover, Expandable Trash Bag, Strong elastic bands, 5 DVD disc pockets, Extra storage pockets, Convenient key Ring. (

Watch Video) 10/7/2011 (MSRP: $39.95)



Nasal Aspirator by BABY COMFY NOSE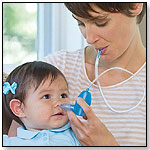 The BabyComfyNose Nasal Aspirator uses parents' own suction to hygienically, safely and quickly remove nasal mucus. Lightly-wadded tissues inside the aspirator are used as a super-absorbent filter. The design of the aspirator protects parents from contact with mucus and germs.
— As of 10/06/2011 this product had 4.5 out of 5 stars on Amazon.com. (

Watch Video) 10/7/2011 (MSRP: $14.95)



The MoniTub by BABY PATENT LTD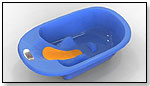 The MoniTub is a tub that weight infants and monitors water temperature. Fill in the baby tub with the desired amount of water. Press the button (tare) to reset the scale. Lay the baby in the tub, and the baby's weight will automatically appear on the LCD. The water's temperature appears on the LCD and automatically updates the reading, to ensure baby's comfort. (

Watch Video) 10/7/2011



---
---


Copyright © 2021 TDmonthly®, a division of TOYDIRECTORY.com®, Inc.