July 9, 2020

December 2011 | Vol. X - No. 12


14 High Quality Gifts You Don't Want to Miss
Don't wait until it's too late!
Still looking for the perfect gift? Don't despair! TDmonthly has put together this list of high quality products to choose from. From seasonal plush to cooperative games, ice cream makers to spy cameras, there's bound to be something for the kids on your list, below.
5" YOOHOO Santa's Village Asst. by AURORA WORLD INC.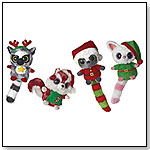 These YooHoos play 3 of Christmas Carols when squeezed, including "Jingle Bells…", "Santa Claus is coming to town..." and "Ho Ho Ho Merry Christmas". Available in a variety of styles. 12/1/2011 (MSRP: $9.00; Age: 3 and Up)



Ambre by COROLLE DOLLS



Ambre is the perfect fashionable doll to delight fans of Miss Corolle! Dressed in a bright red coat with pink skirt, coordinating striped scarf, trendy boots, and an unbelievably soft fuzzy hat, she is ready for the chilly weather of the season! Ambre's bright blue eyes and long, rooted hair make her the perfect new friend for girls ages 3 and up. Launch date: January 2010. 9/14/2011 (MSRP: $75.00; Age: 3 to 6)



Ball of Whacks by CREATIVE WHACK COMPANY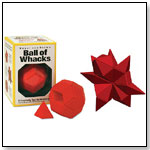 A marvel of engineering, the Ball of Whacks is made up of 30 magnetic, rhombic pyramids that can be taken apart and rearranged in endless creative ways. More versatile than a puzzle and lots more fun than a brainteaser, there's no right or wrong way to use it. Just pick it up and play with it! Designed to be a creativity workshop in a box, Ball of Whacks comes with a 96-page illustrated guidebook providing exercises for creative brainstorming, strategies for problem solving, insights into the creative process, and challenges to construct shapes and mosaics and invent new ones. The game is also a good stress reliever for active individuals working under pressure, the manufacturer informed TDmonthly. "This item is immediately engaging and challenging for all ages up to adult, with endless ways to play," said Creative Whack Company Vice President of Sales, Marketing and Operations Kathryn Cooperman. This product received a Spring 2007 Parents' Choice Recommended Award. Launch date: 2006.
— Although this ball comes with an illustrated guidebook, it virtually has no limitations for imaginative combinations. It's largely the open-ended appeal, in fact, that earned this product a TDmonthly Top Toy 2007 award. Fascinating for kids and adults, the magnetic structure takes on various forms with creativity, forming aesthetically pleasing configurations that lend themselves to further exploration.
Where to Buy: Escapade Direct (

Watch Video) 10/23/2007 (MSRP: $35.00; Age: 8 and Up)



Ice Cream Mugz by GEOSPACE INTERNATIONAL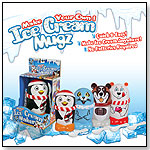 These miniature ice cream makers take three minutes to turn ingredients (sugar, milk cream, water, and anything else like to add like nuts, raisins, or candy) into an iced confection. There's no motor or batteries...the only energy required is a little vigorous shaking. Simply place ice cubes and salt into the lower part of the cup, and fill the top with sweetened juice, milk or cream. Fasten the lid and shake. The salt quickly melts the ice, which makes the aluminum plate super-cold, turning the liquid into ice cream, ice milk, or sorbet. Available in assorted animal characters (polar bear, cat, seal, dog, penguin) (

Watch Video) 2/22/2011 (Age: 4 and Up)



Clicker-Clacker Wooden Rattles by HABA USA/HABERMAASS CORP.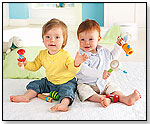 These wooden noise makers are made from beech wood. Dimension: approx. 14 x 9 cm. Suitable for children ages 2 and up. Made in Germany. (

Watch Video) 7/1/2011 (Age: 2 to 5)



Family Speedboat by PLAYMOBIL INC.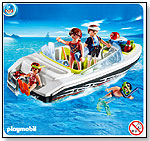 This boat really floats, has lots of storage, and can be upgraded to have a motor. Comes with family, snorkeling accessories, a cooler with snacks, and two beach towels.
— In a March 2012 survey, 2 out of 12 retailers told TDmonthly that items from Playmobil were their best sellers. Donna Frederick, owner of The Play House Toy Store in Durham, N.C., told TDmonthly that they sell 10-12 sets from Playmobil each month, and that Playmobil has "Been a best seller for a long time." (

Watch Video) 3/3/2011 (MSRP: $24.50; Age: 3 and Up)



Flashwordz by U.S. GAMES SYSTEMS, INC.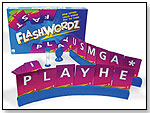 This exciting new word game requires a quick hand and a keen eye. Players create words by combining letters from their own racks with letters from another player's rack. With double-sided letter cards, everything can change in a flash. When the timer goes off it becomes a free-for-all FlashRound. Game includes 100 two-sided letter cards, 4 card racks, FlashWordz Timer, and FlashRound Token. Launch date: July 2011.
Awards: 2011 Creative Child Preferred Choice Award. 9/8/2011 (MSRP: $19.95; Age: 8 and Up)



Winter Wagner Bear by AURORA WORLD INC.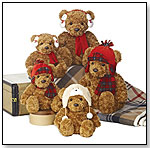 Winter Wagner bears come in two styles of 18" bears and three styles of 12" bears. These soft teddy bears wear cozy, trendy winter hats. Launch date: Fall 2011. 9/26/2011



Bebe Do Mode by COROLLE DOLLS



This adorable soft-bodied baby doll comes complete with its own feeding bottle and soft bunny. Thanks to the mini picture book that is also included, little girls can learn how to take care of Bebe Do Mode just like a real mommy. Dressed in a bright new outfit for the new year, this classic 14" Corolle doll will be treasured for years to come. Launch date: January 2004.
Awards: 2011 Oppenheim Platinum Ableplay
― In a May 2012 survey about dolls, 5 out of 11 retailers said Corolle was their best selling brand. 9/14/2011 (MSRP: $70.00; Age: 3 to 6)



Star-Ball by CREATIVE WHACK COMPANY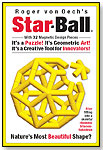 Creative Whack's newest product is both a challenging puzzle and a creativity toy. Star-Balls's 32 magnetic pieces can be rearranged in countless different ways. Polarity dots help you reassemble the star shape by combining the 5-legged stars with the 3-legged "tri" pieces. Star-Ball pieces can also be combined with the award-winning Ball of Whacks for even more creative possibilities. "The geometry of Star-Ball embodies the golden ratio found in mathematics, art, and nature," Lynn Araujo, communications director of the Creative Whack Company, told TDmonthly. Launch date: February 2011. 1/25/2011 (MSRP: $29.99; Age: 12 and Up)



Where is Leo? by HABA USA/HABERMAASS CORP.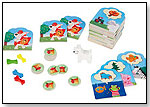 In this game, players have to hunt for and describe where Leo the Lion may be hiding. Cards show the real location in the lower left corner, and the "last place I saw Leo" is in the thought or speech bubble above each animal's head. Players race to follow the route and find Leo's real location. For example, the frog last saw Leo asleep in his bed. Players scan the circle of card tiles to find the bed in the lower left corner of the tile and discover that the bed is in the Bear's room. But Leo is not there. The bear last saw Leo at the lighthouse. And so it goes.
Awards: Spring 2011 Parents Choice Recommended Award 5/27/2011 (MSRP: $12.00; Age: 5 to 7)



Spy Camera Set by PLAYMOBIL INC.

The Spy Camera Set includes a camera with USB port and a color monitor. The images shot from the camera are displayed on the monitor via wireless transmission. The Spy Camera Set can be added to the Playmobil Robo Gang Truck (#4878). The set also contains a bracket for mounting the monitor onto the Playmobil RC Module Set Plus (#4856). Recommended for ages eight to twelve. Suggested Retail Price: $84.99. Warning. Choking Hazard. Small parts. Not for children under 3 years. 1/21/2011 (MSRP: $84.99)



---
---


Copyright © 2020 TDmonthly®, a division of TOYDIRECTORY.com®, Inc.