February 8, 2023

March 2012 | Vol. XI - No. 3

---
Games
Check out these specialty and mass-market games! Some are new, some are old favorites, and all of them look fun. Take a look and see if they could be right for your store.
Rush Hour Junior by THINKFUN


This handy small-sized game challenges kids to steer through traffic in their ice cream truck escape car. It includes a board, bright plastic cars and 40 challenge cards to keep kids on their toes.
— "I always recommend these for travel," said Laura Miller, owner of Imagination Village in Concord, N.H. "They're perfect to throw in a backpack," added Kate Tanner, owner of Kidstop Toy & Book Store in Scottsdale, Ariz.
— Debbie Scholl, owner of Fundamentally Toys in Houston, said that strategy games by ThinkFun are popular. "[Kids] can play by themselves … it's the same game over and over and it's always different."
— Rush Hour "helps kids develop strategy and problem-solving skills through a fun, real-life setting," Emily Peters of Thinkfun told TDmonthly. 6/22/2006 (MSRP: $16.00; Age: 6 and Up)



Rory's Story Cubes - Actions by GAMEWRIGHT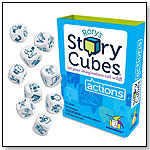 4 dynamic action images - "picto-verbs" get minds in motion. Roll the dice & the creative problem solving, language learning, and story telling begins. "Once upon a time, a giant LAUGHED..." Rory's Story Cubes Actions features 9 cubes that illustrate 54 every day verbs. Players can play with them solo or combine them with other sets of Rory's Story Cubes to kick-start their creativity and set their imagination in motion.
— As of 1/02/2012 this product had 4.4 out of 5 stars from 5 reviews on Amazon.com. 1/3/2012 (MSRP: $9.99; Age: All Ages)



Stomple™ by SPIN MASTER TOYS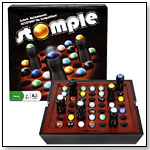 This game is currently licensed to Spinmaster.
Outwit your opponents by stomping their marbles before they stomp yours! Outmaneuver by leaving their Stomper trapped with no escape. For 2-6 Players. 11/19/2010 (Age: 8 and Up)



Slamwich by GAMEWRIGHT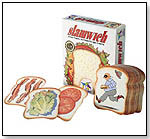 Kids flip and stack this clever loaf of cards to build slamwiches and double deckers. Tomato, lettuce, tomato ... slap! The player who gets there first will win the pile. But he'll have to catch the thief and stop the muncher from stealing a stack of cards. When he's out of cards, he's out of the game. The first player to collect all the cards wins. Slamwich teaches reading readiness skills, such as visual discrimination and sequencing. While kids are flipping and stacking cards, they're actually learning how to recognize a series, make combinations, and anticipate what might happen. "Slamwich includes bread-shaped, die-cut cards. It's a fast-playing card game. It's also Gamewright's first card game," said Jason Schneider, product development and marketing manager for Gamewright.
— Rosie Morris, manager of Whiz Kid Toys in San Luis Obispo, Calif., told TDmonthly to watch out for Gamewright, naming Slamwich as one of their hottest 2006 sales items.
— "We have a lot of card games from Gamewright. One of the better ones is Slamwich," Shirley Reilly, owner of Let's Play in Hillsboro, Ore., told TDmonthly. In an August 2008 survey of 64 retailers, storeowners reported average sales of about a dozen per month. Six named Slamwich as a best-selling card game.
— In August 2010, five of 43 retailers surveyed cited Slamwich as a best-selling card game. 11/27/2006 (Age: 6 and Up)



Chef Cuckoo! by BLUE ORANGE GAMES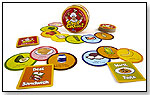 Armed with a stack of Ingredient Cards and a given Food Challenge, create the yummiest or yuckiest meals with Chef Cuckoo. The best—or the worst—chefs will emerge from the kitchen with the stars to prove it. 12/16/2011 (MSRP: $13.99; Age: 7 to Adult)



Chaotic Connections by CHAOTIC CONNECTIONS LLC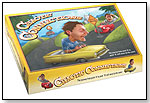 Chaotic Connections is a brand new board game that takes players on a chaotic cross-country road trip without them leaving their living room. Each player is dealt four cities on the map and attempts to connect the roads to the cities as quickly as possible. The first player to connect all four wins. However, there will be road blocks, detours, extra cities and other obstacles along the way. Chaotic Connections can be played with 2-6 players and will enjoyed most by players ages nine and up. Launch date: August 2011. 12/8/2011 (MSRP: $29.99; Age: 9 and Up)



Flickin' Chicken® by HAYWIRE GROUP



Rubber chicken meets disc golf in this ridiculously fun game. Players each choose a different colored rubber chicken. One player throws the target nice and far! The target becomes the "hole," like in golf. Players then take turns flickin' their chicken at the target. If you don't make it on the target, throw again from where it landed. Each throw counts as a point. Try to land any part of your rubber chicken on the target within the least amount of throws as possible. The player with the lowest score after nine-rounds is the winner. For 2- 4 players. (

Watch Video) 3/31/2009 (MSRP: $19.99; Age: 6 and Up)



ZIP-IT!® by BANANAGRAMS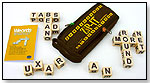 ZIP-IT! includes 24 ivory-like letter cubes packaged in a cloth pouch with unique self-scoring zippers, so everything you need is in the bag. No pencil, paper or board needed. Each player takes 12 cubes and races to form their own crossword grid using any side of the cubes. The first player to use all their own cubes calls "ZIP!" and scores a point by moving their own zip up the pouch. The first person to score 10 points shouts "ZIPIT!!!" and wins the game. One hand can be played in as little as than 20 seconds.The game was designed to be easily portable. Also includes complimentary WEORDS Dictionary, a list of weird words that can help win word games. (

Watch Video) 1/12/2011 (MSRP: $14.99; Age: 7 and Up)



Feed the Woozle Cooperative Preschool Skills-Builder Game by PEACEABLE KINGDOM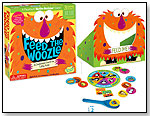 Feed the Woozle is a cooperative game that focuses on developmental skills of children ages 3-6 in an active, fun game. The object of the game is for all players together to "feed" the Woozle 12 silly snacks. Players roll a die and then place the indicated number of snacks on a spoon. Then they spin a spinner that directs them to walk to the Woozle performing a gross motor movement like Bunny Hop or Walk Backwards. It's not so easy to keep those snacks from sliding off the spoon while hopping across the room. If everyone together can feed the Woozle 12 snacks, then everyone wins. "This game is cooperative - either the game wins or the players win. It encourages group participation and habits of cooperation. The game is leveled - meaning it focuses on specific preschool developmental skills in a fun way that is age-appropriate and grows with the child," Donna Jaffe, president of Peaceable Kingdom Press, told TDmonthly. Launch date: January 2012. 12/15/2011 (MSRP: $19.99; Age: 3 to 6)



Angry Birds Knock on Wood Board Game by MATTEL INC.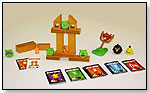 One player draws a construction card and builds the structure shown. Next, an opponent loads an Angry Bird onto the launcher and catapults the bird to knock down structures and pigs. The player with the most points and knockdowns wins. Features three Angry Birds, four green pigs, one slingshot-style launcher, structure pieces and multiple mission cards. For one or more players. Launch date: May 2011.
— As of 12/17/2012 this product had 3.9 out of 5 stars from 252 reviews on Amazon.com. Pros: Great alternative to the app for parents who want to reduce kids' screen time; fun for the family to play together; helps kids develop dexterity and patience. Cons: Certain structures are too elaborate to build and don't seem to be grouped in the correct level of difficulty; kids with short attention spans may lose interest in building the structures; structures are easy to knock down, which can be frustrating for younger players. 2/18/2011 (MSRP: $14.99; Age: 5 and Up)



---
---


Copyright © 2023 TDmonthly®, a division of TOYDIRECTORY.com®, Inc.