September 25, 2020

March 2012 | Vol. XI - No. 3


Top-10 Most-Wanted Games
Retailers Play Up Classic Games
With additional reporting from Chris Lundy and Brenda Ruggiero

There were a lot of familiar titles mentioned in this month's Top-10 Most-Wanted Games, including BLUE ORANGE's Spot It, which was a best seller for four of 14 retailers interviewed, and THINKFUN's Zingo, which we first wrote about in 2005! The top selling games list also included relative newcomers Tenzi by CARMA GAMES, and IQ Twist by SMART/TANGOES USA. Learn more about these and the other best sellers, below.

No manufacturer paid to be included in this article. All products listed were designated by editorial staff without regard to the company's relationship with TOYDIRECTORY.com/TDmonthly Magazine.
Spot It! by BLUE ORANGE GAMES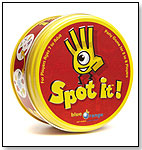 Spot It is a party game for two to eight players. It's played by laying a random assortment of cards on the table and all players racing to find one image that matches between two cards. This fast-paced game is designed to never be the same twice, and though it has very few rules to remember it requires a sharp eye to master. The set of 55 round cards transports in its own carry tin. Watch Spot It: Top-5 Video, Toy Fair 2010
— Spot It has been been a top seller for retailers surveyed by TDmonthly since early Spring 2010.
— In a March 2012 survey, 3 out of 12 retailers told TDmonthly that Spot It was their overall best selling product, and had been for more than a year.
— Dean Smith, Co-owner of JaZams in Princeton, N.J., told TDmonthly in a Summer 2011 survey that he sells 50-60 copies of Spot It each month.
Awards: 2010 TDmonthly Top Seller, Dr. Toy 100 Best Children's Products - 2010

Where to buy:
SOUTH
NORTH EAST
NORTH WEST (

Watch Video) 2/11/2010 (Age: 6 and Up)



Zingo! by THINKFUN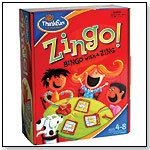 Players try to fill their Zingo! cards with matching tiles from the Zingo Zinger. The first player to fill his or her card wins. Rules can be adjusted to favor more or less competition among players, and to vary the length of time each game requires. This game was a 2007 T.O.T.Y. Nominee for Specialty Toy of the Year. "It teaches memory, matching, vocabulary and social interaction skills. Kids have so much fun playing again and again; they don't realize they're learning essential thinking skills," Marketing Communications Manager Emily Peters of Thinkfun told TDmonthly.
— "Customers use this game as their 'standard' party gift," Owner Elaine Hackney of Boing! JP's Toy Shop in Jamaica Plain, Mass. told TDmonthly in summer 2007.
— "We sell out as soon as they come in," added Pam Horwitz, manager of Mr. Toad's Toy Company in Naples, Fla. Four of 63 retailers singled out Zingo! as the hottest-selling game in their store. Seven percent of 56 retailers listed Zingo as a top-selling game in January 2009. Six of 38 retailers called it a best-selling game in Feb. 2010.
— "Zingo is a great game for 4- to 5-year olds," Jamie Burdette, owner of LB Toys in Media, Pa., told TDmonthly about this game — a top seller in his store — in April 2008. "The basic Bingo concept starts to introduce words and spelling." (

Watch Video) 5/10/2005 (MSRP: $15.00; Age: 4 to 8)



Qwirkle by MINDWARE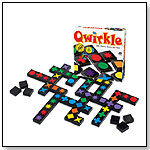 Requiring no reading from its players, Qwirkle is a simple-to-learn but stimulating game based around matching the attributes of the game play tiles. Players build rows and columns by placing tiles adjacent to tiles they share an attribute with (shape or color), and score bonus points if they can think ahead and put a tile down touching multiple other tiles. While the game is easy to understand, a good eye and quick thinking make Qwirkle challenging enough for a wide range of ages to play together.
Awards: 2011 Speiele des Jahres (German game of the year).
― "We sell a lot of Qwirkle," Sue Banducci said of popular games in her Danville, Calif., store, Games Unlimited. "Qwirkle was best-selling over Christmas," said Shirley Reilly, owner of Let's Play in Hillsboro, Ore., in January 2009.
― When asked about his top-selling games in early 2009, Tye Steinbach of Thinker Toys in Portland, Ore. told TDmonthly, "It was probably Qwirkle. We're not huge gamers in our family, but it's really fun."
— Four of 44 specialty retailers named Qwirkle as a best seller in late fall 2009. Ages & Stages Toy Box in Golden, Colo., sells about 10 Qwirkle games per month, Manager Holly Anvers told TDmonthly.
— As of 12/17/2012 this product had 4.8 out of 5 stars from 483 reviews on Amazon.com and was No. 6 on the top 100 bestselling toys and games. Pros: Exciting; intellectually stimulating, easy to learn. Cons: Some said it took too long to play; only had 3 reviews less than 3 stars, however. (

Watch Video) 2/9/2009 (MSRP: $24.95; Age: 6 and Up)



Perplexus Original by PATCH PRODUCTS INC.



The first member of the Perplexus family, this see-through sphere houses a 3-D labyrinth game with 100 barriers, turns, twists and cliffhangers that serve as obstacles to getting a small steel ball to the end. Invented in 1970 by Michael McGinnis, a design teacher, Perplexus helps develop motor and dexterity skills, along with hand-eye coordination.
― As of 12/17/2012 this product had 4.4 out of 5 stars from 393 reviews on Amazon.com and was No. 12 on the top 100 bestselling toys and games.
— At Izilla Toys in Seattle, "Perplexus is selling really, really well for us," Co-owner Jude Larene told TDmonthly in late fall 2009.
— In summer 2010 this game was a top-10 best seller at Dancing Bear Toys in Asheville and Hendersonville, N.C..
Awards: 2012 Parents' Choice Awards - Silver, 2011 Time Magazine – 15 Smartest Toys for Young Geniuses, 2011 Parent Tested Parent Approved – Seal of Approval, 2011 Grand Prix Kidexpo – Elu par les Parents (Parents'Choice), 2011 Children of Museum of Indianapolis – Top 10 Toys of 2011, 2011 Canadian Toy Testing Council – Children's Choice, 2011 Babble List – Best Kids Toys, 2010 Toy Insider – Hot 20, 2010 The National Parenting Center – Seal of Approval, 2010 Prémio Brazil – Award of Excellence, 2010 Parents' Magazine – Top Toys, 2010 NAPPA – Gold, 2010 ASTRA – Best Toy for Kids 12/2/2009 (MSRP: $24.99; Age: 6 and Up)



The Settlers of Catan® (4th Edition) by MAYFAIR GAMES INC.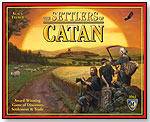 In this game designed by Klaus Teber, three to four players who are immigrants to Catan must develop their colony on the island by establishing roads, villages and settlements and making strategic trades of bricks and lumber, livestock or other commodities to obtain necessary resources. Play takes about 60 to 90 minutes. The first player to 10 points wins. "The new edition was released three years ago and has sold more copies in those three years than the first, second or third editions combined," Bob Carty, Sales & Marketing Director, Mayfair Games, told TDmonthly in early 2010.
— In August 2010, five percent of 43 retailers surveyed named The Settlers of Catan an overall top seller. The same month, Steven Levy, owner of Toy City in Keene, New Hampshire, told TDmonthly his store sells approximately three Settlers of Catan games per week.
— "It's real easy to teach, and then you just develop strategies from there," Mike Snyder, owner and manager of Cville's Hobbies, Games and Toys in Charlottesville, Va., told TDmonthly in a February 2012 survey about best selling games. Cville's sells 16-20 copies of the game each month.
— As of 12/17/2012 this product had 4.7 out of 5 stars from 632 reviews on Amazon.com. 3/3/2010 (MSRP: $42.00; Age: 10 and Up)



Sleeping Queens by GAMEWRIGHT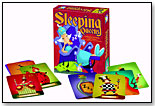 A royally rousing card game! Sleeping Queens is a fun new strategy game invented by an eight-year old. The Pancake Queen, the Ladybug Queen and ten of their closest friends have fallen under a sleeping spell and it´s your job to wake them up. Use quick thinking and a little luck to wake these napping nobles from their royal slumbers. Play a knight to steal a queen or take a chance on a juggling jester. But watch out for wicked potions and dastardly dragons! The player who wakes the most queens wins.
— Tova Rubin, manager at Toytraders in Lakewood, N.J., said this is one of her top-selling card games.
— This is a popular choice at White Rabbit Toys in Ann Arbor, Mich., according to store manager Cheri Sims.
— Casey Sartain, son and buyer at Tutoring Toy in Salt Lake City, attributes the success of this game to the fact that a younger group can play it and that they enjoy the action of slapping cards down on the pile.
— Seven percent of 43 retailers named Sleeping Queens a top-selling card game in a summer 2010 TDmonthly survey. In August 2010, Shana Hack, owner of Moon Rabbit Toys in Santa Fe, New Mex., told TDmonthly her store sells about 12 Sleeping Queens games per month. 12/21/2004 (MSRP: $9.95; Age: 8 and Up)



Blokus by MATTEL INC.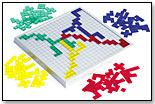 Europe´s 2002 game of the year, Blokus is a strategy game for the family. It's similar to the ancient Go Game — the board is a grid and players use their pieces to try to control as much territory as possible. The game pieces are in four, 21-piece sets of varying shapes. Each player chooses a color and works on expanding his territory on the board while blocking others from doing the same. Each new piece laid down must touch at least one other piece of the same color, but can only touch at corners, not along edges. The game ends when all players have been blocked from laying down more pieces. Points are deducted for pieces not played, and the player with the highest score at the end, wins. Blokus comes with a game board with 400 squares, 84 game pieces (red, green, blue and yellow), and instructions.
— In spring 2007, Sally Lesser, owner of Massachusetts' Henry Bear's Park, called Blokus a "consistent best-seller" at her three stores. It's also tops at Juggles in Wakefield, R.I., and Kazoodles in Vancouver, Wash. Six of 63 retailers named Blokus as their overall best seller in September 2008. Three of 52 retailers named Blokus as one of their overall top sellers in November 2008. Blokus is no longer distributed by Educational Insights as of 12/4/08.
― "No. 1 is Blokus," Linda Hanzelko, owner of Timmy's Toy Chest in Lake Mary, Fla., told TDmonthly when asked about best-selling games in early 2009. "It's an easy sell. It's one that people come back later and say 'You were right.'" In late 2009, Lori Hershman, owner of Evan's Toy Shoppe in Hamden, Ct., estimated sales of about 34 units monthly. Six of 38 retailers called it a best-selling game in Feb. 2010, selling from three to 150 units per month. 5/27/2005 (MSRP: $29.99; Age: 5 to 12)



Rush Hour by THINKFUN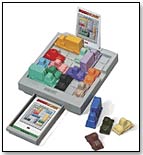 Voted one of Parent's Choice Foundation's "Best 25 Toys in 25 Years," Rush Hour puts players to the test, demanding thought and vision. As if the commute home isn't enough, in these 40 beginner-to-expert challenges, players must navigate a red car through a traffic jam and gridlock to successfully leave the game board. Challenge cards fit neatly into a pull-out tray beneath the game tray. Watch video
― "Logic games are selling very well, particularly (those from) ThinkFun," Amy Akin, manager of Giggles for Kids in Suwanee, Ga., told TDmonthly in early 2009.
― "We do really well with ThinkFun games — problem solving, like Rush Hour," added William Bingham, owner of Firefly Toy Shop in Milford, Pa. When asked about best-selling item for tween boys in October 2009, Fred Meyer, owner of Meyer's Toy World in Battle Creek, Mich., told TDmonthly, "Rush Hour is great. We sell hundreds." It was named a best-selling game by five of 38 retailers in Feb. 2010. During a summer 2010 survey of 40 retailers, two said Rush Hour from ThinkFun is their top-selling puzzle, citing sales of up to 60 pieces per month.
AWARDS: 2010 TDmonthly Top Seller 9/29/2005 (MSRP: $15.99; Age: 8 and Up)



IQ Twist by SMART TOYS AND GAMES INC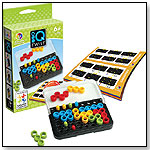 Players give their brains a spin in the right direction and put all the twisted puzzle pieces on the game board. It looks easy until they realize that there are pegs that are in the way. And players can only put a playing piece over a peg if both are the same color. 100 challenges ranging from easy to extremely difficult. It's compact, so it's an ideal brain snack while on the go.
— Paula Bolte, owner of Imaginations Toy & Furniture Co. in Blacksburg, Va., told TDmonthly in a February 2012 survey about best selling games that "Over Christmas time, IQTwist did well. Getting a big display of it and playing with it in the store helped." 2/8/2012 (MSRP: $9.99; Age: 6 and Up)



TENZI by CARMA GAMES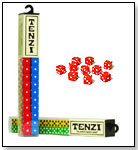 Everyone gets ten dice. Someone says "Go." Then everyone rolls and rolls as fast as they can until someone gets all their dice on the same number. It's a fun, fast frenzy. It's TENZI. It's "Super-simple to learn & super-fast to play," Steve Mark, executive Dice president of CARMA GAMES, LLC, told TDmonthly. Launch date: April 2011.
— In a February 2012 survey about games, Mary Porter Green, owner of The Curiosity Zone in Ashburn, Va., told TDmonthly that she sells 6+ copies of Tenzi each month.
— In a February 2013 survey, two out of 11 retailers told TDmonthly that Tenzi was their best selling game.
— Glisyn Lewis Jarrells, manager of Imaginations Toy & Furniture in Blacksburg, Va., told TDmonthly in a March 2013 survey that Tenzi is their overall best selling product. They sell around 15 copies of the game each month. (

Watch Video) 11/8/2011 (MSRP: $14.95; Age: 7 and Up)



---
---


Copyright © 2020 TDmonthly®, a division of TOYDIRECTORY.com®, Inc.