April 14, 2021

June 2012 | Vol. XI - No. 6

---
11 Educational Toys For Summer Break
Train the body and the brain with these educational and developmental toys
Summer vacation is almost here, and most kids can't wait to get out of school. But just because they're out of the classroom doesn't mean they need to stop learning. TDmonthly selected the 11 educational and developmental toys and games below as ways to help young minds stay sharp over break. These informational, engaging products are so fun, kids won't even realize they're learning!
Roman Town: The Premiere Archaeology Computer Game for Kids by DIG-IT! GAMES



Roman Town lets the player be an archaeologist and manage a team of diggers while learning about archaeological techniques and uncovering ancient objects. Graphics rendered in 3D let players explore Roman buildings and immerse themselves in Roman history. One can put pots together, exercise puzzle skills with fun mini-games, and find out what archaeologists really do. President of Dig-It Games Suzi Wilczynski told TDmonthly, "Roman Town is unique, educational and, most importantly, lots of fun!"
Awards: The Tillywig Brain Child Award; NAPPA Honors; The National Parenting Center 2010 Seal of Approval; Creative Child 2010 Game of the Year Award; Dr Toy's Best Vacation Product; five 2010 Life Buzz Parent-to-Parent awards. (

Watch Video) 4/29/2010 (MSRP: $39.95; Age: 8 and Up)



ScienceWiz™ Cool Circuits by SCIENCE WIZ / NORMAN & GLOBUS INC.



Part of a line of ScienceWiz Thinking Games, this puzzle game created by Harry L. Nelson and Hiroshi Yamamoto provides 40 challenges at different skill levels. Players put a puzzle card down and solve the puzzle by making sure all the pieces are looped together, at which time the board will light up with the solution.



(

Watch Video) 3/31/2008



The Secrets of Pangaea Mountain by TOYOPS INC.



Pangaea Mountain comes with a fascinating book about Dr. Geostone and his two students Rocky and Crystal. The students fall asleep in class and wake up on a mysterious mountain in search of the "Living Dinosaur." As the three explore, Dr. Geostone teaches the children about the many fossils and Gems discovered within. In the end they learn a bit about everyday life, geology, geography, biology and earth science. Finally they are amazed that the mountain really does contain living organisms (Triops) they bring back to life by just adding water. This kit keeps you learning and having fun for months. "Most "I dig" kits simply let a kid dig something out and go wow. Activities are lacking and education is not the objective...TOYOPS stands behind its image of Tops in Toys That Teach. The illustrated book which accompanies this kit along with all the tools of a field scientist are fun, and teach while enjoying the excavation. The book is written to permit simple activities to make science hands on and fun. You will learn...My favorite is the story behind the buried hematite and how it defined the auto industry sprouting up in Michigan. It isn't just a mineral - it is part of history," Eugene Hull, Ph.D., President of ToyOps told TDmonthly. Launch date: January 2013. 2/4/2010 (MSRP: $26.95; Age: 8 and Up)



Little Pim Spanish Intro Gift Set with Book by LITTLE PIM CO.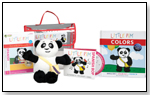 The Little Pim Spanish Intro Gift Set includes Spanish DVD eating and drinking (Disc 1), Spanish Bop music CD, Little Pim trilingual board book- Colors or Feelings, and an adorable 9" plush panda, packaged in a handy, reusable Little Pim tote. The DVD introduces 60 Spanish words and phrases for mealtime, and the music CD features songs by Milkshake and Dan Zanes & Friends, stars of the children's music circuit. "Little Pim is the first language immersion product that specializes in introducing foreign languages to babies, toddlers and preschoolers," Ashely Hernandez, Little Pim sales associate, told TDmonthly. Launch date: March 2012.
Awards: 2012 National Parenting Center Seal of Approval; Dr. Toy 100 Best Toys for 2012; Dr. Toy 10 Best Audio-Visual Toys for 2012; 2012 Tillywig Brain Child Award; 2010 National Parenting Center Seal of Approval; 2008 iParenting Media Award; 2010 Dr. Toy Best Audio Visual Award; 2007 Parent-to-Parent Adding Wisdom Award; 2010 Creative Child Media of the Year Award; 2009 AEP Award. 1/12/2011 (MSRP: $39.95; Age: 0 to 5)



Digital eReader Light by MARK-MY-TIME LLC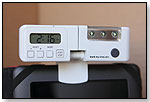 The new Mark-My-Time Digital eReader Light combines the unique features of a back-lit LCD screen, time of day clock, cumulative timer to 100 hours, adjustable LED light, countdown timer with alarm and auto light shut off. This tool makes it simple to monitor daily reading minutes on eReader displays. Easy to use with any hardback or paperback book. Launch date: June 15, 2012. 4/10/2012 (MSRP: $19.95; Age: 7 and Up)



Amazing Science! - Volume 1 by MATH TUTOR DVD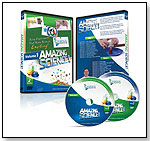 Learn fundamental principles of science through Amazing Science Experiments. Viewers learn about electricity, magnetism, heat, temperature, pressure, surface tension, buoyancy, and much more. For every demonstration, a complete materials list is given, and each experiment features multiple camera views so kids can see exactly what happens. Most importantly, every concept is explained in a step-by-step fashion. Viewers not only be amazed - they'll understand the science behind every experiment. 2/6/2012 (Age: 7 to Adult)



Easy Daysies Magnetic Daily Schedules for Children - Family Activities Kit by EASY DAYSIES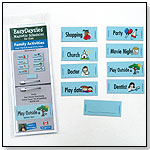 This add-on kit includes nine colored, durable magnets that can be used with the Every Day Kits or other sets. It could make an educational gift for homeschooling, help get kids organized and into routine, aid kids learning English, and help children with special needs. "This teacher-created product arose because of parent requests for a daily schedule like the one in my classroom," Elaine Comeau, founder of Easy Daysies, told TDmonthly. Launch date: November 2009. 11/17/2009 (MSRP: $12.99; Age: 3 to 12)



Money Savvy Football Bank by MONEY SAVVY GENERATION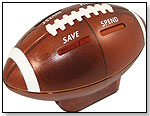 This distinctive bank has a patented, four-chambered design created to help kids (ages 4-11) and their parents or grandparents begin a conversation about money. It helps teach basic money skills (Fiscal Fitness Training for Money - Smart Kids™) by introducing four choices: SAVE, SPEND, DONATE and INVEST. It is available in brown with white stripes and laces. The Money Savvy Football Bank received a 2008 NAPPA Gold Award and a 2008 Preferred Choice Award from Creative Child Magazine. Launch date: December 2006. 8/6/2009 (MSRP: $16.99; Age: 4 to 11)



ZIP-IT!® by BANANAGRAMS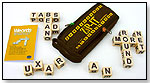 ZIP-IT! includes 24 ivory-like letter cubes packaged in a cloth pouch with unique self-scoring zippers, so everything you need is in the bag. No pencil, paper or board needed. Each player takes 12 cubes and races to form their own crossword grid using any side of the cubes. The first player to use all their own cubes calls "ZIP!" and scores a point by moving their own zip up the pouch. The first person to score 10 points shouts "ZIPIT!!!" and wins the game. One hand can be played in as little as than 20 seconds.The game was designed to be easily portable. Also includes complimentary WEORDS Dictionary, a list of weird words that can help win word games. (

Watch Video) 1/12/2011 (MSRP: $14.99; Age: 7 and Up)



The Never Bored Kid Book by EVAN-MOOR EDUCATIONAL PUBLISHERS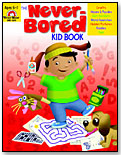 Every parent knows what it's like when the kids are bored and nothing seems to strike their fancy. In those moments, count on The Never-Bored Kid Book series to come to the rescue. These books contain hours of constructive fun! There are drawing lessons, crafts, 3-D constructions, hidden pictures, puzzles, dot-to-dots, riddles and more. All kids need are a few simple supplies such as scissors, glue, tape, crayons and marking pens. 5/17/2005 (MSRP: $9.99)



---
---


Copyright © 2021 TDmonthly®, a division of TOYDIRECTORY.com®, Inc.