March 3, 2021

July 2012 | Vol. XI - No. 7


Holiday Preview: 20 Toys and Gifts for Specialty Stores
These 20 products could be holiday hits for your store
TDmonthly Magazine is dedicated to letting you know about products that could be holiday hits in your store. To find out which toys, games, and gifts could be best sellers for the specialty market this holiday season, we asked the people who know the products best — their manufacturers.

Construction Toys

Wooden blocks and classic building toys are always fun, but you can really wow little builders with these innovative new products.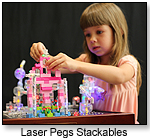 Laser Pegs Stackables enhance the construction toy experience by connecting with other popular building blocks and lighting them. "With Laser Pegs, the possibilities are virtually endless – and we're the ONLY lighted construction kits that exist," Johanna Bogater, support and shipping manager for LASER PEGS LLC, told TDmonthly.

For a gift that's great for the playroom or the boardroom, look no further than the sleek Tegu Dart. This high-quality, buildable car model is made of magnetic wooden blocks and can be integrated with existing Tegu sets. "Plus, for every purchase of Dart, Tegu will plant one tree in Honduras," making it a great gift for eco-conscious families, Kelly Carling from TEGU explained.

Infant and Toddler Toys

Kids love engaging with music, and with this Wooden Bongo Drum Trio from BOIKIDO, kids can pound away while developing hand-eye coordination and rhythm. "This new Bongo Drum Trio is unique, attractive and affordable," David To, president of Boikido, told TDmonthly.

Parents that are willing to splurge on holiday gifts should look for items that can be used for more than one child, like the heirloom-quality, European-made Eco Rocking Horse from BECK TO NATURE. "The rocking horse is a safe, ergonomically shaped, useful, and enjoyable ride-on toy that can be used for generations," said Ildiko Beck, president of Beck to Nature.

A gift for parents as much as babies, Hearing Protection Earmuffs from BABY BANZ allow families to attend noisy events without having to worry about damaging little ears. "When attending sporting events, concerts or even cutting the grass at home – hearing protection is a must," Sara Burick, Sales Manager at Baby Banz, Inc., told TDmonthly Magazine.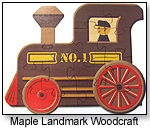 You won't puzzle too long over what gifts to give toddlers this holiday season when you consider Shaped Jigsaw Puzzles from MAPLE LANDMARK WOODCRAFT. "The shaped puzzles are a great price ($14.00), made in the USA," and come in bulldozer, fire truck, school bus, and train engine shapes, Barbara Rainville, Marketing Manager for Maple Landmark, explained.

Science and Educational

This holiday season, show kids that science rocks with the Rocks kit from NORMAN & GLOBUS INC. It uses exciting "eruptive experiments," like creating a volcano and acid-testing different rocks, to foster comprehension of how rocks relate to the history of our planet.

Kids who love to tinker will be excited that ELENCO is expanding their popular Snap Circuits line with Snap Circuits LIGHT. This ASTRA Best Toys for Kids award winner lets kids explore circuitry with fun elements like strobe lights and glow-in-the dark fans, and can be connected to an MP3 player to play music.

Games

Games can be a gift for the entire family. Tsuro of the Seas, the follow-up to CALLIOPE GAMES' Tsuro, is a 2-8 player game suitable for ages 8 and up, making it the perfect activity for families who are gathered for the holidays.

For kids who love words, Wild Guess Chase could be the perfect present. Unlike most word games, "it's a word forming game and a word guessing game all in one," explained Kevin Greenberg, owner of ALL THE KING's GAMES.

Tweens

Texting tweens will love a gift that makes their iPhone obsession more personal, like the Shains iPhone Case from SHAINSWARE. These iPhone cases can be personalized using any Shains component, including letters, numbers, and symbols. "It is the first truly customizable iPhone case in the market," Endrea Kosven, Director of Public Relations for Shainsware, told TDmonthly.

For tweens on a tech bent, why not try the DJ Rock Dock? "DJ Rock Dock is a great gift item because it is priced under $20," and " teaches kids the difference between analog and digital, explains electricity and provides detailed instructions for building their own speaker system with the included parts," explained Nancy Storment, director of marketing & public relations for Smartlab Toys.

Stocking Stuffers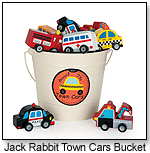 This year, JACK RABBIT CREATIONS, INC. is expanding their "Buckets o Fun" offerings. "We concentrated on lower price points this season with the expansion of our 'Buckets O Fun' line – great stocking stuffers or pick up items by the cash register," Erica Lancaster, owner of Jack Rabbit Creations, Inc., told TDmonthly. New styles include painted wooden Pull String Tops and Around the Town Cars.

Zowa, brightly colored, collectible puzzle erasers from VADAZO LLC, make a great stocking stuffer for boys and girls of all ages. They come in 5 different themes, like Fantasy and Sport, making it easy to select characters that suit different kids' tastes.

For a more involved stocking stuffer, consider toys that can be used again and again, like the Wet-Erase™ Eco Coloring Kit from HEALTH SCIENCE LABS. It "comes with 3 stone paper coloring scenes and our patented wet-erase crayons that wipe off with a damp cloth for multiple use," Laura Hite, president of Health Science Labs, told TDmonthly.

Just Plain Fun

Pretend play toys are fun, but they can also help kids learn new skills. "With our Girl's Chef Kit customers know that they are providing a gift that will teach many great life skills such as math, following directions, reading and, of course, cooking," Taylor Crenshaw from CURIOUS CHEF INC. told TDmonthly.

After a heavy holiday meal, you can get kids up and moving with the Children's Christmas/Nutcracker Scarf Activity Kit from ARTS EDUCATION IDEAS. "Our kits encourage movement, interaction and imagination that kids these days are lacking in due to isolating video games, iPods, TV and computers," Rosanne Jessen, in marketing/product development at arts education IDEAS, explained.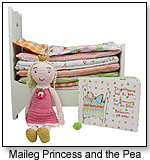 Kids love hearing classic fairy tales, and with the Princess and the Pea set from MAILEG NORTH AMERICA INC, they can bring one to life. This heirloom-quality set includes a knitted doll and pea, a storybook, and a 12" bed layered with colorful mattresses.

Of course, the holidays are about more than just presents, and a gift that supports a cause can help remind kids of the true messages behind the celebration. The handmade Hmong Doll makes for a thoughtful gift. "With the purchase of our Doll, not only do you buy a beautiful and unique gift, but you also support humanitarian projects to benefit people and kids in great need," Robert Bendik from THE SPIRAL FOUNDATION told TDmonthly Magazine.


Take a closer look at these products below, and don't forget to check back next month for another Holiday Preview!



Tegu Dart by TEGU INC.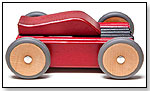 With 10 classic Tegu blocks, a signature magnetic styling top, and 4 magnetic wooden wheels, Dart is a member of the Compact Line of Tegu Mobility. Deconstruct Dart and click the wheels on and off to create any number of mobile creations. Magnetic connections make racing and crashing as fun as building. Dart integrates seamlessly with the existing line of Tegu blocks. 4/24/2012 (MSRP: $38.00; Age: 3 and Up)



Boikido Wooden Bongo Drum Trio by BOIKIDO

This colorful and attractive wooden Bongo Drum Trio will keep kids busy for hours. It helps children develop motor skills, rhythm and melody. Encourages creativity and imagination. Helps develop hand-eye coordination. 2 Drum Sticks are included. Tested to meet European and U.S. safety standards. Launch date: February 2012. 1/2/2012 (MSRP: $39.99; Age: 1 and Up)



sixkid Rocking Horse by BECK TO NATURE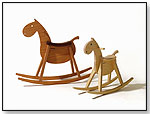 The eco-friendly, handcrafted SIXKID ROCKING HORSE is a modern and natural version of the traditional children's piece, appealing to any generation. It's design is based on classic forms with a unique, modern twist. With no loose pieces and ergonomically shaped saddle it makes riding safe and enjoyable for little ones. Made of sustainable European beech with a walnut saddle, the rocking horse is finished with oils and waxes and are not treated with paint, chemicals, or lead. The fine joinery requires only four screws for assembly. Two sizes are available: one for 18 months and older and one for 3 years and older. They meet all US safety standards. Imported and distributed by Beck To Nature. Made in Hungary, EU. Launch date: November 2011. 6/27/2012 (MSRP: $399.00; Age: 2 to 6)



Shaped Jigsaw Puzzles by MAPLE LANDMARK WOODCRAFT CO.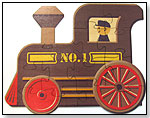 Four (bulldozer, fire truck, school bus, train engine) new shaped puzzles made from 1/8" hardwood plywood. They are approximately 11" high and 12" long. Each colorful puzzle has 11 to 12 interlocking pieces. Each puzzle is printed with durable, bright non-toxic inks. Puzzles come shrink wrapped and have a drawstring pouch for each storage. "Our product is made here in the USA," Barbara Rainville, marketing manager for Maple Landmark Woodcraft told TDmonthly. Launch date: 2012. 6/27/2012 (MSRP: $14.00; Age: 3 to 8)



Baby Banz Hearing Protectors by BABY BANZ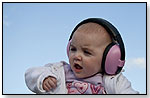 The Banz hearing protectors effectively attenuate harmful loud noises without shutting out other ambient sounds. The earmuffs are easy to wear, with a low profile and no protruding parts that can catch on things. The wide, foam-filled cushions ensure that the set doesn't squeeze uncomfortably, and there is plenty of space for the ears inside the shells. Banz earmuffs have a comfy leather cover over the headband to ensure all over comfort. The weight is also important to comfort; each ear muff weighs just 190 grams. Launch date: February 2012.

6/25/2012 (MSRP: $30.00; Age: 0 to 2)



Rocks by SCIENCE WIZ / NORMAN & GLOBUS INC.



Relate rocks to the history of the planet. Uses exciting eruptive experiments to foster comprehension. Mold and slice open a model of the earth, Create a lava fountain to explore density, Spew a volcano, Make pyroclastic eruptions, Discover which rocks will float and which will burn, Identify, break & display volcanic rocks, Sediment sedimentary rocks, Acid test rocks, Explore metamorphic rocks, and Form fossils.
Awards: 2013 TDmonthly Seal of Approval
— John Blair, owner of Science Safari in Cary, N.C., told TDmonthly in a late Summer 2012 survey that Norman & Globus products "are perennial. I continuously do well with these." 4/18/2012 (MSRP: $19.95; Age: 8 and Up)



Snap Circuits LIGHT by ELENCO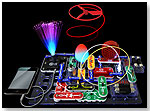 Snap parts together to build different circuits, and watch the different pieces light up. Includes fiber optics over a light organ that can be connected to an iPod; the lights will flash to the beat of the music. Includes strobe lights with different plates so kids can experiment with strobe patterns, white LED lights, glow in the dark and lighted fan blades, a light up egg, and more.
Awards: 2013 TDmonthly Seal of Approval

Where to buy:
NORTH EAST
SOUTH 5/25/2012 (MSRP: $75.00)



Wild Guess Chase by ALL THE KING'S GAMES


Who will be the player/team to win the most cards by guessing other players' words correctly the fastest, and with the fewest letters possible? Players take turns making a word from the lettered cards in their hand, but they don't show their word to any of the other players. Instead, they place each lettered card of their word face down on the table. Then... the first letter of the word is revealed (and the timer is started) as the other players begin to shout out possible words for what the hidden word could be. A player must guess the word before the timer runs out... so if at any time two or more players agree to see another letter, another card is turned over and players continue to try and guess the word. The player who first guesses the hidden word correctly wins the number of cards that are still left face down... or ALL of the cards if the word is discovered with only one letter revealed. Launch date: June 2012. (

Watch Video) 6/27/2011 (MSRP: $12.99; Age: 8 and Up)



Tsuro of the Seas by CALLIOPE GAMES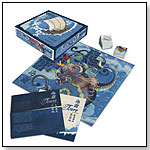 In Tsuro of the Seas players will sail the treacherous waters of the Mystic Seas in an engaging game of adventure and suspense. As the captain of one of the Emperor's mighty Red Seal ships, players navigate the seas by placing Tsuro wake tiles to direct their vessel. Players must take great caution to avoid opponents' ships...and those mysteries lurking on the horizon and under the sea. The last captain sailing to survive the mystic seas wins. For 2 to 8 players ages 8 and up; plays in 20-40 minutes. Launch date: August 2012. 6/27/2012 (MSRP: $40.00; Age: 8 and Up)



Shains iPhone Case by SHAINSWARE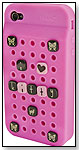 These iPhone cases are completely customizable, using any Shains component. Eco-friendly and versatile, Shains is a sustainable accessories line is composed of letters, numbers, and icons that can be mixed and matched. All items are made from recycled and recyclable content, including the packaging. Launch date: Fall 2012. 6/27/2012



DJ Rock Dock by SMARTLAB TOYS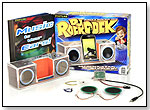 Old-school and new-school technology collide in this plug n' play portable speaker dock kids build themselves. Rock the house or take the show on the road. Kids learn basic electronics by investigating how speakers and amplification work. Docking station works with iPod, iTouch, and other audio devices. Launch date: September 2012. 12/9/2011 (MSRP: $19.99; Age: 8 and Up)



Pull String Tops by JACK RABBIT CREATIONS INC.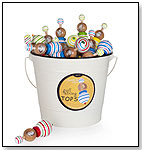 These classic pull string tops are made of wood and painted with multicolored stripes. $24 for bucket of 12. Launch date: 2012. 6/27/2012 (Age: 3 and Up)



Around the Town Cars by JACK RABBIT CREATIONS INC.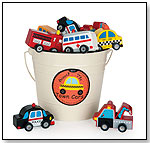 This bucket features and assortment of painted cars and trucks, including police cars, fire engines, taxis, and ambulances. $39 for bucket of 12. Launch date: 2012. 6/27/2012 (Age: 3 and Up)



Zowa (3 Pack) by VADAZO LLC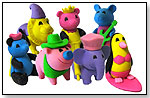 Zowa are fun toy puzzle erasers that kids can collect and trade with their friends. Series 1 has over 50 erasers to collect in 5 different themes: Fantasy, Jobs, Imagination, Sport, and Monster. Find all the rare erasers which come in white. The more Zowa one collects the bigger the Zowa World becomes. Zowa are available in a single pack or a 3 pack. 6/25/2012 (MSRP: $6.99; Age: 6 and Up)



Wet-Erase Coloring Kit by HEALTH SCIENCE LABS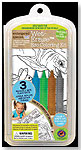 The Wet-Erase coloring kit comes with 3 stone paper coloring scenes and a set of patented wet-erase crayons that wipe off with a damp cloth for multiple use. Launch date: 2012. 6/27/2012



11 PC Girl's Chef Kit by CURIOUS CHEF INC.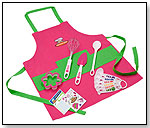 With tools that come in a wonderful fuchsia color, little ones will be proud to have their own kitchen tools to help mom or dad cook fantastic meals. Kids will be learning valuable life skills while having a fun-filled time full of smiles. This kit includes a Pink/Green Apron, Whisk, Large Spatula, 6PC Measuring Spoon Set, Large Poly Spoon, Flower Cookie Cutter, Shopping List and Sticker Set. Launch date: February 2012. 6/25/2012 (MSRP: $24.99; Age: 4 to 12)



Princess and the Pea by MAILEG NORTH AMERICA INC



A beautifully crafted 'princess and the pea' set. A tall bed piled high with mattresses - alas, the poor princess cannot sleep, as beneath the mountain of soft fabric lies a little crocheted pea! A wonderful toy with a little story book to accompany it.
Awards: 2003 Scandinavian Design Prize 5/11/2012 (MSRP: $123.00; Age: 3 and Up)



Children's Christmas/Nutcracker Scarf Activity Kit by ARTS EDUCATION IDEAS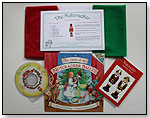 This Christmas inspired kit includes: 6 washable, durable nylon 27" square IDEAScarves in Christmas colors. 2 of each of the following colors: Santa suit red, holly green and snow ball white. The Nutcracker (Peter IIyich Tchaikovsky) Music CD with 7 music selections instructional/informational insert. The Story of the Nutcracker Ballet - Paperback by Diane Goode. Nutcracker Activity Book - by Victoria Fremont, a fun candy cane pencil and a sturdy, self-closing, reusable carrying bag with handle. Made in the USA. Launch date: October 2011. 12/8/2011 (MSRP: $24.99; Age: 4 to 10)



Hmong Doll (Mother and Child) by THE SPIRAL FOUNDATION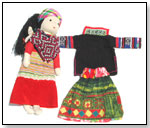 This beautiful H'mong Doll (Mother and Child) is created by disabled artisans at the SPIRAL Foundation Workshop in Hue and by women living in the Lao Cai region in the northern part of Vietnam near the Chinese border. All costumes are authentic, just like the ones used by the young H'mong girls in Sapa. H'mong women are known for their beautiful cross stitch embroidery which is often used in combination with batik and applique to create a colorful pattern. Net proceeds from the sale of this Doll will return to Vietnam and Nepal to fund medical programs that will help many newborn babies and young children in great need. Each doll comes with a mother and child, an extra outfit for the mother, and beautifully packaged in a floral fabric bag. 2/1/2010 (MSRP: $100; Age: 12 and Up)



---
---


Copyright © 2021 TDmonthly®, a division of TOYDIRECTORY.com®, Inc.