June 1, 2023

October 2012 | Vol. XI - No. 10

---
Watch Toy Videos of the Day (9/24/2012-9/28/2012)
We want you to see the toys we see, so you can determine if they're right for your store! Check this space every weekday to see brief video clips of new and specialty products.

In the spotlight today? You'll be a star when your store carries Novi Stars Doll - Una Verse from MGA ENTERTAINMENT
Novi Stars Doll - Una Verse by MGA ENTERTAINMENT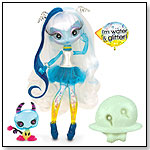 Una Verse has a body filled with floating glitter in water. She has white hair with blue streaks and glitter eyes with planet icon, spiral antennas and glitter eyelashes. Includes pet and a glow-in-the dark doll stand, and the package handle becomes an antenna headband. 8/29/2012 (MSRP: $23.99; Age: 6 to 15)



Hatch Magnetic Wooden Car by TEGU INC.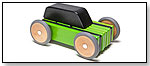 Hatch is a member of the Compact Line of Tegu Mobility. Deconstruct Hatch and click the wheels on and off to create any number of mobile creations. Magnetic connections make racing and crashing as fun as building. Hatch integrates seamlessly with the existing line of Tegu blocks. Made with beautiful Honduran hardwoods and safe water-based finishes.
Awards: 2012 Dr. Toy Best Green Toys 5/18/2012 (MSRP: $38.00; Age: 3 to 12)



All Duct Out by ALEX BRANDS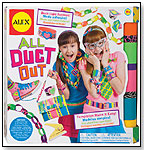 Kids can just tear, stick, and wear. Create unique duct tape fashions using the fluorescent and animal print tape and easy templates included in this fun Alex kit. Get all "duct" out in colourful rings, bracelets, necklaces, earrings, headbands, brooches, belts and more. Includes 8 rolls of duct tape (2.74 metres each) and other items needed.
Awards: 2013 TDmonthly Seal of Approval
— In a Summer 2012 survey, Deran Muckjian, owner of Catch a Falling Star in Lexington, Mass., told TDmonthly that "anything Alex releases that has to do with duct tape" becomes a best seller at his store.
— In a Fall 2012 survey, two out of 12 retailers told TDmonthly that duct tape kits from ALEX were their best selling hobby item.
— In a December 2012 survey about bestselling toys, four out of 12 retailers said that Duct tape kits from Alex were their bestselling Arts & Crafts toy.

3/13/2012 (MSRP: $25.00; Age: 7 and Up)



Magna-Tiles Deluxe (DX) by VALTECH CO.


This 48-piece set includes solid colored pieces, along with pieces with holes, curved pieces, a magnetic door and a wheeled piece. Magna-Tiles DX contains 12 small squares, four large squares, six isosceles triangles, 10 right triangles, 11 equilateral triangles, a wheeled piece, and arch and three special shapes. An idea guide is included.
— In late summer 2010, five percent of 43 specialty retailers told TDmonthly Magna-Tiles are an overall best-selling product.
— In late Spring 2011, 25% of retailers mentioned Magna-Tiles as a best-selling construction toy.
— As of 05/12/2011, this product had 5 out of 5 stars from 23 reviews on Amazon.com.
— In a Summer 2012 survey, Diana Nelson, owner of Kazoo & Company in Denver, Col., told TDmonthly that Magnatiles were their overall best-selling toy. 9/22/2010 (MSRP: $64.50)



---
---


Copyright © 2023 TDmonthly®, a division of TOYDIRECTORY.com®, Inc.