August 2, 2021

December 2012 | Vol. XI - No. 12

---
Watch Toy Videos of the Day (12/17/2012-12/21/2012)
We want you to see the toys we see, so you can determine if they're right for your store! Check this space every weekday to see brief video clips of new and specialty products.

In the spotlight today? Kids will think your store is cool when you carry ScienceWiz™ Cool Circuits from NORMAN & GLOBUS INC.
ScienceWiz™ Cool Circuits by SCIENCE WIZ / NORMAN & GLOBUS INC.



Part of a line of ScienceWiz Thinking Games, this puzzle game created by Harry L. Nelson and Hiroshi Yamamoto provides 40 challenges at different skill levels. Players put a puzzle card down and solve the puzzle by making sure all the pieces are looped together, at which time the board will light up with the solution.



(

Watch Video) 3/31/2008



Smell-O-Rama: Bea & Buster's Bubble Burst by FAT BRAIN TOY CO.


Sugary-scented bubble gum cards and bubble blowing thrills in a playful strategy game. Kids lay down their bubble gum cards in number order, and watch their bubble grow. If opponents play a "POP" card, the other player's bubble will burst. Luckily, they've got snitch cards and special bubble protector tokens on their side. Launch date: August 2012. 9/17/2012 (MSRP: $12.95; Age: 8 and Up)



Electronics Learning Circuits by THAMES & KOSMOS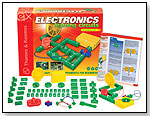 Kids construct circuits with colorful electric building blocks to learn about electricity and how electronic devices work. The innovative snap-together blocks in the ElectronX building system make learning electronics fun and accessible. Use the blocks' bright colors and unique shapes, and easy-to-follow assembly diagrams to construct a variety of functional circuits. Includes Over 70 different experiments and building projects, plus capacitors, resistors, LEDs, phototransistor, cable blocks, battery holder, speaker, sound-integrated circuit, 30 contact blocks, and a 64-page, full color manual. Launch date: June 2011. 5/27/2011 (MSRP: $39.95; Age: 8 and Up)



Shark Teeth Excavation Kit! by DISCOVER WITH DR. COOL



Excavate 3 genuine shark teeth just like a real paleontologist. Buried inside the shark tooth shaped digging brick shark-lovers will uncover 3 different species of shark teeth. This hands-on kit includes an excavation tool, brush, magnifying glass, full-color information guide, and an activity booklet with 10 fun games, puzzles, and challenges to complete. This is a must have gift for anyone who loves sharks. The genuine specimens in this kit are each millions of years old. This educational gift is a great way to start a fossil collection. Launch date: August 2012.
Awards: 2012 Dr. Toy 100 Best Toys; 2012 Seal of Approval - Parent Tested, Parent Approved; 2012 Dr. Toy 10 Best Socially Responsible Products. 9/11/2012 (MSRP: $14.95; Age: 6 to 12)



---
---


Copyright © 2021 TDmonthly®, a division of TOYDIRECTORY.com®, Inc.