November 23, 2020

October 2013 | Vol. XII - No. 10


Top-10 Most-Wanted Card Games
With additional reporting by Chris Lundy and Brenda Ruggiero

Retailers dealt out an unsurprising fact when surveyed about their best-selling card games in September of 2013 - Spot It! from Blue Orange is still number one. Other long time favorites like Set and Slamwich made up the rest of the list. You can learn more about all of the top-10 most-wanted card games below.

No manufacturer paid to be included in this article. All products listed were designated by editorial staff without regard to the company's relationship with TOYDIRECTORY.com/TDmonthly Magazine.
Spot It! by BLUE ORANGE GAMES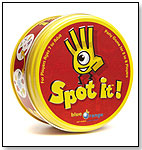 Spot It is a party game for two to eight players. It's played by laying a random assortment of cards on the table and all players racing to find one image that matches between two cards. This fast-paced game is designed to never be the same twice, and though it has very few rules to remember it requires a sharp eye to master. The set of 55 round cards transports in its own carry tin. Watch Spot It: Top-5 Video, Toy Fair 2010
— Spot It has been been a top seller for retailers surveyed by TDmonthly since early Spring 2010.
— In a March 2012 survey, 3 out of 12 retailers told TDmonthly that Spot It was their overall best selling product, and had been for more than a year.
— Dean Smith, Co-owner of JaZams in Princeton, N.J., told TDmonthly in a Summer 2011 survey that he sells 50-60 copies of Spot It each month.
Awards: 2010 TDmonthly Top Seller, Dr. Toy 100 Best Children's Products - 2010

Where to buy:
SOUTH
NORTH EAST
NORTH WEST (

Watch Video) 2/11/2010 (Age: 6 and Up)



SET® – The Family Game of Visual Perception® by SET ENTERPRISES INC.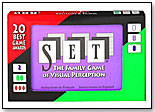 SET is a board game where any table becomes the board. It is a highly addictive, original game of visual perception. The goal is to be the first to see a SET from the 12 cards laid face up on the table. A SET is three cards that are either all the same or all different in each individual feature. With no turns and no luck, SET is challenging, fast and fun!
Players 1 to 20 (or as many as can fit around a table)
Ages 6 to 99
— "It's a really great game, one that we sell day in and day out," Sally Lesser, owner of Henry Bear's Park in Massachusetts, told TDmonthly in spring 2007.
— Two of 63 retailers mentioned Set when asked about their overall best-selling toy or game in September 2008. Ten of 64 retailers named Set as a best-selling card game in August 2008, and more than 25 percent of 38 retailers said the same in late summer 2009. In Feb. 2010, five of 38 retailers cited it as a top-selling game.
— "[Set is] popular mainly because all ages can play it at the same time," pointed out Greg Bonner, owner of Heights Toy Center in Little Rock, Ark., in summer 2008.
— In a late summer 2010 TDmonthly survey, 23 percent of 43 retailers surveyed named SET a best-selling card game.
AWARDS: 2010 TDmonthly Top Seller; 2007 TDmonthly Classic
(

Watch Video) 9/13/2005 (MSRP: $12.00; Age: 6 to 99)



IOTA by GAMEWRIGHT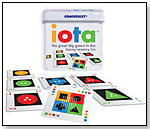 Look, see, play and score...a lot. Add cards to a grid, making sure that color, shape, and number are either all the same or all different across the line. Sounds easy but as the grid expands, so do the possibilities. Whoever sees the opportunities will seize the win. Iota – The pocket-sized game that's big time fun. Launch date: September 2012.
Awards: 2012 Mensa Select
— In a Fall 2013 survey, two out of 12 retailers told TDmonthly that Iota was their best-selling card game. 7/10/2012 (MSRP: $7.99; Age: 8 and Up)



Slamwich by GAMEWRIGHT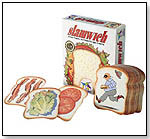 Kids flip and stack this clever loaf of cards to build slamwiches and double deckers. Tomato, lettuce, tomato ... slap! The player who gets there first will win the pile. But he'll have to catch the thief and stop the muncher from stealing a stack of cards. When he's out of cards, he's out of the game. The first player to collect all the cards wins. Slamwich teaches reading readiness skills, such as visual discrimination and sequencing. While kids are flipping and stacking cards, they're actually learning how to recognize a series, make combinations, and anticipate what might happen. "Slamwich includes bread-shaped, die-cut cards. It's a fast-playing card game. It's also Gamewright's first card game," said Jason Schneider, product development and marketing manager for Gamewright.
— Rosie Morris, manager of Whiz Kid Toys in San Luis Obispo, Calif., told TDmonthly to watch out for Gamewright, naming Slamwich as one of their hottest 2006 sales items.
— "We have a lot of card games from Gamewright. One of the better ones is Slamwich," Shirley Reilly, owner of Let's Play in Hillsboro, Ore., told TDmonthly. In an August 2008 survey of 64 retailers, storeowners reported average sales of about a dozen per month. Six named Slamwich as a best-selling card game.
— In August 2010, five of 43 retailers surveyed cited Slamwich as a best-selling card game. 11/27/2006 (Age: 6 and Up)



Anomia by ANOMIA PRESS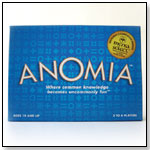 Anomia is a game where common knowledge becomes uncommonly fun. Anomia plays off the fact that our minds are positively brimming with all sorts of random information: things to eat, pop songs, websites, etc... Sure, under normal circumstances, it's easy enough to give an example of a frozen food, or a dog breed; but you will find that your brain works a little differently under pressure. Easy to learn, fun to play over and over again, Anomia will have any group of friends, family, even perfect strangers, shouting and laughing out loud as they try to beat each other to the punch. It can be your turn at any time and anyone can be your opponent. For 3 to 6 players. One round lasts about 30 minutes. Launch date: Fall 2009.
— They sell "15 to 20" Anomia games per month at Magic Box in New Orleans, said manager James Dello Stritto in early 2011.
— Four of 12 retailers who attended ASTRA 2010 named Anomia as one of their favorite products at the show.
— "Anomia is really great; I've been told for the last year to get it," said Kristen Pollard, owner of Mudpuddle Toys in Marblehead, Mass., in summer 2010.
— In an August 2010 survey, nine percent of 43 retailers said Anomia is a card game best seller. Barbara Fineblum, owner of Barston's Child's Play in Baltimore, Md., told TDmonthly the same month that her store sold 89 Anomia games in one month. (

Watch Video) 1/14/2010 (MSRP: $16.00; Age: 10 and Up)



Dutch Blitz Card Game by DUTCH BLITZ GAMES CO.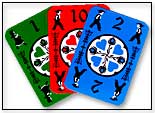 Conceived by a German eye doctor to teach his daughter how to count and identify colors, this game has been around for about 40 years and people just keep on coming back for more.
— Greg Larson, owner of Larson's Toys and Games in Columbus, Ohio, told TDmonthly in 2012 and 2013 that Dutch Blitz was one of his top-two best-selling card games. 12/9/2004



Wizard® Card Game Deluxe Edition by U.S. GAMES SYSTEMS, INC.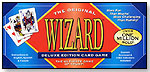 The popular Wizard Card Game is available in this Deluxe version. Not only does it come with a 60-card Wizard deck, but it also includes six individual bid indicator wheels, a core pad and an instruction booklet. The game is designed to be played by three to six players.
— "Wizard has taken off. It really grew in the last few years. Battelle is a local science company near us, and the engineers there just love playing Wizard," said Frances Finfrock, owner of Aunt Franny's Toys in Richland, Wash.
— Three of 32 retailers who spoke to TDmonthly in summer 2007 cited Wizard as the most popular card game with their customers.
— "No other card game combines such ease of learning with such opportunity for skillful play. In fact, the Wizard Card Game it is the only game that a player can consistently win regardless of the cards dealt by switching from offensive to defensive play," said Stuart R. Kaplan, chairman of U.S. Games Systems Inc. 8/9/2007 (MSRP: $12.00; Age: 10 and Up)



Magic: The Gathering Card Game – Conflux Booster Pack by WIZARDS OF THE COAST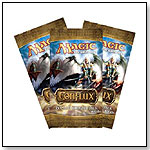 The five shards of Alara meet conflict in Conflux, where Bant Knights battle Naya Behemoths and displaced vampires add to the havoc. Conflux features 145 expansion cards and is available in intro and fat packs as well as boosters.
— In late summer 2009, three of 38 retailers named Magic as their best-selling card game. Fifteen of the top 25 card games at Toy City in Keene, N.H., are Magic units, Owner Steve Levy told TDmonthly in August 2009, at which time his store had sold 850 Conflux boosters for the year.
— Mike Lane, manager of Hobbytown in Cumming, Ga., told TDmonthly in late summer 2009 that his store attracts up to 25 kids for Friday night Magic tournaments. He cited sales of about 50 packs of month of Magic: The Gathering cards. 9/8/2009 (Age: 13 and Up)



Sleeping Queens by GAMEWRIGHT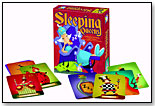 A royally rousing card game! Sleeping Queens is a fun new strategy game invented by an eight-year old. The Pancake Queen, the Ladybug Queen and ten of their closest friends have fallen under a sleeping spell and it´s your job to wake them up. Use quick thinking and a little luck to wake these napping nobles from their royal slumbers. Play a knight to steal a queen or take a chance on a juggling jester. But watch out for wicked potions and dastardly dragons! The player who wakes the most queens wins.
— Tova Rubin, manager at Toytraders in Lakewood, N.J., said this is one of her top-selling card games.
— This is a popular choice at White Rabbit Toys in Ann Arbor, Mich., according to store manager Cheri Sims.
— Casey Sartain, son and buyer at Tutoring Toy in Salt Lake City, attributes the success of this game to the fact that a younger group can play it and that they enjoy the action of slapping cards down on the pile.
— Seven percent of 43 retailers named Sleeping Queens a top-selling card game in a summer 2010 TDmonthly survey. In August 2010, Shana Hack, owner of Moon Rabbit Toys in Santa Fe, New Mex., told TDmonthly her store sells about 12 Sleeping Queens games per month. 12/21/2004 (MSRP: $9.95; Age: 8 and Up)



UNO Original by MATTEL INC.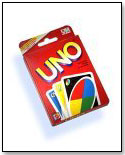 UNO has been a fun, entertaining game for years and travels well, keeping little ones engrossed for hours.
— As of 09/15/2011 this product had 4.7 out of 5 stars from 93 reviews on Amazon.com, and had no one star ratings. It was ranked number 2 in the Card Games category.
— Nathan McKelvey, manager of Toy Castle, LLC in Jonesboro, Ar., told TDmonthly in a September 2011 survey that UNO is one of his top-three bestselling card games.
— UNO is published in 80 countries and has sold more than 150 million copies worldwide. 4/28/2005 (MSRP: $6.99; Age: 7 and Up)



---
---


Copyright © 2020 TDmonthly®, a division of TOYDIRECTORY.com®, Inc.