September 26, 2023

November 2013 | Vol. XII - No. 11

---
Holiday Merchandising & Sales Tips – Part 2
4 Tips on Amping Up Your Sales Staff for the Holidays
"Using the death knell opening of 'Can I help you?' or any other trite, worn-out, insincere greeting invites a negative response." — Richard Dickerson, Executive Sales Consultant, The Brooks Group

Part I

Looking for ways to boost sales this holiday season? Toy merchants and sales experts took time to share their insights with TDmonthly Magazine. See their tips below.

1. Change your greeting. Your staff is pivotal to your holiday sales, and it starts with their greeting, pointed out Richard D Dickerson, Vistage International Speaker and Executive Sales Consultant for The Brooks Group.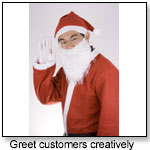 "Ignoring customers or using the death knell opening of 'Can I help you?' or any other trite, worn-out greeting invites a negative response because customers are conditioned to insincere-sounding greetings, and because they are afraid they will be sold! Simply welcome them to your store, say your name and let them know you will available to assist in any way. Treat customers as guests. Be attentive, sincere, and truly focused on them."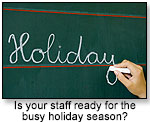 2. Make sure the staff knows it all. Customers depend on your staff for information. Provide thorough product knowledge training including "fads", internet promos, etc. to every full and part time employee before the season.

"Quiz them on their understanding," Dickerson suggested. Train staff on how to focus on the customer first and present the store in its best light. "Doing so…enhances buyer perception that time spent here is valuable and truly customer focused. As a salesperson, make buying from you and your store fun and enjoyable, with no hassles. Happy customers tend to buy more!"

3. Leverage Social Media. Many parents today are on Facebook and use social media. Assign one or more members of your staff to manage your Facebook page throughout the holiday season as part of your customer outreach effort.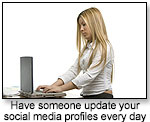 "Try to build up any social media presence," advised Jonathan Margolis, President & CEO of The Michael Alan Group and co-author of "Guerrilla Marketing For Dummies." "Encourage friends, customers, and suppliers to either become a friend or 'like' the brand. If possible, leverage Twitter to announce new products, new shipments, extended store hours, and in store specials."

Kim Emigh, manager of e-commerce for Growing Tree Toys in State College, Pa. knows first hand the power of e-outreach. "While we offer free gift wrap in the store, it is a cost for our website customers. When we offered free gift wrap online, that really increased sales!"

4. "Actively Assist" customers. As part of training, make sure your staff "actively assists" your customers. "Many clerks react negatively to the thought of 'suggestive selling,'" Phil Mitchell, founder of Discovery-Based Retail and author of a book by the same name, told TDmonthly. "We reframe the principal by calling it 'actively assisting.' Something as simple as making sure people have the batteries they need for a toy can save them an additional trip," and increase sales. "Reinforce this over and over," he said.

Remember that retail success is all about differentiation from your competitors. Mitchell added, "Are your people better trained, friendlier, more knowledgeable, etc.? Are you using creative ways to reach your target consumer? You have to reach out and bring people in."

For tips on how creative merchandising can boost holiday sales, see Part 1 of the series: Smart Tips for Effective Holiday Merchandising.
---
---


Copyright © 2023 TDmonthly®, a division of TOYDIRECTORY.com®, Inc.