---
Holiday Merchandising & Sales Tips
4 Smart Tips for Effective Holiday Merchandising
"Does you store look, smell, taste, sound and feel like Christmas?" — Phil Mitchell, Discovery-Based Retail

Creatively merchandising your store for the holidays can help boost sales, toy merchants and marketing experts told TDmonthly Magazine.

Phil Mitchell, founder of Discovery-Based Retail and author of a book by the same name, said it's all about creating a festive atmosphere. "Given the current economic conditions shoppers will gravitate to stores that are more 'experiential'... Does you store look, smell, taste, sound and feel like Christmas?"
Learn more about using the 5 senses to boost sales in How We Reel 'Em In (and Keep 'Em).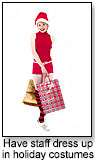 1. Draw them in. Exterior windows, doors and the other areas leading in to your store should entice shoppers. "Try something eye catching just outside the store, even if it's as simple as a balloon arch, music, (or a) bubble maker" suggested Jonathan Margolis, president & CEO of The Michael Alan Group and co-author of "Guerrilla Marketing For Dummies."

Have an elf-clad staffer offer a tray of treats to guests as they come in the door. Christine Osborne, co-owner of Wonder Works in Charleston, S.C. is doing just that. "This year, we're all dressing up as elves, and we're putting on a huge elf extravaganza," she told TDmonthly.

2. Lights, Color, Action! Don't underestimate the power of lights, color and motion to draw attention. Place spotlights strategically on displays.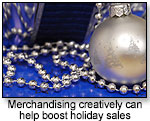 Consider a holiday train display to draw customers to areas you most want them to see.

Use color creatively to take the customer on a visual 'journey' through your store. Contrasting colors such as yellow on red and black on yellow are particularly strong. Don't go overboard, but use it to 'escort' them to where you want them to look and buy.

John Taylor, owner of O.P. Taylor's in Brevard, N.C., takes his displays seriously. "We got a set designer from the BBC. He built a full size biplane." They rented a crane and made it look as though it had crashed on the store's roof, with a smoke machine billowing from the engine. "It was awesome."

3. Use Live Demos. Everyone knows using live demos can boost sales, but Margolis has a tip that could make doing so easier. "Put the work (and cost) on [manufacturers]…If they're providing a demo, perhaps even free giveaways, it would be seen as a win-win for both, because of increased chance to move their product."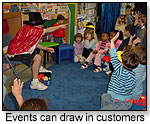 Mary Porter, owner of Curiosity Zone in Ashburn, Va. hosts events to showcase product. "[We do] one-time 'Family Fun Night' events where kids and their parents do seasonal science projects in our lab… experimenting with synthetic snow, or making borax crystal ornaments. It's all about increasing traffic."

4. "Social Proof" it. Rushed and bombarded by holiday shopping messages, customers appreciate it when you help make decisions easy for them.

Mitchell suggests the use of "social proof" tags to help with buying decisions. "Social proof is the phenomenon that describes something we've all experienced…Since we assume the collective must be right, we pull in and make a buying decision based on an 'invisible recommendation,'" he said. "Use this by placing tags on certain items. e.g. 'This is our best seller for boys age 5-8.' Many people shopping will appreciate the guidance and the burden of choice that you have removed from their frantic holiday schedule."

For tips on how to leverage your sales staff for better results, stayed tuned for next month's Part 2 of the series, 4 Tips on Amping Up Your Sales Staff for the Holidays.

Writer's Bio:
Claudia Newcorn has been a freelance writer and editor for over 10 years, after having spent more than a decade in marketing and product management. She writes for both businesses and individual clients, crafting copy, content and advertising. Her articles appear in newspapers, magazines and specialty publications nationwide (www.acornmarketing.com). She is also the author of an award-winning fantasy fiction book, "Crossover," and several published short stories (www.claudianewcorn.com).
Read more articles by this author
THIS BANNER IS AN AD:
---
---