January 22, 2022

December 2013 | Vol. XII - No. 12

---
Top-10 Most-Wanted Aircraft and Flying Toys
With additional reporting by Chris Lundy and Brenda Ruggiero

Though many of the retailers TDmonthly Magazine interviewed in November about flying toys said that toys in this category tend to sell better in the summer months, they were still able to share with us many aircraft and flying toys that are best-sellers.

Take a look at the products below and decide if they might be a good fit for your store.

No manufacturer paid to be included in this article. All products listed were designated by editorial staff without regard to the company's relationship with TOYDIRECTORY.com/TDmonthly Magazine.
Ultra Stomp Rocket by D & L COMPANY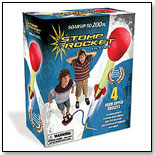 Stomp on the launch pad and a blast of air propels the Ultra Stomp Rocket over 200' in the air. The kit contains four rockets with the OG-1 Nosecone. "We are the original creator. Stomp Rockets started the "stompin' revolution," Cynthia Peeks of D&L Co. told TDmonthly, stressing that Stomp Rockets are known for their name, quality and safety.
Awards: TDmonthly Top Seller 2008; iParenting Media, iParenting Hot; Dr. Toy Best Children´s Vacation Toy.
— Retailers surveyed by TDmonthly have been naming Ultra Stomp Rocket as a best-seller since 2006.
— Four of 45 retailers who spoke to TDmonthly in summer 2007 said the Stomp Rocket's success makes it a choice gift, reporting unit sales figures from four to dozens a month. Nine percent of 66 retailers named the Stomp Rocket as a best-selling gift for boys in July 2008. "We sell about 75 a month," Marilyn Walker, owner of Play Fair Toys in Boulder, Colo., told TDmonthly in early 2009. Thirteen percent of 47 retailers told TDmonthly in June 2009 that Stomp Rockets are a best seller for boys. "It's probably been the dang Stomp Rocket for about 15 years now. They just fly out," Tye Steinbach, owner of Thinker Toys in Portland, Ore., said when asked about his most popular outdoor toy. Nine of 37 retailers named Stomp Rockets as a best-selling outdoor item in spring 2010.
— Despite multiple complaints about its durability, the Ultra Stomp Rocket received an average of 4.5 stars among 217 Amazon.com customers for being fun for all ages and pleasantly surprising when it comes to the distance the rockets can be launched. The toy is best used in open areas. Rockets are easy to lose and break, but refills are easy and cheap to find! (12.17.2012)
12/17/2012 (MSRP: $15.00; Age: 8 and Up)



Hand-Launch Glider "Extreme Team" by PLAYMOBIL INC.

Throw, glide, and catch. The red and yellow Hand-Launch Glider "Extreme Team" provides an opportunity to have fun while being active outdoors. Made with an ultra-light material, this stable glider can even be used to play catch. The Hand-Launch Glider also comes with a Playmobil pilot. Dimensions: 18.1 x 19.7 inches (L x Wingspan). Recommended for ages six to ten. Suggested Retail Price: $19.99. Warning. Choking Hazard. Small parts. Not for children under 3 years.
— In a November 2013 survey, two out of 10 retailers told TDmonthly that Playmobil Gliders are a best-selling flying toy. 1/21/2011 (MSRP: $19.99)



Snap'n'Soar by KID GALAXY INC.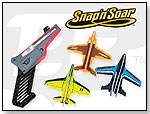 Unique Hand Powered Launcher Sends Planes Soaring Up to 30 Feet. Perfect for indoor and outdoor flight. Adjustable wing flaps for incredible aerodynamic stunts. Realistic jet engine sounds at take off. Set includes launcher and three planes. Batteries needed for sound only.
— In a Fall 2012 survey, 2 out of 12 retailers told TDmonthly that Snap'n'Soar was the best selling aircraft/flying toy in their store.
— In a November 2013 survey, two out of 10 retailers told TDmonthly that Kid Galaxy Snap and Soar is a best-selling flying toy. 11/5/2012 (MSRP: $11.99; Age: 5 and Up)



Toysmith 5000 Guillow's Balsa Sky Streak Glider by TOYSMITH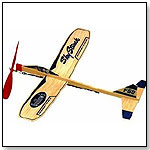 Made of genuine balsa wood. Rubber band powered. Easy to fly.
— Mary Porter Green, owner of The Curiosity Zone in Ashburn, Va., told TDmonthly in a November 2011 that Balsa airplanes are among her best selling flying toys.
— Geoff Pendexter, owner of Whirlygigs in Brentwood, N.H., told TDmonthly in a Fall 2012 survey that they sell about 15 of these planes each month, making them a best selling aircraft toy in the store.
— Gregory Faith, owner of Hobby Town USA in Nashua, N.H., told TDmonthly in a February 2013 survey that these gliders were their best selling wooden toy. 11/9/2011 (MSRP: $4.80)



Rubber Band Powered Flying Machines by KLUTZ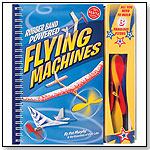 Everything kids need to fly like a pro, indoors or out. Our three only-from-Klutz, rubber band powered airplanes have been carefully engineered for coolness, from the extra-large Firebird (an impressive 19-inch wingspan), to the acrobatic Lightning Looper (it really loops), to the Shooting Star (which makes such tight turns kids can fly it in the living room). Simple directions explain how to assemble the planes from the included parts and, just as importantly, how to fly them for maximum performance. And by experimenting with the variations in the book, junior aviators will learn basic principles of aerodynamics and physics.
— Mary Porter Green, owner of The Curiosity Zone in Ashburn, Va., told TDmonthly in a November 2011 survey that Klutz flying books are her best selling flying toy.
— In a November 2013 survey, Mary Porter Green, owner of Curiosity Zone in Ashburn, Va., told TDmonthly that they sell several of these books each month.
— In a December 2013 survey three out of 10 retailers said that Klutz made their best-selling books. 11/9/2011 (MSRP: $19.95; Age: 8 and Up)



Thunderwolf Microlite Helicopter by WESTMINSTER INTERNATIONAL CO.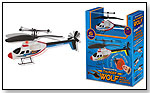 Small in size but big in fun, this infrared-controlled helicopter is easily piloted with a hand held control unit, making it safe for operating indoors. The helicopter comes with a replacement rear rotor, nose weight for high performance flying and a quick battery charger for rapid power-up. "We have tested and experimented with many different helicopter configurations. Our helicopter by far is the easiest to fly and control," Brian Thille, brand manager at Westminster International Co., told TDmonthly. Launch date: June 15, 2007.
— In a November 2013 survey, Joe Berardoni, owner of Pun's Toys in Bryn Mawr, Pa., told TDmonthly that Westminster helicopters are a best-selling flying toy in his store. 8/15/2007 (MSRP: $29.99; Age: 8 and Up)



Backyard Flyer - Red Biplane by KID GALAXY INC.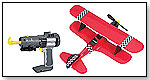 This light, Styrofoam airplane is simple enough for easy flight and durable enough for an eventual nosedive. It has the distinctive double wings of biplanes, and a bright red color detailed with checkered stripes on the wings and tail. Charging off its launcher in less than a minute, the plane is just a trigger-pull away from flight. The charger-controller requires six AA batteries.
— "[It's] Kid Galaxy by far. The Backyard Flyer," said Kate Tanner, owner of Kidstop Toys & Books Store in Scottsdale, Ariz., when asked about best-selling flying toys in October 2008.
— "The Red Biplane is actually our best seller," Ava Allen, owner of Be Beep a Toy Shop in Columbia, S.C., told TDmonthly.
— About 25 percent of 68 retailers named the Backyard Flyer from Kid Galaxy as a top-selling toy. 10/10/2008 (MSRP: $18.00; Age: 8 and Up)



Rocket Balloon With Pump by TOYSMITH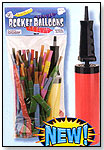 Toysmith has made it easier to engage in rocket-balloon fun. The newly added pump allows for automated balloon inflation so that ammunition is always ready. Kids simply inflate the balloons, let them go and watch them fly.
— "Rocket Balloons with pump. We shoot those off in the shop," said Linda Angel, owner of Kidoodles Toys in Norman, Okla. Toysmith was the manufacturer she mentioned.
— "About three a day," was a sales figure for rocket balloons given to TDmonthly by Trish Garlock, owner of Treasured Child in La Grange, Ky.
— Three of 38 retailers TDmonthly spoke with in spring of 2007 mentioned rocket balloons as best-selling novelty items in their stores. 5/22/2007 (MSRP: $10.00)



RC Micro Helicopter by CARRERA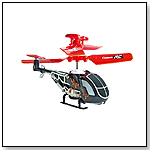 Rotor diameter approx.: 8,5 cm. Running time: up to 5 minutes. Short recharging time: 15 minutes. Ready to Fly: Helicopter with built-in 3.7 V - 65 mAH LI-PO BATTERY, USB adapter, control set, 4 AA mignon batteries and a lanyard. INFRAROT TRI-BAND Technique (A/B/C): 3 frequencies available for uninterrupted gaming enjoyment. 3 Channel Controller. LED-Lights. Helicopter has rump parts made of ALUMINIUM. GYRO System
— In a November 2013 survey, Richard Gibson, owner of Learning Express of Newton in Newton, Mass., told TDmonthly that all types of Carerra helicopters are the best-selling aircraft toys in the store. 11/29/2013 (Age: 14 and Up)



Zip Shot Disc Shooter, 7" by TOYSMITH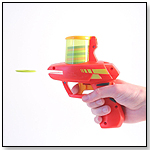 The Zip Shot Shooter shoots foam discs at lightning speed up to 25 feet. This 7" shooter comes with 12 discs. No batteries required. Ages 6 and up.
— In a November 2013 survey, Yamil Castillo from The Red Balloon Toy Store in Salt Lake City, Utah, told TDmonthly that Toysmith Disc Shooters of various styles are the store's best-selling flying toy. 11/29/2013 (MSRP: $8.99; Age: 6 and Up)



---
---


Copyright © 2022 TDmonthly®, a division of TOYDIRECTORY.com®, Inc.