There are a lot of sad children in La Grange, Ky., this spring. They lost a treasure when Trish Garlock, co-owner of The Treasured Child toy store, passed away after a brief illness on May 20. She was 57 years old.
TDmonthly readers have experienced first-hand Trish's warmth and generosity as she shared her joy and enthusiasm about toys with other toy-store owners across the nation.
We at TDmonthly send all our support to her husband, soul mate and co-owner Rick, stepson James and to the kids at The Treasured Child who loved and will miss Trish deeply. Luckily, we were able to meet her face to face at Toy Fair this year, and she was even more adorable in person than she could ever be in print.
Trish spent her life giving to others, working with displaced refugees in Turkey, the former Yugoslavia, Africa and other locations, and then opening a toy store where kids of all ages came to play. Her spirit will live on in the children whose lives she touched, her friends, her family and toy-store owners everywhere who've benefited from her wit and wisdom.
I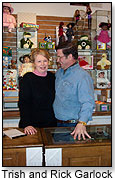 n lieu of flowers, please send donations in Trish's name to:
Oldham County Historical Society
106 North Second Avenue,
La Grange, KY 40031
Phone: (502) 222-0826
Fax: (502) 222-7115
Email: ochstryctr@aol.com


Please feel free to share your memories of Trish below.