May 11, 2021

February 2014 | Vol. XIII - No. 2

---
Your Local Store Owners Are About to Do Something Extraordinary!
They Are on the Hunt for Great New Toys at the Biggest Toy Show in America!
(Toy store owners: If you are going to Toy Fair, pass on the link or copy and paste this article and send it to your local press. Your community should know the lengths to which you go to serve them and provide them with unique, high-quality playthings!)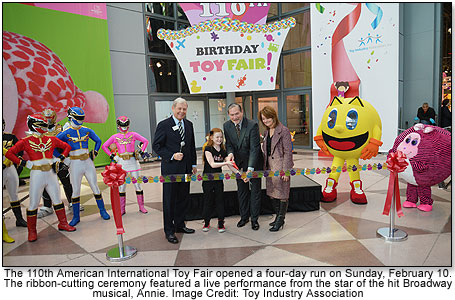 You know your local mom-and-pop toy store has toys and gifts that you can't find anywhere else. You know that each time you venture into their doors, whether for a playtime event or just to shop for gifts, they have something you've never seen before on their shelves.

Did you ever wonder how it got there?

Each year, just around Valentine's Day, thousands of toy-store and gift-store owners and employees brave the blizzards and the airport delays to venture to New York City for the American International Toy Fair, a toy trade show that has been showcasing new toys for 111 years! This year's fair opened today, Sunday, February 16.

Your local toy-store owner may be traveling alone, with a spouse, or even with some of the toy-store staff to look through hundreds of booths filled with new games, science toys, dolls, plush, action figures … and things that hadn't even been imagined until recently.

Why do they go?

Staying Ahead of Trends

Tye Steinbach, owner of Thinker Toys in Portland, Ore., said, "We get a really good opportunity to see things we might not see elsewhere."

Isaac Gurock, head of operations at Magic Beans in Brookline, Mass., agreed that you need to attend the fair to stay on top of the latest trends. "You can always find out what the best sellers are 6 months from now, but if you want them, you have to go to Toy Fair."


"Every company has something different and new to examine and explore, and in order to be able to explain and transfer the information to our customers we try to become as knowledgeable as possible," Barb Stine, owner of Toys on the Square in Hershey, Pa., told us.

"It's inspiring. It gets you recharged. You get ideas," Mary Walsh-Martel, owner of Magical Child in Greenfield, Ma., shared with TDmonthly.

Retailers Become Reporters

This year, a select handful of these toy hunters are not just looking for toys for their own stores, they are scouting as Retailer Reporters for TDmonthly Magazine – the #1 online trade resource for the toy industry, with 14,600 registered retailer readers. You can read more about Kate Tanner of Kidstop Toys & Books in Scottsdale, Ariz., Barbara Vininsky of Jack & Jill in Montreal, Quebec, Sallie Kishawa of Timbuk Toys in Denver and Sari Powazek of Dollhouse and Toy Store Too, also in Scottsdale in "Meet TDmonthly's Retailer Reporters."

So, this Spring, when you see a new toy on your shelf, just know that your toy-store owner may have gone all the way to New York to bring it back, just for you!

Here are some of the toys from last year's Fair. What will your toy-store owner bring you this year? Wait and see!
BugLit™ by NITE IZE INC.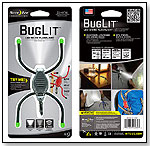 The BugLit "body" is actually our powerful INOVA Microlight - a tough micro flashlight encased in a durable polycarbonate plastic housing, with four functions (high power, low power, strobe, and signal). This bright white LED has an effective range of up to 50 feet, and one-mile visibility. Next, the securely attached "legs" are two flexible, fully moldable 6" Nite Ize Gear Ties, which can be bent, wrapped, or twisted in many configurations, to sit, stand, store, or shine the flashlight. Wrap the legs around the body for compact storage and transport. And, finally, its lightweight plastic S-Biner clip allows you to attach, hang, or store the BugLit for convenient access on zippers or keys.

4/24/2012 (MSRP: $12.99)



ABUNDANT HARVEST for Teens & Adults by HARVEST TIME PARTNERS

ABUNDANT HARVEST for Teens & Adults (US Patent 7,073,792) is appropriate for ages 12 through adult. The situations presented in this version of the game are directed towards teenager and adult groups. Many of the situations deal with the difficult issues of drugs, family conflicts, peer pressure and the complex and unpredictable nature of being an adolescent and/or adult in today's world.

11/16/2012 (Age: 12 and Up)



Organic Cotton TeePee by PACIFIC PLAY TENTS INC


This organic cotton canvas teepee is supported by sustainable bamboo poles. Eco-Friendly and durable; folds into a carry bag.

2/21/2013



Deluxe Marble Run by PLANTOYS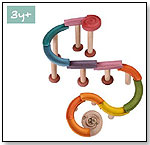 Build a fantastic marble run with this brilliantly colored 30 – piece set. Watch the marbles spiral and hop down the various pieces of track. The Marble Run Deluxe is made of PlanWood, a sustainable material made from recycled sawdust.
— In a February 2014 survey, Julie Steinbach, owner of Rainbow Toys in Falmouth, Maine, told TDmonthly that Marble Runs were one of their best-selling wooden toys.

2/21/2013 (MSRP: $50.00; Age: 3 and Up)



Schoenhut Student Guitar by SCHOENHUT PIANO COMPANY



Little rock stars will take center stage playing Schoenhut's "next generation" guitar. Schoenhut's innovative design incorporating a molded composite body with dual curves greatly enhances sound and durability. The birch soundboard which offers excellent tone and resonance, hardwood neck (for rigidity), and molded composite fretboard ensure proper height and spacing of the frets. Six steel strings permit a wide range of rich sounds. Available in several vibrant designs. Includes: Pick and Extra String. Launch date: January 2012.
Awards: 2013 TDmonthly Seal of Approval

11/16/2012 (MSRP: $59.99; Age: 3 to 12)



Sky Dragon by FOLKMANIS INC.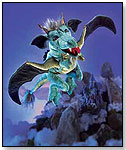 Sculpted fabric enhances the ethereal look of the SKY DRAGON puppet. With rich detailing, this spectacular dragon features a movable mouth, forelegs and velvet wings to take flight. This champion of mythical creatures is destined to guide your journey into realms of fantasy.

2/22/2013 (MSRP: $47.99)



Thunder Dragon with Drake Set by SAFARI LTD.®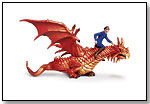 Join Drake and his Thunder Dragon on electrifying adventures as they soar through the dark clouds of stormy nights. This hand painted replica measures 8" L x 6.25" W x 3.75" H (20.5 x 15.75 x 9.75 cm) and is suitable for ages 4 and up. All Safari Ltd® products are 100% guaranteed and lead free to ensure children's safety. Visit www.safariltd.com to explore educational information in five languages and to view and purchase Safari Ltd® 2013 introductions and all other products. Launch date: 2013.

12/11/2012 (Age: 4 and Up)



FlutterBabies™ by Adora



Adora's FlutterBabies™ are made of ultra soft and cuddly microfiber plush with adorable Gentle Touch™ vinyl faces. Available in three cheerful designs, Bumble Bee, Butterfly and Lady Bug! Their shirts and wings are removable so mix and match and play all day! They are absolutely adorable, a perfect blend of sweetness and love for infants on up.

2/12/2013 (MSRP: $15.95; Age: 0 and Up)



Kiki the Koala Adventure Kit by ZYLIE THE BEAR

The Kiki the Koala Adventure Kit includes 18" jointed plush Kiki the Koala character, fashionable signature outfit, accessories, Australian passport and the third book in the Zylie Adventure Series, Zylie's Adventure Down Under. Part of The Adventures of Zylie & Friends collection. Marking the third chapter in Zylie's exciting adventure around the world, Kiki the Koala and the Adventure Down Under collection continues the awesome journey of a few unlikely animal explorers: Zylie the Bear, a young bear from Manhattan; her little brother Theo; their friend Shen the Panda from China.

1/2/2013



Washboard Tie by TROPHY MUSIC COMPANY



These musical neckties are made of corrugated sheet metal and can be played as a musical instrument when strumming metal-capped fingers along it.

(

Watch Video) 3/24/2010



---
---


Copyright © 2021 TDmonthly®, a division of TOYDIRECTORY.com®, Inc.