July 9, 2020

May 2014 | Vol. XIII - No. 5


Top-10 Most-Wanted Infant and Toddler Toys
With additional reporting by Chris Lundy and Brenda Ruggiero

From puppets to pianos, learn more about Top-10 best-selling infant & toddler toys, according to specialty retailers surveyed by TDmonthly, below.

*No manufacturer paid to be included in this article. All products listed were designated by editorial staff without regard to the company's relationship with TOYDIRECTORY.com/TDmonthly Magazine.
Sophie the Giraffe by CALISSON INC.



Suitable for babies 0 to 3 months and up, this teether and discovery toy features a contrasting spot pattern that offers visual stimulation, plus a squeaker for amusement. It is made of natural rubber from Hevea tree and colored with food paint. Sophie is distributed in the United States by Calisson.
— Retailers surveyed by TDmonthly have been naming Sophie the Giraffe as a best-seller since 2009.
― Nicole Boomhover, assistant manager of Learning Express in Cahaba Heights, Ala. told TDmonthly in late Spring 2011 that they sold between five and ten Sophies a month.
— In an April 2012 survey, three out of 11 retailers told TDmonthly that Sophie the Giraffe was their best selling infant & toddler product.
― "Sophie giraffe is a great baby product that we order over and over again," Diana Nelson, owner of Kazoo & Company in Denver, Co., told TDmonthly in June 2010. "I can't keep them on the shelf," agreed Keith Schumacker, general manager at Talbot's Toyland in San Mateo, Calif.
― During a March 2010 survey of 39 retailers, seven said Sophie the Giraffe is a top-selling toy for infants. Sales averaged 24 per month.
— Want this? As of 05/06/2011, this product was available for purchase at Learning Express of Cahaba Heights, Ala.
AWARDS: 2014 TDmonthly Magazine Top Toy Award, 2010 TDmonthly Top Seller (

Watch Video) 4/10/2009 (Age: 0 to 1)



Fun Time Tractor by INTERNATIONAL PLAYTHINGS LLC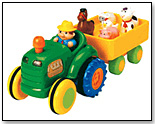 This tractor has a farmer that drives around with five removable plastic farm animals that make their animal sounds when placed on the plastic vehicle.
— Out of the Blue Ltd. Store Manager Kara Fichtner, in Albuquerque, N.M., told TDmonthly in May 2006: "It's one of my favorite toys. It's something we show customers when they come in looking for a toy for a 1-year-old."
— "We sell 144 tractors a year, and we don't have many people coming in," Grafton Stine, owner of Toys on the Square in Hummelstown, Pa, told TDmonthly in summer 2007.
— "For a first birthday toy, it's the Fun Time Tractor from iPlay — it really sells," noted Teresa Ford, owner of Kids' Ketch in Lewes, Del., when asked about best-selling baby gifts in July 2008. Six of 39 retailers told TDmonthly in March 2010 that International Playthings supplies their best-selling infant and toddler toys. Two singled out the Funtime Tractor as a top-selling individual item with sales of four per month.
— In a 2012 survey about best selling infant & toddler products, Joe Berardoni, owner of Pun's Toys in Bryn Mawr, Pa. told TDmonthly, "Pun's best selling baby toy continues to be the Funtime Tractor from International Playthings. Even though it retails for more than $30, this store sells a disproportional amount- up to 12 a month, even during slow times. Of course, my staff all love it also, so it is usually recommended." (

Watch Video) 8/31/2005 (MSRP: $32.99; Age: 1 to 3)



Animal Rescue Shape-Sorting Truck Wooden Toy by MELISSA & DOUG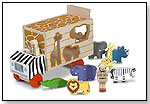 Animal rescue rangers to the rescue! With this rugged safari truck, two cheerful people are ready to zoom across the savannah to help their animal friends. The alligator, zebra, rhinoceros, elephant, giraffe, hippopotamus and lion fit into the truck's sides through die-cut slots, so this exciting toy is perfect for imaginative play and fine motor skills . . . and much more! Lift and remove the cargo door to unload the colorful animals, then count, sort and stack the solid-wood pieces before loading the truck and securing the door in its track. One male and one female ranger fit in the cab of the truck, or come out to tend to the animals on the preserve. Play ideas are included to reinforce basic skills and inspire creative play. 1/8/2013 (MSRP: $19.99; Age: 2 and Up)



Monkey in a Barrel by FOLKMANIS INC.



What's more fun than a barrel of monkeys? Well, a MONKEY IN BARREL puppet of course. When you pull the monkey down into the soft microfiber barrel, the barrel lid closes. Guess what kind of monkey business is going on in there or pop the monkey out for a playful surprise. Launch date: January 2013.
— In an April 2013 survey Mary Porter Green, owner of Curiosity Zone in Ashburn, Va., told TDmonthly that Folkmanis puppets are a best-selling toy for infants/toddlers.
— In a June 2013 survey, six out of 11 retailers told TDmonthly that Folkmanis was their best-selling brand of plush or puppets. 12/13/2012 (MSRP: $23.99)



Pop! Pop! Piano™ by PATCH PRODUCTS INC.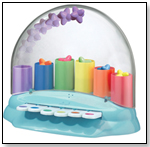 When children press a key on the piano, they not only hear a sound, they see stars pop up! The clear arch guides the popped stars onto a different pipe so when another note is played, they'll pop some more! Adults can remove the arch to allow the stars to land on the floor, encouraging children to crawl after them. Pop! Pop! Piano measures 9" x 11" x 5.34" with clear arch attached. For ages 12 months and up.
— Dean Smith, owner of JaZams in Princeton, N.J., told TDmonthly in a January 2015 survey that Pop Pop Piano is their store's best-selling musical toy. They sell around 10 each month.
— Dean Smith, owner of JaZams Toys in Princeton, N.J., told TDmonthly in an April 2015 survey that the Pop-Pop Piano is their store's best-selling infant & toddler toy. They sell around 12 each month.
7/11/2013



Flip 'n' Tip Fred by WOW TOYS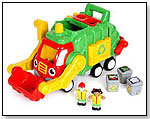 Recycling has never been so much fun as with this friction-powered recycling truck with tip and release action. Children can use Fred's bucket to tip waste into the truck or sort the three recycling bins and flip them into the rear. There's also a powerful friction motor with realistic engine sounds, an automatic waste crusher, a boy and girl recycling team, and a sturdy carry handle. 12/14/2006 (MSRP: $49.99; Age: 2 to 5)



INDESTRUCTIBLES: BABY BABBLE by WORKMAN PUBLISHING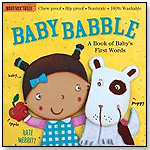 Indestructibles are the books built for the way babies read. They are 100 percent baby-proof, chew-proof, rip-proof, and drool-proof. Printed on a unique nontoxic, paperlike material that holds up to anything babies can throw at it—gumming, spilling, dragging across the floor— Indestructibles are the little books that could. They're indestructible. And if they get dirty, just throw them in the washing machine or dishwasher. Baby Babble is a first vocabulary book, featuring baby at the table: spoon, banana, cheese. Baby at play: blocks, teddy bear. Inside baby's house: lamp, socks, crib. Outside baby's window: cloud!
— Dan Marshall, co-owner of Peapods Natural Toys & Baby Care in St. Paul, Minn., told TDmonthly in a December 2013 survey that this is one of their best-selling books. 12/27/2013



Pewi by NATIONAL SPORTING GOODS

Pewi is an innovative walker/ride-on for the toddler market. Designed for children as young as nine months old, and as a child grows with the Pewi, it transitions into a foot to floor ride-on. With specially designed caster wheels, the Pewi ensures a quiet smooth ride that is suitable for indoor and outdoor play. As a ride-on a child can easily move the Pewi in any direction. The Pewi is designed to help develop early stage balance and motor skills. For ages 9-24 months. Available in 3 colors – Red, Pink and Blue.
— Michael Ziegenhagen, owner of Playmatters in Avon, Ohio, told TDmonthly in a March 2014 survey that the Pewi was a best-selling outdoor toy. 9/15/2010 (Age: 1 to 2)



Baby Gertie Barnyard Babies Balls by SMALL WORLD TOYS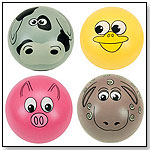 The Gertie Ball now has a little barnyard twist to it. Designed to fit into the smallest of hands, yet consisting of the same unique materials that have made the Gertie ball famous, Baby Gerties are sure to provide joy and fun for the littlest among us. They feature smiling farm-animal designs, which include a cow, sheep, pig and duck.
— "The kind of ball is important. [We] have Gertie balls," was a comment about outdoor best-sellers provided by Donna Dobkin, owner of Leapin' Lizards Toy Company in Bend, Ore.
— "We like...Gertie balls," said Frances Finfrock, owner of Aunt Franny's Toys in Richland, Wash.
— Four of 18 retailers told TDmonthly that Gertie Balls remain hot-sellers in their stores. 3/13/2007 (MSRP: $4.00)



Green Toys Flatbed Truck and Race Car by GREEN TOYS INC.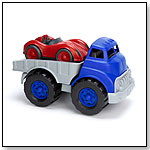 Green Toys' Flatbed Truck and Race Car lets kids ages one and up enjoy two cars, either apart for racing or stacked together for hauling. These eco-conscious vehicles are made in the USA from 100 percent recycled plastic milk containers. The recycled products in this set help to save energy and reduce greenhouse gas emissions. Parents can feel confident giving this toy to their little one as it contains no BPA, PVC, phthalates, or external coatings.
— As of 10/26/2012 this product had 4.6 out of 5 stars from 51 reviews on Amazon.com. Pros: Durable; BPA and pthalate free; made in the USA. Cons: Several users mentioned that the wheels had difficulty turning. 10/26/2012 (MSRP: $32.99; Age: 1 to 10)



---
---


Copyright © 2020 TDmonthly®, a division of TOYDIRECTORY.com®, Inc.